The Punter's De-Brief: Pablo and Bubba both double up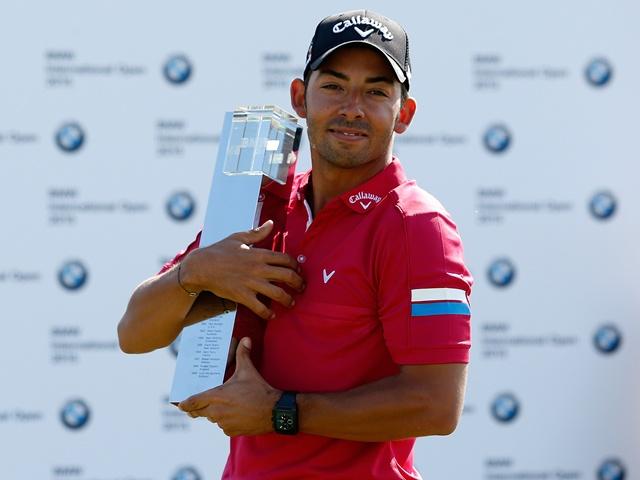 Pablo Larrazabal with the BMW International Open trophy
Steve Rawlings takes a look back at an interesting week's trading. Things didn't quite go to plan but he's happy enough with the losses incurred and as always, lessons have been learned. Read his reflections on a tricky week here...

"Henrik Stenson will be kicking himself that he didn't perform better at the par 4 16th and he could be the man to follow next year if he can get to grips with the hole. He played it in four-over-par. Pablo played it in two-under."
There were parallels and distinct differences between last week's two winners. Pablo Larrazabal was winning the BMW International Open for the second time, having won the event previously in 2011, and Bubba Watson was doubling up at the Travelers Championship, having won his first PGA Tour title there in 2010. Both men were trailing with a round to go and both started round four fast but when it came to post-victory congratulations, the two were poles apart.
Everyone loves the bubbly smiling Spaniard and my Twitter feed was awash with congratulatory messages sent to Pablo throughout the afternoon and on into the evening but I didn't see a single one for Bubba. The reasons are plentiful.
He regularly comes across as a grumpy agitated man on the course, often laying the blame for his rare shortcomings on his beleaguered caddy Ted Scott. So much so that "Pray for Ted Scott" is a very popular # on Twitter whenever Bubba gets in-contention. He once, quite rightly, upset many people with his anti-gay remarks when basketball star, Jason Collins, came out, and the fact that he owns General Lee's Dukes of Hazards car with the confederate flag emblazoned across the entire roof, isn't exactly endearing him to the masses either.
He's not liked, and I can see why, but given he's such a naturally gifted and mercurial player it's such a shame. Bubba should be the biggest star on the PGA Tour with his exiting style. He does things nobody else dare do and only yesterday we witnessed two pieces of brilliance, both shown below. His birdie at the second was sensational and I don't have the words to express how brilliant his eagle was on 13 with the title on the line.

Birdie on Two

Eagle on 13

It was a much better week for golf punters everywhere with Pablo a popular pick with many. The course form was there for all to see and having been matched at a high of 110.0109/1 on Monday, he went off at around 60.059/1, and Bubba Watson traded favourite right up to the off when the well-fancied Brandt Snedeker just ousted him at the head of the market.

My Bets
It hasn't been a great week but it could have been worse. My three pre-event picks in Germany were all rubbish and my two in-play selections, James Morrison and Michael Hoey, both ultimately disappointed - Morrison especially so.
The Englishman looked like he was assuming complete control on Saturday when he led by three standing on the par 5 18th fairway. He was matched at a low of 1.68/13 but from that moment on his whole week started to unravel. A scruffy bogey there was a precursor to a dreadful round four performance which saw him bumble his way around in 77 strokes to leave even top-10 backers scratching their heads.
Hoey performed much better but from the moment he missed a short birdie putt on the par 5 11th to tie for the lead the disappointment seeped into his game and he limped home and lost by four. I managed to lay some of my wager back on Hoey at just 5.69/2 but it didn't do much good as I recycled it on Henrik Stenson, who ended up second, just a shot shy of Pablo.
The Swede was matched at a high of 50.049/1 and a low of 3.1511/5 yesterday so having backed him at a double-figure price, maybe I should have layed him back.
The majority of my trading is detailed in the In-Play Blog and after Bubba's 62 on Thursday I was always behind the 8 ball but Casey's late rally did at least offer me the opportunity to cut my losses.
Having layed Bubba again towards the end, at odds of just 1.271/4, I made him a loser to the tune of just shy of £600. Not nice but I felt it was palatable and having seen so many late twists at the Travelers, I was happy enough to go just a fraction deeper. I toyed with going for it when Casey made his move but commonsense kicked in when the Englishman hit odds-on and I layed him at 1.654/6 when Bubba looked in trouble on the 72nd hole.
A few more tweaks followed and by the time the playoff started I was losing just over £250 whoever won. Having watched Casey messing about with TV personnel and sat with his child, rather than visit the range, I quite fancied Bubba in extra time but playoffs are notoriously hard to predict so I just settled for what I had and I've no regrets.

What Have We Learned For Next Year?
It's stating the bleeding obvious but course form stands up really well at both events. Not only were the two winners both winning for a second time, at both tournaments a number of players in the top-10 had previous form to boast.
Stenson will be kicking himself that he didn't perform better at the par 4 16th and he could be the man to follow next year if he can get to grips with the hole. He played it in four-over-par. Pablo played it in two-under.
As for my little laying experiment - I shall definitely be doing that again. I wrote from the outset that the worst case scenario was having a fancied player lead all the way and that's almost exactly what happened. Brian Harman became the fifth third round leader to lose in six years and he was the only played not layed before the off that I managed to get in the book and yet I still only made a small loss.
Mistakes were invariably made - they always are. I should have gone after Keegan Bradley more vigorously, not getting anything out of Zach Johnson was disappointing, and I perhaps should have gone after Bubba even harder (he hit a low of 1.061/18 in regulation play) but it's not an exact science and you have to chill with the mistakes. And the weather didn't help either.
Most years, we witness all sorts of drama on day four at TPC River Highlands but damp cool conditions and tricky pin placements meant the course played much harder than it usually does and rather than the chasers making birdies to get in the argument, they were primarily struggling for par. It's been a very profitable system for this tournament over the years and I'll be more than happy to employ it again in 2016.
We've an absolute cracker of an event this week on the European Tour, as Graeme McDowell attempts to win his third straight Open de France and on the PGA Tour, Bubba will be attempting back-to-back wins when he tees it up at the Greenbrier Classic. Given he owns a property at the White Sulphur Springs resort he's going to be a pretty warm order to do so and I'll be back later today with my preview.

*You can follow me on Twitter @SteveThePunter
Discover the latest articles