The Punter's De-Brief: Every goes back-to-back after Stenson and Hoffman both stutter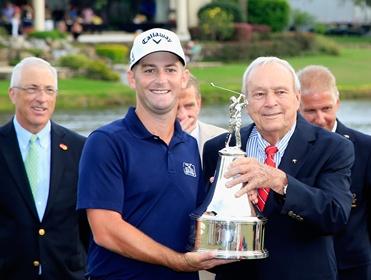 Matt Every posing with Arnold Palmer again at Bay Hill
Steve takes a look back at last week's golf action at Bay Hill where 600.0599/1 shot, Matt Every, won back-to-back Arnold Palmer Invitationals...
"If Stenson backers were cursing the fact that they didn't take a decent profit, they were to get a second bite of the cherry on the back-nine when he led by a couple again with just five holes to play - this time hitting a low of just 1.111/9!"

After a somewhat farcical edition of the 2014 Madeira Islands Open, which was reduced to just 36 holes, this year's event had to be cancelled altogether as bad weather prevented more than just one round being played over a highly frustrating four days.
A number of people have questioned whether the tournament will ever be staged again but it looks to me like extreme ill-fortune. Fog disrupted the event last May and this time it was heavy rain and high winds in March but where it sits in the schedule doesn't appear to matter much. They've successfully completed all four rounds on numerous occasions before in both March and May and it looks like they've just been unlucky two years in-a-row.
Over in the States, Matt Every, matched at over 600.0599/1 before the off, has successfully defended his Arnold Palmer Invitational title after Henrik Stenson and Morgan Hoffman both failed to kick-on from the front. Stenson traded at below 1.42/5 on two separate occasions, more than an hour apart, and he was matched at a low of just 1.111/9, and Hoffman hit a low of 1.824/5 when he led by two with 10 to play.

My Bets
I'm refusing to bemoan the fact that I backed Every last week at 240.0239/1 because that minor irritation aside, it's been a decent week. I traded the event well, received a bit of luck in-running, and enjoyed a profitable week.
As detailed in the In-Play Blog, I backed Hoffman after the first round and I was able to capitalise on that by laying him back at 1.875/6 after he'd birdied the 8th to go two clear.
Unusually for me, in addition to backing him on the exchange at 55.054/1, I also backed him each-way on the Sportsbook at 50/1 but as that was placed after the first round the each-way terms were each-way four places instead of five and that's where I count myself fortunate.
I had a feeling that the young man, without a PGA Tour win, could go into complete meltdown so in addition to laying him at 1.875/6 in the win market, I also layed him at 1.11/10 in the Top 5 Finish market. This meant I'd get a nice return in respect of my place bet, provided he didn't finish 5th and that was very nearly what happened! Thankfully he held it together well enough to cling on to fouth even after driving out of bounds on the 18th.

What Have We Learned For Next Year?
The greens at Bay Hill, which weren't in great condition this year, are going to be replaced with Bermuda Tiff Eagle but I doubt that will have any major impact. It's not an unfamiliar surface and I'm sure the change will be seamless. As for how the changes made to the course before this year's renewal affected the result - well the jury's still out as far as I'm concerned.
Back-to-back winner, Every, can't be described as one of the PGA Tour's bombers but I suspect length off the tee will prove ever more beneficial going forward with the fairways playing that little bit easier now.
With the wind down, I thought someone would reach at least 20-under-par this year (Every's winning total was -19) and it certainly won't be long before someone does. This looks like being a bit of a birdie-fest going forward now and I'd love to watch an on-song Bubba Watson contend next year and now that he's gotten his debut out of the way, Rory McIlroy is definitely one to watch.
First-timers have an appalling record at Bay Hill so that was always against Rory this year but he enjoyed the course and felt it fitted his eye. Whether it will so much when the wind's up is another matter but in benign conditions, now he's had a chance to see it, Rory might take some stopping around here.

Just How Tough Is It To Find PGA Tour Winners?
Following Every's win yesterday, we've now had nine weeks in-a-row when the third round leader has failed to convert and I don't think that's just a coincidence - the PGA Tour appears more competitive than ever.
The days of three or four players winning numerous titles throughout the year look long gone now. Tiger Woods is on his way out of the world's top-100, Phil Mickelson is no longer the West Coast cash cow of old and reliably mainstays like Jim Furyk and Vijay Singh have seen better days. So far this season, we've had 19 different winners on the PGA Tour - the most since 1994 apparently - and if predicting before the off is tough, it's pretty hard in-running too.

Can We Trust Henrik?
I got a wee bit of stick for suggesting Stenson, who has now moved up to number two in the world, isn't a viable betting proposition on account of his low price when considering his in-contention play but yesterday was a very clear example of why he rarely represents value - unless you're going to trade out of course. Stenson ranked second for strokes gained putting over the first three days but when the heat was on yesterday, he ranked dead last for that stat.
He was matched at around 1.330/100 early on yesterday, after birdying the 4th hole, but thanks largely to some brilliant play by Hoffman, he went from leading by two to trailing by two, just four holes later. If his backers were then cursing the fact that they didn't take a decent profit, they were to get a second bite of the cherry on the back-nine when he led by a couple again with just five holes to play - this time hitting a low of just 1.111/9!
Stenson moaned afterwards that being put on the clock had been off-putting, saying that he barely lined-up properly for the par putt he missed on 15 from just five feet but that's just sour grapes as far as I'm concerned and I wouldn't mind betting he'll regret his comments in time.
He and Hoffman where a hole behind after just three or four holes and they'd been put on the clock way before the miss on 15. I think it was just another example of Stenson feeling the heat and his three-putt on 16 from 38 feet that followed was really poor.
I'm not for one second suggesting Stenson doesn't have bottle, that would be ridiculous, he's won a Players Championship and umpteen titles worldwide but what I am reiterating is that the fact that he does get in his own way and that he isn't the most straightforward closer of events means that he doesn't often represent value in the market. Stenson can be trusted to carry cash, but only at the right price.
Well, that's enough looking back on last week; we've two great events to look forward to this. I'll be back later today with my Valero Texas Open preview and tomorrow morning with my take on the Trophee Hassan II.

*You can follow me on Twitter @SteveThePunter
Discover the latest articles