The Punter's De-Brief: Playoff drama leads to market carnage on both main tours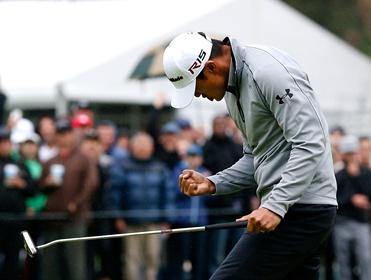 James Hahn reacts to making the winning putt
Steve looks back at a dramatic week's golf, where all sorts of drama produced plenty of trading opportunities. Read his customary look back at the week's golf here...
"In the bad old days before Betfair a run like the one I've just had would have been intolerable but when you have the opportunity to lay back there's no excuse not to profit and the way the event panned out in Delhi, guaranteeing a decent win was straightforward enough."
On what transpired to be an exhilarating final day at both the Indian Open and the Northern Trust Open both tournaments required playoffs. Pre-event favourite, Anirban Lahiri, comfortably beat S.S.P Chawrasia at the first extra hole in Delhi before 600.0599/1 shot, James Hahn, got the better of Paul Casey and the very well-fancied, Dustin Johnson, in extra time at Riviera. 
All three made par at the 18th before Hahn and Johnson made miraculous birdies at the notorious 10th to eliminate Casey who could only par the hole. D.J then stuffed his tee-shot on the par 3 14th to around 10 or 12 feet and went heavy odds-on but when Hahn rolled in his birdie from around twice that distance, Johnson couldn't reply.

My Bets
Following Lee Westwood in Malaysia and Scot Hend in Thailand, for the third week in-a-row, I've had a pre-event pick go odds-on and get beat on the European Tour. My only two selections, Chawrasia and  Siddikur Rahman, went into the final round clear of the remainder but nerves got to the pair and they both shot desperately disappointing five-over-par 76s. Chawrasia, backed at 36.035/1 before the off was matched at just 1.330/100 in-running and my 66/1 each-way selection, Siddikur Rahman, hit a low of 3.211/5 but finished a shot outside the places.
There was yet more pain to endure in the States when 350.0349/1 outsider, Angel Cabrera, burst out of the gates in round four with three straight birdies to reach seven-under-par, a score one better than was eventually needed to get in to the playoff, but he went backwards after that and eventually finished right down in a tie for 30th!
It was a strange and disappointing finish for the two-time major champion but he was matched at a single-figure price so I can't complain. And having the two clear in India with a round to go meant I've actually had the best week I've had in a while.
In the bad old days before Betfair a run like the one I've just had would have been intolerable but when you have the opportunity to lay back there's no excuse not to profit and the way the event panned out in Delhi, guaranteeing a decent win was straightforward enough. I did trade a little in round four but most of it was done before then and although I'd have loved to have seen the likable and cheery Chawrasia win, it mattered not financially that he didn't. 
As detailed in the In-Play Blog, I was tired after getting up early to watch events unfold in India over the weekend and couldn't decide whether to get involved with any trading at Riviera but Cabrera's lightening fast start, together with a birdie at the first for overnight leader, Retief Goosen, and a quick start by the flaky Sergio Garcia, forced my hand. I was knackered but before I knew it, I was in the thick of it and thankfully, it was well worth the effort.
To cut a long story short, I make no secret of the fact that I don't rate Sergio in-the-mix (especially in the States) and I really wanted to be against Goosen so I started off by laying them at 5.04/1 and 3.55/2 respectively. I layed back some of my Cabrera wager and I also layed Jim Furyk and J.B Holmes early on. I then continued to lay numerous players as they shortened up throughout the day and with four players trading at odds-on, I was able to get myself into a great position by the end. 
As detailed in the In-Play Blog, I'd also backed Sang-Moon Bae to win his three-ball so all in all it was a great week's work.

Tough Tracks Make for Great Trading
I wasn't the only one guilty of judging the standard of play in India as really poor and it certainly wasn't great but what a venue! The fairways are very narrow and with the Bermuda rough dormant, almost every, even slightly, askew drive trickles into the scrub. As the week goes on the course dries out and when you add a bit of wind into the equation you have a very stern test indeed. The best score by anyone yesterday was just three-under-par and my two were far from the only ones to suffer. 
Given I'd pretty much sewn things up before the off, having been in such a great position, I didn't bother to get involved in-running yesterday but anyone trading the final round and laying anyone that went odds-on would have been quids in by the time Lahiri birdied the first extra hole and the difficulty of Riviera led to much the same profit-making drama in the States too.
We've now witnessed three three-man playoffs in three of the last four years at Riviera and the last four winners have all been at least a couple of strokes back with a round to go. All sorts of drama is possible here on a fast and very difficult course and when the weather conditions alter slightly, as they did yesterday with rain moving in, much carnage can occur.
When he chipped-in from the rough for the most unlikely of birdies on the ultra-tough 12th and received the benefit of numerous lucky bounces off the tee, I did start to doubt whether taking on Sergio so fervently was going to prove costly but his challenge eventually unravelled with back-to-back bogeys at the last two holes. Garcia was the cornerstone of my book but with so many trading really short, laying was most definitely the way to go.
Garcia was matched at a low of 1.42/5, Dustin 1.384/11 and when he looked to be in position A1 off the tee on the second extra hole, Casey dipped to 1.855/6. In addition, Goosen hit a low of 3.02/1 and Sang-Moon Bae was matched at just 4.03/1. 

Being Ahead of the Rest is a Plus at Riviera
The back-nine is tough and getting home is far from easy so anyone ahead of the pack has more of an advantage than the market suggests. I kept Paul Casey onside for much of yesterday and that was because he was ahead of the pack. The market always favours players with holes to play over those nearer the clubhouse with the majority of punters optimistically thinking players are going to make birdies but that's not always the reality.
Sky's Mark Roe said last night that if Casey birdied the last he'd have a chance but the reality was that had he made a four in regulation, instead of a five, he'd have won the tournament. That typifies how most people think but with such a tough finish getting in the house and waiting to see what the rest do coming in is not a bad spot to be.

Yet another 'Nappy Factor' winner
I bang on about the 'Nappy Factor' too much maybe but last night's three playoff protagonists are all either recent first-time parents or in the case of James Hahn, about to be.
Paul Casey won the KLM Open last summer, two weeks after the birth of his son, and Dustin Johnson has been playing really well on return, following the birth of his daughter. And given it was the very first thing he talked about after the victory, Hahn's mind is very much focussed on the imminent birth of his first child - another girl. And that draws a parallel with last year's FedEx Cup hero, Billy Horschel.
Billy was just weeks away from the birth of his first child (a girl) when he finished second at the Deutsche Bank Championship and first at both the BMW Championship and the Tour Championship in a three week stretch.

Keep Taking on the Odds-On Shots in Europe
I'm beginning to sound like a stuck record but with Chawrasia hitting 1.330/100 and Marcus Fraser just 1.814/5, yet again at least three players have gone odds-on in-running and with Chawrasia eventually succumbing to the pressure, it's yet another defeat for a third round leader.
I'll return this evening with my Honda Classic preview and tomorrow with my look at the Joburg Open.

*You can follow me on Twitter @SteveThePunter
Discover the latest articles