The Punter's De-Brief: Ruthless Rory heads to Wentworth on a high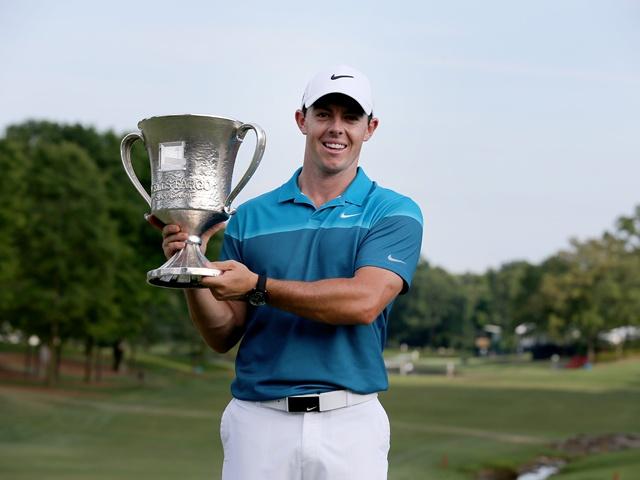 Rory McIlroy with the Wells Fargo Championship trophy
Steve takes a look back at last week's two events and asks can we now just back Rory anywhere and at any price? And there are also clues found in Spain for a forthcoming event on the European Tour...

"I won't be backing Rory at less than 3/1 this week as that does look a bit too short given his overall course form is far from great and that he's still yet to defend any title, but I may be willing to take such a price elsewhere."
This week's winners may have both come from the British Isles but that's just about where the similarities end. Warm pre-event favourite, Rory McIlroy, destroyed the field in Charlotte to win the Wells Fargo Championship by seven strokes, with a record-breaking total of 21-under-par. It was Rory's 11th PGA Tour title and arguably his most impressive.
James Morrison, a 500.0499/1 shot before the off, was winning just his second European Tour title - more than five years after his first. Morrison had begun the final round tied with fellow Englishman, David Howell, but after chipping-in for birdie at the 5th hole, he was never headed and when he birdied the final hole from 10 feet the margin of victory was a very cosy four strokes.

My Bets
Although it promised much, with three pre-event picks getting very much in-the-mix, and with in-play pick, David Howell, leading with a round to go but performing poorly yesterday, it's finished up being a pretty poor week.
Phil Mickelson was tied with Rory midway through round three at Quail Hollow and he was matched at just 5.14/1 and in Spain, both Michael Hoey and Byeong-Hun An were in with a decent chance at halfway but performed poorly over the weekend. I'd backed Hoey at 300.0299/1, so it was frustrating not to get any sort of a return given he was tied for second at halfway but he never traded below 10.09/1.
I always like to look back and see what I could have done differently and other than backing Rory at halfway when he traded at above 2/1, I'm not sure there was. That looked a very fair price at the time and given he's not much bigger than that for this week's BMW PGA Championship before the off, it looks even better with hindsight.

What Price Rory Now?
Saturday's 61 at Quail Hollow was an incredible round of golf - one that took Rory's already legendary status to a new level. Some say it was better than anything Tiger Woods produced and I'm not about to argue against that. It was simply sensational but it will have a huge bearing on what price he's going to be going forward and we need to work out whether this new next level Rory is one we want to back with enthusiasm at much shorter prices.
The BMW PGA Championship market is still maturing but he's currently trading at under 3/1 to win the Wentworth showpiece and that's considerably shorter than he was last year. Admittedly, he hadn't just won a second Wells Fargo, and two of the last three majors and World Golf Championships 12 months ago and his Wentworth form figures read MC-5-48-24-MC-MC and now they have a 1 after the last two MCs but does his form really justify him being so much shorter. He went off at 14/1 last year!
I won't be backing Rory at less than 3/1 this week as that does look a bit too short given his overall course form is far from great and that he's still yet to defend any title, but I may be willing to take such a price elsewhere...
The interesting thing to note about Rory's career of late is that the bigger the tournament, the more likely he is to succeed. He's won 11 times on the PGA Tour and 11 times on the European Tour. The majors and WGCs count on both tours but his other titles on each tour are nearly always biggys.
The Wells Fargo Championship and the Honda Classic are the only events he's won in the States that aren't a major, a WGC event or a FedEx Cup Playoff event and on the European Tour, all his wins bar one have been majors, WGCs or high profile tournaments in Dubai. His 2011 victory at the Hong Kong Open is the only won achieved at an ordinary event.
So, to summarise all of that. Until he actually achieves a successful defence, he might be worth swerving whenever he does defend and avoid him in the few smaller events he plays in now when he'll be a shorter price anyway. For example, he only finished 14th at the Scottish Open last year and he's missed the cut at the last two Irish Opens and his form at events like the Memorial Tournament and the Shell Houston Open on the PGA Tour is some way short of what he's produced in the bigger events. It's not surprising; he concentrates his efforts most at the majors and the WGCs events and as punters that looks to be when and where we need to consider him more closely.

Spanish Form to Hold Up in France
With this year's Africa Open winner, Trevor Fisher Jnr making the early running in Spain, the early leaderboard correlated really well with the co-sanctioned Sunshine Tour event and I saw Dave Tindall tweet this on Thursday. "5 of the top 6 in Spain (Fisher Jr, De La Riva, Ford, Tullo and Parry) finished in the top 10 at the Africa Open."
As the week wore on the leaderboard changed considerably though and the event I thought it correlated best with was the Open de France. The course ran fast and dry and played tricky, just like Paris National and several players that have enjoyed the Open de France played well last week in Spain.
Eventual winner, Morrison, led at Paris National with a round to go in 2011 and so did Howell in 2012. Alongside Howell in a tie for second was Francesco Molinari, who has twice finished runner-up at the Open de France, and Miguel Angel Jimenez, who won the Paris event in 2010.
The Open de France is still seven weeks away yet but it's worth clicking back to the leaderboard here for pointers.
I'll be back later today with both my BMW PGA Championship and my Crowne Plaza Invitational previews.

*You can follow me on Twitter @SteveThePunter
Discover the latest articles