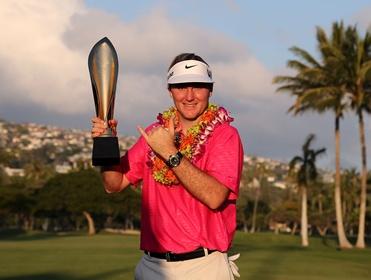 Russell Henley, winner of the Sony Open and future star
Tour rookie, Russell Henley, impresses at the Sony Open while Louis Oosthuizen bounces back in Durban. Read Steve's reflections on the week here...
"It's always nice to start the year off well after an expensive Christmas, so making a pig's ear of things in week two is irritating but I'm going to view 2013 as if it were a round of golf and imagine I've played the first hole sloppily and made bogey."
Pre-event favourite, Louis Oosthuizen, fought back from five behind with a round to go to take the Volvo Golf Champions event but the week's big story was over in Hawaii, where PGA Tour rookie, Russell Henley, produced an extremely impressive demolition job at the Sony Open. Matched at [380.0] before the off, the 23-year-old said that it was the most nervous he'd ever been but given he finished the event with five straight birdies, it didn't show!
My Bets
It's not been a great week, to say the least. I can't really moan about the Sony Open result, where things never went my way and the winner was a huge stats buster but I'm cross with myself about the event in Durban, where I really did trade woefully.
Having backed third round leader, Scott Jamieson, in-running at [6.2] (see In-Play Blog), I was in position A with a round to go. The young Scotsman was trading at [1.5] before they teed-off and although he'd never been in this position before, that still looked generous and I felt I couldn't lay any off at the price. Before yesterday, since 1997, 23 players had held a five-shot lead after 54 holes on the European Tour and 20 had gone on to win, [1.5] looked big to me, but that stat now reads 20 from 24.
I can't regret not laying back at [1.5] but I can certainly rue not checking what time it started yesterday and discovering play had begun a couple of hours earlier than it had on Saturday, ten minutes too late!
With family stopping for the weekend, I was relaxed and not on the ball yesterday and when I checked the 'early' scores on my phone I was surprised to see that the leaders had started. It was far from the end of the world though; Jamieson had birdied the 2nd and 3rd holes and was still very much in control. I chatted some more before leisurely switching the laptop on, took my time, made another coffee, sat down and switched the TV on, just in time to see my man reloading on the 5th tee. Oh dear.
He'd been matched at just [1.28] and had I been on my game, I definitely would have layed some back. To make matters worse, I modestly layed Oosty at [1.40], so it was a disappointing result all round. The only silver lining was that I didn't get involved in Hawaii, where I probably would have tried to find value in the chasers that I knew wasn't there.
It's always nice to start the year off well after an expensive Christmas, so making a pig's ear of things in week two is irritating but I'm going to view 2013 as if it were a round of golf and imagine I've played the first hole sloppily and made bogey. Many a great round starts with a bogey, so hopefully I can kick-on from here and make sure I don't make any more sloppy schoolboy errors - like failing to check tee-off times!
Player to swerve
Oosthuizen may well have won but he was far from convincing and he remains one to treat with the utmost caution. His performance on Saturday, when starting the day in the lead, was absolutely awful and although he did shoot a great score yesterday, it's worth noting that he played the last seven holes in level par (once he'd hit the front) and I felt his victory was very much down to Jamieson's collapse.

Now ranked fourth in the official world rankings, Oosty will be turning his attentions to the majors and punters will be expecting more victories in ordinary events. He isn't going to be generously priced and given how shaky he is at getting over the line, he isn't going to represent any value at all.

What have we learnt for next year?
Oosty may have been a slightly fortunate winner, but the bottom line is, that's now six South African winners from six European Tour events at Durban Country Club. The advantage the home contingency has is clear.
Henley's win at the Sony broke all sorts of records and plenty of trends too. He was the first winner below the age of 30 to win since 1997 and the first with less than two previous course appearances to win since 1996. And he was just the second rookie to ever win the event.
The other thing to note was the poor performances put up by those that had played at the Hyundai Tournament of Champions. Prior to this year, nine of the last 14 winners of the Sony had played in the season's opener but none of the 20 in the field really threatened this time around, with Matt Kuchar, who finished tied fifth, the highest finisher.
It seems I was wrong to think the overrun at the TOC, when the event ran into Tuesday, would have no affect and going forward, given that the event now finishes on a Monday (prior to 2011 the TOC finished on a Sunday) at the earliest, and that it won't be the seasonal opener anymore, that particular trend might not be so strong. As for the other trends, I can see normal service resuming, for two reasons.
Firstly, the wind - the course's primary defence - simply failed to blow this week and as a result the test wasn't so tough, or so baffling, for the newcomers. And secondly, I will be very surprised if Henley doesn't turn out to be a very special player indeed. He looks a unique talent and I think this could be a unique result.
Rory McIlroy and Tiger Woods (the Nike Boys) are playing in the Abu Dhabi Championship and Phil Mickelson tees it up at the Humana Challenge in California this week. Both events start on Thursday and I'll be back tomorrow or on Wednesday morning with my previews.