The Punter's In-Play Blog: Is Snedeker poised to pounce?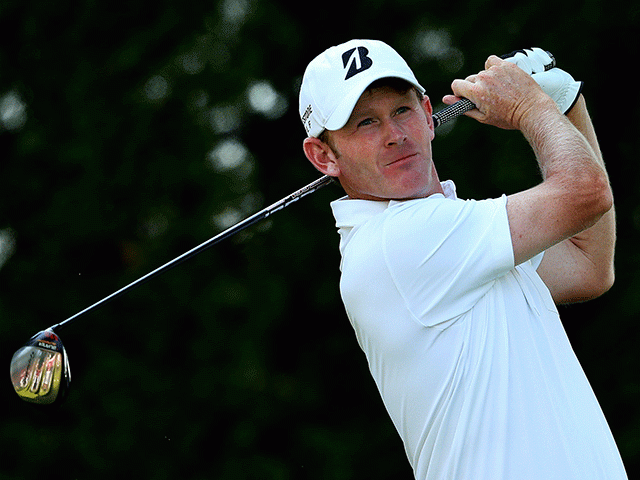 Brandt Snedeker – in tremendous form and nicely placed in Connecticut
One of Steve's halfway picks, James Morrison, is two clear in Germany and Brian Harman and Zach Johnson have given him a chance in the States. Read his final in-running instalment of the week here...

"If I had to pick one out at this stage, I'd go for Snedeker, he's been in tremendous form of late and it's highly likely that he'll shoot another low one today from just slightly off the pace"
14.15 - June 28, 2015
Didn't get the result I wanted in Germany, where Pablo Larrazabal has won his second BMW International Open, but I have at least decided how to go into tonight's delayed final round of the Travelers Championship.
Heavy rain has seen the tee times pushed back in Connecticut and I've now layed Brian Harman at 4.94/1 and Graham DeLaet again, this time at 6.25/1. I've decided to keep Zach Johnson onside for now and see what I can do in-play. Here's how my poor book looks like now.
Brian Harman +42
Bubba Watson -382
Graham DeLaet -411
Brandt Snedeker -172
Zach Johnson +1886
Paul Casey -141
Chris Stroud +974
Of those unquoted, the players layed before the off lose around £100 and those not layed win £974.

10.55 - June 28, 2015
James Morrison played brilliantly for 17 holes yesterday to seemingly seize control of the BMW International Open. He stood in the middle of the par 5 18th fairway with a three shot lead and he was matched at just 1.68/13 but a scruffy bogey after a wayward second shot and a couple of poor chips, has put his claim for the title in doubt. Here's the current leaderboard with prices to back at 10:45.

James Morrison -16 2.226/5
Chris Paisley -14 9.617/2
Thongchai Jaidee -13 6.25/1
Peter Hanson -12 14.013/1
Pablo Larrazabal -11 22.021/1
Michael Hoey -11 34.033/1
Carlos Del Moral -11 55.054/1
-10 and 42.041/1 Bar

Having backed Morrison yesterday morning, I did toy with laying my stakes back at odds-on but decided against it and I'm still not laying him, even after that shaky finish. I really can't see Chris Paisley holding up under pressure - he's never been in such a lofty position on the European Tour and he spoke of how he gets nervous after his round yesterday.
Peter Hanson hasn't been in-the-mix in years and will probably be a bit rusty and so the one Morrison has to worry about is Thongchai Jaidee. He missed a few putts yesterday but is hitting it beautifully and he's definitely the danger. The BMW International Open is live on Sky at 11:30 UK time.
There didn't appear much I could do with my lay book at the Travelers Championship yesterday so instead of trading the event I took the evening off and it didn't do any harm.
With hindsight, I may have been able to go deeper on Bubba Watson, who I see was matched at odds-on, presumably after he'd birdied the 6th hole to get to two-under-par for the day with still two thirds of the course to play, but I certainly don't have any regrets.
With both pre-event favourites, Watson and Brandt Snedeker, right in the thick of it, and with four of the top-six layed before the off, it's certainly not ideal but I'm not in the least bit complaining. A late rally from Zach Johnson and a second successive five-under-par 65 by Brian Harman, has given me options. Here's the third round leaderboard with prices to back at 10:50 and the amount of money I'd win or lose on each player should they win.

Brian Harman -14 5.14/1 +736
Bubba Watson -13 3.259/4 -632
Graham DeLaet -13 6.25/1 -351
Brandt Snedeker -11 10.09/1 -422
Zach Johnson -11 12.5 +1649
Paul Casey -11 16.015/1 -391
Chris Stroud -10 55.054/1 +736
-9 and 48.047/1 Bar

The market suggests that one of the front six will win but history suggests it would be daft to assume that. Last year's winner, Kevin Streelman, trailed by four at this stage, the 2012 winner, Marc Leishman, was fully six back with a round to go and in 2010, the three playoff protagonists, Bubba, Corey Pavin and Scott Verplank, were six, six and eight back respectively through 54 holes!
Only one of the last six third round leaders has gone on to win so I'm pretty sure I'll get Harman in the book but I haven't as yet done anything. I could lay him and lay Zach, and my book would look something like this...
Brian Harman +4
Bubba Watson -252
Graham DeLaet +27
Brandt Snedeker -42
Zach Johnson +155
Paul Casey -11
Chris Stroud +1097
Or alternatively, I could go against the three leaders by laying Harman more aggressively and laying Bubba and Graham DeLaet again to create a position like this...
Brian Harman -316
Bubba Watson -338
Graham DeLaet -311
Brandt Snedeker -62
Zach Johnson +1991
Paul Casey -31
Chris Stroud +1078
I haven't yet decided how to play it and the result in Germany may have a bearing. If Morrison or Hoey wins, I may go for option one and take it easy tonight. Or I may even think my luck is in and go for it. Maybe I shouldn't be so indecisive (I can't decide whether I should be more decisive or not) but I've got all day to think it through. I've then got to decide how aggressively I trade the event this evening. Four players traded at odds-on 12 months ago so the chances are we'll see all sorts of shenanigans.
If I had to pick one out at this stage, I'd go for Snedeker, he's been in tremendous form of late and it's highly likely that he'll shoot another low one today from just slightly off the pace but the fact that he was in the thick of it at last week's US Open tempers my enthusiasm.
Whatever happens today, I'll be back in the morning with the De-Brief.

08.50 - June 27, 2015
Both this week's events have reached the halfway stage and I'm having a surprisingly quiet week so far. I'll start with the BMW International Open where Rafa Cabrera-Bello leads but he should arguably be almost out of sight by now. Here's the current leaderboard with prices to back at 08:30.

Rafa Cabrera-Bello -12 4.03/1
James Morrison -11 8.88/1
Michael Hoey -10 16.5
Lasse Jenson -10 42.041/1
Thongchai Jaidee -9 12.5
Pablo Larrazabal -8 22.021/1
Alejandro Canizares -8 30.029/1
Chris Paisley -8 100.099/1
Peter Hanson -7 48.047/1
Joakim Lagergren -7 140.0139/1
Bradley Dredge -7 75.074/1
Peter Lawrie -7 130.0129/1
Henrik Stenson -6 14.013/1
-6 and 100.099/1 bar

Cabrera-Bello was matched at just 2.56/4 yesterday morning as he raced to the head of the leaderboard and threatened to shoot clear but as has happened numerous times with the Spaniard, the weight of leading took its toll. With still two par 5s to come in perfect conditions, it was a chance for him to put clear water between himself and the field but instead of kicking on, he played his last seven holes in one-over-par.
Whether Cabrera-Bello can shed his many in-contention demons and put this to bed is highly debatable and I think he's worth opposing. He's messed up the chance to win at least three events already this year and he's nought from five when leading or co-leading at halfway on the European Tour. Those that piled in at short odds yesterday have a long weekend ahead.
At 8/1 with the Sportsbook, and with still four places up for grabs, each-way backers could do worse than side with this year's Open de España winner, James Morrison. He looks to have not only found his form this year but also some mettle. It was impressive how he finished off the opposition in Spain and he'll have far more self belief than Rafa.
I've had a tiny in-running play on Morrison at 9.08/1 and I also got Michael Hoey onside yesterday morning at 30.029/1. Regular readers will know that I often throw a few pounds at the Irishman before the off and hopefully one or two kept the faith because the 300.0299/1 he was matched at on Monday looks pretty big now. In truth, this five-time European Tour winner has looked anything but the rock-solid closer of old just lately but it might be too soon to write him off. He might be a bit rusty but I can't believe he's forgotten how to get the job done and this looks like a great chance.
Over at the Travelers Championship, I wrote in the preview about how damaging it would be to have one of the pre-event favourites making the early running and that's exactly what's happened. Bubba Watson shot his lowest ever round on Thursday afternoon and having followed it up with a perfectly respectable three-under-par 67 yesterday morning, he's very much the man to beat.
I toyed with getting Zach Johnson, who I'd sided with before the off, in the book yesterday but it looks like I've missed my chance now. He got to within two of his playing partner Bubba yesterday but never traded bellow 12.011/1. Obviously, I now wish I'd layed him but I thought there was every chance he'd close the gap on Watson completely and I certainly envisaged a single-figure price but he finished really poorly and now trails the leader by fully six strokes.
My other regret is not laying Keegan Bradley further. He was matched at just 6.25/1 last night as he edged towards Bubba but his ludicrously protracted pre-shot routine reached new levels of ridiculousness the nearer he got to the lead and he eventually crashed at the 15th hole where he was lucky to make bogey. Check the video in the tweet below which really did give me the giggles. Bradley is only preparing to hit a straightforward approach shot on 14 yet takes a solid minute to get round to it and I love the way the commentator asks "Is he trying to kill a mole?" It's my highlight of the week so far by a country mile.

I didn't do anything with my book yesterday and that may just happen again today. With Bubba trading at such a short price, it's very hard to get anyone else in the book. I could lay the likes of Brian Harman, Carl Pettersson and Scott Brown, to name but three, and reduce my potential losses but it's still early days and I haven't given up hope of still getting a decent result.
Bubba is an unpredictable so-and-so and it's far from beyond the realms of possibilities that he could throw in a poor round today. Bubba apart, the book would be looking fantastic as he's the only player in the top-six I layed before the off and I've only layed five of the top-19 at this stage in total.

10:40 - June 24, 2015
The BMW International Open is now live on Sky Sports and Spain's Rafa Cabrera-Bello is stretching the field - he's currently 13-under-par and he's already been matched at just 2.56/4. I'm leaving the event alone until tomorrow now. My pre-event picks have all been disappointing but I'll take a detailed look at halfway.
Having layed everyone under 100.099/1 before the off (details below), I was quite pleased with how the first day at the Travelers Championship started yesterday. With the exception of Keegan Bradley, most of the fancied players from the morning wave did very little but it all went a bit pear-shaped after that.
Pre-event favourite, Bubba Watson, fired an eight-under-par 62 to lead after round one and to make matters worse, I layed him again in-running at 4.216/5. I also layed a few more players just before the off and I backed a few for tiny stakes in-running - Johnson Wagner and Mark Wilson. Here's the current state of my book.

Travelers Championship Post Round One Lay Book Positions
Worst Case Scenario (Bubba) -632
Best Case Scenario not including players backed +736

What I do today depends almost entirely on what Bubba does. Hopefully he'll struggle to back up yesterday's low one but I wouldn't be at all surprised if he just keeps going and if he does, I may struggle to get myself into a profitable position. For the record, he's only ever held a clear lead after round one once before - at the Bridgestone Invitational back in 2010, where he went on to finish 22nd and his record when tied isn't great either.
Five times worldwide, he's held a share of the lead after day one and he's finished 16th, 1st (2011 - Zurich Classic), 18th, 2nd and just last November, at the Taiheiyo Masters in Japan, he finished 24th.
I can't see him dropping away like he did in Japan but he still looks short enough at just a shade over 3.02/1. It's tempting to go after him again this morning but I've decided not to. I'm hoping that Zach Johnson can do me a favour and pick up where he left off yesterday (shot -5 but was level after 10 holes) as I may end up needing to lay him back just to reduce losses!
I'll be back tomorrow to see where I stand but as I did yesterday, I'll tweet my bets as and when they're placed.

11:50 - June 24, 2015
I know it seems a bit odd having an In-Play Blog begin before the events have even started but when I published my Travelers Championship preview yesterday I hadn't quite finished tinkering with my book.
As detailed in the preview, I'm doing something I've done at this event, and others, on several occasions. I'm laying all the players trading at less than 100.099/1 before the off, with the intention of laying more players as and when they get in to contention. And I'll also lay some of the players layed before the off again at some stage.
I don't suspect I'll do very much at all tomorrow but last year I layed one of those un-layed before the start, Brendan Steele, at a single-figure price on day one, so I'm not ruling it out.
The reason I've had this change of tack this week is that the Travelers Championship has a habit of creating all sorts of carnage in the market as the tournament draws to a close and that a number of winners have been virtually unconsidered before the off.
If any of the players trading at less than 100.099/1 start fast and dominate throughout then I'll lose but that hasn't happened since 2009 when Kenny Perry won so the odds are in my favour. And even then, outsider, Paul Goydos, led with a round to go so a big chance to level off or cut losses considerably was available.
I've made Bubba Watson and Brandt Snedeker my two biggest losers and if I left the book alone completely from now on in and one of those two were to win, I'd lose £499. Of the 25 players I've taken on, my smallest loser is Jason Bohn. A win for him, at this stage, would cost me £353 and the other 22 players are layed to lose somewhere between £353 and £499.
All the players that haven't been layed - everyone trading at 100.099/1 or more - currently have a plus £662 figure alongside their names and I've also had very small bets on two players I wanted onside - Zach Johnson and Jerry Kelly. Again, if I did nothing from here on in and Zach won the event, I'd profit to the tune of £1575 and a win for Kelly would result in a win of £1877 but that isn't go to happen. Things will change a lot as the tournament progresses.
If I do lay anyone tomorrow I'll tweet it and if much happens tomorrow I'll update the blog again but the chances are I won't be back until Friday.
It's all a bit more subdued at the BMW International Open on the European Tour, where I've played just three before the off, but here's the preview if you missed it yesterday.

BMW International Open Pre-Event Selections:
Thomas Bjorn @ an average of 38.037/1
John Hahn @ 140.0139/1
Alvaro Quiros @ 150.0149/1
In-Play Bets
James Morrison @ 9.08/1
Michael Hoey @ 30.029/1
Travelers Championship Pre-Event Lay Book Positions
Worst Case Scenario Before The Off -499
Best Case Scenario Before The Off +662
(Zach Johnson and Jerry Kelly omitted from the figures)

*You can follow me on Twitter @SteveThePunter
Discover the latest articles