The Players Championship: Zach looks primed for another tilt at the title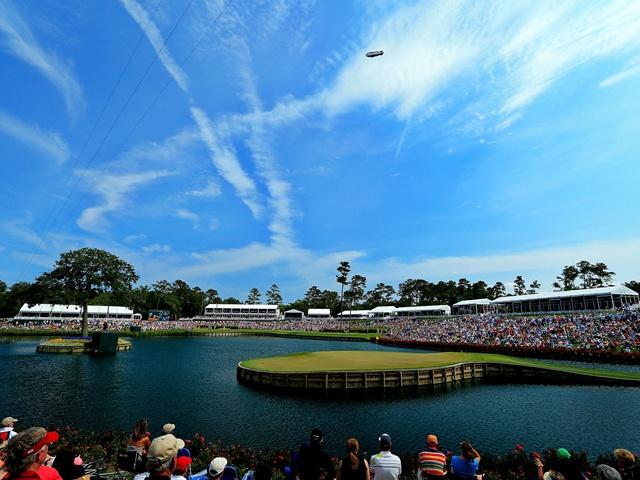 The iconic 17th hole at Sawgrass
Steve takes a detailed look at this week's PGA Tour action from TPC Sawgrass, where he fancies the veterans to outplay the young guns. Read his comprehensive preview here...
"Zach was second here in 2012 and he looks primed for another strong challenge this time around. Only last month he put up his best US Masters performance since he won the Green Jacket in 2007, when he finished 9th at Augusta, and his iron play looks in great shape right now."
Tournament History
Jack Nicklaus won the first of his three Players Championship titles at the inaugural event in 1974 and he's still the only man to win the tournament three times. Often referred to as the unofficial fifth major, the Players has the highest amount of prize money of any tournament, with a total purse of $10 million.

Venue
TPC Sawgrass, Ponte Vedra Beach, Florida

Course Details
Par 72 -7,215 yards
Stroke Index in 2014 - 72.15
Constructed in 1980, specifically for the purpose of hosting this event, the Stadium Course at Sawgrass has been the tournament's venue since 1982. It's a Bermuda-grass Pete Dye design and it's one of the most renowned courses in the world. With its dramatic island green, the par 3 17th is one of the most recognised holes in golf.
Described as a balanced course, with doglegged holes going both ways and holes routed so that no two consecutive ever play in the same direction, it's a true test that doesn't tend to favour any one type of player.
In 2006, just before the event moved to its now regular May date, all the tees, fairways and greens were stripped and new drainage, irrigation, and sub-air systems were installed. The result being that the firmness of the smaller than average sized greens can be controlled in any weather conditions. The greens are usually set to run at around 12.5 on the stimpmeter.

Useful Sites
Course Site
Twitter Link
Tee Times
Weather Forecast
Alternative Weather Forecast

TV Coverage
Live on Sky Sports all four days, starting on Thursday

Last Five Winners
2014 - Martin Kaymer -13
2013 - Tiger Woods -13
2012 - Matt Kuchar -13
2011 - K.J Choi -13 (playoff)
2010 - Tim Clark -16

What Will it Take to Win The Players Championship?
This is one of those rare week's were hitting it miles off the tee doesn't give you a big advantage. Only two of the last ten winners have ranked inside the top-20 for driving distance - last year's winner, Martin Kaymer ranked 19th and in 2009, Henrik Stenson ranked 19th.
Driving accuracy isn't a stat to get hung up on either. The average DA ranking of the last ten winners is 19.3 but that includes three winners, ten, nine and seven years ago, that ranked first. In recent years it's appeared less important and Kaymer only ranked 43rd for DA 12 months ago.
The last three winners have ranked third for Greens In Regulation and that's the main stat to concentrate on. The ten year average ranking of the winners is just 7.5 and 11 of the last 15 winners have ranked inside the top-ten for GIR.
And finally, scrambling has proven marginally more important than putting. Over the last ten years, only two winners, Sergio Garcia and Matt Kuchar, have ranked outside the top-ten for scrambling.

Is There an Angle In?
This is a tournament that tends to get spread around a bit with very few winning the event more than once. Nobody has ever defended the title, Nicklaus is the only three-time winner, and when Tiger Woods won two years ago, he became just the fifth to do so twice. And in the 20 years prior to that victory, 20 different men had taken the title.
Previous course experience is very important - when Henrik Stenson took the title in 2009, he was playing in the event for just the fourth time but he's the only Players champ in the last eight years to have previously played Sawgrass less than five times prior to winning. Kaymer was playing Sawgrass for the sixth time when he won last year but like many a winner before him, although he had plenty of course experience, he hadn't exactly set the place alight. His Sawgrass form figures prior to winning read, 55-34-19-15-43.
The last two winners were both drawn to play round one on Thursday afternoon but that was largely due to the weather - the five previous winners were all drawn early/late.
The draw favoured those drawn late/early in each of the last two renewals when on both occasions the weather worsened on Friday. Those that played on Friday morning last year averaged 71.56 whereas the later starters averaged almost a stroke and a half worse at 72.99 and in 2013 the differential on the Friday was even bigger. The AM starters averaged 71.52 and the PM 73.23 - a difference of 1.77 strokes.
Unless, like the last two years, a significant draw bias emerges due to the weather, I'd suggest an early start on Thursday is fairly advantageous so if you're going to place your bets late on, I'd suggest checking the forecast careful and siding with those that have an early start on Thursday, weather permitting.
Is There an Identikit Winner?
Don't be afraid to back an outsider. The list of past champions contains plenty of shock winners. I can't imagine too many picked out the likes of Craig Perks or Fred Funk and I have fond memories of backing Stephen Ames in 2006, as he went off at 170.0169/1. Martin Kaymer wasn't exactly well-fancied last year either as he was matched at 100.099/1 before the off.
Experienced wily old veterans, that know how to plot their way around Sawgrass, tend to do well here. Funk was no spring chicken when he won in 2005 and when the 40-year-old K.J Choi won in 2011; he beat 44-year old David Toms in a playoff. Fellow vets, Kenny Perry and Paul Goydos, have both come very close to winning recently. Jim Furyk traded at just 1.774/5 12 months ago and two years ago, 49-year-old, Jeff Maggert, finished runner-up. Discount the oldies at your peril.
Americans won the first 13 editions of the Players Championship and for a long time the locals, and to a lesser extent the Aussies, dominated the event but that's changed somewhat in recent years with Americans only winning five of the last 13 renewals.

In-Play Tactics
Sawgrass tends to get harder as the week wares on as the wind dries out the small greens and up with the pace is where you need to be here. Kaymer is the 4th first round leader to go on and win in ten years but he's the first to win wire-to wire since Hal Sutton achieved the feat in 2000. Kaymer had begun the final round tied with Jordan Spieth and Tiger Woods had also been tied at the top twelve months previously but I'm not convinced it's where you want to be. The previous six winners had all been out of the lead after three rounds and Kaymer and Woods are very experienced proven winners. I'd be wary of someone less experienced converting from the front on a pressure-filled Sawgrass Sunday.
A really fast start followed by a couple of days of lurking and a late swoop looks the way to do it at Sawgrass.
The fact that the final third of the course is the toughest third, may explain why a number of winners come from just off the pace - posting a score ahead of the leaders. Once the players have negotiated the par 5 11th and the straight forward par 4 12th, they face a really tough run for home and the only hole to average below par coming in last year was the par 5 16th.
The par 3 17th used to be considered a really tough hole but the fear players had for it appears to be starting to wane. The hole averaged 2.99 last year and it ranked the 12th hardest on the course but the 18th is a very formidable one with water in play from tee to green all the way down the left-hand side.

Market Leaders
With Sunday's win at the WGC - Match Play, Rory McIlroy has reaffirmed his position at the head of the world rankings but brand new major champion and world number two, Jordan Spieth, is hot on his heels. Those two are starting to really dominant the game now and they really dominate the market here - with Rory just shading favouritism but I don't want to back either at single-figure prices...
Rory must be tired after playing seven gruelling singles matches in five days and the journey from coast to coast isn't ideal either. Last week's tournament was all the way over in California but we're back on the East Coast this week.
Rory missed the cut on his first three attempts at Sawgrass before he finished 8th in 2013 and 6th last year. He's going in the right direction and there's little doubt that this will be one of his big career goals but last week was a really long one and that just puts me off.
The fact that Rory missed his first three cuts is no disgrace; TPC Sawgrass takes some getting to know, so it just goes to show how talented Spieth is, given he finished 4th on debut 12 months ago.
Of the two market leaders, he's the one I prefer but he's had such a busy spell I really want to see how he starts first.

Selection
I like a few veterans in the field this week. Ponte Vedra Beach resident, Jim Furyk, is in fine fettle, as is Lee Westwood and they've both very nearly won this before but the only one I've backed so far is Zach Johnson.
Zach was second here in 2012 and he looks primed for another strong challenge this time around. Only last month he put up his best US Masters performance since he won the Green Jacket in 2007, when he finished 9th at Augusta, and his iron play looks in great shape right now.
He ranked 6th for Greens In Regulation at the Texas Open and 7th at Augusta before surprisingly missing the cut at The Heritage. He narrowly missed out on a place in the last 16 at the WGC Match Play last week when he lost a three-man playoff after the group stages but that might not be a bad thing.

Selection:
Zach Johnson @ 70.069/1

I may add one or two more picks before the off and if I do I'll update the preview and tweet it again. I'll be back tomorrow with my Mauritius Open preview. You can read my preview of the 2016 TPC and latest odds behind the link.

*You can follow me on Twitter @SteveThePunter
Discover the latest articles