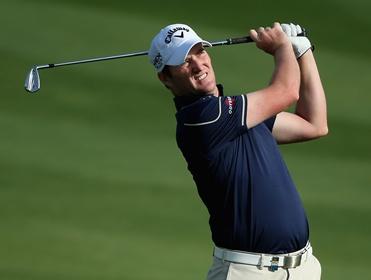 Marc Warren, one of The Punter's picks in Joburg
Our man's swerved the favourites in Joburg, with five big-priced picks, including two course winners at [1000.0]! Read his comprehensive preview here...
"Warren not only has the positive of thinking anything you can do, I can do, he also has course form in the bag and there's a third reason to get with the Scot – his brand new putter."
Tournament History
This will be just the seventh staging of the Joburg Open - an event co-sanctioned by the European and Sunshine Tours. Normally played in January, it was the second event of the European Tour schedule last year and won by Branden Grace.
Venue
Royal Johannesburg and Kensington Golf Club, Johannesburg, South Africa
Course Details
West Course Par 71, 7,237 yards
Stroke index in 2012 - 69.45
East Course Par 72, 7,592 yards
Stroke index in 2012 - 72.03
The unusually big field of 210 play both the East and West Courses over the first two days with the weekend being played out on the tougher East Course. The West Course is the shorter of the two and it's quite a bit easier than the East - last year it averaged over two and half shots easier.

Garth Mulroy, twice a runner-up in this event knows the place well and this is how he describes it on the Sunshine Tour's website.
"You have to drive the ball well and hit it pretty long. If you're not hitting good irons you're not going to be able to make those birdie putts. And then it has that famous Kikuyu rough, and if you end up in that around the green then you're going to have a bad time."
Useful Sites
Event Site
Course Site
Tee Times
Weather Forecast
TV Coverage
Live on Sky Sports - 8.30am Thursday and Friday. 10.30am on Saturday and Sunday.
First Six Event Winners
2012 - Branden Grace -17
2011 - Charl Schwartzel -19
2010 - Charl Schwartzel -23
2009 - Anders Hansen -15
2008 - Richard Sterne -13 (Playoff)
2007 - Ariel Canete -19

Is there an identikit winner?
Four of the first six renewals went to a South African and it's highly likely that that trend will continue. Sweden's Henrik Stenson (South African Open) and Scotland's Scott Jamieson (Nelson Mandela Championship) have both won there recently, but events in South Africa usually go to South Africans.
Richard Sterne won this in 2008, Charl Schwartzel went back-to-back in 2010 and '11 and Grace broke his duck last year. Not only are the three men South African's, but they're locals to boot. Schwartzel was born in Johannesburg and both Sterne and Grace, nearby Pretoria. It's seems very local knowledge is an advantage.
It's been all or nothing for the winners. Schwartzel missed the cut last year when looking to get the treble up. Grace failed to make the weekend before winning and Sterne missed it after he'd taken the title. And Garth Mulroy has a similar profile too - he's played in the event five times, finishing 34th on debut in 2007, before constructing intriguing form figures that read 2-MC-2-MC.
Quite why so many have such indifferent course form is a bit baffling but if you fancy anyone with a MC in their course form figures, don't let it put you off.

In-Play Tactics
It's imperative to take account of the draw - the differential between the scoring at the two courses is considerable and the stagger won't unwind until after round two. Three winners have started the event on the East and three on the West so on the face of it, the draw is irrelevant but I would still favour those drawn on the West Course first. A slightly indifferent first round on the East Course can leave you miles behind but it's not impossible to win after a slow start there...
Anders Hansen was languishing way back in a tie for 109th after an opening 71 around the East in 2009 but was still able to win. As was Schwartzel after an opening 68 saw him sitting in a tie for 40th when defending in 2011. Branden Grace started out on the East Course with a respectable 67 when winning last year and so he'd given himself a reasonable platform.
There are two tough stretches on the East Course - holes 3, 4, and 5 ranked 3rd, 1st and 4th last year and the five hole stretch between holes 10 and 14 all averaged over par too but once on the 15th tee, making birdies is perfectly possible - the last four holes all averaged under par and the 18th is a reachable par 5.
Don't forget to look at the Sunshine Tour website. In the last few events in South Africa their scoreboards have been ahead of the one most people use on the European Tour website.
Market Leaders
If Charl Schwartzel was coming here a week, a fortnight, or even three weeks after his impressive demolition job at the Alfred Dunhill Championship then I'd be very tempted by the [4.3] on offer but given he hasn't played anywhere competitively since before Christmas, he's a risky proposition. Reports on Twitter say he's been practising at the venue recently but at such short odds I'm prepared to let him go.
Defending champ, Branden Grace, sat out last week's event in Dubai and that could be the pause that refreshes. He's been in fair form so far in 2013 and given this was where the ball started rolling, where he won the first of five titles in 2012 (four on the European Tour), he's bound to feel good about returning but defending a title is never easy and there's not enough in his price of [9.6] to tempt me in.
George Coetzee is getting closer and closer to that inevitable first European Tour win and this looks like another golden opportunity for the Pretorian Powerhouse but he can't be backed at a single-figure price. He went AOL on day four in this event last year - one of many occasions he's struggled to manage his nerves in the mix.

Selections
I wouldn't be in the least bit surprised if one of the three market leaders took the title but they're simply not a value-price to do so - so I've scanned further down the list for my pre-event picks and first up is Garth Mulroy, who, after two seconds, sounds like he's looking forward to attempting to go one better this time around.
"I love going back home. I think the East Course is my favourite in South Africa. It's a good golf course, and I'm going back there to play one of Africa's biggest tournaments," he said.
One of esteemed golf pundit, Keith Elliott's mantras is 'Inspiration by Comparison' and Marc Warren could well be feeling that it's his turn to win, following recent European Tour victories by fellow countrymen, Scott Jamieson and Stephen Gallacher.
Warren not only has the positive of thinking anything you can do, I can do, he also has course form in the bag, having finished 20th in 2011 and third last year and there's a third reason to get with the Scot - his brand new putter. He tweeted this on Monday.
"Changed to the Calloway VERSA putter this wk and straight in at no.1 on the putting stats!!"
Ross McGowan's career has nose-dived spectacularly since he won in Madrid and chased home Lee Westwood in Dubai to finish 12th in Race to Dubai in 2009, thanks to a persistent wrist injury but he might just be on his way back. With nowhere to play, Ross got himself a limited card on the Sunshine Tour, via their Tour School last month, but he still needed to Monday qualify for this event.
This gives him a chance to get back on the European Tour and at a huge price I felt he was worth chancing a few pounds on.
And finally, I've backed two [1000.0] shots who have both won on the course! Jean-Paul Strydom is only 21 and he's only just turned pro but that didn't stop him from winning yesterday's qualifier with an impressive 64 around the West Course. And Jared Harvey won here on the Big Easy Tour last July.
Selections:
Garth Mulroy @ [38.0]
Marc Warren @ [70.0]
Ross McGowan @ an average of [280.0]
Jean-Paul Strydom @ [1000.0]
Jared Harvey @ [1000.0]
I'll be back later, or first thing tomorrow, with my preview of the week's other event, the AT & T Pebble Beach National.