The AT & T National: Rested Ryan can prosper at Congressional, says The Punter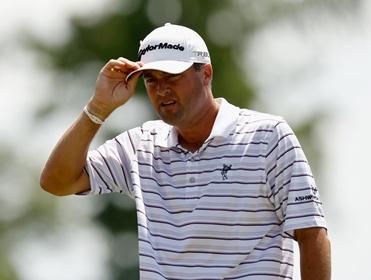 Ryan Palmer - one of The Punter's picks at Congressional
Our man looks at what's needed for success in Maryland this week, where US Masters Champ, Adam Scott, looks a strong and worthy favourite. Read Steve's preview here...
"Congressional is a stern test indeed and it challenges every facet of a players game. No single stat stands out – you have to do everything well."

Tournament History
Hosted by the currently injured (left elbow) Tiger Woods, the AT & T National replaced the now defunct International in 2007.
Since Tiger's extra-marital misdemeanours, his name isn't exactly emblazoned everywhere you look but the AT & T National still raises awareness and funds for the Tiger Woods Foundation and I'm sure as time moves on Tiger will become ever more synonymous with the event. This will be the seventh staging.

Venue
Congressional Country Club (Blue Course), Bethesda, Maryland

Course Details
Par 71 - 7,569 yards
Stroke Index in 2012 - 72.77
Originally designed by Devereut Emmet and opened in 1924, Congressional has been tinkered with somewhat since. The legendry Donald Ross soon put his stamp on the place in 1930, the equally legendry Robert Trent Jones Sr re-designed the course in 1957 and his son Rees, has fiddled with the gaff since the 1990's. His latest changes involved a complete re-work of the greens, with the installation of sub-air systems, soil moisture measuring systems, and with a replacement of the Poa annua with bentgrass.

In addition to having hosted three US Opens, the last of which was the 2011 renewal when Rory McIlroy smashed all sorts of records in the rain-softened conditions, it also played host to the now defunct Kemper Open between 1980 and 1986, the 2005 Booz Allen Classic (formally the Kemper) and the 1976 PGA Championship.
The AT & T National returned to Congressional twelve months ago following a break of two years, to allow for the latest round of changes and the US Open. Prior to last year's renewal, the course was lengthened by 319 yards and the 6th hole was changed from a par four to a par five.
Useful Sites
Event Site
Course Site
Course Details
Tee Times
Twitter Link
Weather Forecast
TV Coverage
Live on Sky all four days, starting at 8.00pm on Thursday

First Six Tournament Winners
2012 - Tiger Woods -8
2011 - Nick Watney -13 (Played at Aronimink)
2010 - Justin Rose -10 (Played at Aronimink)
2009 - Tiger Woods -13
2008 - Anthony Kim -12
2007 - K.J Choi -9
What will it take to win the AT & T National?
Congressional is a stern test indeed and it challenges every facet of a player's game. No single stat stands out - you have to do everything well.
Every winner (including the two at Aronimink) came in to the event in good order and all six had won previously that season. Nick Watney was the only one not to have won in the previous two months but in the weeks leading up to his win, he'd finished 4th at the Players Championship, 8th at the Byron Nelson and 13th at the Travelers Championship, so he was hardly cold.
Congressional doesn't appear the place to try and find your game.
Is there an angle in?
Nick Watney and Anthony Kim are the only winners of this event, not to have won The Memorial at Muirfield, so a close look at that event might pay dividends and the Players Championship form may be worth close inspection too.
AT & T National winners, Woods and Choi have both won the Players, Adam Scott, with fine Congressional form, has too, and the 2005 Booz Allen winner at Congressional, Sergio Garcia, has also triumphed at Sawgrass.
All three tracks put demands on every aspect of your game and anyone with a high finish at Muirfield and/or Sawgrass is worth close inspection.
Is there an identikit winner?
In the six renewals to date, we've had five different winners but they've all been top-class players that have all either won a major, the Players Championship or a World Golf Championship. In stark contrast to last week's Travelers Championship, backing a non-winner or a rank outsider here just looks a waste of time and money.
In-Play Tactics
Both Tiger and Scott finished strongly last year to finish 1st and 3rd but in the previous three renewals at Congressional, up with the pace from the get-go was where the winners came from.
Inaugural winner, Choi, led after day one and was only briefly headed after round three, Kim was always on the premises having opened up with a 67 to sit two off the first round lead, and Woods trailed Kim by two after day one in 2009 before leading them all a merry dance thereafter. And of course, we all remember Rory's wire-to wire success in the US Open two years ago.
Woods and Scott showed last year that it is possible to come from off the pace but I'd suggest concentrating on the early leaders may be the way to go here.
After a gentle enough opening hole, the players face three tough ones before the scoring section, if there is one, starts at the 5th. Now that the 6th has been converted to a par five, holes 5, 6, 7, 8 and 9 all offer up chances to score but after that, it's a case of hanging on, with the par five 16th the only really good birdie opportunity on the way home.
The positioning of those slightly easier holes are well worth considering if you're looking at backing someone in-running - especially over the first two days. Anyone starting on the back-nine on a decent score and about to play the 5th might be a better price in the market than they should be.
Market Leaders
With US Open winner, Justin Rose, understandably withdrawing, the 2013 US Masters winner, Adam Scott, heads the market at 13.012/1. As already stated, the affable Australian recovered from a slow start to finish third last year and he finished runner-up here at the 2005 Booz Allen Classic too, so he's a very strong candidate indeed and I came very close to backing him.
Second favourite, Jason Day, has course form too and comes here fresh off his tied second at Merion but he just doesn't win enough to warrant support at just 16.015/1, and the same can be said about third favourite, Hunter Mahan, who having contended at last week's Travelers, as well as at the US Open, could be in need of a break anyway.
I can see one of the market leaders winning but they're all much of a muchness and I'm happy to cast my net slightly wider.
Selections
I picked out Ryan Palmer as a player to follow after yet another sterling effort in 2013 by the Texan at the St Jude Classic and although I'm not convinced he's the best price I've ever seen, I'm going to stick with him. He has plenty of form at Congressional, finished tied 5th at the Players Championship and he may have benefited from a week off more than most.

Martin Laird ticks a few of the right boxes. Already a winner this year, at the Texas Open, he finished alongside Palmer at the Players Championship and he finished tied 11th in this event twelve months ago. He shot a very solid two-under par 68 in the final round of the US Open, to climb to a tie for 21st, when last sighted and considering that he knows how to get the job done - I thought 75.074/1 was a fair price.
Last but not least, I backed David Lingmerth at the US Open at a monstrous price two weeks ago, mainly on the strength of his impressive second placed finish behind Tiger at the Players Championship and he didn't disgrace himself - finishing a respectable tied 17th.
Looking at his stats, he has a solid all-round game and although he's proved a popular pick this week and he's shortened-up quite a bit in the market, I can see him going well.
Selections:
Ryan Palmer @ 60.059/1
Martin Laird @ 75.074/1
David Lingmerth @ 150.0149/1
I'll be back on Friday with the In-Play Blog.
Discover the latest articles