St Jude Classic: Get with the Golden Oldies, says The Punter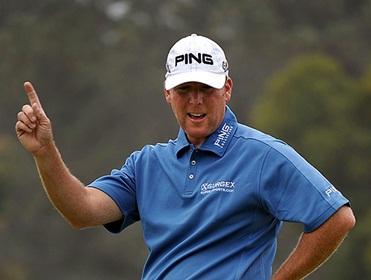 D.A Points, one of The Punter's picks at the St Jude Classic
Its outsiders all the way for Steve in Tennessee this week, where next week's US Open will be on the minds of many. Read his in-depth preview here...
"Harrison Frazar was aged 39 when he took the title two years ago and the five winners before him, Westwood, Brian Gay, Justin Leonard, Jeff Maggert and Woody Austin were aged 37, 37, 36, 42 and 43 respectfully when they took the title."
Tournament History
The St Jude Classic began life as the Memphis Open, way back in 1958. For the last six years it's preceded the US Open, so we have a couple of factors to consider. How hard will the big-names be trying this week, given their minds will be firmly fixed on Merion. And how will those that played in Monday's US Open qualifiers fare?

Venue
TPC Southwind, Memphis, Tennessee
Course Details
Par 70 -7,244 yards
Stroke Index in 2012 - 71.24
TPC Southwind has been the events permanent venue since 1989. It's always been a fairly stern test but it was made even tougher back in 2004 when 125 additional trees were planted, 15 new bunkers were added (taking the total up to 96), the par 5 5th was converted to a par four (reducing the par to 70), fairways were re-contoured and narrowed and over 200 yards were added. The smaller than average greens were also changed from bentgrass to Bermuda. Water is in play on 10 holes at Southwind and nine holes are dog-legs.
Useful Sites
Event Site
Course Details
Tee Times
Weather Forecast
TV Coverage
Live on Sky Sports all four days, starting at 8.00pm on Thursday
Last Five Winners
2012 - Dustin Johnson -9
2011 - Harrison Frazar -13 (playoff)
2010 - Lee Westwood -10 (playoff)
2009 - Brian Gay -18
2008 - Justin Leonard -4
What will it take to win the St Jude Classic?
Stats-wise, the three basics to concentrate on now appear to be Driving Distance, Scrambling and to a lesser extent, Par 3 Performance.
For years it was a simple case of concentrating on accurate patient and usually vastly experienced pros but the profile of the winners has changed considerably over the last few years with power off the tee being more and more important. Johnson's known for his power and 2011 winner, Harrison Frazar topped the driving distance stats when he won. As did Robert Garrigus in 2010, when he really should have won (threw away a three-shot lead on the final hole!).
Since the course changes in 2004, getting up-and-down has been vitally important. All eight winners have finished inside the top-20 for Scrambling and four of the last five players to top the Scrambling stats have finished inside the first four.
How you play the short holes looks pretty important too - in each of the last five years, someone ranking inside the top-five for Par 3 Performance, has either won the event or been beaten in a playoff.
Is there an angle in?
Course experience appears unimportant, in fact, debutants have fared very well of late. Dustin Johnson won the event last year on his debut, Lee Westwood and Robert Karlsson were both playing in the event for the first time when they made the playoff (won by Westwood) in 2010, and Trevor Immelman also made it through to extra holes in 2008 on his first visit to TPC Southwind. Add in Brian Davis' runner-up finish in 2007 as a first timer and it's quite clear that a previous visit is far from an essential prerequisite.
Is there an identikit winner?
Although there appears to be a distinct leaning towards length off the tee, which should favour the young modern powerful players, I'd still just favour age over youth. When Dustin Johnson won here last year, he was just the third player in his 30's to do so since 1989 and the six winners before him were all fairly long in the tooth.
Harrison Frazar was aged 39 when he took the title two years ago and the five before him, Westwood, Brian Gay, Justin Leonard, Jeff Maggert and Woody Austin were aged 37, 37, 36, 42 and 43 respectfully when they took the title.

In-Play Tactics
A fast start isn't essential at TPC Southwind - the last two winners were both five back at halfway. And 54 hole leaders could prove vulnerable - the last three round third leaders have all been beaten.
When betting in-running, consider the hole averages carefully. The 14th hole is tough but once you've got through there the next two holes offer very good birdie chances, particularly the par five 16th, before the tough last two holes...
With water all the way down the final fairway any nervy pulls can be cruelly punished, as we saw so patently two years ago when Garrigus threw the event away. Incredibly, three players traded at 1.011/100 that year so if your pick's in front leaving the 17th green, make sure you lay some back.
Market Leaders
With just a missed cut in 2001 and a tied 59th in 2009 at TPC Southwind, Phil Mickelson's primary reason for his attendance is surely to warm up for Merion next week but he peaked a week early last year at the Shell Houston Open when he was only supposed to be preparing for Augusta and if his short game, and in particular his scrambling, is in good order, then he could be an interesting contender this week but he's short enough for my liking.
Of the fancied runners, Tennessee native, Brandt Snedeker, would be my idea of the likeliest winner but given he shot 80 at the Memorial Tournament only last Friday and that he's a regular here with uninspiring form figures that read 72-5-35-MC-29-15, I can happily overlook him too.
Third favourite and defending champ, Dustin Johnson, has had a disappointing season since winning the year's first event - the Tournament of Champions. He looked to be running away with the US Masters during round two but trailed away over the weekend and he's barely been sighted since. He withdrew from the Players Championship a months later before returning last week at the Memorial Tournament, where he missed the cut.
Selections
With nobody really getting the juices flowing and given I don't particularly like any of the market leaders, I was quite tempted to lay the market leaders from the get-go and see where that took me but after much deliberation, I've scraped that plan.
Although the odd outsider has taken the title, Frazar and Maggert recently, most years the winner comes from fairly near the front of the market and with the sun shining for a change, do I really want to get tied up this weekend, knowing that I'm going to be trading the US Open fervently next? I thought not.
Although I really struggled to get excited by anyone, I thought D.A Points was fairly priced at 70.069/1 and at 67.066/1 in the Fixed Odds market and after that, I've backed a number of huge outsiders.
Martin Flores ranked 6th for driving distance and 10th for scrambling when finishing tied 14th in the Crowne Plaza Invitational last time out and he finished tied 13th in this event twelve months ago, thanks to a great weekend when he shot 69-65. That's more than enough boxes ticked to warrant a small wager at 200.0199/1.
Bettingzone's Ben Coley has put in some serious research on the event and I've followed him in on his headline pick, Shawn Stefani. He'd already come to my attention when I was looking for a big-hitting debutant, so with Ben's added endorsement, he's made the portfolio too now.
With decent course form in the book, Stephen Ames and Jeff Maggert are veterans that have both shown the merest of glimpses of form of late and Matt Bettencourt and Bobby Gates get in on account of their big hitting and in respect of Gates, his Par 3 Performance also.
Selections:
D.A Points @ 70.069/1 & 67.066/1 Fixed Odds
Martin Flores @ 200.0199/1
Shawn Stefani @ 250.0249/1 Fixed Odds
Jeff Maggert @ 290.0289/1
Stephen Ames @ 350.0349/1
Bobby Gates @ an average of 560.0559/1
Matt Bettencourt @ an average of 620.0619/1
I'll be back on Friday with the In-Play Blog.
*You can follow me on Twitter @SteveThePunter

Discover the latest articles