Shriners Hospitals for Children Open: Favourites taken on in Las Vegas lottery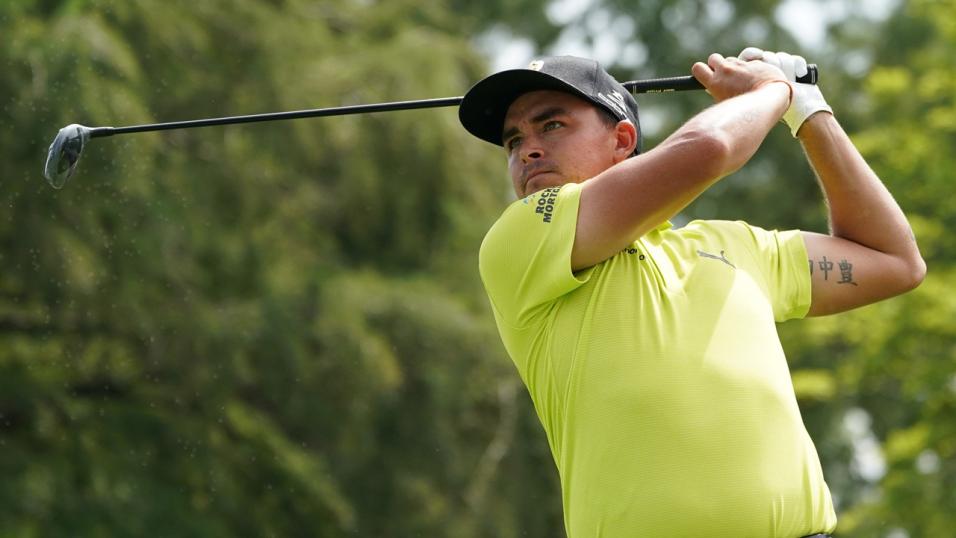 Rickie Fowler – this week's favourite in Las Vegas
The PGA Tour moves to Las Vegas this week for the snappily-titled Shriners Hospitals for Children Open and our man's taking a different approach to the norm. Read his comprehensive preview ahead of Thursday's start here...
"PGA Tour rookies and first-time winners are commonplace at Summerlin. Cantlay was the seventh first time PGA Tour winner to take the title in 11 years and its 22 years since a certain Tiger Woods broke his duck here."
Tournament History
The Shriners Hospitals for Children Open was first staged in 1983 and it used to be a pro-am staged over five rounds, played out on multiple courses. In 2004 they reduced the event to just 72-holes and since 2008, TPC Summerlin has hosted the event alone.
Venue
TPC Summerlin, Las Vegas, Nevada.
Course Details
Par 71, 7.255 yards
Stroke index in 2017 - 71.54
Designed in 1992 by Bobby Weed (and aided by Fuzzy Zoeller) TPC Summerlin is a very easy track. There's plenty of room off the tee (although fairways do need to be found), the bentgrass greens are large, receptive, and set to run at 11.5 on the stimpmeter, and it's consistently the easiest par 71 encountered on the PGA Tour.
After Ryan Moore had won with a score of -24 four years ago, a few changes were made to the course ahead of the 2013 renewal. Bunkering was tweaked on three holes (12th, 13th and 18th) but it didn't make any difference as the winner, Webb Simpson, matched Moore's score.
More changes have been made before this year's renewal, with all 102 bunkers redone. The sand has been replaced and in many cases they've been moved to fit better with the strategy of today's game.
TPC Summerlin is at altitude so it doesn't play anywhere near as far as the yardage suggests and it's a very easy track for the world's best players. As an indication of how easy the course is, Smylie Kaufman shot a 10-under-par 61 to come from off the pace to win here three years ago and Francesco Molinari climbed up in to a tie for fourth with the same score in round four two years ago.
In benign conditions, it's a very easy course and it'll be interesting to see if the new bunkering makes any difference at all, but for some bizarre reason, the dormant bermudagrass primary rough has been trimmed to just two inches (one inch shorter than last year's setup) which can only help the already good scoring.
TV Coverage
Live on Sky Sports all four days, starting at 20:30 on Thursday
Last Five Winners
2017 - Patrick Cantlay -9 (playoff)
2016 - Rodney Pampling -20
2015 - Smylie Kaufman -16
2014 - Ben Martin -20
2013 - Webb Simpson -24
What Will it Take to Win the Shriners Hospitals for Children Open?
There's a little bit of wind forecasted for the weekend but it will probably be nothing compared to last year's gales on Sunday afternoon. For a number of reasons, the result 12 months ago went against the grain and I think it can be viewed as a bit of a one-off.

Patrick Cantlay's winning score of nine-under-par was far from typical. JJ Spaun was on 11-under at the halfway stage and the highest winning score prior to last year, since the event became a 72 hole event in 2008, was 16-under-par three years ago.
The Shriners is a low scoring birdie-fest. The average winning score for the 13 editions before last year (since it became a 72-hole event) was just a shade below 22-under-par and on average; the winners made 25 birdies on route to victory.
Cantlay only made 20 last year but nobody made any more than that and the first two home two years ago ranked second and first for Birdies made. Nobody made more than the 2015 winner, Smylie Kaufman, and 11 of the last 12 winners have ranked first or second for birdies made. The odd man out is Martin Laird, who only ranked fourth when he won in 2009.
To make so many birdies, hitting greens with regularity and good scrambling are key and a hot putter is usually essential. The first six home last year had a Putting Average ranking of ninth, first, fourth, sixth, 12th and 14th.
It's somewhat ironic that after writing about Cameron Champ's demolition job last week, and how hitting fairways is become less and less important, here I am studying an event in which Driving Accuracy is now key - even though it's basically a birdie-fest.
DA used to be a completely irrelevant stat here and that stands to reason. The fairways are wide and the rough minimal but that's all changed of late. The course hasn't narrowed so maybe the Bermuda rough has been kept fractionally higher, and it can be tough to play from, even when fairly short, because DA has been of more importance of late...
Cantlay ranked fifth for DA last year and he was the ninth winner in-a-row to rank inside the top-18 for that stat. The five winners prior to 2009 had an average DA ranking of 43rd so something's changed and it looks like something to be wary off. Even though it's a resort course with minimal rough, indiscriminately bombing it off the tee with disregard for accuracy hasn't got the job done here recently and I hope the decision to trim the rough this year won't change that. This fixation with making the rough easier and easier is not improving the game.
Is There an Identikit Winner?
Cantlay was amongst the front three in the betting before the off last year but this an outsider's event more often than not and we very nearly saw another outsider win anyway. His two playoff rivals, Meen-Whee Kim and Alex Cejka, began the event as 200.0199/1 and 400.0399/1 shots and I still view this as a tournament for longshots - despite last year's result.
In the old five-round, multiple-course format, outsiders went in year after year and between 2004 and 2010 every winner went off at a triple-figure price. The likes of Phil Tataurangi, Andre Stolz and Wes Short Jr, to name but three, were almost impossible to spot before the off and the three winners before Cantlay were huge outsiders too. Ben Martin went off at 250.0249/1 four years ago, Smylie Kaufman was matched at 300.0299/1 before the off three years ago and very few people could have picked out 670.0669/1 chance, Rod Pampling in 2016.
In-between 2011 and 2013 there was a strange three-year blip where the winners were quite well-fancied. Kevin Na was well-backed in 2011, Webb Simpson was the second favourite in 2012 and Ryan Moore went off favourite a year later. And it's probably worth highlighting that two of those three - Na and Moore - were both Vegas natives that had plenty of course experience.
PGA Tour rookies and first-time winners are commonplace at Summerlin. Cantlay was the seventh first time PGA Tour winner to take the title in 11 years and its 22 years since a certain Tiger Woods broke his duck here.
In-Play Tactics
Last year's finish was very odd. Alex Cejka lost in a playoff, having been matched at 1000.0 and having trailed by eight with a round to go and the other two playoff protagonists had trailed by four and five strokes through 54 holes but Cejka got lucky. He played in benign conditions before the wind buffeted the leaders and caused havoc and with the exception of another strange result, in 2015, up with the pace is the where you need to be here.
Smylie Kaufman was also matched at 1000.0 three years ago but his final round 61 form seven adrift and tied 28th was enough to see him win by one over a bunch of six players that included Patton Kizzire, who himself shot 62!
Last year's result and the 2015 result show it's definitely possible to win from off the pace, especially if the weather has it's say, but the vast majority of winners are up with the pace throughout.
The 2016 winner, Rod Pampling, led after rounds one and two and was second with a round to go and that was far more typical. Prior to last year's quirky result in the wind and the 2015 aberration, every winner this century has been within five strokes of the lead after round one and six of the last 11 winners have been in front at halfway. Two of the five that weren't in front had trailed by a solitary stroke and Ben Martin, the winner in 2014, was still only tied for fifth and two off the lead through 36 holes.
The 2015 and 2017 results went against the grain as seven of the last 12 winners have been leading or co-leading with a round to go and other than Kaufman and Cantlay, the three that weren't leading, trailed by just a single stroke.
Market Leaders
Rickie Fowler heads the market and rightfully so. He loves a bit of desert golf, and while his course form is fairly old (played here once in the last eight years in 2015) it reads a respectable 7-22-25. He ended the last PGA Tour season nicely, constructing form figures that read 17-12-8-7, and he's the one they all have to beat. The big negative is that he doesn't win anywhere enough and that the event has a poor history for favourite backers.
I was quite critical of Tony Finau in my de-brief yesterday but he did leave his put to win on the 72nd hole short, as well as his putt to stay alive in the playoff, and he still has just the one win to his name. Sunday's defeat should have left a mark and he looks like one to be against.
Having failed to play the required number of tournaments last season, Jordan Spieth appears here for the first time - presumably in a bid to get a new tournament under his belt as quickly as possible. By not reaching the Tour Championship last season, Spieth failed to play in the full 25 events required. The number of events required reduces if you play in a tournament that you haven't played in for the last four years so that could be why we're seeing Spieth here this week. He could easily be ready to go and he's never one to dismiss readily but the fact that he didn't get to East lake tells you all you need to know about his form this year and he hasn't won anywhere since the Open Championship last year.
Selections
I backed Scott Piercy each-way yesterday at 66/1 with the Sportsbook and that's it from a backing perspective. The Vegas resident turns 40 on Tuesday so he'd love to grab another victory before the celebrations start and why shouldn't he? Piercy has a great record at his home track, he has just the right game for the course, and he's in decent form, but he's the only player I'm backing.
Nobody grabbed me towards the head of the market, outsiders have a tremendous record here and the forecast suggest a bit of wind to make it interesting on the weekend, so I'm beginning the tournament by laying almost everyone priced at below 100.099/1. Not all my lays have quite been matched yet but by the time they are I'll be laying the top-20 in the market combined at around 8/11.
Once the trades are all matched I'll update the preview and retweet it with the starting figures and I'll update as and when I tweak the book in the In-Play Blog.
Selection:
Scott Piercy each-way @ 66/1
Lay Book
20 players layed or partially layed (so far)
Best case scenario - Win £433
Worst case scenario - Lose £471
Updated Lay Book - now all matched
20 players layed in total
Best case scenario - Win £521
Worst case scenario - Lose £384
I've layed the market leaders to lose around £860 and the bigger priced lays to around £700. This has the affect of staggering the pay outs so the likelier the player is to win, according to his price before the off, the bigger the loser they are in the book. For example, Fowler is the biggest loser but Patrick Rodgers is the smallest and he only loses £60. Around the middle, the pay outs are between the high of £384 and the low of £60. For example, Ryan Moore is a loser for £152 and both Kevin Na and Si Woo Kim are losers to the tune of £172.
This may well change throughout the event, depending on how much I get involved, but I'm out on both Thursday and Saturday evening so I may end up leaving it alone until Sunday.
I'll kick off the In-Play Blog on Friday.
*You can follow me on Twitter @SteveThePunter
Discover the latest articles
Read past articles