Shenzhen International Open 2017: Thorbjorn worth a try at an inflated price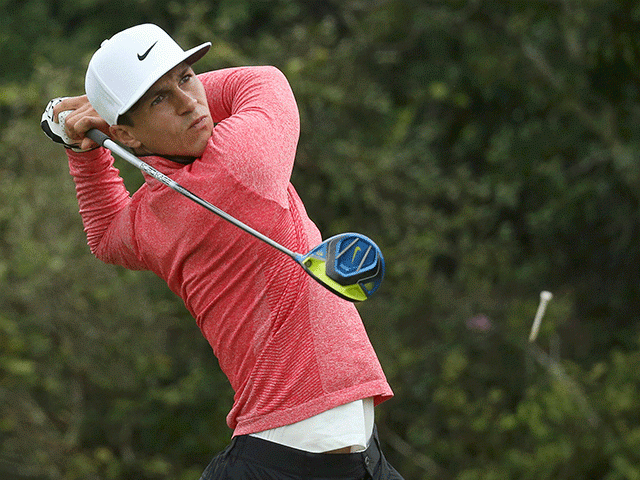 Thorbjorn Olesen looks a big price for this week's China test
The European Tour moves from Africa to Asia this week with the Shenzhen International the opening event of a Chinese double. Our expert Steve Rawlings previews the event...
"All three course winners have had a Putting Average ranking of sixth or better and it's noticeable that the two tournament winners to date are both Asian."
Tournament History
This is just the third renewal of the Shenzhen International Open - an event co-sanctioned by the European Tour and the China Golf Association.
Venue
Genzon Golf Club, Longgang, Shenzhen, China
Course Details
Par 72, 7,145 yards
Stroke Average in 2016 - 72.3
Designed by Neil Haworth, Genzon was formally known as the Citic Longgong Golf Club. It opened in 1995 but was extensively renovated in 2008 before reopening a year later. In addition to being the host course for this event over the last two years, the course was also the venue for the 2014 Volvo China Open, won by Alex Levy, so we have three bits of course form to go on.
Set in a botanical garden, the course encircles a large lake. It's largely tree-lined but the last seven holes are open. The fairways are generous in width and undulating and the rough is described as not very penal but very consistent. The entire course is laid to Paspalum and the greens are Paspalum Platinum.
TV Coverage
Live on Sky Sports all four days, starting on Thursday
First Two Tournament Winners
2014 - Kiradech Aphibarnrat -12
2015 - Soomin Lee -16
What Will it Take to Win the Shenzhen International?
Given there have only been three events played at the course, we really haven't got much to go on. Here are the top-three with stats from those three events.
Key: DD= Driving Distance; DA= Driving Accuracy; GIR=Greens In Regulation; Sc=Scrambling; PA=Putting Average
2014 China Open
1 Alex Levy -19 (DD: 7, DA: 11, GIR: 5, Sc: 23, PA: 4)
2 Tommy Fleetwood -15 (DD: 16, DA: 15, GIR: 17, Sc: 1, PA: 28)
3 Alvaro Quiros -13 (DD: 3, DA: 40, GIR: 33, Sc: 11, PA: 28)
2015 Shenzhen International Open
1 Kiradech Aphibarnrat -12 (DD: 22, DA: 32, GIR: 22, Sc: 23, PA: 6)
2 Hao-tong Li -12 (No stats produced)
3 Tommy Fleetwood -11 (DD: 6, DA: 13, GIR: 1, Sc: 17, PA: 53)
2016 Shenzhen International Open
1 Soomin Lee -16 (DD: 28, DA: 50, GIR: 30, Sc: 4, PA: 3)
2 Joost Luiten -14 (DD: 30, DA: 27, GIR: 5, Sc: 34, PA: 13)
3 Brandon Stone -14 (DD: 8, DA: 16, GIR: 4, Sc: 1, PA: 42)
Although the first two home only ranked 28th and 30th for Driving Distance last year, length off the tee is an advantage here and Par 5 Performance looks a stat to consider. Nobody played the par fives better than big-hitting Aussie, Scott Hend, who finished fourth last year having played the long holes in -10 and the first three home ranked tied third and eighth for Par 5 Scoring. And at the China Open here in 2014, the winner, Alexander Levy, and Alvaro Quiros, who finished third, played the long holes better than anyone else in 12-under-par.
All three course winners have had a Putting Average ranking of sixth or better and it's noticeable that the two tournament winners to date are both Asian.
Is There an Angle In?
Prior to the 2014 China Open, Jason Dufner described this course as very similar to Mission Hills, which hosted the WGC - HSBC Championship in 2012 and there are definitely similarities. The greens are Paspalum Platinum for starters.
That form was franked to a degree with Ian Poulter, who won the WGC - HSBC Championship in 2012, finishing fifth here in 2014.
Neil Haworth was also responsible for both the Sheshan International Golf Course, the usual venue for the WGC - HSBC Champions event, and for Lake Malaren, which hosted the now defunct BMW Masters, won two years ago by Sweden's Kristopher Broberg.
Form there may be worthy of scrutiny also given the 2014 China Open winner, Levy, also finished second at Lake Malaren in 2014.
Francesco Molinari confirms that the courses could correlate nicely too. He's a winner at Sheshan International, he's finished runner-up at Lake Malaren, and he was fourth here in 2014.
It's a tentative theory but the three previous course winners arrived at Shenzhen after at least a couple of weeks off and it might be worth siding with those that didn't have the ordeal of travelling from Morocco to China. If Pablo Larrazabal's tweet below is anything to by, the journey wasn't ideal preparation.
Rabat-London (7 hours waiting)... London-Dubai (3 hours waiting)... Dubai-Hong Kong + 3 hours by car to Shenzhen... 37 hours journey

? Pablo Larrazabal (@plarrazabal) April 17, 2017
Is There an Identikit Winner?
Two tournaments is hardly a vast sample size but both winners have been Asians with plenty of experience on the Asian Tour and all three course winners have been generously priced.
The 2014 China Open winner here, Alex Levy, was matched at a whopping 320.0319/1 before the off, Kiradech Aphibarnrat was a 46.045/1 chance in 2015 and last year's winner, Soomin Lee, hit a high of 180.0179/1 before the off so don't be afraid to back an outsider or two.
In-Play Tactics
Hao-tong Li lost a playoff to Aphibarnrat two years ago, having trailed by fully nine strokes at halfway and he was still five back with a round to go. He was matched at a high 600.0599/1 in-running and Aphibarnrat actually hit a high of 50.049/1 during round four! There was plenty of drama that year and those two weren't the only two to hit odds-on.
Tommy Fleetwood, who lost by a solitary stroke, having had a dozen more putts than Aphibarnrat on the week, also dipped below evens in-running so it's clearly possible to come from off the pace here but all three winners have been hard on it.
Lee won wire-to-wire 12 months ago and the two course winners before him won in very similar style. Both trailed by just a stroke after round one, Levy then won wire-to-wire and Aphibarnrat sat second at halfway before leading by two with a round to go.
Market Leaders
Fleetwood has moved up a few gears since placing here a couple of times and he'd have won the title two years ago had he putted only slightly better than deplorably. Nicely rested after his missed cut on debut at Augusta a fortnight ago and with course and current form to boast, he's the man they all have to beat, although it's very hard to pick holes in second favourite and fellow Englishman, Ross Fisher.
Having finished 15th and 16th here in the last two years and having lost a playoff at other Haworth designed courses, Lake Malaren and Sheshan International, the in-form, big-hitting 36-year-old looks a great fit. He has five European Tour titles to his name but he's won just once (at the low-grade Tshwane Open in 2014) in the last seven years so as great as his chance looks, he's perhaps not one to back at a short price.
Bubba Watson makes his third tournament appearance and he's in worse shape this year than he was in either of the last two years when he could only finish 29th (2015) and eighth (2016). His putting has been woeful for ages now and he even missed the cut at his beloved Augusta for the first time last year. There was a sign of life at the WGC Match Play before the US Masters, this course is ideal for him, and he won the WGC-HSBC Champions at Sheshan International in 2014 but even factoring in those positives, he's hard to fancy.
Selections
I haven't got a strong fancy for anyone here really but I thought Thorbjorn Olesen was too big at 60.059/1, given his course form and his strike-rate, and I've also backed the two Lake Malaren winners at huge prices.
Selections:
Thorbjorn Olesen @ 60.059/1
Marcel Siem @ 270.0269/1
Kristoffer Broberg @ 400.0399/1
I'll be back on Friday with the In-Play Blog.
* You can follow me on Twitter @SteveThePunter
Discover the latest articles