Shenzhen International: Big-Hitters to shine in China, says The Punter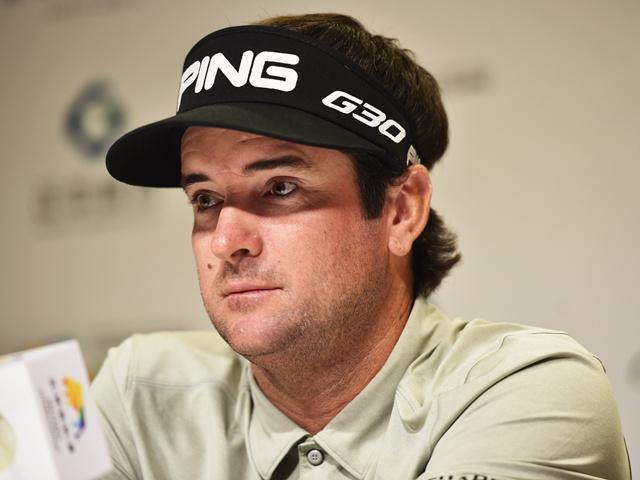 Bubba Watson at a press conference in China today
The European Tour heads back out East this week for the first ever staging of the Shenzhen International where Bubba Watson is the star attraction. Read Steve's take on his chances as well as all his usual pointers in his in-depth preview here...
Tournament History
This is the inaugural staging of the Shenzhen International - an event co-sanctioned by the European Tour and the China Golf Association.

Venue
Genzon Golf Club, Longgang, Shenzhen, China

Course Details
Par 72, 7,145 yards
Stroke Average at last year's China Open - 72.23
Designed by Neil Haworth, Genzon was formally known as the Citic Longgong Golf Club. It opened in 1995 but was extensively renovated in 2008 before reopening a year later. The course was the venue for last year's Volvo China Open, won by Alex Levy, so we do have some course form to go on.
Set in a botanical garden, the course encircles a large lake. It's largely tree-lined but the last seven holes are open. The fairways are described as generous in width and undulating and the rough is described as not very penal but very consistent. The entire course is laid to Paspalum and the greens, which are set to run at 10.6 on the stimpmeter, are Paspalum 'Platinium'.
Prior to last year's China Open, Jason Dufner described the course as very similar to Mission Hills, which hosted the WGC - HSBC Championship in 2012 and there are definitely similarities. The greens are the Paspalum 'Platinium' for starters.
Neil Haworth was also responsible for both the Sheshan International Golf Course, the usual venue for the WGC - HSBC Champions event and for Lake Malaren, which hosts the BMW Masters, won last year by Marcel Siem.

Useful Sites
Course Site
Hole-by-Hole Guide
Tee Times
Weather Forecast

TV Coverage
Live on Sky Sports all four days, starting on Thursday.

What Will it Take to Win The Shenzhen International?
Big hitters dominated the Volvo China Open last year, with the winner, Levy, and the third, Alvaro Quiros, both playing the par 5s better than anyone else, in 12-under-par.
It would be crazy to put too much credence in anything with just one piece of evidence on show but what we have seen of the place suggests it may well be a bombers paradise.

Is There an Angle In?
Having won here, Levy traded at odds-on in the BMW Masters last year at the Haworth designed Lake Malaren so that would suggest the venues are comparable and a strong showing at either Mission Hills (described as similar to this course by Dufner) or nearby Sheshan International (also designed by Haworth) would have to be viewed as a positive.
Dufner had finished runner-up at Mission Hills and could, to a small degree, have been trying to get some positive vibes going by comparing the two but it didn't work as he finished down the field here last year. I wouldn't disregard the possible link entirely though as Ian Poulter, who beat Dufner by three strokes at Mission Hills, finished 5th here in the Volvo China Open.

In-Play Tactics
Again, using just one event as enough evidence to stake heavily would be daft but for what it's worth, at the Volvo China Open last year, the early starters on day one enjoyed an advantage of almost a stroke over those that teed off in the afternoon and Levy led almost wire-to wire.
He trailed Alvaro Quiros and Simon Dyson by a stroke after round one but after a second round 62 he shot four clear and stayed there. And Quiros was never outside the front-three all week.
The front-nine is quite a bit easier than the back-nine, with four of the five toughest holes featuring in the last third of the course. Both nines play to a par of 36 with five par 4s, two par 3s and two par 5s but the front nine is 63 yards shorter and it averaged 1.15 strokes easier at the Volvo. Four of the last six holes averaged over-par with the only respite coming at the two long holes (13 and 17) which both averaged just a fraction under their par of 5.

Market Leaders
The big question here is how will warm favourite, Bubba Watson, fare? There are certainly a couple of negatives but there are plenty of positives too. I'll start with the minuses.
He's just had a tiring week defending at the US Masters, where he didn't putt well on the slower than expected greens, and he doesn't have a fantastic record putting on Paspalum. In fact, his putting, and his putting on Paspalum in particular, is my biggest concern.
He's put in poor performances on it in both Malaysia and Mexico and he finished down the field at Mission Hills in 2012 - although he did open the event with a 66 making just 26 putts on the day and he did rank a respectable 28th for Putts Per Round at the end of the week. There's also plenty of evidence to suggest he's not at his best on his travels, but on the other hand.
He may well feel relieved to have gotten his Masters defence out of the way and prior to last week's trip to Augusta, Bubba had finished inside the top-14 in four straight PGA Tour events. And I'm not too concerned about the travelling issue. The Malaysian Open used to follow the Masters on the European Tour and it's been noticeable how well players that featured at Augusta have fared there lately with the likes of Louis Oosthuizen, Lee Westwood and Rory McIlroy winning or finishing second just days after a gruelling week in Georgia.
Another big positive for Bubba is that he's already won on a Haworth designed course. He won a dramatic WGC - HSBC Champions at Sheshan International last November.
And finally, given the evidence we have that the course appears to suit big hitters that can take advantage of the par 5s, in Bubba we have probably the best candidate in the world.
I've pondered long and hard over Bubba's chance this week and I've concluded that given he's infinitely better than anyone else in the line-up, that the course looks ideal, that he's already won on one of the designer's set-ups, in China, and that he has an early morning tee-off on day one, he simply has to be gotten onside before the off.
Big-hitting Swede, Alex Noren, looks like shading second favouritism over course-winner, Levy, expensive-to-follow maiden, Emiliano Grillo and likable Spaniard, Pablo Larrazabal, nut none of them make much appeal.
Noren is still finding his feet after a long injury-break, Levy appears out of form and I can't trust Grillo until he actually wins one.
Of those towards the fore, I can see Rafa Cabrera-Bello figuring but he's another that's impossible to rely on in-the-mix.

Selections
I very nearly had a decent bet on Bubba but I'm not sure I can face getting up on Thursday morning to see that he's been suffering from jetlag, got in a strop over the greens, or he's shot 75 or worse. All of those scenarios are a possibility so I've tempered my enthusiasm considerably and only had a very small bet.
Big-hitting Spaniard, Alvaro Quiros, already has course form in the bag and he's shown some signs of life this year. Most noticeably, a pair of top-20 finishes in Dubai and Malaysia where he shot rounds of 64 and 67. He isn't putting well and he's not in the best of form but that was the case going into the Volvo open last year and his third placed finish was his best finish since he won the Dubai World Championship back in 2011.
This bet isn't without sentiment - I really like Alvaro and I'd love to see him back to his best. I recognise he's a long way off that but this is definitely his best chance to shine in a long while so fingers and toes are crossed for him.
Last up is Scott Hend, who ticks several boxes and who looks very handsomely priced. Hend was a strong fancy of mine back in February when he really should have won the Thailand Classic. He was awful the week after in India on a course that was just not for him before he took a long and well-needed rest. His pipe-opener in Morocco at the end of March, again at a venue that wouldn't be ideal, was far from pretty (shot 84 in round 3 and finished 72nd) but this place looks ideal for him and he already has form in the book in China.
He won the Hong Kong Open last October and he finished a very respectable 21st in the WGC-HSBC Champions at Sheshan International in 2013 but it was his performance at Mission Hills that really caught my eye. Playing with the best in the world, he finished 24th, which is decent enough in itself but the fact that he shot 67-68 on the weekend to move up 20 places was most encouraging.
This venue looks ideal for the big-hitting Aussie and like both my other two selections; he has a nice early start on day one.

Selections
Bubba Watson @ 8.615/2
Alvaro Quiros @ 66/1 (Sportsbook)
Scott Hend @ 110.0109/1

I've previewed the RBC Heritage here and I'll be back on Thursday or Friday with the In-Play Blog.

*You can follow me on Twitter @SteveThePunter
Discover the latest articles