The Punter's In-Play Blog: Van Rooyen hits the front but can he be trusted?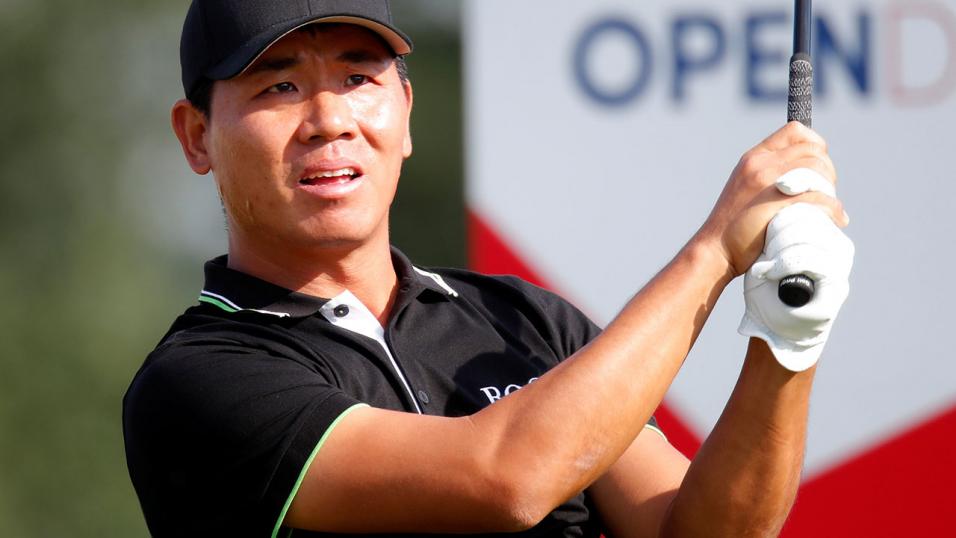 Ashun Wu's odds are rated value given his conversion rate
With the Scandinavian Invitation leaderboard nicely poised ahead of the final round. Paul Krishnamurty is opposing the favourite and trying a back-to-lay...
"The one who appeals to me is Ashun Wu at [12.5]...Considering he's won three times at this level, these odds seem a little disrespectful."
09:00- August 24, 2019
Scandinavian Invitation Leaderboard
-13 Erik Van Rooyen [3.6]
-12 Matt Fitzpatrick [3.6]
-12 Ashun Wu [12.5]
-12 Wade Ormsby [12.5]
-10 Henrik Stenson [9.8]
-10 Alex Levy [24.0]
-10 Dean Burmester [40.0]
-10 Jamie Donaldson [50.0]
-10 Gavin Moynihan [70.0]
Far from turning into the procession I feared yesterday, the Scandinavian Invitation has opened right up. Both Matthew Fitzpatrick and Henrik Stenson rather stalled on Saturday and they have been passed by one of the most exciting prospects on the European Tour.
Leader Van Rooyen has plenty to prove
Erik Van Rooyen finished like a train with birdies on five of his last six holes, and will now take a lead into the final round for the third time on this tour. The South African is undoubtably overdue but, on the basis of previous efforts in final day contention, a very risky proposition.
He failed to convert at the Trophee Hassan lead and last year's Irish Open. More recently in Scotland, he finished 14th from being leader at halfway and second through 54 holes.
Closing eagle saves Fitzpatrick's round
Fitzpatrick is still the one to beat for my money. Perhaps after a brilliant first two rounds, he was due a tricky spell. A double-bogey on 16 left him over par on a day when others were shooting 62 and 63. However a brilliant eagle on the last turned the day positive.
Stenson started the day by hitting the ball out of bounds for a double-bogey. He's now three behind and, while still very much in it, is happily opposed at single-figure odds. The winner will need at least -16 or -17 - that means the Swede's putter will need to perform as it so rarely does.
That winning target is daunting, yet just about possible for the guys on -9 and -10. Our each-way column has high hopes of a place with Alex Levy and Matthew Southgate both in that group of chasers. My in-play pick Victor Perez is on the fringes at -8.
Preference is the leading quartet, though. Four or five under from any of them - not a huge ask - will get them very close. The one who appeals to me is Ashun Wu at [12.5].
Considering he's won three times at this level, these odds seem a little disrespectful. He led through 54 holes for the first of those (and also for his two Japan Tour wins). He coped perfectly well with being in contention yesterday and is expected to stay right in the thick of it all afternoon.
My plan is a back-to-lay - cashing some out for a profit at [4.0].
Regarding the Tour Championship, the weather intervened last night so the leaders still have two-thirds of their round to play. The early exchanges went my way, with Justin Thomas leading. I'm setting a target to cash out of that bet - if he hits [2.0] at any stage.
Recommended bets
Back Ashun Wu 4u @ [12.5]
Place order to lay 10u @ [4.0]
Already advised
Back Victor Perez 1.5u each-way @ 33/1
Updated Tour Championship advice
Place order to lay Justin Thomas 10u @ [2.0]
Already advised - Back Justin Thomas 5u @ [5.1]
10:30- August 24, 2019
Tour Championship Leaderboard
-13 Brooks Koepka [2.82]
-12 Rory McIlroy [3.75]
-12 Justin Thomas [5.1]
-11 Xander Schauffele [8.4]
-9 Paul Casey [26.0]
The new handicap format for the Tour Championship has provoked much comment - very little of which was positive. Love it or hate it, nobody can dispute it has set up an incredibly exciting weekend.
Elite quartet pulling clear at East Lake
In many respects, we have the perfect finale to a $15M race. The world number one - and player of the season by conventional measures like majors performance - leads. One stroke back, the world number three who usually, controversially, heads him in the outright betting. Alongside the world number six, who won last week.
Before last night's rain delay it seemed that Koepka and Thomas might pull away and turn it into an effective match. Thankfully from an entertainment perspective, that changed on the final two holes. Thomas went backwards by one, swapping places with Koepka and losing three and four shots respectively to McIlroy and Schauffele. The latter eagled the last.
All four have very strong claims
All very entertaining but, in truth, this isn't my ideal tournament at the moment. I prefer to trade from off the pace, or lay front-runners at short odds in expectation of turnarounds. It is very hard to see anyone other than the top-four winning. Nor is it easy to meaningfully differentiate between the contenders. It certainly isn't easy to make a case AGAINST any of them.
Koepka is rightly top-rated having shown time and again that he has both the game and temperament for the biggest prizes. I suppose an argument could be made that he can't convert them all but perhaps that 'overdue failure' was merely finishing second at the US Open.
Nevertheless, I never thought this course would bring out his best so will take him on. I suspect we will see a lot of movement between the top-four over the weekend - in which case it makes no sense opening a book with a bet at 2.82.
At current odds, Thomas is preferred. At this stage last weekend, he was two off the pace and went on to produce an imperious weekend performance, shooting 61 on 'Moving Day'. Having just slipped back, this may be the best time to get on as momentum will likely ebb and flow from here.
Yes he's behind Koepka and McIlroy in the rankings but how much of that is due to this season being hampered by a wrist injury? At this precise moment, he's the form player. I'm confident a bet at [5.1] will offer a good run for our money.
Recommended bet
Back Justin Thomas 5u @ [5.1]
19:15- August 23, 2019
Scandinavian Invitation Leaderboard
-11 Matt Fitzpatrick [2.4]
-9 Henrik Stenson [4.3]
-9 Ashun Wu [25.0]
-8 Jason Scrivener [25.0]
-8 Joakim Lagergren [28.0]
-7 Erik Van Rooyen [15.0]
-7 Victor Perez [44.0]
-7 Gavin Green [40.0]
The cream has already risen to the top in Gothenburg. Matthew Fitzpatrick and Henrik Stenson will make up tomorrow's final group and rightly dominate the market, taking two-thirds out of the book. At [2.4] and [4.3] respectively, their combined chance equates to 65%.
Understandable given their pedigree but we are, of course, only at halfway. Last year's renewal on this course was won by the halfway leader but, as Steve Rawlings explained pre-tournament, there wasn't resounding evidence of this being a front-runners' track. Max Kieffer came from seven back at this stage to lose by one.
Perez the sole in-play selection for now
That said, my confidence about taking them on waned as the afternoon developed. Mid-round I recommended Victor Perez as a trade on Twitter at [28.0], at about the worst moment. Stenson immediately went into overdrive and Fitzpatrick stretched the lead further than I'd expected.
I'll be updating the @BetfairExchange in-play golf blog from this evening. One bet for now - 4 units Victor Perez @ 28.

? Political Gambler (@paulmotty) August 23, 2019
Nevertheless, the Frenchman remains my idea of the best value alternative. He looked a top recruit for the Euro Tour at the start of the season, following a great run on the Challenge Tour. Perez ticked several stats boxes for this test and, after a month off, may just be ready to find a similar rich vein of form.
If you're picking this advice up for the first time, each-way at 33/1 makes much better sense. There's every chance that one or both of the front-two pull away from the pack and indeed, there is a market Without Fitzpatrick/Stenson.
I'll next update in the morning, analysing the halfway leaderboard at the Tour Championship.
Recommended bets
Back Victor Perez 1.5u each-way @ 33/1
Recommended bets
Back Ashun Wu 4u @ [12.5]
Place order to lay 10u @ [4.0]