Safeway Open: Super scramblers set to shine at Silverado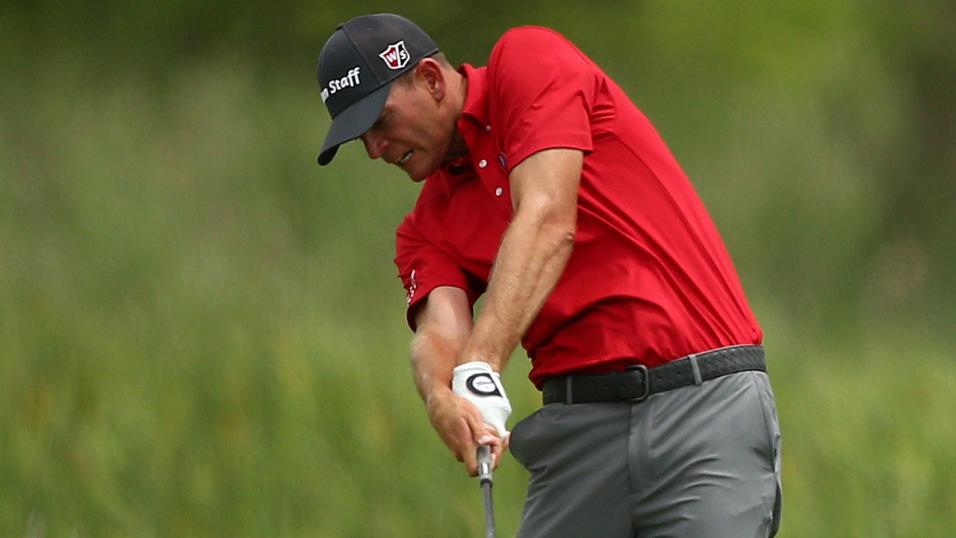 Two time Silverado winner - Brendan Steele
The PGA Tour heads west for the Safeway Open and our man points to scrambling as the key stat. Read our man's detailed preview ahead of Thursday's start here...
"All five course winners have ranked inside the top-seven for Scrambling and last year's winner, Kevin Tway, managed to get up-and-down more often than anyone else."
Tournament History
The Safeway Open, formerly the Frys.com Open, is a fairly new event and it's only been in existence since 2007.
Venue
The North Course, Silverado Resort and Spa, Napa Valley, California.
Course Details

Par 72, 7166 yards
Stroke Index in 2018 - 71.10
After three years at Grey Hawk in Arizona and four at Cordevalle in San Martin, California, the event moved to the North Course at the Silverado Resort in Napa Valley, California, in 2014 so this will be the sixth year in-a-row the course has hosted.
The Robert Trent Jones Jr designed North Course opened in 1957 but it has been substantially reworked in recent years by Troon Golf and one of the venues co-owners, Johnny Miller.
In addition to the last five editions, Silverado hosted the Kaiser International between 1968 and 1976 and the Anheuser-Busch Golf Classic from 1977 to 1980 and some of the game's legends won here during those 13 years. Johnny Miller, Jack Nicklaus, Tom Watson and Ben Crenshaw all tasted victor at Silverado and some big names also won here during the 14 years it saw Champions Tour golf when it hosted the Transamerica from 1989 to 2002, with the likes of Bernard Langer, Lee Trevino, Tom Kite and Dave Stockton all winning here.
This is what the 2014 winner, Sangmoon Bae, had to say about the venue.
"I really like this course because it's a classic. Always classic courses you need really good iron shots. Really narrow, small greens, a lot of undulation."
The fairways are largely tree-lined and reasonably tight and the Poa-annua greens aren't expected to run any faster than 11.5 on the stimpmeter - a fairly modest pace by PGA standards.
TV Coverage
There will be live Featured Group coverage from 17:00 on Thursday and Friday but because we're on the west coast, it's on quite late in the UK and the full live coverage on Sky Sports will start at 23:00 each night.
Last Five Winners

2018 - Kevin Tway -14
2017 - Brendan Steele -15
2016 - Brendan Steele -18
2015 - Emiliano Grillo -15 (playoff)
2014 - Sang-moon Bae -16
What Will it Take to Win the Safeway Open?
We now have five years of course form to survey, so here's the top-three and ties at the last five editions with all the key stats - Driving Distance, Driving Accuracy, Greens In Regulation, Scrambling, Putting Average and Strokes Gained Putting.
2018
1 Kevin Tway -15 DD 14 DA 40 GIR 18 SC 1 PA 22 SGP 18
T2 Ryan Moore -15 DD 59 DA 1 GIR 2 SC 24 PA 18 SGP 6
T2 Brandt Snedeker -15 DD 33 DA 30 GIR 40 SC 42 PA 1 SGP 2
2017
1 Brendan Steele -15 DD 1 DA 3 GIR 4 SC 7 PA 60 SGP 29
2 Tony Finau -13 DD 11 DA 39 GIR 52 SC 10 PA 16 SGP 16
T3 Chesson Hadley -12 DD 7 DA 24 GIR 47 SC 48 PA 1 SGP 9
T3 Phil Mickelson -12 DD 45 DA 74 GIR 32 SC 44 PA 3 SGP 19
2016
1 Brendan Steele -18 DD 23 DA 5 GIR 21 SC 4 PA 8 SGP 6
2 Patton Kizzire -17 DD 35 DA 67 GIR 21 SC 21 PA 4 SGP 1
T3 Paul Casey -16 DD 10 DA 34 GIR 35 SC 2 PA 6 SGP 29
T3 Michael Kim -16 DD 50 DA 34 GIR 16 SC 12 PA 5 SGP 18
T3 Scott Piercy -16 DD 12 DA 29 GIR 7 SC 48 PA 8 SGP 4
T3 Johnson Wagner -16 DD 42 DA 29 GIR 9 SC 9 PA 9 SGP 8
.
2015
1 Emiliano Grillo -15 DD 37 DA 8 GIR 16 SC 5 PA 41 SGP 61
2 Kevin Na -15 DD 30 DA 5 GIR 10 SC 40 PA 12 SGP 51
T3 Jason Bohn -14 DD 64 DA 5 GIR 1 SC 71 PA 4 SGP 39
T3 Justin Thomas -14 DD 25 DA 67 GIR 2 SC 23 PA 11 SGP 19
T3 Tyrone Van Aswegen -14 DD 44 DA 31 GIR 10 SC 21 PA 12 SGP 8
2014
1 Sang-Moon Bae -15 DD 26 DA 45 GIR 6 SC 3 PA 18 SGP 44
2 Steven Bowditch -13 DD 17 DA 67 GIR 71 SC 2 PA 12 SGP 9
T3 Retief Goosen -12 DD 29 DA 49 GIR 50 SC 15 PA 14 SGP 1
T3 Martin Laird -12 DD 34 DA 16 GIR 9 SC 1 PA 39 SGP 8
T3 Hunter Mahan -12 DD 21 DA 37 GIR 6 SC 52 PA 6 SGP 16
T3 Hideki Matsuyama -12 DD 25 DA 8 GIR 3 SC 12 PA 22 SGP 45
T3 Bryce Molder -12 DD 64 DA 45 GIR 48 SC 15 PA 2 SGP 12
Had Ryan Moore won last year's playoff, the last four winners would have ranked inside the top-eight for Driving Accuracy so I'd suggest being straight and short is better than long and inaccurate but the key stat looks to be Scrambling. All five course winners have ranked inside the top-seven for that stat and last year's winner, Kevin Tway, managed to get up-and-down more often than anyone else.
Is There an Angle In?
I found this a really difficult tournament to assess. Form in California and on Poa-annua greens should be respected but this is neither a really demanding track nor an easy resort course so it's hard to nail down the type of player it suits.
It's tree-lined but not excessively tight off the tee and it's hard to think of many courses that are similar but Ben Coley has spotted a very interesting correlation with form in Texas that looks worth keeping an eye on.
Ahead of schedule but Safeway Open preview will still likely be tomorrow.

Anyone interested in Texas Open as a guide?

Steele has won both
Bowditch 1st Texas, 2nd here
Tway 1st here, 3rd Texas
Louple 4th Texas, 10th here

Given the level of these players it's interesting.

? Ben Coley (@BenColeyGolf) September 23, 2019
Is There an Identikit Winner?
Jimmy Walker was fairly well-fancied five years ago (generally a 36.035/1 shot) and Steele was the same price to defend the title two years ago but outsiders have a reasonable record. Tway went off at 110.0109/1 last year, Steele was a 75.074/1 chance in 2016, as was Emiliano Grillo 12 months earlier, whilst Sang-Moon Bae, in 2014, and Bryce Molder, the 2011 winner, both went off at triple-figure prices, so don't be afraid to go for an outsider or two.
In-Play Tactics
Steele was never outside the first three places at any stage in 2017 and having trailed by two going in to the fourth and final round, he was in front by the fifth on Sunday. He won the event comfortably by two strokes with the minimum of fuss. He did drop a couple of shots at 12 and 14 but nobody pushed him with any urgency and there were no dramas at all but that certainly wasn't the case in last year's renewal, or in the 2015 and 2016 renewals, so despite the late finish in the UK it might be worth staying up to trade.
Brandt Snedeker began the final round with a three-stroke lead 12 months ago and after birdies at five and seven, he opened up a five-stroke lead and he was matched at a low of just 1.081/12 but he soon lost his grip on the title.
A troublesome wind irritated as Snedeker turned for home but it was no excuse for his sudden bout of 'the lefts'. From 100 yards out on the fairway he pulled his approach in to the left rough on 10, missed the green left on the par three 11th, and he pulled his approach on 12, again from the fairway, in to the left-hand greenside bunker and on every occasion, he failed to get-up-and down for par.
To his credit, he looked to have steadied the ship after that with three hard-fought pars in-a-row before a birdie at the par five 16th saw him move back in to the lead but a bogey soon followed after his tee-shot found position Z in the left rough on 17 and he failed to birdie the par five 18th.
Defeat had looked an impossibility when he turned for home but all of a sudden he was in a playoff with playing partner and eventual winner, Tway, who had been matched in-running at 300.0299/1, way before he birdied 17 and 18 and with Ryan Moore, who was matched at 1000.0 before he birdied three of his last four holes to also post a 14-under-par total.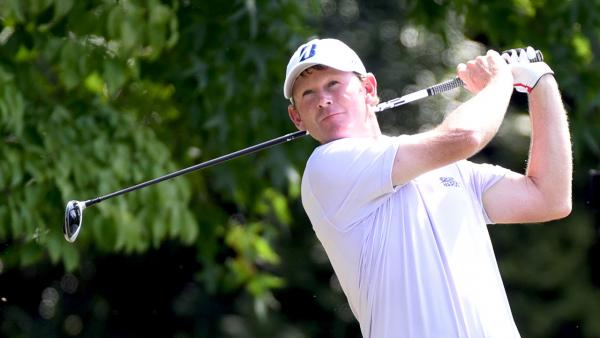 In the 2016 edition, Paul Casey was matched at 2.35/4 and Scott Piercy just 2.01/1 before we'd even got to Sunday and in addition to those two trading so short, Johnson Wagner also hit a low of 2.35/4 and the runner-up, Patton Kizzire, was matched at just 1.68/13.
And four years ago, in addition to both Justin Rose and Steele trading at around 2.56/4 earlier in the event, three players were matched at long-odds on at the death. Jason Bohn and Kevin Na both hit a low of 1.51/2 and the eventual winner, Grillo, was matched at 1.071/14 at the first playoff hole before he missed from three feet for the win. He did go on to win but it wasn't hard to back him back for a profitable trade after the miss.
With three reasonably tough holes (13, 14 and 15) preceding three easy finishing holes, there's all sorts of scope for trading at Silverado and if the leaderboard looks tight going into Sunday's final round, a late night's trading may well reap rich rewards.
We've only had five renewals here so far but it's already shown to be a venue where winning from off the pace is perfectly possible.
Tway was five, four and three strokes adrift after rounds one, tow and three last year so was never too far away but More trailed by seven with a round to go. Steele was always up there last in 2017 but Chesson Hadley, who began the final round just a stroke behind the 54-hole leader, Tyler Duncan, was tied for 61st after round one before a course-record 61 in round two moved him up to third at halfway.
Sang-Moon Bae was always on the premises in 2014 and he was four clear after 54 holes but the runner-up, Stephen Bowditch, was tied for 80th after round one and he was still six adrift and tied for 36th at halfway. Grillo was six back and tied for 19th at halfway when he won four years ago and the first nine home were all outside the top-five through 36 holes. And finally, Steele was nine strokes adrift at halfway and still four back with a round to go when he won here for the first time three years ago.
Market Leaders
This is definitely the strongest renewal of this event to date, demonstrated by the fact that Justin Thomas, who heads the market, is as big as 10.09/1. This is his first visit since he finished eighth in 2016, 12 months after he'd finished third and it's hard to imagine him not contending. He could only finish ninth at the Tour Championship last time out, having won the BMW Championship the week before but if the month off hasn't had a detrimental effect, he's the one they all have to beat.
Patrick Cantlay was a disappointing favourite 12 months ago, when he could only finish 17th and he needs to lift himself after a dreadful Tour Championship, where he finished 28th of 30 when in with a solid chance of winning the FedEx Cup. He's a terrific player but he's far from prolific and I'm more than happy to swerve him.
Hideki Matsuyama was third here on debut in 2104 and 17th 12 months later but this is his first trip back since and I'm happy to swerve him too given it's now more than two years since he last won.
Adam Scott is also enduring a bit of a drought. His last victory was now three and half years ago. The Australian has finished inside the top-eight places in six of his last eight tournaments but he can hardly be described as prolific and he's playing Silverado for the first time this week.
Selections
There's are a number of top-class young players emerging this year and I wouldn't put anyone of backing last week's losing playoff protagonist, Sungjae Im, at around 28.027/1 but the one I like this week is California's Collin Morikawa at ten points bigger.
A week after losing a playoff at the 3M Open to fellow college graduate, Matthew Wolff, Morikawa finished fourth in the John Deere Classic but he was off the mark just another seven days later - winning the Barracuda Championship in the same week that Shane Lowry was winning the Open. Understandably, he cooled off a bit after that but I'm a little surprised to see him priced up at more than twice the price he was when he won the Barracuda.
With so many impressive youngsters emerging, it's very difficult to predict who will have the greatest career in the long run, whether it's Wolff, Im, Morikawa, the Greenbrier winner, Joaquin Niemann, or Norway's rising star, Viktor Hovland, it's hard to tell but if it transpired to by Morikawa, I wouldn't be in the least bit surprised.
He's impressed me greatly so far and his Scrambling stats are impressive. He was the 14/1 favourite at the Barracuda so if a month off has refreshed him, the 38.037/1 on offer could look very good come Sunday.
In addition to Morikawa, I've thrown a few pounds at fellow Californian, Phil Mickelson, and the course specialist, Brendan Steele. Both looked overpriced at triple-figure prices.
Selections:
Collin Morikawa @ 38.037/1
Phil Mickelson @ 110.0109/1
Brendan Steele @ 140.0139/1
I'll be back on Friday with the In-Play Blog.
*You can follow me on Twitter @SteveThePunter

Discover the latest articles
Read past articles