Ryder Cup 2016: Europe value to extend winning streak to four, says The Punter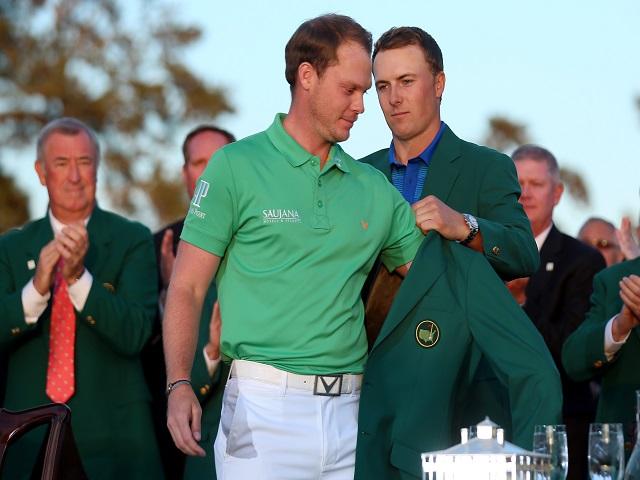 Danny Willett – fancied by The Punter to take to the Ryder Cup
The Ryder Cup starts on Friday so read our man's extensive preview ahead of the eagerly awaited biannual battle here...

"I think Willett's going to take to the Ryder Cup like a duck to water. I really like his price of 12/1 and he's also worthy of strong consideration in the Top Debutant markets where he's a very worthy favourite."

Tournament History

The first Ryder Cup, won by the Americans 9½-2½ at Worcester Country Club in Massachusetts, was staged in 1927 but the event may never have come into being if it wasn't for an idea by one of the Golf Illustrated magazine staff - James D. Harnett.

Harnett's notion was to write to the PGA of America, in 1920, to suggest that a popular subscription could finance a team of 12-20 Americans to be sent to Britain to play in the Open Championship. No American had won the Open and the PGA ran with the idea, announcing the creation of the British Open Championship Fund in November 1920.

On May 24 1921, a team of 11 (which included the first American to win the Open a few months later - Jock Hutchison) left New York for Blighty and on arrival, prior to playing in the Open; a 10-a-side team event was staged between the Americans and a team from GB - staged at Gleneagles. The Americans were soundly beaten in what was named the Glasgow Herald Tournament but it was a successful event and it proved to be a precursor to the Ryder Cup itself.

Five years later, Samuel Ryder, a wealthy businessman who had made his fortune selling seeds at a penny a packet from his garden shed, sponsored another informal event, this time at Wentworth, which saw a GB side beat a Walter Hagen-led US team 13-1. It was obviously deemed a success and 12 months later it became an official event.

After losing the inaugural event, Great Britain won the next two renewals on home soil, in 1929 and 1933, but only managed one more victory, again on home soil in 1957, before Irish players joined them in 1973. Three Ryder Cups were staged with a GB & Ireland team but still the Americans dominated. The event was uncompetitive and fast losing its appeal so in 1979, Team GB & Ireland became Team Europe and although the US won comfortably in 1979 and 1981, in 1983 the Europeans ran the Americans close at the PGA National in Florida, losing narrowly 14½-13½ and that was a major turning point.

The Europeans comfortably won at the Belfry in 1985, before winning for the first time on US soil two years later at Muirfield Village. They retained the trophy with a drawn match in 1989 and it wasn't an uncompetitive event any more. It's grown in stature ever since and it's now a huge event that attracts millions of fans that don't usually follow the sport.
Format

Two teams of 12 play out 28 match-play ties over three days, with 14½ points the total required to take the trophy, or 14 points to retain it if you're the current holders.

The first session on Friday morning sees European Team captain, Darren Clarke, pick four teams of two from his 12 man squad to take on US Team captain, Davis Love's, four pairs in foursomes match play. Foursomes format is often called "alternate shot" and is a tougher format than fourball. The first player tees off, the second player hits the second shot, the player that hit the first shot then hits the third shot, and so on and so forth until the ball is holed. Players hit alternate tee shots so that the same player doesn't hit every tee shot.

Friday afternoon sees four teams of two from each side play each other in the first fourballs session. In fourballs, each of the four players plays their own ball and a point is scored by whoever plays the hole in the fewest number of shots.

Saturday is a repeat of Friday and then on Sunday, there's no hiding place with 12 singles matches determining the final result.
Venue
Hazeltine National Golf Club, Chaska, Minnesota.
Course Details

Robert Trent Jones designed Hazeltine in 1962 and it was reworked and lengthened in both 2005 and 2008. At almost 7,700 yards long, it's a lengthy, hilly course with narrow fairways and small greens.

Tony Jacklin won the US Open here in 1970 and Payne Stewart took that title here in 1991. Sky Sports presenter, Rich Beem won the PGA Championship at Hazeltine in 2002 and seven years later, Y.E Yang caused an almighty shock when he edged out Tiger Woods to take the PGA Championship here.

This will be the first time the Ryder Cup has been staged at Hazeltine.
TV Coverage
Live on Sky Sports Ryder Cup channel all three days - 12:30 on Friday and Saturday and 16:00 on Sunday. And there are also highlight shows on BBC two throughout the weekend.
Last Ten Ryder Cup Results
2014 Europe (16 1/2 - 11 1/2)
2012 Europe (14 1/2 - 13 1/2)
2010 Europe (14 1/2 - 13 1/2)
2008 United States (16 1/2 - 11 1/2)
2006 Europe (18 1/2 - 9 1/2)
2004 Europe (18 1/2 - 9 1/2)
2002 Europe (15 1/2 - 12 1/2)
1999 United States (14 1/2 - 13 1/2)
1997 Europe (14 1/2 - 13 1/2)
1995 Europe (14 1/2 - 13 1/2)
Recent Past Results

The quickest of glances at the results over the last 10 years tells us that the advantage the United States enjoyed in the event in the later part of the last century is now a distant memory. Europe has won an incredible six of the last seven contests and eight of the last 10. They've won all five encounters at home and three of the last five renewals on American soil.
Why Are the European Team So Dominant?

Year after year, the Americans have a stronger team on paper but more often than not they find it impossible to make that advantage count. I get the impression the event means more to the Europeans and I haven't seen anything in the lead up to this year's renewal to change that belief.

Ryan Moore was Davis Love's final pick as recently as last night, following his magnificent performance at East Lake, despite the fact that he declined the offer to go and practice at Hazeltine last week and that might tell you all you need to know about how seriously the Americans take the biannual bash.

I can't imagine for a moment that anyone with the slightest chance of making the European team would decline any such sort of invite.
Will the Debutants Hinder Europe's Chances?

We've known for some time now that the European Team includes six debutants - Chris Wood, Matthew Fitzpatrick, Andy Sullivan, Thomas Pieters, Rafa Cabrera-Bello and the Masters champ, Danny Willett. The Americans by comparison have just two in their team - Brooks Koepka and last man in, Ryan Moore.

That will be viewed by many as a big negative for Clarke but I'm not so sure. Dazzler won't expose any of the six that aren't playing well in any of the foursome or fourball matches and if he finds pairings that work well on Friday morning he'll have the good sense not to meddle with them.

I can't see the out-of-form Sullivan getting much action and I'm not convinced Wood will play on day one either but the other four are very strong and capable and I don't see them hindering Europe's chances at all.
Can Europe Make it Seven from Eight?

For months I've had the feeling that the Americans have too strong a group for Darren Clarke's men this time around but I've thought that before and been surprised and now that I've analysed the event in depth, I don't see any reason not to back Europe at around the 2/1 mark.

As Dave Tindall points out here in his excellent look back at the last 10 Ryder Cups, the United States have failed to justify favouritism on five of the last six occasions they've been sent off jollies and if we expand that further, in the last 12 renewals, the favourites, whoever they've been, have only won five times.

Add in the pressure that Love's men are bound to feel as they attempt to arrest the slide and the Europeans look a great price. I took 3.259/4 yesterday and they've been shortening up ever since but I can see why.
Possible In-Play Tactics

The 2014 edition at Gleneagles was a largely uncompetitive affair but we witnessed all sort of shenanigans at Medinah in 2012. The Europeans hit a high of 27.026/1, the Americans a low of 1.031/33, and the tie was matched at a high of 80.079/1 and a low of 1.121/8.

The tie is currently trading at 14.013/1 and there's a good chance that it will be matched at a considerably lower price so backing the tie before the off and placing a series of lay-backs in the market could prove a profitable exercise if it's tight.

There's a danger, like last time, that one team could run away with it so that might not be for everyone. Personally, I've only played the tie for small stakes and I've backed the Europeans for a bit more than originally planned and I'll look to lay them back as the event progresses too.
The Arnold Palmer Effect

The Europeans were inspired by the loss of Seve and there'll be a school of thought that Arnold Palmer's death will have a positive effect on the United States. The King's Ryder Cup record was superb and you can bet your bottom dollar that his memory will be used by Love as an extra weapon but will it have any effect? I doubt it.

Seve died very young and a number of the Europeans knew him well - especially the captain Jose Maria Olazabal - and I see Palmer's loss as something entirely different.
Side Markets

I've pored over the Top European Scorer and the Top United States Scorer market and I've picked out one in each who are both priced up at an industry-wide best price of 12/1 with the Sportsbook.

I quite like the look of Patrick Reed but he's considerably shorter that the 27.026/1 he was matched at last time around when he outscored his compatriots so I've taken a chance on Rickie Fowler who after a disappointing few months on Tour, will be glad to be part of something different.

Rickie didn't make the team in 2012 so this will be his first Ryder Cup on home soil and he strikes me as just the sort of character to thrive on playing at home in the biggest team event in the world.

In the Top European Scorer market, I'm taking a chance on the Masters Champ, Danny Willett. I can see Willett getting plenty of action from the start, whether paired with fellow Sheffielder, Matthew Fitzpatrick, or more likely with someone more experienced, and I think he'll thrive on it.

Willett reached the WGC-Match Play semi-finals last year, beating the likes of Moore and Reed on the way and just for good measure he beat experienced Ryder Cupper, Jim Furyk, in the third-place playoff.

I think Willett's going to take to the Ryder Cup like a duck to water. I really like his price of 12/1 and he's also worthy of strong consideration in the Top Debutant market where he's a very worthy favourite.
Selections

Europe to win the Ryder Cup @ 3.259/4
Rickie Fowler - Top United States Scorer @ 12/1 (Sportsbook)
Danny Willett - Top European Scorer @ 12/1 (Sportsbook)

I'll be back on Saturday morning with the In-Play Blog.

*You can follow me on Twitter @SteveThePunter

Click here for all our Ryder Cup content
Discover the latest articles