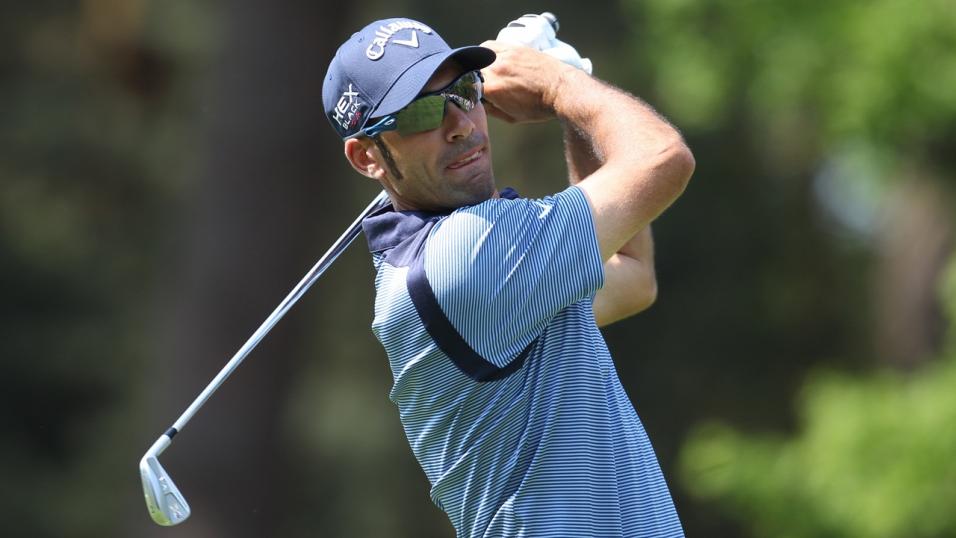 Defending champion, Alvaro Quiros
The European Tour switches to Sicily this week for the Rocco Forte Sicilian Open. Big-hitting Spaniard, Alvaro Quiros, won the tournament last year and our man fancies Scrambling could be the key stat this time around...
"Pep Angles, who finished fourth last year, ranked second for Scrambling, and Marcus Fraser, who finished tied fifth ranked sixth and the first four home here in 2012 ranked sixth, 11th, 10th and seventh for Scrambling."
Tournament History
According to the European Tour website, this is just the second renewal of the Rocco Forte Sicilian Open, following Alvaro Quiros' win in the event 12 months ago, but it's a remarkably similar tournament to the now defunct, and only twice-played, Sicily Open.
Raphaël Jacquelin won the first Sicily Open at the Donnafugata Golf Resort in 2011 and a year later Denmark's Thorbjørn Olesen claimed his first European Tour title at this week's venue - the Verdura Golf & Spa Resort, which was also used for last year's event.
The European Tour doesn't appear to be connecting the two tournaments (even though they've now changed the tournament's name from the Rocco Forte Open to the Rocco Forte Sicilian Open) so this is just the second edition.
Venue
Verdura Golf & Spa Resort, Agrigento, Sicily, Italy
Course Details
Par 71, 7,217 yards
Stroke Index in 2017 - 70.3
There are two Kyle Philips designed 18-hole Championship links-type courses (the East and West) and a Kyle Philips designed nine-hole par three course at the Verdura Golf & Spa Resort and assuming we're playing the exact same composite as we did 12 months ago, we're looking at a 7,217 yard par 71.
When Olesen won here in 2012, they played a composite par 72 with a yardage of 7,375 so it's not inconceivable that they tweak things again and the European Tour website is far from great at updating us all on such matters. If they do change it, we won't find out until late, or even after the event has started!
Assuming we play the same composite holes as last year and in the same order, all the sea front holes are in use, so water is in play on holes three to eight inclusive, as well as holes 15, 16 and 18. The fairways are Bermuda and the creeping bentgrass greens are large and undulating.
Set against the backdrop of the Mediterranean Sea, the venue is very easy on the eye but it's exposed and quite tough in windy conditions. This is what Olesen had to say about the venue following his victory six years ago.
"It's a scenic course with so many great views, where it's easy to get carried away, so it's very important to concentrate on every single golf shot."
The finish to last year's renewal was a real grind with the wind whipping in from the sea. Quiros played the last four holes in four-over-par and the runner-up, Zander Lombard, played them in two-over and the latter spoke afterwards about how the wind influenced putting.
"I suppose winning isn't everything but I can't complain, losing in a play-off - it's anybody's game with this wind. I think I hit a great putt but the wind just kept it out, so I'm pleased."
This video produced for the European Tour website before last year's edition provides a nice reminder of the venue.
TV Coverage
Live on Sky all four days, starting at 13:30 (UK & Ireland) on Thursday behind the red button
The Two Sicily Open Winners
2011 - Raphaël Jacquelin -12
2012 - Thorbjørn Olesen -15
2017 Result
Alvaro Quiros -14 (playoff)
Zander Lombard -14
Haotong Li -13
Pep Angles -12
Marcus Fraser -11
Jason Scrivener -11
What Will it Take to Win the Rocco Forte Open?
We've only got the stats at the 2012 Sicily Open and last year's edition of this event to evaluate so we're a little limited. And Quiros wasn't a European Tour player when he won so no statistics were produced for him.
Alvaro is a big hitter, Li ranked third for Driving Distance 12 months ago and in 2012, the big-hitting Belgian, Nicolas Colsaerts, finished third, ranking first for DD, but I'm not convinced it's essential to be long off the tee to win here. Several short-hitters have placed in the two editions, so I wouldn't get hung up on the driving stats.
Greens In Regulation hasn't been a crucial stat either but the contenders have putted and scrambled well. Pep Angles, who finished fourth last year, ranked second for Scrambling, and Marcus Fraser, who finished tied fifth ranked sixth and the first four home here in 2012 ranked sixth, 11th, 10th and seventh for Scrambling. Olesen ranked fifth for Putting Average and first for Putts Per round and, with the exception of Quiros, who we don't have stats for, the top-six 12 months ago all had a Putting Average ranking of eighth or better.
Is There an Angle In?
Alvaro Quiros is renowned links exponent and the third last year, Haotong Li, went on to finish a fast-finishing third in his first Open Championship so it looks like the 2012 result here wasn't a fluke...
The first six places and ties were filled by Olesen, subsequently a winner of the Alfred Dunhill Links Championship, renowned links specialist, Chris Wood, Nicolas Colsaerts, who finished third in the 2016 Scottish Open at the Castle Stuart Links, Soren Kjeldsen, the Irish Open winner at the Royal County Down links in 2015, Anthony Wall, the 2016 winner of the Paul Lawrie Match Play at Murcar Links and Shane Lowry, who won the Irish Open as an amateur at the County Louth links in 2009. Previous links form is a big plus.
From a course correlation perspective, Kyle Philips also designed Kingsbarns, which is one of the courses used at the Alfred Dunhill Links, and The Grove in Hertfordshire, which hosted the British Masters in 2016 and the WGC - American Express Championship in 2006, but the event that may be best to concentrate on is the Dubai Desert Classic, staged at the Emirates.
The Emirates is a wind-affected, exposed track where links exponents thrive and even though we've only had two events here, there's already numerous examples of certain players playing well at both venues...
Quiros is the most obvious, given he's won at both venues but we've also got Li, who won the Dubai desert Classic this year after finishing third here, Olesen, the 2012 winner here, who has finished third, fifth and eighth at the Emirates and Jason Scrivener, who was tied fifth here 12 months ago, finished sixth in this year's DDC.
In-Play Tactics
It wasn't the case last year, as there was a differential of just 0.17 strokes between Thursday's AM and PM starters over the first two rounds, but it may be worth checking out the weather forecast this week. As already advised, this is an exposed coastal venue, so any wind will have a bearing and it had a big influence on the tournament six years when those drawn late on Thursday and early Friday averaged 2.47 strokes less than those drawn AM-PM.
Olesen sat tied 22nd and four back after round one in 2012 and he was one off the lead on a packed halfway leaderboard at halfway. Fully 25 players sat tied for the lead or within two of it through 36 holes but Olesen ended the third round three clear after an impressive 67 on a tough breezy day when few players broke 70. Quiros sat fourth and two off the lead after the opening round but he was two clear at halfway and five ahead after 54 holes.
With both course winners being up in the van from halfway, what limited evidence we have suggests it's not easy to come from too far back but that's probably not the case. Li was beaten a stroke last year, having sat tied 11th and eight off the lead after three rounds and in 2012, Chris Wood was also beaten by a solitary stroke, but he'd began round four tied for tenth and nine back!
Market Leaders
Another win for England's Andy Sullivan looks imminent and he wouldn't have had to have been an awful lot bigger for me to have played him. His stats are good and his results are improving and given how weak the field is, he's probably fairly priced at around the 14/1 mark but I'm happy to let him go unbacked given he missed the cut here back in 2012.
The winner here in 2012, Thorbjørn Olesen, is more than capable of sparking in to life and contending in any tournament, no matter how high the standard but he's going through a poor spell of form at the moment so he makes no appeal at less than 20/1.
Eddie Pepperell started well here 12 months ago and his Qatar Masters win is a big plus given how well links specialist fare there but he's gone off the boil since his win and I didn't see anything at the GolfSixes to suggest another win is just around the corner.
Selections
I thought I might find two or three to side with quite easily here but it's been a bit of a struggle. I'm very happy with my each-way pick, Tapio Pulkkanen, though and I was also pleased to see Dave Tindall pick Sebastian Heisele, as he was next on my very short shortlist so I've followed him in.
Tapio Pulkkanen @ 80/1 (Sportsbook)
Sebastian Heisele @ 80/1 (Sportsbook)
I'll be back on Friday with the In-Play Blog.
*You can follow me on Twitter @SteveThePunter