The Punter's In-Play Blog: Kjeldsen poised to win again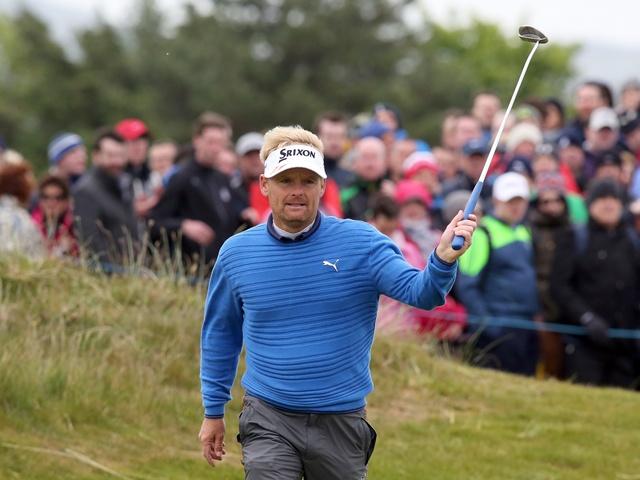 Soren Kjeldsen – two clear and favourite to win in Ireland
Soren Kjeldsen takes a two shot lead into today's final round in Ireland, where our man has admitted defeat. After a poor week's punting at Royal County Down, Steve's now turning his attention to Texas, where another course debutant winner is still a distinct possibility. Read his final in-running thoughts for the week here....
"If absolutely forced to pick one at this stage I'd side with Richie Ramsay. The Scot is based at Royal Aberdeen so he has all the experience required for another testing day on the links but he's shortened up since the third round finished and there's no value left in him at less than 8.07/1."
09:55 - May 31, 2015
Yesterday has to go down as a big disappointment all round. My pre-event picks at the Irish Open have been poor and all my in-running selections were awful - especially Rickie Fowler. After getting to the fringes of contention with a chip-in eagle at 16, the world number nine finished his third round with a pair of 8s!
I then sat up until gone two this morning watching the weather-delayed third round of the AT&T Byron Nelson, where Tony Finau, backed at 120.0119/1 before the off, had sat one stroke off the lead at halfway. I barely saw him play a stroke in round three and on a day when low-scoring was the norm on a rain-softened and shorten course, he could only muster a one-under-par 68, so he looks a lost cause too now.
I can't say I'm bustling with enthusiasm for today's final rounds but let's take a look anyway, starting with the Irish. Here's the current leaderboard with prices to back at 09:30.

Soren Kjeldsen -7 3.65
Rafa Cabrera-Bello -5 6.05/1
Maximilian Kieffer -5 8.27/1
Bernd Wiesberger -4 7.87/1
Richie Ramsay -4 7.87/1
Tyrell Hatton -4 13.5
Niclas Fasth -2 65.064/1
Luke Donald -1 32.031/1
-1 and 70.069/1 Bar

Soren Kjeldsen takes a two-stroke lead into the final round, despite bogeying the last two holes of round three, and he's drifted from the low of 2.26/5 he was matched at yesterday to a mark that may catch the eye but he's definitely not for me. Holding onto the lead has proven difficult all week and it's going to prove doubly so today for the 40 year-old Dane, who's without a win in six years.
On bare stats he has to be respected - he's led three times after round three on the European Tour and he's converted every time and he won't mind the fact that we're going to experience poor weather yet again. He's not too big at over 3.55/2 and I wouldn't put anyone off him but I can do without backing anyone at that sort of price in what's proving to be a very difficult test. Just look at Fowler's finish yesterday - chances can disappear in no time at all and I'm happy to just put the spade down now.
If absolutely forced to pick one at this stage I'd side with Richie Ramsay. The Scot is based at Royal Aberdeen so he has all the experience required for another testing day on the links but he's shortened up since the third round finished and there's no value left in him at less than 8.07/1.
It's very disappointing not be in with a chance of a win in an event that's been so great to watch but it's no good throwing good money after bad. It still looks devilishly hard to call and I'm happy to move on to the AT&T Byron Nelson so here's the current state of play there, with prices to back at 09:40.

Steven Bowditch -13 5.59/2
Dustin Johnson -11 4.84/1
Jimmy Walker -11 6.611/2
Scott Pinckney -11 15.5
Jon Curran -11 24.023/1
Jonathan Randolph -11 30.029/1
Charley Hoffman -10 14.5
Ryan Palmer -10 15.5
Joe Affrunti -10 75.074/1
-9 and 40.039/1 Bar

Yet again the AT&T Byron Nelson has proven to be an event where first-timers can shine. Three of the first six with a round to go, Scott Pinckney, Jon Curran and Jonathan Randolph are all playing the course for the first time, as if Joe Affrunti, who's tied for 7th but can one of them convert?
Given three of the last four winners have been huge outsiders and that four of the last five were winning for the first time on the PGA Tour, I wouldn't be in the least bit surprised but with the likes of Dustin Johnson and Jimmy Walker lurking, it's not going to be easy. And with the course playing so soft, we can't completely discount those just off the pace on -10 and -9 - although the stats say we should...
Keegan Bradley, who trailed by four in 2011, is the only winner to be more than two adrift at this stage since Jesper Parnevik won from three back in 2000 and Bradley is the only winner this century to be outside the front three with a round to go. Perhaps we should concentrate on the front six.
There's a lot to like about Bowditch, who doggedly held on to win in his home state last year at the Texas Open but he seemed to catch all the breaks that day and he was clearly nervous. Two shots is a nice enough lead at this stage but I can't help but think he looks vulnerable.
Dustin Johnson loves this venue and the damp conditions suit his power game. He's moved ominously into position and I can see why he's favourite. If he gets on a roll again today he'll take all the beating, especially given Jimmy Walker doesn't appear to be putting well. I saw a lot of Walker's third round yesterday and he missed more than his fair share of short ones.
This looks just as tough to call as the event in Ireland and the front three in the market are hard to separate. If Bowditch catches the breaks he caught in Texas last year he'll prove hard to pass but DJ is always capable of a special round and if Walker finds his touch on the greens he could easily win.
I could very easily pass on this event too now and just hope that Finau can produce some kind of miracle from four back. I was sorely tempted to do just that but instead I've got involved further and I've backed the four men within three of the lead that are looking to get off the mark on the PGA Tour, given the stats are so strongly in their favour.
Rory McIlroy's big mate, Scott Pinckney is the one that looks best set to achieve the feat but I've also modestly backed Curran and Randolph at big prices and I've also thrown a few speculative pounds at Affrunti, who really would be a surprise winner.
I'll be back tomorrow with my De-Brief and with my preview for the Memorial Tournament.

12.10 - May 30, 2015
After a three hour delay to enable staff to get the rain-sodden course playable, the AT&T Byron Nelson hasn't quite reached the halfway stage. A few groups are yet to finish round two and my main fancy, Tony Finau, is one of those yet to complete. He's only two strokes off the lead at present, held by Jimmy Walker, Steven Bowditch and Jon Curran, playing the par 4 8th, his 17th of the round, but if the basic shot tracker, which reads, Shot 3 from the primary rough, is anything to go by, the chances are he's going to drop a shot.
Jordan Spieth birdied his last three holes to climb to -6, three off the lead, and with the likes of Ryan Palmer, Nick Watney, Hunter Mahan and Zach Johnson amongst the 17 players within three of the lead, this looks far too tricky to call at this stage. With such soft conditions, it's going to be a birdiefest over the next two days and I'm happy to leave it alone for now and just cheer on Finau.

22.10 - May 29, 2015
For the third year in-a-row, world number one, Rory McIlroy, has failed to make the cut in the Irish Open, but that doesn't mean we're set for a dull weekend - far from it. Half a dozen players are tied at the top of a bunched leaderboard and it looks like we're going to get a highly entertaining finish to a cracking event. Here's the current state of play with prices to back at 21:55.

Chris Wood -3 8.88/1
Bernd Wiesberger -3 9.08/1
Richie Ramsay -3 9.617/2
Rafa Cabrera-Bello -3 14.013/1
Soren Kjeldsen -3 18.5
Tyrell Hatton -3 19.018/1
Luke Donald -2 9.08/1
Padraig Harrington -2 11.010/1
Matt Ford -1 95.094/1
Rickie Fowler Level Par 8.415/2
John Parry Level Par 90.089/1
Bradley Dredge Level Par 190.0189/1
+1 and 65.064/1 Bar

The general consensus over the first two days was that those drawn late-early were getting the better of the weather but that wasn't the case yesterday or today. The morning starters yesterday shot an average of 74.17, which was exactly the same as the afternoon starters and the latter starters enjoyed the better of it today, averaging 1.46 strokes less than the morning starters. Given how changeable and blustery the weather was, that's a fairly narrow disparity and I don't think anyone could blame the draw for a poor start but we might hear a few grumbles from the leaders tomorrow...
The forecast suggests that tomorrow will be the most benign day of the week and that the wind will pick up slightly in the afternoon. The third day is known as 'Moving Day' and we might just get some movement but from who is anyone's guess. There are a number of classy players on +2, +3 an even +4 and with the wind easing, I can see progress being made before the leaders have started and if the wind then picks up, they could be right there come Sunday.
It's not often easy to make up ground in a links tournament but with the forecast suggesting a possible advantage to the earlier starters tomorrow and with such a bunched looking leaderboard, I thought it was worth throwing a few darts.
Francesco Molinari and Miguel Angel Jimenez have been in great form for a couple of weeks now and both could make ground up from just five off the lead. Links specialist, Ernie Els, looked slightly over-priced on the same score at a triple-figure price and I've also chanced Scott Jamieson who trails by six. I remember Jamieson making a Saturday move in Portugal a couple of years ago when he shot 60 to get in to contention so I thought he was trading at a very big price.
Although I was a bit disappointed by his bogey-par-bogey finish today, I'm still hopeful that Rickie Fowler can figure on Sunday and I can see why he's the favourite to win. If I were to play someone towards the head of the market not already covered it would probably be last week's fancy, Chris Wood, but this looks wide open and I'm happy to just take a modest speculative stance at this stage.
Over at the AT&T Byron Nelson, after an overnight deluge, a soft TPC Four Seasons is yielding plenty of birdies. It's live on Sky at present and after a three-hour delay to get the course playable this morning, the afternoon starters are only just starting out. I'll take a closer look at this one in the morning.

11.00 - May 29, 2015
The second round of the Irish Open is well under way and Padraig Harrington has already been matched at just 3.211/5. The Irishman led by five strokes at one stage but the gaps down to just two now after Bernd Wiesberger started like a man possessed - playing the back-nine in just 31 strokes.
The Austrian was actually four-over for the tournament after 11 holes yesterday but he hasn't looked back after eagling the 12th and he's played his last 16 holes in seven-under-par!
I haven't got further involved, other than yesterday's bet on Rickie Fowler, and I'm going to wait and see what the weathers like before doing anything else. The coverage starts on Sky at noon.
Over in the States, the 2013 Texas Open winner, Steven Bowditch, leads the AT&T Byron Nelson after day one, following an eight-under-par 62, with this year's Texas Open champ, Jimmy Walker, alone in second after an impressive opening 64.
I was tempted to back Walker at 6.05/1 but after much deliberation I've decided to leave it alone for now. I was also tempted by James Hahn and Dustin Johnson so I've decided to wait and see what today brings - although I may play in-running tonight. All three tee-off this afternoon so it makes sense to wait and see what the weather's doing and how the morning starters have fared.
My main fancy before the off, Tony Finau, started poorly and was two-over par through six holes but he played well after that and stood on the final tee on -4. Unfortunately, he found water from the tee and bogeyed the last but he's by no means out of it on three-under-par.

14.00 - May 28, 2015
I was really looking forward to seeing Royal County Down and it hasn't disappointed. It's a wonderful layout that, so far, seems to be suiting the more accurate types. All sorts of trouble await the more inaccurate drives and playing from the fairway is a big advantage. It's a course that wares down anyone that isn't right on their game. Someone like Rory McIlroy...
There were no big disasters from the world number one - he just looked slightly off with a cold putter, as he made nine pars and nine bogeys, but he's in big danger of not playing at the weekend now. He was matched at as short 1.11/10 to make the cut before the kick-off so someone's likely to burn their fingers.
I thought I'd be just watching and not investing at this early stage but I've decided to get Rickie Fowler onside now. Playing alongside Rory and an equally poor Martin Kaymer, who bettered Rory's score by a solitary stroke, Fowler shot a very respectable level par 71 in his first competitive round since winning the Players Championship and that looks a very good platform to build from.
As detailed in the updated preview yesterday, I added a few more bets to those placed on Monday and one of my additional picks, Michael Hoey, sits alongside Fowler on level par but it perhaps could have been better. Having started at the 10th, he was tied for the lead with three to play but a double-bogey at the par 3 7th.
Last week's fancy, Danny Willet, Argentine, Emiliano Grillo, and veteran Dane, Soren Kjeldsen, were the only three players to break 70 this morning and that may easily still be leading at the end of the day.
They've only just started at the AT&T Byron Nelson (previewed here), where a number of players, including the well-fancied, Jason Day, have pulled out. All sorts of excuses have been given but the fact that the course is reportedly sodden and that more rain is forecast is likely to be the biggest cause for the late withdrawals.

Irish Open Pre-Event Selections:
George Coetzee @ an average of 85.084/1
Thongchai Jaidee @ 90.089/1
Mikko Ilonen @ 210.0209/1
Michael Hoey @ 250.0249/1
David Horsey @ an average of 270.0269/1
Graeme Storm to lead after round one @ 160.0159/1

In-Play Bets
Rickie Fowler @ 11.521/2
Francesco Molinari @ 65.064/1
Miguel Angel Jimenez @ 90.089/1
Ernie Els @ 110.0109/1
Scott Jamieson @ 450.0449/1

AT&T Byron Nelson Pre-Event Selections:
Tony Finau @ 120.0119/1
Carlos Ortiz @ 170.0169/1
Geoff Ogilvy @ 200.0199/1
D.A Points @ 370.0369/1
In-Play Bets
Scott Pinckney @ 15.5
Jon Curran @ 25.024/1
Jonathan Randolph @ 30.029/1
Joe Affrunti @ 80.079/1

*You can follow me on Twitter @SteveThePunter
Discover the latest articles