The Punter's De-Brief: Brilliant Rose blooms in Rio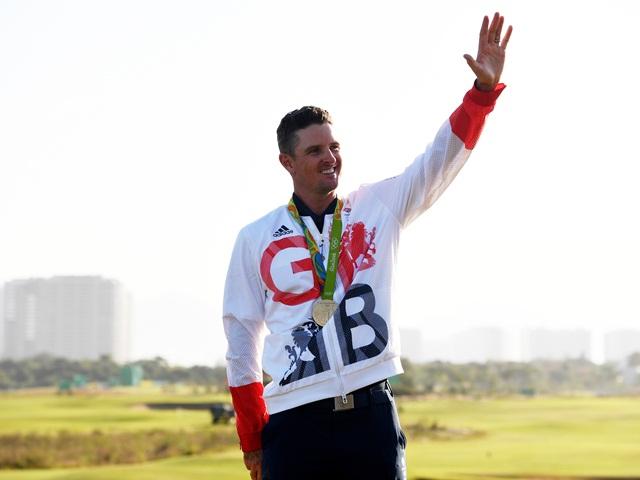 A happy Justin Rose in Rio
Steve looks back at a brilliant week of Olympic men's golf and a professional Ryan Moore victory in Illinois...

"Justin Rose was the most fitting and deserving winner. He had tweeted as long as three years ago how much he was looking forward to representing Team GB in the Olympics and he was one of the few that prepared meticulously."
After a gap of 112 years, the prospect of golf returning to the Olympics had provoked plenty of unhealthy scepticism. A number of high profile players skipped the event, offering up what in hindsight looks the flimsiest of excuses, and one or two entrants lacked proper preparation, but two of the game's finest, Justin Rose and Henrik Stenson, served up a cracking finish to the tournament and we couldn't have asked for a better outcome in Rio yesterday.

Going into the fourth and final round, proud Brit, Justin Rose, led Open Champion, Henrik Stenson, by the slenderest of margins and the two were closely matched at the head of the market, with the former just shading favouritism. Rose's single stroke advantage disappeared on the third hole though, when Stenson drained a 38 foot birdie putt, and the two remained locked in battle right up to the finishing line.

Stenson hit the front when Rose bogeyed the par four 13th and the Swede hit a low of 1.384/11 but they were back level at the very next hole when Stenson made a mess of the par three 14th. Rose birdied 15 to edge ahead again but then Stenson birdied 16 and they were yet again locked together. They both parred the 17th and they were both trading at 2.01/1 after their drives on the par five 18th. They just couldn't be separated.

It all came down to who could get up-and-down for birdie from around 40 yards at the 72nd hole and when Stenson hit a loose approach to 23 feet, the door was ajar for Rose and he didn't disappoint. He hit his approach to within two feet and when Stenson powered his birdie attempt passed the hole and missed the return, Rose had two putts for the gold medal. He only needed one.

The Englishman was the most fitting and deserving winner. He had tweeted as long as three years ago how much he was looking forward to representing Team GB in the Olympics and he was one of the few that prepared meticulously.

"This feels better than any tournament I've ever won. This is so unique. The crowd out there today were incredible." said Rose after his victory.

"It's a cross between gold and a carnival atmosphere, with people being so patriotic, the Union Jack was flying out there - it was amazing. The whole week has been incredible. Representing Team GB and feeling like you're bigger than just your individual sport is just incredible."

Matt Kuchar, who didn't even know the format a week before the off, shot an impressive eight-under-par 63 from off the pace to win the bronze medal.

On the PGA Tour, the John Deere classic was a damp squib in comparison but the winner, Ryan Moore, deserves much credit. After heavy rain and thunder had disrupted play extensively on Thursday and Friday, the 32.031/1 shot had to play rounds two and three on Saturday and he finished up rushing the last couple of holes and playing the 18th in the dark!

Such a long day could have left its mark on Moore but he started brightly yesterday and was soon in command. He led the event by five strokes at one stage but in the end he won by a cosy two over Ben Martin.
My Bets

It's been a bit of a nothing week really with a small loss incurred. My sole pre-event pick at the Olympics, Patrick Reed, started too slowly to be competitive but finished well to climb to 11th and my only selection at the John Deere Classic, Zach Johnson, started well but finished poorly.

I was daft not to lay my small stakes back on Zach given I knew he was too short on Saturday morning and that, as detailed in the In-Play Blog, I had a feeling he might struggle with playing so much golf in one day but I did at least recoup most of the week's stakes by laying Stenson yesterday at an average of 1.68/13.

I'd backed Stenson after round one and it was very obviously a two man race yesterday so it made sense to clear things up when Stenson went heavy odds-on. He traded quite a bit lower than the price I layed him at but it's been a funny weekend and just like last week, I haven't really been on the ball.
What Have We Learned This Week?

With a small field, made up of a lot of longshots, it wasn't a surprise to see the quality players separate themselves from the remainder in the Olympics and I've made a mental note to concentrate on the market leaders in Tokyo in four years.

The three medal winners were all seasoned Ryder Cuppers and I wonder whether that experience of representing your country or continent made a difference when it came to representing your nation at the Olympics?

The John Deere Classic was disrupted by the heavy rain and it turned into a far from enjoyable event. From a betting perspective we're largely guessing when they'll play, how much they'll play and how much the new conditions and schedule will affect the result. I really should have trusted my instincts and ditched Zach, who clearly didn't enjoy playing 36 holes on a rain-softened track on Saturday, but Moore's performance is one to note.

He's won the CIMB Classic in Malaysia a couple of times, where rain is always a factor, and he clearly enjoyed the conditions this week, which were akin to those encountered in the CIMB Classic. He's one to consider in future when rain stops play and an easy track gets even easier.

Moore was the 10th American in-a-row to win the tournament and 11 of the top-13 were from the States so it's an event the home contingency really enjoy.

With the FedEx Cup playoffs looming, it was noticeable how many contenders moved up into the crucial top-125 in the standings. Off the seven players to finish top-five and ties, only Moore and Ricky Barnes, who finished tied fifth, began the week safely inside the top 125. The runner-up, Ben Martin, moved up from 121 to 59. Whee Kim, who finished tied third, moved up from 154th to 125th, Morgan Hoffman has given himself a chance to make the Playoff Series, by moving up from 160th to 131st and Johnson Wagner has gone from 125th to 109th.

Kelly Kraft, who also finished tied for fifth, has moved up from 182nd to 164th but he may have too much to do with the last counting event, the Wyndham Championship, starting on Thursday.

I'll be back with a preview of that event later today and I'll also be back with a preview of the D&D REAL Czech Masters, either today or tomorrow.

*You can follow me on Twitter @SteveThePunter
Discover the latest articles