The Punter's In-Play Blog: Is Rory too short again?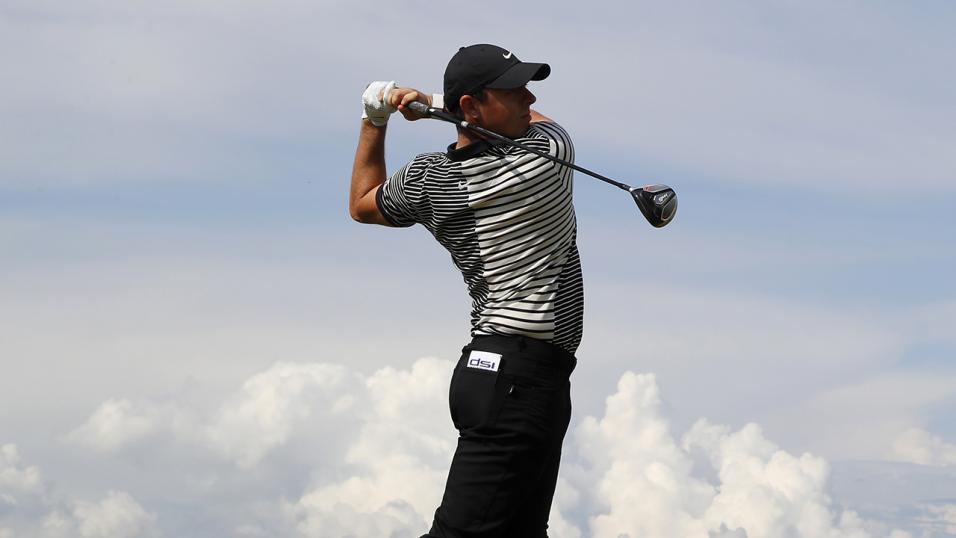 Rory MCilroy - still the favourite at Bay Hill
There's just one round to go at the Arnold Palmer Invitational and Tyrrell Hatton leads by two strokes but third round leaders have a poor recent record at Bay Hill. Can the Englishman buck the trend?
"I have my doubts about McIlroy and the man alongside him, Leishman, at more than twice his price, represents the value this morning."
09:10 - March 8, 2020
Some golf fans like to see birdies flying in left, right and centre and some like to see the best in the world tested to the max on a course on the edge. If, like me you're in the latter camp, the fourth and final round of the Arnold Palmer Invitational today will be right up your street.
With the wind and rough up and the greens and fairways running fast, Bay Hill played so tough yesterday that only one player, Max Homa, managed to break par and we head into today's final round with only eight players below par for the week. Here's the 54-hole leaderboard with prices to back at 08:50.
Tyrrell Hatton -6 3.8514/5
Rory McIlroy -4 3.211/5
Marc Leishman -4 6.05/1
Sungjae Im -3 11.010/1
Christiaan Bezuidenhout -3 21.020/1
Harris English -3 22.021/1
Danny Lee -3 32.031/1
Sung Kang -1 150.0149/1
Level par and 65.064/1 bar
The par four 18th hole averaged a whopping 4.75 yesterday and Tyrrell Hatton, having also birdied the easiest hole on the course, the par five 16th (which averaged 4.51 yesterday), was one of only three players all day long to record a birdie three there. There's his two-stroke lead right there. Rory McIlroy, who sits tied for second, was one of 28 players to bogey the hole and a dozen players chalked up a six or bigger.
Hatton and Rory both impressed me yesterday. The former is always on the edge and close to an implosion so to see him keep it altogether and to finish well in such brutal conditions was a pleasant surprise given I'm onboard from the off at a juicy price and I'm always sceptical of how McIlroy will play in really tough conditions. He's the world number one for a reason and he can obviously play in any situations but he's still yet to win a tournament with a higher winning score than -12 and he usually comes to the fore when conditions are easier than they were yesterday. Make no mistake, Rory is playing close to his best at present and given he still heads the market, that's where we have to start.
McIlroy won this event two years ago after a fairly pedestrian start. Rounds of 69 and 70 had seen him sit tied for 11th and six adrift at halfway before he shot 67-64 on the weekend to win by three in 18-under-par. Conditions couldn't be more different this week. Nobody broke 70 yesterday and I'm happy to continue to swerve the favourite. He trailed by two at this stage two years ago but he hasn't got a great record when that's been the scenario with a round to go. He's been trailing by a couple of strokes through 54 holes 15 times in total and that was one of only two occasions that he went on to win.
McIlroy has to head the market but he's not for me at the price. Conditions look like they'll be marginally easier today and he's clearly in tip-top form but he still makes the odd mistake. He's likely to miss that one silly short putt that he seems to do every round and he's odds-on to drop at least a couple of shots today. With the course playing so brutally tough, will he be able to pick up enough shots to compensate?
The stats suggest Rory has a great chance. As highlighted yesterday, Phil Mickelson took the title here in 1997, having sat tied fifth and just two off the lead, and since then we've seen only one winner, Francesco Molinari, 12 months ago, win the event having sat outside the front three places with a round to go. That suggests that it's highly likely that Hatton, Rory or Marc Leishman will take the title but given five of the last six third round leaders have been all been beaten, the two big names tied for second, appear to be the pair to concentrate on.
I have my doubts about McIlroy and the man alongside him, Leishman, at more than twice his price, represents the value this morning. The 2017 winner is perfectly equipped for the conditions, he's on a high having won the Farmers Insurance Open in January, and he's the one most likely to grind out pars for fun today.
I'm hopeful more than confident about pre-event 70.069/1 pick, Hatton, converting and I've now added Leishman at an average of 6.411/2 so with both Sungjae Im and Harris English backed in-running after rounds one and two and with Christiaan Bezuidenhout also backed before the off, I'm going into tonight's final round with everyone priced up at under 32.031/1 covered bar Rory.
I may tweak that again later but for the reasons set out above, I'm happy to take on the Irishman. He's so obviously a fabulous player but he's rarely a value price and that appears to be the case again here.
The final round of the Qatar Masters is up and running and live on Sky Sports and I'll be back tomorrow with the De-brief to pick the bones out of both results.
16:30 - March 7, 2020
Despite a couple of bogeys on the back-nine today, Jorge Campillo will still take a one-stroke lead into round four of the Qatar Masters. Here's the 54-hole leaderboard with prices to back at 16:25.
Jorge Campillo -14 3.3512/5
Jeff Winther -13 5.85/1
David Drysdale -13 9.417/2
Benjamin Poke -12 13.012/1
Pable Larrazabal -11 12.5
Alex Bjork -11 14.013/1
Kalle Samooja -10 32.031/1
Jack Senior -10 38.037/1
-9 and 36.035/1 bar
Having been matched at 200.0199/1 before the off, the out-of-form Campillo was matched at just 2.35/4 today after he'd birdied five holes in six form the fifth hole. A lengthy putt on nine and a chip-in at 10 were perhaps on the fortunate side but just as he looked like taking control, having led by three, he sandwiched a birdie four at the straightforward par five 13th with bogeys at 12 and 15 and that may have been a sign of what's to come tomorrow.
As stated before round three, Campillo has just one win in 249 starts on the European Tour so he can't be described as prolific but, all things considered, he looks a perfectly fair price now at around 3.39/4 even though this is the third time that he's led with a round to go and he's yet to convert.
He led the Acaya Open on the Challenge Tour with a round to go by a stroke in 2011 and he was tied for the lead through 54 holes at the 2018 Maybank Championship but he finished second on both occasions. They weren't awful efforts though and since winning in Morocco in April last year, he does now know how to get the job done and he sounded very relaxed after today's round.
When asked why he'd changed his caddie recently, he laughed and replied. "Well, the other one quit so I had to find a new one. I didn't make enough money for him to stay so I needed to find a new one."
The jovial Spaniard was then asked what had changed in him since his victory. "Well, if I wouldn't have won a golf tournament I would have been a little bit more nervous coming in to tomorrow but since I won that one time, it's a little bit more familiar, so I'll be a little nervous but I'll probably know what's going on and hopefully tomorrow I can play as good as today and win."
He sounded fairly confident and he should do. Since 1996, 305 players have led by a stroke on the European Tour and 126 of them went on to win. That equates to 41% so odds in excess of 2/1 are more than fair, especially when we consider who his two nearest challengers are.
Scotland's David Drysdale is playing in his 498th European Tour event and he's yet to win and the man alongside him, Jeff Winther, is also looking to get off the mark at the age of 31. He putted brilliantly today and I just wonder whether he can keep that going.
My in-play pick, Benjamin Poke, is alone in fourth and two off the lead and I'm quite hopeful of his chances. He won the Q School by six strokes and he too sounded confident after today's round. I have a juicy position on him but he's very inexperienced and my other in-play selection, Alex Bjork, who trails by three, may be a bigger danger to the leader.
Unfortunately, they both bogeyed 18 today or I would have been in a really nice position ahead of tomorrow's final round and although I'm still hopeful, I've added one more...
I was tempted to play the leader, and I think he's a fair price, but backing someone with a strike rate that poor at around 2/1 really does go against the grain. Whereas taking 13.012/1 about recent Alfred Dunhill Championship winner, and five times European Tour winner, Pablo Larrazabal, who sits alongside Bjork and just three off the lead, feels like the right thing to do. The experienced Spaniard will really go for it tomorrow and he might be the one to catch Campillo.
11:30 - March 7, 2020
Pre-event pick, Tyrrell Hatton, is tied at the top with Sung Kang at the halfway stage of the Arnold Palmer Invitational but it's pre-event favourite, Rory McIlroy, that still heads the market. Here's the 36-hole leaderboard with prices to back at 11:25.
Tyrrell Hatton -7 7.26/1
Sung Kang -7 14.5
Danny Lee -6 24.023/1
Rory McIlroy -5 4.03/1
Sungjae Im -5 10.09/1
Harris English -5 23.022/1
Patrick Reed -4 14.5
Marc Leishman -4 16.5
Brendon Todd -4 50.049/1
Christiaan Bezuidenhout -4 50.049/1
Sam Burns -4 75.074/1
Tom Hoge -4 85.084/1
-3 and 30.029/1 bar
Since Phil Mickelson took the title here in 1997, having sat tied fifth and just two off the lead, we've only seen one winner, Francesco Molinari, 12 months ago, win the Arnold Palmer Invitational having sat outside the front three places with a round to go so with a bunched and very tricky looking leaderboard, waiting until tomorrow, or until the end of the third round tonight, to make a move is probably the best way to go now. But do bear in mind that five of the last six third round leaders have been beaten.
Rory McIlroy was six adrift at this stage when he won here two years ago so he's certainly close enough but he still looks a bit short to me. He missed a few short putts again yesterday and he makes enough mistakes.
I've got a few in-contention and the shortest priced now is Hatton but I do wonder if he can keep his temper in the weekend winds. This course is only going to get harder and Hatton isn't great at keeping a lid on things when his patience is being tried.
Last week's winner, Sungjae Im, is the only other player trading at a single-figure price and he's the one to watch. His tee-to-green has been excellent and if the putter warms up a bit over the weekend, he'll take some beating.
The 2017 winner, Marc Leishman, and Patrick Reed, who like Leishman, has already won this year, are huge dangers but the only one I'm adding now is Dave Tindall's Harris English. I looked hard at him yesterday but resisted the urge to back him after being onboard last week when he lost his way in round two. This set-up is right up his street and he's a very fair price at 23.022/1 given he trails by just two.
The third round of the Qatar Masters is underway and live on Sky Sports and I'll be back later with another look at that one at the close of play.
20:40 - March 6, 2020
The Qatar Masters looked a tough gig before the off and it doesn't look much easier at halfway! Here's the 36-hole leaderboard with prices to back at 20:35.
Andy Sullivan -10 7.06/1
Jorge Campillo -10 11.521/2
Joost Luiten -9 8.27/1
Marcus Kinhult -9 9.28/1
Romain Langasque -9 11.010/1
Alex Bjork -9 16.5
Oliver Fisher -9 22.021/1
-7 and 19.018/1 bar
Somewhat bizarrely, the two leaders were tied for the lead in this event at this stage in 2017 at Doha Golf Club. Jorge Campillo finished tied for 13th and Andy Sullivan tied for 28th. I'm in no rush to back either. Campillo has just one win from 249 European Tour starts and Sullivan has seemingly lost his way after three wins in 2015. Of the two, I prefer the latter. He's shown glimpses of late but he's also been a bit disappointing in-contention and I'm more than happy to scan further down.
Of the group of five players tied for third, the multiple winner, Joost Luiten, is the most fancied and deservedly so. He's in search of his seventh European Tour win and he's the man to beat but he was poor last weekend when in with a great chance and that's a bit off-putting. Especially given I backed him.
Like Campillo, Alex Bjork has only one win in the locker - the Volvo China Open in 2018 - but he's only made 88 appearances and he has some scope. I thought he'd have gone in again by now and although he's been out of form, and today's eight-under-par 63 (the best round of the day) will take some backing up tomorrow, I thought 16.5 was generous enough given he trails by just a stroke. After that, I've played a couple of big outsiders...
European Tour Q-School qualifiers Rasmus Højgaard and Sami Valimaki have already got off the mark this season and Adrien Saddier traded at even money last week too so it's clear that some of those that have accessed the Tour that way are making the most of their opportunities. Benjamin Poke, tied for eighth and three adrift, and popular Indian, SSP Chawrasia, tied for 14th and four back, both gained their cards via Q-School and I thought both looked over-priced at 110.0109/1 and 140.0139/1 respectively.
The second round of the Arnold Palmer Invitational is well underway and currently live on Sky Sports. I'll be back tomorrow with another look at that one at halfway.
11:25 - March 6, 2020
As expected, the wind picked up yesterday afternoon in Florida and the early starters on the opening day of the Arnold Palmer Invitational enjoyed the easier conditions. The morning starters averaged 1.4 better than those that teed it up in the afternoon and for most of the day the leaderboard was dominated by them but course specialist and two-time winner, Matt Every, skipped round in a seven-under-par 65 to pass Rory McIlroy late on.
One of my pre-event picks, Sam Burns, had looked likely to lead the way early on. He reached seven-under-par when he birdied the 16th but he finished bogey double-bogey to sit tied for fifth alongside another two picks, Tyrrell Hatton and Christiaan Bezuidenhout, and one of Paul Krishnamurty's Find Me a 100 Winner selections, Talor Gooch, has started well too. He sits tied for third on -5.
Alone in second, Rory McIlroy is considered far and away the most likely winner but he's not been great of late when he's started well. In fact, On the last 11 occasions that he's either led or been within just a stroke of the lead after round one he's been beaten, so odds of less than 2/1 look short
Every will have his supporters given his ridiculous course form but since Chad Campbell won here in 2004, having been tied for the lead after round one, as many as 22 players have led or been tied after 18 holes and Jason Day, in 2016, is the only one to win. And both Every's previous wins came from off the pace.
After an opening three-under-par 69 that sees him trail by four, Japan's Hideki Matsuyama is well fancied and I'm not surprised given both his current form and the number of winners the Presidents Cup has already thrown up.
Worldwide wins since Presidents Cup:

United States - 3
Internationals - 4

Sungjae would make it 5 with a win today.

? Justin Ray (@JustinRayGolf) March 1, 2020
Hideki making it nine wouldn't be a huge shock but the two I like after round one are last week's winner, Sungjae Im, and the man who went on a ludicrous hot streak at the end of last year, Brendon Todd.
A fairly slow start after last week's heroics at the Honda was understandable so Im's two-under-par was a reasonable knock yesterday and I was surprised to see Todd as big as 65.064/1 after his four-under-par 68.
The second round of the Qatar Masters is well underway and I'll be back later with a look at that one, once they've reached the halfway stage.
Qatar Masters Pre-Event Selections:
Brandon Stone @ 60.059/1
Mikko Korhonen @ 60.059/1
Grant Forrest @ 95.094/1
In-Play Picks:
Alex Bjork @ 16.5
Benjamin Poke @ 110.0109/1
SSP Chawrasia @ 140.0139/1
Pablo Larrazabal @ 13.012/1
Arnold Palmer Invitational Pre-Event Selections:
Kevin Na @ 120.0119/1
*Henrik Stenson @ 48.047/1
*Tyrrell Hatton @ 70.069/1
*Christiaan Bezuidenhout @ 270.0269/1
*Sam Burns @ 450.0449/1
*Bets placed after the preview published and after the draw was made
Arnold Palmer Invitational In-Play Picks:
Sungjae Im @ 32.031/1
Brendon Todd @ 65.064/1
Harris English @ 23.022/1
Marc Leishman @ 6.411/2

*You can follow me on Twitter @SteveThePunter
NEW ON BETTING.BETFAIR – BETSLIP
You can now bet without leaving Betting.Betfair with our brand new on-site betslip for Exchange markets. You'll see the Exchange back and lay prices at the end of articles - simply login and place your bets as you would do on the main Exchange site
Discover the latest articles
Read past articles