The Punter's De-Brief: DJ notches win number 19 as McEvoy breaks his duck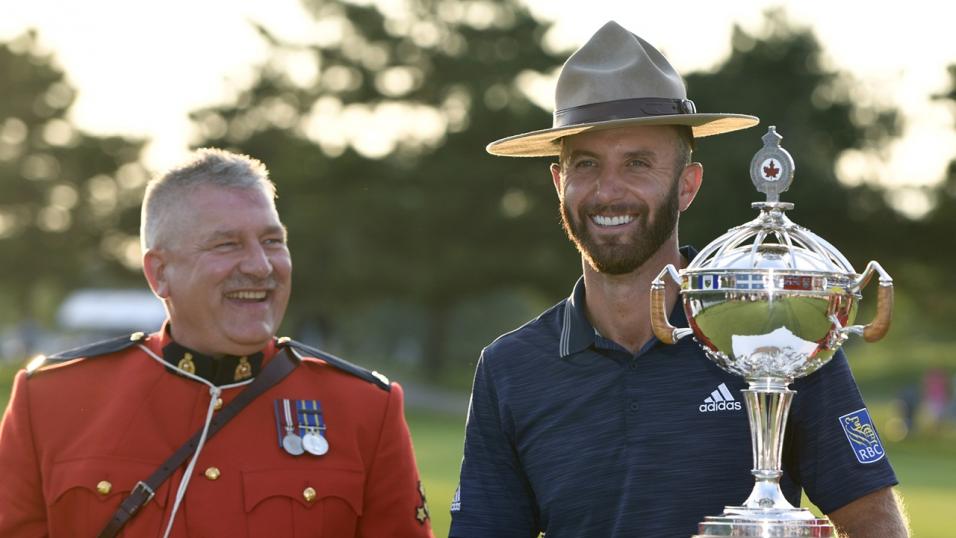 Dustin Johnson with new trophy, new friend and smashing new hat
It's been an eventful but successful week for The Punter as 170.0169/1 chance, Richard McEvoy, lands the Porsche European Open and Dustin Johnson wins with ease in Canada. Read our man's customary look back at all the action here...
"The two winners were like chalk and cheese last week. McEvoy, who became the first player ever to win a European Tour event a week after winning on the Challenge Tour, was winning his first ET title at the 185th attempt, at the age of 39, whilst the world number one, DJ, was winning his 19th PGA Tour title at the age of 34."
The likes of Bryson DeChambeau, Masters champ Patrick Reed, and seasoned campaigner Paul Casey, were all in the reckoning with a round to go at the Porsche European Open in Hamburg yesterday but after a fascinating final day's play, 39-year-old journeyman, Richard McEvoy, emerged triumphant as his more illustrious opponents fell by the wayside one by one.
Patrick Reed hit a low of 2.186/5 after he'd birdied the third hole to tie the lead and DeChambeau's price dipped to just 1.232/9 when he led by a stroke with four to play but he lost the plot completely after that.
The American went for the green over water in two on the par five 15th but didn't get close. He played a decent fourth shot after his penalty drop but failed to make the par save, while playing partner, McEvoy, who had begun the hole trailing by a stroke, strolled to the 16th tee leading by one after a superb birdie four, having played the hole conventionally.
Clearly rattled, DeChambeau then fired his tee-shot on 16 way left and into the trees and it looked like McEvoy would cruise to victory but it wasn't quite that simple.
After a far too long anti-water tee-shot, McEvoy failed to get-up-and-down for par on the par three 17th and having been matched at a low of 1.21/5, all of a sudden, he was tied for the lead with just the par five 18th to play. DeChambeau needed a birdie to get to ten-under-par - the score that Renato Paratore, Christofer Blomstrand and German amateur, Allen John, had all posted and McEvoy need one to edge ahead.
DeChambeau's brain was scrambled by this point though and having driven in to the water off the tee, he went on to find it again with his third - eventually recording a triple-bogey eight. McEvoy hit a decent drive that trickled in to the semi-rough and from there he had a decision to make. Lay up or go for the green?
As a McEvoy backer, I wanted him to go for it and it was telling that his price jumped from 1.68/13 to 2.26/5 when he took the decision to lay-up but it mattered not in the end when after what was only an average third shot, he did this to take the title.
The moment @RichardMcEvoy79 won his first European Tour title...#peogolf pic.twitter.com/xu1uB4Ina4

? The European Tour (@EuropeanTour) July 29, 2018
Over on the PGA Tour, it was a far duller affair with pre-tournament favourite, Dustin Johnson, strolling to a three-stroke victory at the RBC Canadian Open. He'd set himself a target of 25-under-par with a round to go but in the end, 23-under was plenty and having begun the day tied for the lead with three others - Byeong Hun An, Kevin Tway and Whee Kim - after birdying the first two holes of round four, he never looked like getting beat.
The two winners were like chalk and cheese last week. McEvoy, who became the first player ever to win a European Tour event a week after winning on the Challenge Tour, was winning his first ET title at the 185th attempt, at the age of 39, while the world number one, DJ, was winning his 19th PGA Tour title at the age of 34.
My Bets
Having backed McEvoy before the off at 170.0169/1 it was obviously a good week but I did lay plenty back and I did cover a number of other players in-running.
McEvoy not going for the green proved costly as I felt he was way too short at around the 2.56/4 mark after his third shot and I layed back accordingly. His birdie putt for the win, as you can see above, was far from simple and I feared for his prospects had the tournament gone into extra time.
Regardless of the outcome, I thought his decision to lay up was the wrong one and he'd have done really well to lift himself in a playoff against three others, who would have felt like they were running free, had he not made the birdie putt.
It was mildly irritating but I didn't regret my decision. Had he missed that putt - and he was far more likely to miss it than make it - I'd have gone into the playoff with all angles covered and I'd have had a decent week regardless of who won. It felt like the right thing to do and I'd do it again.
I'd written in the In-Play Blog that "should I get a positive result in Germany, and provided his price doesn't drastically shorten before the off, I may well play up some winnings on DJ at around the 11/10 mark." And I did just that, backing him modestly at 2.166/5 so all in all it's been a terrific week.
What Have We Learned This Week
Rumours are rife that we'll never see Glen Abbey again so looking back at the RBC Canadian Open result would be a futile exercise so I'm concentrating on the Nord Porsche Course in Germany. It's a venue that divided opinion.
The Nord Porsche Course, formerly the North Course, is a long course with two unbalanced nines. The opening nine closes with a par five but only plays to a par of 34, with a total yardage of 3,344, and the second nine, with four par fives, measures 4,239 yards, and that nine plays to a par of 38.
Prior to the 2017 edition, when the course was used for the first time, understandably, us punters concentrated on the bombers and there was some evidence to suggest length was beneficial a year ago but after this year's renewal, that theory needs consigning to the bin. A long and straight player will prosper but accuracy is more important and I wouldn't be at all surprised if we don't get another veteran taking the title next year.
No stats were produced for the amateur, Allen, who finished tied for second, so I've no idea how far he hit it off the tee but none of those to finish inside the top-12 ranked any better than 39th (Patrick Reed) for Driving Distance. Yes, it's a long course on paper, but they fiddle with the yardage during the tournament and it's far from a bombers' paradise.
The winner ranked 56th for DD, sixth for Driving Accuracy, eighth for Greens In Regulation and sixth for Putts per GIR. He plotted his way around superbly and that was very clearly demonstrated on the fourth hole, which, it could easily be argued, was bordering on unfair. Only perfect approach shots stayed on the fiery narrow peninsular green and incredibly, McEvoy was the only player in the last three groups not to go in the water there yesterday.
The par four sixth hole presented a similar test and it averaged a whopping 4.55 yesterday but the players get a chance to relax after that with a short par four, a simple enough par three and the par five ninth, which averaged only fractionally more than the par four sixth yesterday. It gets tough again after though.
The 10th, 12th and 13th holes are very long par fours and at well in excess of 200 yards, the par three 14th is a brute too for the shorter hitters. It was over that stretch that the tournament looked to be going the way of DeChambeau, whose length was a clear advantage, but you need strategy more than just brute force and his decision to try and reach the par five 15th over water proved fatal.
I got the impression from the commentary that we'll be back here for years to come and as the course matures and they tweak a few things, like ludicrous pin placements on a Sunday (the fourth yesterday for starters), this could become a familiar and enjoyable venue. It's not as featureless and dour as I first thought and there's far more to it than it's terrific closing hole (which will only get better as the trees mature). It's also a proper test as it dries out and when the wind picks up. And it's definitely not the bombers' haven we all thought it would be before the off 12 months ago.
And finally, remember to look out for the usual Wednesday drifts on the exchange. My man McEvoy went out to more than 200.0199/1 before the off and I'm still regretting not greedily topping up.
We've got three tournaments to look forward to this week. The WGC - Bridgestone Invitational is far and away the highlight of the week but we've also got the Barracuda Championship on the PGA Tour and the Fiji International on the European Tour. I'll back later or more likely tomorrow with my previews.

*You can follow me on Twitter @SteveThePunter

Discover the latest articles
Read past articles