The 2017 Open Championship: The Punter's preview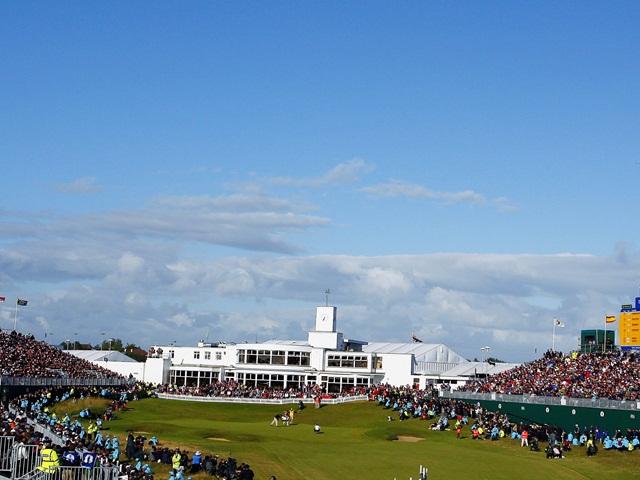 The 18th green and art deco clubhouse at Royal Birkdale
We return to Royal Birkdale for the third major of the season, the Open Championship, but before you place your wagers be sure to check Steve Rawlings' comprehensive preview of the event as he arms you with all the stats, facts and betting info you'll ever need...

"When Padraig Harrington won here in 2008 he was doubling up after taking the title in 2007 and Tiger Woods won back-to-back Opens in 2005 and 2006 so the fact that Stenson's defending doesn't put me off one iota. He hasn't been in the best of form this year but he warmed up nicely at the Scottish Open last week and I thought he was a cracking price at 30.029/1."
Tournament History

The Open Championship, often referred to by Americans as the British Open, is organised by the Royal and Ancient Golf Club of St. Andrews (the R&A). The Open Championship is the third major of the year and it's the oldest of the four staged. It's the only one of the four majors to be played outside of the States and it's always played on a links golf course. Willie Park won the inaugural tournament way back in 1860 and this will be the 146th edition.
Venue
Royal Birkdale, Southport, England.
Course Details
Par 70, 7,156 yards
Stroke index in 2008 - 74.87

Birkdale was founded as long ago as 1889 and it became Royal Birkdale in 1951, three years before it staged its first Open Championship. It was first nominated for the event in 1940 but the event was cancelled due to World War II.

Royal Birkdale isn't a traditional out-and-in links course and consecutive holes rarely run in the same direction. High dunes provide great vantage points for spectators of what is widely regarded as one of the truest tests of links golf. It's a tough but fair links and when the wind blows it's a brute - Padraig Harrington won the last renewal staged here in three-over-par! Only the par five 17th hole averaged below par and that's the only time this century that the tournament has been won with an over-par total.

This is what Harrington told Golfing World about the venue. "It's a solid, strong course - doesn't give you anything. Big, tough, strong, fair links course. The fairways are pretty flat, the greens are pretty flat, it's all there in front of you. There's no mystery, no trickery. Big, strong, fair golf course."

And Tommy Fleetwood, who grew up within walking distance of the course, told Golfing World. "It's one of the only courses I've been to where every bunker is in play on every hole. It's a real, real test off the tee but once you get it in play it's not too bad from there. But it's one of the toughest driving courses I think you'll find."

Given those two comments, it's perhaps not surprising to see that, with the possible exception of Ian Baker-Finch, the list of Royal Birkdale Open winners is like a who's who of golf.

Royal Birkdale was venue for Peter Thomson's first and fifth Open victories and it's famed for its art deco clubhouse, which was built in 1935. It's staged the event nine times previously, and here's that illustrious list of winners.

1954 - Peter Thomson (Australia) -9
1961 - Arnold Palmer -4
1965 - Peter Thomson -7
1971 - Lee Trevino -14
1976 - Johnny Miller -9
1983 - Tom Watson -9
1991 - Ian Baker-Finch -8
1998 - Mark O'Meara Ev (playoff)
2008 - Padraig Harrington +3
TV Coverage
Coverage of the event is non-stop on Sky Sports and it starts tomorrow! The draw is live at lunchtime Monday and they have all sorts of stuff on before the tournament even starts.

The BBC lost the event to Sky prior to last year's renewal and as much of a shame as it is to see any live sport lost from terrestrial TV, the coverage 12 months ago was so good that Sky was awarded a BAFTA!
Last Ten Winners
2016 - Henrik Stenson -20
2015 - Zach Johnson -15 (playoff)
2014 - Rory McIlroy -17
2013 - Phil Mickelson -3
2012 - Ernie Els -7
2011 - Darren Clarke -5
2010 - Louis Oosthuizen -16
2009 - Stewart Cink -2 (playoff)
2008 - Padraig Harrington +3
2007 - Padraig Harrington -7 (playoff)
What Will it Take to Win the Open Championship?

The logical place to start is with the 2008 edition at Royal Birkdale, so here are the stats for the first five and ties.

2008 Open Championship Top-Five
1 Padraig Harrington +3 DA 37 DD 45 GIR 30 SC 13 PA 4
2 Ian Poulter +7 DA 13 DD 50 GIR 7 SC 26 PA 37
T3 Greg Norman +9 DA 76 DD 37 GIR 38 SC 3 PA 21
T3 Henrik Stenson +9 DA 4 DD 18 GIR 38 SC 4 PA 31
T5 Jim Furyk +10 DA 26 DD 31 GIR 5 SC 24 PA 61
T5 Chris Wood +10 DA 32 DD 15 GIR 38 SC 10 PA 31

Stats Key
DA = Driving Accuracy
DD = Driving Distance
GIR = Greens In Regulation
SC = Scrambling
PA = Putting Average

Straight away we can see that no stat stands out blatantly. All six players scrambled well or reasonably well and that's understandable. In the windy conditions, greens were being missed with regularity and getting up-and-down for pars became vital in order to compete but after that it's difficult. There isn't much of a pattern statistically but that's very often the case at Open Championships. Here are the average ranking in all the key stats for the last 12 winners.

Average key stats for the last 12 Open winners
Driving Accuracy - 24.4
Driving Distance - 25.8
G.I.R - 18.9
Scrambling - 17.6
Sand Saves - 33.2
Putting Average - 11.3

With nothing really standing out at the venue nine years ago, and with nothing glaringly obvious with the 12 year averages, the PGA Tour's all round rankings stats here is probably the best angle in statistically but fortunately, we've got much more to ponder away from playing stats.

Is There an Angle In?

My number one angle in this week is an appearance at Dundonald Links last week in the Scottish Open. The Scottish Open has been played on a links course since 2011 and proved to be a fabulous warm up event. The first four home at Troon last year all played at Castle Stuart the week before and six of the last seven Open winners have now warmed-up in the Scottish Open.

The Irish Open was moved in the schedule this year, and it was played on a links course two weeks ago, so the likes of Jon Rahm, Justin Rose, local lad Tommy Fleetwood, and Hideki Matsuyama, who didn't play in Scotland last week, have at least played links golf in the last fortnight, and it will be very interesting to see how they fare.

We have the same three week links golf stretch of Irish, Scottish and Open Championship again next year and it's the best innovation the European Tour has introduced in many a year. The chance to acclimatise yourself again with links golf ahead of the world's biggest event has clearly been beneficial and it beggars belief how many top quality players haven't taken advantage of this year's new scheduling.

Those that played Ireland and not Scotland, have at least had some recent links practice so it will be fascinating to see how they fare but history suggests a week off beforehand doesn't seem a particularly good idea given Stewart Cink, in 2009, is the last player to win having had the week off before the Open. And playing in the States doesn't seem like a great idea either given in the last 26 years, only two winners, Todd Hamilton in 2004 and Zach Johnson in 2015, have played on the PGA Tour the week before they won the Open.

Phil Mickelson won the Scottish Open before he won at Muirfield in 2013 but an under the radar performance in the Scottish is perhaps a better prep.

In the last year before it was played at a links venue, Louis Oosthuizen missed the cut at Loch Lomond in 2010 before scooting up at St. Andrews. Both Darren Clarke and Ernie Els, the 2011 and 2012 winners, made the cut but finished down the field at Castle Stuart and in 2014, Rory, having led at Royal Aberdeen after round one, finished 14th in the Scottish Open before winning at Hoylake. Stenson won at Troon after a never in the hunt 13th in the Scottish.

In addition to his outing in Scotland, Stenson was a great fit before the off for a number of other reasons too. He had won just a few weeks previously, he had finished inside the top three (three times) at an Open previously, he'd just turned 40 (see identikit winner section below) and he'd won the Qatar Masters.

Only Ben Curtis, Stewart Cink, Ernie Els, and Zach Johnson, have won the Open this century without winning on either the PGA Tour or the European Tour in the 12 months previously and after Henrik's win 12 months ago, 11 of the last 12 winners have now finished inside the top-six in an Open prior to winning. And a remarkable eight of them have finished inside the top-three. Open form is clearly a big plus.

The Qatar Masters, an event Henrik won in 2006, is played at Doha Golf Club. It's not a links course but it's very exposed and wind-affected and year after year the leaderboards are jam-packed with links specialists so that's a tournament to look at and consider form at other links events too.

As already alluded to, look at the Scottish Open over the last seven years, the Irish Open in 2012 (Royal Portrush), 2015 (Royal County Down), and two weeks ago (Portstewart Links) and the Alfred Dunhill Links Championship, which is staged each autumn over three links courses, is a cracking guide too.
Is There an Identikit Winner?

Stenson had turned 40 just three months before he won last year and the 2105 winner, Zach Johnson, turned 40 eight months after he'd won. Had Zach been born a little earlier, five of the last six Open winners would have been aged 40 or above and look who else finished inside the top-four last year - 46 year-old Phil Mickelson and 49 year-old Steve Stricker. To win an Open you need lots of experience and this is clearly a tournament where age is no barrier.

The last time the Open was staged at Royal Birkdale 53-year-old two-time Open Champion, Greg Norman, led the field by two strokes after three tough, windy days. He was the oldest player to ever lead the Open Championship through 54-holes but only 12 months later, 59-year-old, Tom Watson, took a one-stroke lead into round four at Turnberry. Both men were eventually collared but they emphasise the point I'm labouring. Age isn't a barrier in this tournament; it's a great big plus.

Given how well experienced players fare, it's perhaps not surprising that debutants have a woeful record. Curtis, in 2003, was the last champion to win on debut and before him it was Tom Watson in 1975.

Even though it's played at a different venue each year, the examination is always the same and it's totally unique to anything else encountered so previous tournament experience is very important.

Henrik Stenson was a great example of an Open winner last year. It was his 12th Open and he had learnt his trade. Having missed two of his first four cuts, he'd finished inside the top-three three times. Zach Johnson was making his 12th appearance in the event when he won too and having missed his first three event cuts, he was finally trending the right way. He'd finished 16th, ninth, sixth and 47th in his previous four Opens. Mickelson was playing in his 19th Open Championship when he won four years ago, Darren Clarke was playing in his 20th when he notched in 2011 and even greats like Tiger Woods and Rory McIlroy needed half a dozen event outings before they won it for the first time.

Think very carefully before backing someone that's only played in the Open a couple of times and make sure you're getting a huge price about a debutant. Or better still, pick someone else.

At this specific venue, a top-seven finish at Augusta has been a good pointer of late as the last four Royal Birkdale winners all finished inside the top-seven in the US Masters. O'Meara is an interesting one and he could be an omen for Sergio Garcia fans. Like the Spaniard, O'Meara had played in umpteen majors without winning but he followed success at Augusta with a win at Royal Birkdale. Could Sergio emulate him?

O'Meara was the fifth American to win at Royal Birkdale and had Norman held on, he'd have been the third Australian to win here. Padraig Harrington was the first winner that didn't come from either the USA or Australia.

For more on the make-up of an identikit Open Champ, Dave Tindall's Open Championship 10 Year Trends piece is a must-read.
In-Play Tactics

After eventual runner-up, Mickelson, had burst out of the gates with an opening 64 to lead by three, last year's winner, Stenson, trailed by five strokes in 12th place after round one but those two went clear after that, occupying the first two places from then on in.

If conditions aren't too unkind, up with the pace is the place to be in Open Championships and Stenson was only the second winner in 13 years to be outside the top-10 after the opening round and five strokes is the furthest any winner has trailed after round one this century but I'm far from convinced blindly backing the pacesetters will do anything but skint you this year.

Paul Krishnamurty's looks back on previous Opens at Royal Birkdale in this piece here and his excellent "Five punting pointers for Royal Birkdale" also looks at in-running trends at the course and he's absolutely correct, all sorts can happen here.

Lee Trevino won wire-to-wire here in 1971 and nobody has made a lot of late ground up - all nine previous course winners sat first of second with a round to go but a slow start can certainly be overcome.

Peter Thomson was six adrift and tied for 23rd back in 1965 and the last three course winners all started slowly. Harrington was five adrift and tied 38th after the opening day, Mark O'Meara sat seven off the pace and tied for 62nd after round one in 1998 and back in 1991, Baker-Finch sat tied for 29th and five back. A slow start can be overcome here and other than Trevino, no winner here has led after either rounds one or two.

Those trends are interesting but if we then throw the weather forecast into the mix, we could get a very interesting tournament this year. I know we're a long way off Thursday's start but early indications suggest we're going to get a really tough and windy week. Just what the doctor ordered.

Paul's points about the course layout are really important, having the only two par fives at the end of the course should mean we'll see much change and they're the only decent chances to score on the back-nine. As Stenson did last year, Harrington played the par fives better than anyone else here in 2008, so what you do at the two long holes is vital.

The hardest hole on the course in 2008 was the par four sixth, which averaged 4.76, and the par four first was no pushover either. That averaged 4.51 and was the second hardest and the second hole, another par four, averaged 4.36, but six of the front-nine holes, holes three, four, five, seven, eight and nine ranked as six of the easiest nine holes on the course so the two nines are quite nicely balanced.

The front-nine has the two hardest holes and the back nine the two easiest but the majority of the back-nine is harder than the majority of the front-nine and the hardest stretch of holes comes between 10 and 14. Those five holes averaged 1.7 strokes over-par for the week.
Market Leaders

We haven't seen world number one, Dustin Johnson, since his US Open defence ended in a weekend off and two weeks before that he missed the cut at the Memorial Tournament. He's gone from red-hot to ice cold since he fell down the stairs at Augusta and the combination of a lack of a recent outing and two missed cuts make him very hard to fancy.

He has a decent bank of Open Championship form and I fancy he'll get hold of the Claret Jug one day but it might not be this year.

Jordan Spieth's form figures are decent. Since finishing tied second to Kevin Kisner at the Dean & Deluca Invitational, he's finished 13th at the Memorial Tournament, 35th at the US Open and first at the Travellers Championship but that victory was almost a month ago now and he's another that's decided to have time off rather than play and that's very off-putting given recent trends. His victory in Connecticut came courtesy of a fluky but brilliant hole out from a greenside bunker in extra time and he was very reliant on his red-hot putter. The rest of his game is good but not spectacular at present and all things considered I'm happy to swerve him.

Jon Rahm showed in no uncertain terms that he can play links golf when he hacked up in the Irish Open two weeks ago. He was 59th on debut last year and he's almost certain to improve on that but whether he's value to win his first major so soon is highly debatable. Its one thing wining an Irish Open in benign conditions but it's quite another to bag an Open at only your second attempt, and in what's forecast to be foul weather. He's a remarkable talent and a very powerful player but the stats say he's too short at around 18.017/1.

Rory McIlroy entered both the Irish and Scottish Opens but he missed both cuts and it's hard to envisage his game improving enough for him to contend. His rib injury and the change of clubs have taken their toll and while he will be back, this year's Open may come just come too soon. He's not for me.
Selections

I've long since thought that this major suits Rickie Fowler better than any other. I was on board at fancy prices when he was fifth back in 2011 and he was also runner-up in 2014. He disappointed a bit over the weekend in the Scottish given he was bang there at halfway but he's a fabulous links exponent and having backed him when he came so close at the US Open last month, I felt I had to have him onside - albeit only modestly.

The Open's been kind to me of late and I've managed to back the winner before the off in three of the last five years. Ernie Els at 55.054/1 in 2012 and Phil Mickelson at 30.029/1 12 months later both provide fond memories but the 2016 renewal will never be beat.

Last year's incredible final round, which saw Henrik Stenson and Mickelson draw clear of the remainder was an event that will live long in the memory given I was on Stenson at 40.039/1 and Mickelson at 60.059/1 and I'm backing both again this time around.

When Padraig Harrington won here in 2008 he was doubling up after taking the title in 2007 and Tiger Woods won back-to-back Opens in 2005 and 2006 so the fact that Stenson's defending doesn't put me off one iota. He hasn't been in the best of form this year but he warmed up nicely at the Scottish Open last week and I thought he was a cracking price at 30.029/1.

Having missed the US open to attend his daughter's graduation and having recently dispensed with the services of long time caddy, Bones, Lefty's latest questionable decision is to arrive at Birkdale without having played in the Scottish. It seems a bizarre judgment call given he won both events in 2013 and that, coupled with the fact that he hasn't won anywhere since that success is off putting but I'm prepared to overlook those two negatives at 55.054/1. He and Stenson were an incredible 11 strokes clear of the rest last year.

World number nine, Alex Noren, has been placed in the Alfred Dunhill Links and he won the Scottish Open last year, so although he hasn't got the greatest of Open pedigrees, he's a brilliant links player. He'll be inspired by his countryman's victory 12 months ago and he'll be very keen to improve on last week's missed cut when defending but there's no reason to think he can't put it behind him. He won the Wales Open after a missed cut and the Nordea Masters after two weekends off and he has countless high finishes after missed cuts so it doesn't put me off at all. And he also went well for three rounds at Royal Birkdale in 2008 when just a couple of years into his professional career.

Given they finished first and second here eight years ago, Padraig Harrington and Ian Poulter were no-brainer last minute picks once they started well at the Scottish Open and another to catch the eye there was Soren Kjeldsen. The veteran Dane won the Irish Open in 2015 in poor conditions and he's a lively outsider at a big price.

Selections:
Rickie Fowler @ 20.019/1
Henrik Stenson @ 30.029/1
Phil Mickelson @ 55.054/1
Alex Noren @ 55.054/1
Padraig Harrington @ 110.0109/1
Ian Poulter @ 110.0109/1
Soren Kjeldsen @ 180.0179/1

I'll be back over the next few days with a look at the side markets and I'll kick off the In-Play Blog on Thursday night.

*You can follow me on Twitter @SteveThePunter
Discover the latest articles