The Punter's In-Play Blog: Bubba in pole as he bids for the three-peat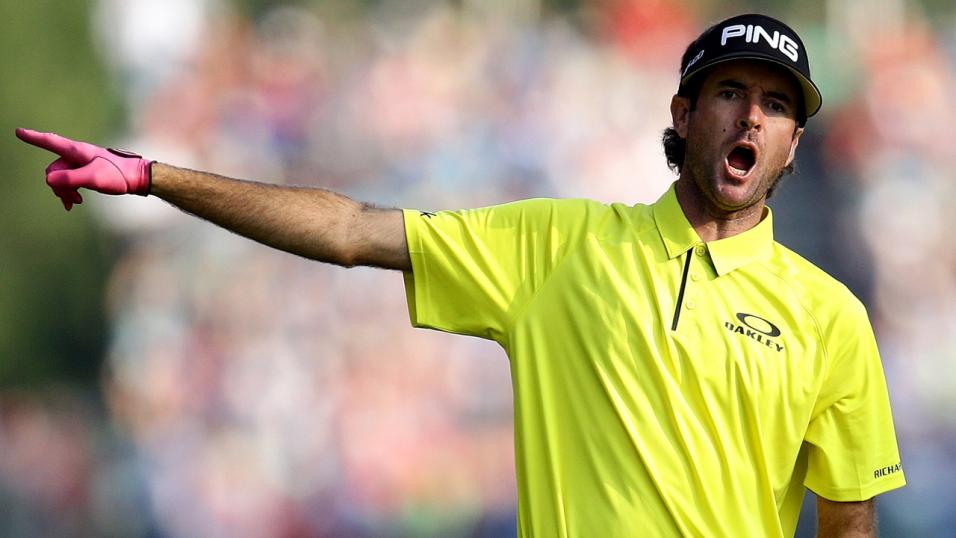 Bubba Watson – the leader through three rounds in LA
Two-time Genesis Open winner, Bubba Watson, has hit the front in LA but anything can happen on day four at Riviera. Read our man's take on the event ahead of today's final round here...
"DJ may have shot the best of the day but the 2014 and 2016 winner, Bubba Watson, only took one more stroke to ease to the front and the hat-trick is most certainly on now."
10:00 - February 18, 2018
The fourth and final round of the Oman Open is currently live on Sky and we've already seen plenty of drama. Mathew Southgate has lost the plot again after hitting the front and having been matched at just 1.341/3, Joost Luiten has just messed up the par five seventh. I'll be back for a look at the result tomorrow with the De-brief but for now attention is turned to the Genesis Open.
With some easier pin positions in play for round three, the scoring improved on moving day and the defending champ, Dustin Johnson, who shot the best round of the day - a seven-under-par 64 - has moved in to contention. Here are the latest standings with prices to back at 09:55.
Bubba Watson -10 4.03/1
Patrick Cantlay -9 5.95/1
Tony Finau -8 8.615/2
Cameron Smith -8 12.011/1
Graeme McDowell -8 16.015/1
Kevin Na -8 16.5
Derek Fathauer -7 60.059/1
Dustin Johnson -6 9.417/2
Justin Thomas -6 16.5
-6 and 48.047/1 bar
DJ may have shot the best of the day but the 2014 and 2016 winner, Bubba Watson, only took one more stroke to ease to the front and the hat-trick is most certainly on now.
The last two winners have converted from the front - DJ was five clear 12 months ago and just as he is here, Bubba led by a stroke in 2016 - but we have to go back to 2011 (Aaron Baddeley led by one) to find the previous 54-hole leader to go on to win.
Between 2012 and 2015, the four winners trailed by two, three and four strokes (twice) after three rounds and three men were beaten in playoffs having trailed by four and five (twice) strokes so it's understandable that Bubba's still available at 3/1.
Another negative for Bubba is that this is the first time he's led since his victory here two years ago so it wouldn't be much of a surprise if he gets a bit jittery.
Sitting in second, Patrick Cantlay is the biggest danger to Bubba but he didn't impress yesterday. His two-under-par 69 was a fabulous score given how poorly he played early on and he needs to improve to win. His sole success to date, at the Shriners Hospitals for Children Open in November last year was accomplished from slightly off the pace (four back) and he didn't look entirely comfortable with the lead yesterday.
Of the four players tied for third, the one I like best at the prices is Cameron Smith but I'm going to leave the event alone for now and look to trade in running later. As detailed in the In-Play Tactics section of the preview, we very often get a dramatic finish here and we need to look closly at anyone posting a score from off the pace.

21:40 - February 17, 2018
After an eventful third round at the Oman Open, we go in to round four with three men tied at the top. Here's the 54-hole leaderboard with prices to back at 21:35.

Joost Luiten -123.711/4
Matthew Southgate -12 6.05/1
Julien Guerrier -12 6.25/1
Chris Wood -11 6.86/1
Adrian Otaegui -10 14.013/1
Alex Levy -9 [11,0]
Andrew Johnston -8 36.035/1
Matthieu Pavon -8 42.041/1
-7 and 110.0109/1 bar
Matthieu Pavon, Matthew Southgate and Chris Wood all lead during round three and all three lost their way once they hit the front.
Pavon, who had led by two at halfway, opened-up round three with a pair of pars and a double-bogey, Southgate then led by three strokes after three birdies at his first three holes but then played the next four holes in four-over-par and having looked set to begin the final round in front, Chris Wood bogeyed the last two holes. And we can expect much the same sort of thing tomorrow.
Winning on the European Tour is never straightforward and predicting the outcome is very difficult when the leaderboard's congested with players that have already demonstrated that they're not going to find winning easy.
Having already gotten Luiten, Southgate and Wood onside at odds far bigger than they trade at now I've fiddled with my book a bit and I'm hopeful of a decent outcome.

I've layed a bit of my Southgate wager back as he was awful with the lead today and I've recycled stakes on both Julien Guerrier and pre-event favourite, Alex Levy. Guerrier led twice with a round to go on the Challenge Tour last year and he converted on both occasions and Levy is just the sort to get hot and stay hot.
And I've also thrown a few pounds at Fabrizio Zanotti at 170.0169/1. He's trailing by five strokes but both of his European Tour wins came courtesy of a fast finish in round four. He was five back when he won the BMW International in 2014 and six adrift after three rounds at the Maybank Championship last year. I fancy one of the frontrunners will prevail but Zanotti's a big price given his history.
I'll be back in the morning with a look at the state of play at the Genesis Open with a round to go.

11:25 - February 17, 2018
For the second day running, darkness fell before business could be concluded at the Genesis Open and round two is yet to finish but here's the top-ten with prices to back at 11:15.
Patrick Cantlay -7 5.39/2
Graeme McDowell -7 16.015/1
Sam Saunders -7 16.5 (through 15 holes of rnd 2)
Ryan Moore -6 13.012/1
Tony Finau -5 12.011/1
Scott Stallings -5 40.039/1 (through 16 holes of rnd 2)
Bubba Watson -4 17.5
Kevin Na -4 30.029/1
Jamie Lovemark -4 42.041/1
-3 and 16.015/1 bar
The last thing Sam Saunders wanted to do yesterday was stop playing. Having played the course back to front, he'd birdied four of his last six holes when play was stopped, and he's found the fairway with his drive on seven so it's possible that he'll grab the lead before we reach the halfway point. Scott Stallings is also yet to finish his second round but he's in a spot of bother on the eighth.
This is such a hard tournament to call and I get the impression the story hasn't even started yet. Dustin Johnson was already in front at this stage when he went on to win by five last year but there's plenty of evidence to suggest winning from off the pace is perfectly possible - especially when the course is playing tough.
When winning the first of his two titles in 2014, Bubba Watson won here form eight adrift at halfway, we've seen numerous winners come from four back recently and Mike Weir trailed by six through 36 holes when he won in 2003. I sense we might get another winner from off the pace but it's no easy task predicting who it might be.
Watson won his second title in 2016 and he looks nicely placed to notch the hat-trick. He hasn't won anywhere since that victory but that could be a little misleading. Changing from Titleist to the coloured gimmicky Volvik ball was disastrous last year and he's started 2018 much smarter now it's been ditched. I thought he was a fair price at 17.5.
Multiple winners are common here with 16 players winning the event at least twice so I'm happy to play another previous winner - James Hahn. He took the title back in 2015 having sat tied 11th and four off the lead at halfway and he currently sit tied 11th and four off the lead. Can lightning strike twice?
I'll be back this evening with a look at the Oman Open with a round to go.

18:20 - February 16, 2018
We've reached the halfway stage of the Oman Open and Paul Krishnamurty's each-way pick, Matthieu Pavon, has hit the front. Here are the current standings with prices to back at 18:10.
Matthieu Pavon -11 3.55/2
Matthew Southgate -9 9.617/2
Chris Wood -8 9.89/1
Paul Waring -8 17.016/1
Daan Huizing -7 38.037/1
Joost Luiten -6 16.015/1
Marcus Kinhult -6 32.031/1
Julien Guerrier -6 40.039/1
-5 and 36.035/1 bar
A double-bogey six at his 18th hole in round two has cost my in-play pick, Matthew Southgate, a share of the lead at halfway and I hope it isn't a sign of what's to come over the weekend. Southgate is yet to win and on the three previous occasions that he's been within two strokes through two rounds he hasn't fared brilliantly.
There was an awful lot to like about the way he ran on for second behind Jon Rahm in the Irish Open last year but his final round 66 followed a round three 71 that saw him fall from tied fourth and two back through 36 holes to 10th place and five back after 54 and on the only other occasions he trailed by just two at halfway he finished 51st and 57th - beaten by 14 strokes. He could have done without today's late hiccup.
The leader has just one Alps Tour win to his name and on the only previous occasion he led at halfway (by two on the Challenge Tour two years ago) he finished second but that was after a round four rally. His round scores for the week were 68-64-71-66 so his worst round was when leading. How much we can read in to that is highly debatable and for the record, two-stroke 36-hole leaders on the European Tour have 39.1% strike rate since 1996. His price looks about right to me.
The two obvious candidates in the leading pack are Chris Wood and Joost Luiten and I was happy to get them onside at 9.89/1 and 17.016/1. I'm still of the opinion that being up with the pace is hugely beneficial and they were both a bit bigger than I made them.
The Genesis Open is developing in to a cracker. The course is playing firm and tough and other than Rafa Cabrera-Bello, who seems to be on a different planet to everyone else (played his first seven holes in six-under-par!), everyone's struggling a bit and five-under-par is still leading. I'll be back tomorrow to take a look at the halfway stage.

10:35 - February 16, 2018
Having enjoyed a great start to the year on the PGA Tour, I was quite confident of another decent week. I picked out five plays before the off at the Genesis Open and while four were triple-figure priced picks, in-form defending champion and world number one, Dustin Johnson, made for a very sensible saver and I really liked the chances of William McGirt. I've been brought back to earth with a bang.
DJ started his defence with the regulation birdie four at the easy par five first and pars at two and three but he then went bogey-triple bogey-bogey at his next three holes to completely derail his chances and from a low of 5.04/1 he's already been matched at 42.041/1 after an opening three-over-par 74 that sees him trail the two leaders - Tony Finau and Patrick Cantlay - by eight.
DJ's three-hole aberration was a shock but so too was William McGirt's putting performance on the 18th! Bobbing along nicely at one-under par through eight holes, he chipped up from just off the green with his third to leave himself two foot, seven inches for par. He made a double-bogey six!
It just goes to show how tough this game is and how tricky it is to predict when the in-form defending champion can lose his way so quickly and easily and when a seasoned PGA Tour winner can three-putt from inside three feet. Stewing on a bad day is pointless so I've had a good look at the state of play but I've decided to wait for now.
The last three winners have all been sitting first or second and within three of the lead after round one but the three winners before them all started a bit slower. Bubba Watson sat tied 34th and four adrift in 2014, John Merrick, whilst only seventh after round one, was also four back and when Bill Hass won in a playoff in 2012, he opened-up with a round 72 that had seen him sitting 36th and six off the lead. And one of the men he beat in extra time, Keegan Bradley, also started slowly with a 71.
It's hard to predict and I'm happy to sit and wait. Cantlay heads the market but he's as big as 10.519/2 and that shows just how wide open the tournament is.
Over at the Oman Open, the links specialists are really enjoying themselves and Chris Wood is currently making a big move in round two but it's Paul Krishnamurty's Matthieu Pavon who leads. I'll be back later today with a look at the state of play at halfway.

18:05 - February 15, 2018
The first round of the Genesis Open is underway and the Featured Group coverage on Sky is focussing on Tiger Woods and Rory McIlroy. It's an enjoyable watch but I'll look at that event tomorrow after the opening round.
The first round of the NBO Oman Open has been completed without a hitch and I enjoyed watching the coverage there too. The players were very complimentary about the course before the off and I can see why. It's very easy on the eye and looks to be in A1 condition. It also looks and plays very linksy and the leaderboard is already cluttered with good links players.
One of my pre-event fancies, Richie Ramsay, was forced to withdraw before the off due to illness and that's a shame because I fancy he'd have loved the venue. Another of my pre-event picks, Callum Shinkwin, has started well with a five-under-par 67 and he's alongside another Englishman, Andy Sullivan, in a tie for fourth, and I've added two more to the portfolio.
Both Jordan Smith and Matthew Southgate were on my radar. As detailed in the preview, I'd theorised that anyone that had performed well at the Shenzhen International might like this venue and I was particularly interested in those that had putted well on the Paspalum greens at Genzon so given Smith ranked number one for Putting Average there last year, and that he'd been 17th here on his only start in 2016, I'm kicking myself for not backing him at 100.099/1 but I've got him and Southgate onside now.
Southgate hasn't been playing well of late but he's a fantastic links exponent and he has form at Genzon too, so he was also on the shortlist. He's now tied for the lead with another Englishman, Paul Waring, and I'm happy to chance him as well. As highlighted in the In-Play Tactics section of the preview, the winners have been up with the pace in benign weather here so it makes sense to concentrate on the leaders given the weather forecast.

NBO Oman Open Pre-Event Selections:
Jeunghun Wang @ 36.035/1
Richie Ramsay @ 50.049/1 - Non-runner
Callum Shinkwin @ 140.0139/1
Alvaro Quiros @ 490.0489/1

In-Play Picks:
Matthew Southgate @ an average of 16.5
Jordan Smith @ an average of 23.022/1
Chris Wood @ 9.89/1
Joost Luiten @ 17.016/1
Julien Guerrier @ 6.411/2
Alex Levy @ 11.010/1
Fabrizio Zanotti 170.0169/1

Genesis Open Pre-Event Selections:
Dustin Johnson @ 6.411/2 (saver)
Kevin Streelman @ 100.099/1
Charl Schwartzel @ 120.0119/1
William McGirt @ 180.0179/1
K.J Choi @ 410.0409/1

In-Play Picks:
Bubba Watson @ 17.5
James Hahn @ 40.039/1
*You can follow me on Twitter @SteveThePunter

Discover the latest articles