The Punter's In-Play Blog: Sang-Moon Bae the final round play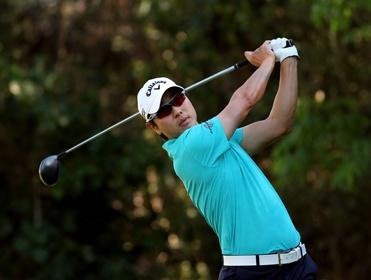 Sang-Moon Bae, the value play at Riviera on day four
Steve's had a disappointing morning with his two picks flopping in India but unperturbed he's gone through the leaderboard at Riviera with a fine-tooth comb and he thinks he's spotted some value. Read his final in-play thoughts of the week here... 
"Sang-Moon Bae's bogey-free five-under-par was a great effort yesterday and he looks a solid wager in the final three-ball at around 2.77/4 and a fair price at 17.016/1 in the outright market."
14.10 - February 22, 2015
It's been a disappointing 24 hours. My in-play picks at the Northern Trust Open didn't perform as I'd hoped they might and my two picks in India have flopped. Poor S.S.P Chawrasia lost a playoff to pre-event favourite, Anirban Lahiri, to finish runner-up in his national title for a fourth time and my each-way selection, Siddikur Rahman, dropped out of the places. Both men clearly felt the tension and both shot five-over par 76s. I'll have more on all that in tomorrow's De-Brief but for now I'm going to concentrate on the Northern Trust Open, where we looks set for an absolute cracker. Here's the current leaderboard with prices to back at 14:00.

Retief Goosen -8 5.49/2
Graham DeLaet -6 8.27/1
Sergio Garcia -5 9.417/2
J.B Holmes -5 10.09/1
Sang-Moon Bae -5 17.016/1
Carlos Oritz -5 29.028/1
Dustin Johnson -4 12.5
Jordon Spieth -4 13.012/1
Bubba Watson -4 13.012/1
Jim Furyk -4 22.021/1
Ryan Moore -4 32.031/1
Angel Cabrera -4 40.039/1
Vijay Singh -4 65.064/1
James Hahn -4 85.084/1
-3 and 85.084/1 Bar

The last three winners have come from two, three and four strokes back and we look highly likely to get a fourth off-the-pace champ in-a-row as I'd be surprised if Retief Goosen can get the job done. He's been beaten the last five times he's led with a round to go and on the last occasion, at the 2012 Transitions Championship, he fell to 20th. 
Graham DeLaet is a winner in waiting but he's expensive to follow and until he gets across the line he's impossible to back at a single-figure price - especially in an event this deep in quality.
I couldn't entertain the thought of backing Sergio Garcia at a single-figure price here either. His conversion rate is just not good enough. He's failed to win any of his last eight chances on the PGA Tour and he's actually on a run of just one from 15 when leading or within three of the lead on the PGA Tour. He could well win but he's not value to do so.
Dave Tindall's J.B Holmes has a fine record here and he's in fine form too but he's not putting brilliantly and I can't believe Web.Com player of the year last year, Carlos Oritz, can win on debut so the one I like best of those on -5 is Sang-Moon Bae...
He has led here at halfway in each of the last two years before dropping away over the weekend so he clearly loves Riviera. His bogey-free five-under-par was a great effort yesterday and he looks a solid wager in the final three-ball at around 2.77/4 and a fair price at 17.016/1 in the outright market but any one of a number of players on -5 look dangerous.
Jordon Spieth, Bubba Watson and Dustin Johnson could easily come through to win and I haven't given up on Ryan Moore or Angel Cabrera just yet. I think the leaders look vulnerable but it really is impossible to call so I've been extremely cautious.  
I've had a few pounds on Bae in the outright and in his three-ball and I've also taken a chance on Vaughan Taylor at a huge price. Taylor sits on -3 so will have to pass 14 players to win but he's putting really well this week and he won't be expecting to win - something that's usually a big plus. 
I will also look to trade in-running tonight - provided I'm not too tired after the early morning shifts in India! The back nine here is really tough so anyone that goes short early on may be worth taking on. And if you're going to back someone in-running it may be best to wait until they've played the par 4 12th. It's a brute of a hole and the par 5 1st is averaging less at 4.3 compared to 4.37.
I'll be back tomorrow with my De-brief and I'll try my hardest not to moan too much about my rotten luck!

12.40 - February 21, 2015
Despite being six off the lead and seemingly out of contention, thanks to an ugly run of four bogeys in five holes, Alex Prugh decided not to putt-out in the fading light yesterday but everyone else is done and dusted with round two so here's the (very nearly) halfway leaderboard at the Northern Trust Open with prices to back at 12:30.

Retief Goosen -6 17.016/1
Ryan Moore -5 11.521/2
Graham DeLaet -5 11.521/2
Justin Thomas -5 12.5
Angel Cabrera -4 24.023/1
Bubba Watson -3 8.615/2
Jordan Spieth -3 8.88/1
J.B Holmes -3 15.014/1
Paul Casey -3 38.037/1
Derek Fathaur -3 100.099/1
Sergio Garcia -2 27.026/1
Nick Watney -2 34.033/1
-2 and 50.049/1 Bar

I suspected this might develop into a US Open type test and that appears to be the case. Justin Thomas said after his second round. "I've only played one major but from my experience and from what I've heard from others, this is very U.S. Open like. It's very firm and being in the fairway is such a huge premium." 
And the two-time US Open champ at the head of affairs, Retief Goosen, said. "The greens are definitely becoming, you know, U.S. Open greens. They are getting firmer and quicker. Some of these holes, if you get away with a par, it's a good score."
It's notoriously difficult to make up ground in the US Open and I suspect that will be the case here. Jordon Spieth and Bubba Watson can barely be split at the front of the market but I can't back either at a single-figure price. They're not necessarily too short but will either man be able to accept that scratching around for par is the way to go when they're trailing? Both could push too hard and I'm happy to leave them out of my plans for now and see what today brings.
I can't believe Goosen can get the job done. The ruthless nerve he displayed to win US Opens in 2001 and 2004 has long since disappeared. He hasn't won anywhere since 2009 and he's looked wobbly whenever he's had a chance.
Of the three men tied for second, I much prefer Ryan Moore. Graham DeLaet is still looking for his first title and is far from convincing in-contention and youth and inexperience are against the brilliant Justin Thomas. It's becoming ever more apparent that Thomas is some player but it's a huge ask for him to win here on debut.
Moore looks the most likely of the leading group to hang around over the weekend and although he's not the most convincing in-the-mix, as he's aged, his conversion rate has improved. He's won back-to-back CIMB Classics in Malaysia in the last two years and he also won the Shriners in 2012 so he's won a title in each of the last three years on the PGA Tour. I'm not a huge fan but 11.521/2 looked a price just about big enough to risk a small wager on.
Angel Cabrera bogeyed two of his last three holes yesterday but he's still bang there and I think he still looks a value price. He won on the PGA Tour last year and he's won both a US open and a US Masters so he certainly has the pedigree. He can make more than his fair share of mistakes and he may well disappoint over the weekend and if he does so be it but he's still a great price so I've gone in a again following bets before the off and after Thursday's first round. He's a best price of 20/1 on the High Street so I felt the 25.024/1 I took this morning was just too big.
In-form course specialist, J.B Holmes, who won at another really tough venue last year - Quall Hollow - was another I considered carefully but at around 15.014/1 I didn't feel he was quite big enough to chance.
There's just one round left at the Indian Open and with my two pre-event picks clear at the top, as boring to watch as it's been, I've enjoyed it! One of either leader, S.S.P Chawrasia, or second placed, Siddikur Rahman, ought to get across the line tomorrow given that they're five and three shots clear of the remainder but I'm not counting my chickens. A win for either would be huge and I thoroughly expect to see nerves aplenty tomorrow.
I've placed too many trades to list and I haven't finished yet. Having two clear with a round to go is as welcome as it is rare and I'm not going to mess it up. By the time they kick off tomorrow I shall have traded myself to a really nice profit no matter who wins. 

12:40 - February 20, 2015
We've reached the halfway stage of the Indian Open and it's fair to say I'm happy with how it's gone so far! S.S.P Chawrasia, who up until a few weeks ago was referred to as Chowrasia, backed before the off at 36.035/1, leads by a stroke over my only other pick, 66/1 shot, Siddikur Rahman, and the pair are three clear of the remainder! Here's the current leaderboard with prices to back at 12:30.

S.S.P Chawrasia -10 2.915/8
Siddikur Rahman -9 4.94/1
Chapchai Nirat -6 20.019/1
Joakim Lagergren -6 44.043/1
Paul Peterson -5 16.5
Richard McEvoy -5 60.059/1
Anirban Lahiri -4 7.26/1
Prayad Marksaeng -4 26.025/1
Marcus Fraser -3 26.025/1
-3 and 60.059/1 Bar

Having fiddled about in-running this morning, I've now layed my two combined at a shade of odds-against for a nice profit on the week and so I'll be trying not to meddle too much tomorrow. The biggest danger to the front pair is pre-event favourite, Anirban Lahiri, who only trails by the six shots he dropped in just two holes in round one! He double-bogeyed the 4th and made a quadruple bogey eight at the 10th.
He's won here three times already and he won from nine back in Malaysia a fortnight ago so I'm certainly wary of him but he looks too short to back given the record of halfway leaders here.
In the 24 events held at Delhi Golf Club since 1997, only three times has the winner been outside the top-10 on the leaderboard at halfway. And on two of those three occasions, the man to achieve the feat was Chawrasia!
He came from tied 15th and seven strokes back to win the Panasonic Open here in November, Digvijay Singh won the same tournament in 2012 from five back and Jyoti Randhawa won this event in 2008 when six adrift at this stage but every other course winner since 1997 has been within at least four after 36 holes. This is a hard place to play catch-up and four of the last seven course winners did so wire-to-wire.
The one I definitely don't want to see come through and mug my two is last week's flop on his home course - Prayad Marksaeng. I can take defeat but were he to get the better of my two, on a course that should really be too tight for him, it might be hard to take.
Over in the States, with some of the world's best players on show, at a real gem of a course, there was a tangible sense of excitement before the off in Los Angeles this week and the Northern Trust Open hasn't disappointed yet.
Play was suspended because of darkness yesterday so one or two players are yet to finish their first round but none of them are featured on what is a very tight leaderboard. There are six players tied at the top on -5 and with Riviera almost certain to get even harder as the week wares on, I suspect anyone of them would take double-figures come Sunday. 
The course is fast and difficult and with no rain forecast it's only going to get harder and I can see the winner being straight out of the top drawer. As detailed in the preview, when the course has played hard the cream has risen to the top but most of the fancied players before the off have started slowly.
Dustin Johnson and defending champ, Bubba Watson, were vying for favouritism before the off and after they both shot one-under-par 70s in the afternoon yesterday, they're still towards the fore in the market. Jordon Spieth, who knocked it round in 69 strokes in the morning, is the narrow favourite over one of the leaders, Nick Watney but at 9.89/1 the field, we still have a very competitive event to ponder.
History suggests it is possible to make up ground after round one but you really need to get in touch by halfway. The last three winners have trailed by four, four and six strokes respectively after day one and Bubba dropped to eight back at halfway last year before back-to-back 64s saw him lift the trophy but eight of the last ten winners were within three strokes at halfway.
Things may have gone spectacularly well in India so far but that's not been the case for my picks here. Big outsider, Angel Cabrera, managed to nudge it round in under-par in the afternoon yesterday and still looks generously priced so I've had a small top-up but the other two were disappointing.
Charl Schwartzel birdied the first two holes and played the last six in three-under-par but was awful in-between so he shot level par and Robert Streb was awful. The break taken for the birth of his first child hasn't had the affect I'd hoped for and he looks like he's heading for a weekend off. 
If I can stay awake, and that's by no means a given, I'll look to trade as the round ends this evening as I fancy we'll get a much clearer picture by then and there may be a bit of value around before the dust settles but I have added one more for now, the 2006 US Open winner, Geoff Ogilvy.
I fancy whoever wins this week will need the sort of patience required to win a US Open and just two off the lead, Ogilvy looks a decent price to me. He also sounds as though he has the right outlook this week.
Much was made of the quirky 10th hole yesterday, which seems to get ever more difficult year on year, but Ogilvy seems to be dealing with it better than others if this article about the hole is anything to go by.

Indian Open Pre-Event Selections:
S.S.P Chowrasia @ 36.035/1
Siddikur Rahman @ 66/1 Sportsbook

In-Play Lays and trades
S.S.P Chowrasia @ an average of 3.55/2
Siddikur Rahman @ an average of 4.77/2
Numerous bets made to guarantee a decent profit

Northern Trust Open Pre-Event Selections:
Charl Schwartzel @ 40.039/1
Robert Streb @ 95.094/1
Angel Cabrera @ 350.0349/1

In-Play Bets
Geoff Ogilvy @ 85.084/1
Angel Cabrera @ 110.0109/1 and 25.024/1
Ryan Moore @ 11.521/2
Sang-Moon Bae @ 17.016/1
Vaughan Taylor @ 160.0159/1
Sang-Moon Bae to win the final three-ball @ 2.727/4

*You can follow me on Twitter @SteveThePunter
Discover the latest articles