NH Collection Open: Canny Alejandro can put his course experience to good use, says The Punter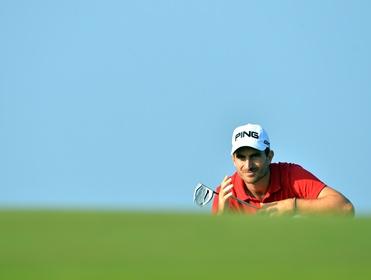 Local lad, Alejandro Canizares, fancied to go well be The Punter
Steve takes a look at this week's European Tour action from Spain where clues are few and far between but he fancies the in-form Alejandro Canizares quite strongly. Read why he's so keen on the Spaniard here...
"Alejandro Canizares may look a short price at first glance, but for my money he should be quite a bit shorter and I quite fancy him this week."
Tournament History
This will be the inaugural staging of the NH Collection Open. Described on the European Tour website as a dual-ranking event, the field will comprise of 144 players from both the European Tour and the Challenge Tour. 

Venue
La Reserva de Sotogrande Club de Golf, Cadiz, Spain

Course Details
Par 72, 7,234 yards
Designed by Cabell B. Robinson, La Reserva de Sotogrande opened in 2003. It appears a generous layout with reachable par 5s, little rough and larger than average, undulating greens. Finding out anything about the venue hasn't been easy maybe the best thing I can do is leave it to local lad, Alejandro Canizares. Here's what he's said about this week's venue.
"La Reserva de Sotogrande is a course I know well. In 2008, I played the Spanish Championship and sometimes I practice there with my father. It is a longish course, fairly generous off the tee with quite a few elevation changes and undulating greens. Some holes are long: the sixth, for instance, is a three-wood par three. Wind is a big factor, and it can really toughen up the course."
The course was used for an amateur stroke play event for three years between 2010 and 2012 so some of the field have seen the venue before but how much use the form is I'm not so sure. Here are the results anyway, 2010, 2011, and 2012.

Useful Sites
Course Site
Hole by Hole Guide
Tee Times
Twitter Link
Weather Forecast

TV Coverage
No live coverage

What might it take to win the NH Collection Open?
We've got almost next to nothing to go on this week and I've scrapped the barrel so hard I'm going to spend hours picking out the splinters but here goes. This is my interpretation of the skills required to succeed this week. 
The greens are described as large and undulating and on the NH Collection Open Twitter feed, I read that, "Plenty of players have tested the course today and most of them affirm that course set up is great and greens will be a big test this week." 
And Spanish Challenge Tour player, Pedro Oriol, has tweeted, "What a putting test this week at La Reserva...#keythisweek"
It's not enough to empty the punting war chest with but it's a start. With plenty of space off the tee and large undulating greens, I wouldn't worry too much about driving accuracy but I would suggest we need to be looking for an excellent second-shot player. Someone that ranks highly for greens hit that can not only find the putting surfaces with regularity but the right sections of them.
Whether I'm right or wrong about whether we need a fine greens in reg merchant or not time will tell but one thing we do know for sure is that we need someone who can handle the wind. The weather is likely to be a big factor over the first two days at least and especially on Thursday when rain and very high winds are forecast. 

In-Play Tactics
The weather is going to be key this week and we could see an awful lot of change on the leaderboard. As already stated, the weather early on looks horrid and it could be a war of attrition until we get to the weekend but after that we could see much change. If you want to get involved, keep an eye on the forecast.
Should the winds drop the scoring could improve dramatically and those suited to a tough test sitting atop of the leaderboard might not necessarily be suited as well as others to the improved conditions. They could very easily soon get caught and passed and taking on the halfway pacesetters might prove a good plan of action. But I must stress, that depends on who's leading and what the forecast is.

Market Leaders
Bernd Wiesberger narrowly holds sway at the top of the market and he has to be respected. He's an excellent second shot player with good greens in regulation figures and he'll be able to handle the windy conditions too but he isn't quite playing well enough for me.
David Horsey arrives here on the back of three top-tens in-a-row and the big Manchester United fan will certainly have his followers but I won't be one of them. Consistent he may be of late but he certainly isn't reliable and given he's not one I'd trust in a finish, even though this is weak field, I couldn't begin to consider such a short price about him.
The third favourite is local lad, Alejandro Canizares, and as I elaborate on below, for my money, he should be this week's clear favourite.

Selections
Backing short-priced golfers before the off is not a good long term strategy and backing short-priced golfers in low grade events like this is usually a very bad idea - especially if they've won just twice in eight years but much to my own surprise, that's exactly what I've done this week with Canizares. This is such a weak event that the Spaniard rates good value at just 19.018/1 and here's why...
Unlike the vast majority of the field, Canizares knows the course intricately and he's an exceptional wind player who will know how to play this gaff when it blows - increasing his course experience advantage. Last time out, when winning the Trophee Hassan II with consummate ease, he ranked 1st for greens in regulation and 2nd for putting. He has a good record of holding his form and playing well in his homeland. He may look a short price at first glance, but for my money he should be quite a bit shorter and I quite fancy him this week.
I can't say I'm anywhere near as confident about fellow Spaniard, Eduardo De La Riva, but I've only had a tiny bet on him at 75.074/1. He too has a great record in his homeland and although he's gone off the boil of late, he still ranks highly in the greens in regulation stats.
Espen Kofstad is a young player I've backed a few times and I thought I'd throw a few pounds at him too, once I read this confident tweet, "Played 9 holes today, preparing for @NHOpenGolf this week! Course looking great! Game is coming along nicely as well #buzzing"
And finally, I've also chanced veteran Spaniard, Jose Manual Lara. He'll be able to use his experience over the first few testing rounds and if he finds a bit of form, he's also capable of stringing a few birdies together as the weather improves.

Selections:
Alejandro Canizares @ 19.018/1
Eduardo De La Riva @ 75.074/1
Espen Kofstad @ 151.0150/1 (Sportsbook)
Jose Manual Lara @ 151.0150/1 (Sportsbook)
I'll be back on Friday morning with the In-Play Blog.
*You can follow me on Twitter @SteveThePunter
Discover the latest articles