Memorial Tournament: Bubba the value at Muirfield, says The Punter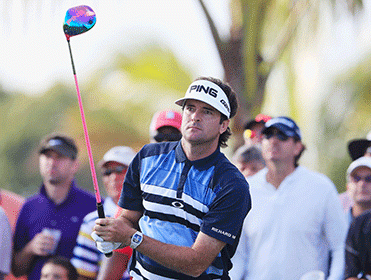 Bubba Watson - great value according to The Punter
With a host of star names in attendance, we're in for a real treat at Jack's Place this week so what will it take to win at Muirfield Village. Read Steve's in-depth preview of the Memorial Tournament here to find out...
"I don't really know what Bubba has to do for the market to register just how good he is and at 34.033/1 this week he looks a great price."

Tournament History
The Memorial Tournament was the brainchild of Jack Nicklaus. He hosts the event each year and it's always played at Muirfield. It was first staged in 1976 and this will be the 39th edition.

Venue
Muirfield Village, Dublin Ohio

Course Details
Par 72 -7,352 yards 
Stroke Index in 2013 - 73.04
Muirfield Village Golf Club is named after course designer and owner Jack Nicklaus' favourite Open Championship venue. It's a proper test and is always considered a great warm-up event for the upcoming US Open.
The fairways are fairly generous but the rough is very demanding and the greens are tough to find from the long grass. There are 73 bunkers and water comes into play on 11 holes. The greens are undulating, extremely testing, and will run at 13 on the stimpmeter.
Muirfield Village also hosted the Presidents Cup back in October.

Useful Sites
Event Site
Course Details
Twitter Link
PGA Tour Essential Guide
Tee Times
Weather Forecast

TV Coverage
Live on Sky Sports all for days - 19:30 on Thursday and Friday, 17:30 on Saturday and 17:00 on Sunday

Last Five Winners
2013 - Matt Kuchar -12
2012 - Tiger Woods -9
2011 - Steve Stricker -16
2010 - Justin Rose -18
2009 - Tiger Woods -12

What will it take to win the Memorial Tournament?
With Jack constantly tinkering with the course, what's required to win here seems to change. When Tiger Woods won again here two years ago he ranked 17th for Driving Accuracy and he was the first winner to rank outside the top-10 for that stat in eight years but last year, Matt Kuchar ranked only tied 37th, so whereas twelve months ago I would have said accurate driving was the most important thing, now I'm not sure - especially considering both Woods and Kuchar ranked 1st for Greens in Regulation.
Ernie Els, in 2004, and Carl Pettersson, two years later, both topped the putting stats but Kuchar and Woods both ranked in the 40s with the flat-stick so all things considered analysing the stats doesn't help tremendously, although I would side with accuracy over power.

Is there an angle in?
We're reaching a point in the year when the quality tournaments are coming thick and fast. The fields are deep with class-acts and being slightly off your game is a severe hindrance. When Kuchar won last year, he arrived in tip-top form having finished runner-up at the Crowne Plaza the week before and having already bagged the WGC World Match Play title. 
Woods won two years ago having already won the Arnold Palmer Invitational and having finished runner-up at the Honda Classic and Steve Stricker arrived at Jack's Place on the back of a run of five-straight top-18 finishes before taking the title in 2011.  Justin Rose wasn't in glorious form in 2010, with a third at the Honda Classic the highlight, but Woods was winning for a second time in 2009 and even recent unfashionable big-priced winners, Kenny Perry, K.J Choi, Carl Pettersson and Bart Bryant had been in decent form. 
Veteran Perry had finished runner-up at the AT & T Classic two weeks prior to winning, Choi had recorded a pair of top-6 finishes earlier in the season, Pettersson three top-tens and even Bryant, who was a massive price, had a pair of top-tens to his name.
This is a really tough course - don't expect someone to suddenly find their game here.

Is there an identikit winner?
As touched on above, we had a brief spell when outsiders fared well but prior to that and in the last five years, the winners have all been relatively well-fancied. Between 1993 and 2004, every winner was either a past or future major winner and look at the recent winners; those that haven't won a biggy, the likes of Kuchar, Stricker, Perry and Choi are all players that have come close to winning one. Expect the winner to be straight out of the top drawer.
We've seen eight first-time winners on the PGA Tour already this season but I don't expect to see another here. Tiger Woods, Carl Pettersson and Justin Rose (who was a month shy of his 30th) are the only winners here in their 20s. Experience counts for plenty at Muirfield so don't be surprised to see a veteran or two in contention.

In-Play Tactics
In the event's entire 38 year history, only two men have led or co-led after round one and gone on to win, Ernie Els in 2004 and Justin Rose in 2010, but Muirfield is not a venue at which to play catch-up. Only two winners in the last 16 years, Tiger Woods and Jim Furyk, have been further than four strokes behind after day one. So if you want to play after round one, you want to be looking at someone within four of the lead but not actually in front. 
Although being up with the pace is important, being in front with a round to go is not necessarily the best place to be either - when successful twelve months ago, Kuchar was only the second third round leader to win in six years. 

Market Leaders
Adam Scott maybe the official world number one but this market speaks volumes. World number six, Rory McIlroy, is the clear favourite and so he should be. 
Hindsight's a marvellous thing but most of us missed a trick last week. On Wednesday's news that Rory had split with his fiancé, bookmakers pushed him out, punters deserted him and many clamoured to take him on in any match bet market they could find but with the benefit of hindsight, what else could he do but focus hard on his work? That's what the vast majority would do in that situation.
The Wentworth win is a huge boost for Rory as he returns to the fray stateside. He'll be able to easily divert inane and irrelevant questions about his personal life after the win and I expect him to be equally focused again this week. I can see him performing admirably but it's hard to win back-to-back and I'm happy to leave him out from the start. 
Adam Scott won back-to-back in Australia in November and he followed those wins with a 3rd in the World Cup and a runner-up finish to Rory in the Australian Open, so there shouldn't be any concerned about him following up yesterday's win in Texas. 
It was admirable how he changed his tactics at Colonial, taking driver out of play and finding fairways with regularity and it was very impressive how he dug in after such a dreadful start. It's also noteworthy that in two previous starts there he'd performed poorly so it's safe to assume he's in tip-top form. 
He's cemented his place at the head of the world rankings with the win and he already has two top-5 finishes here to his name but I'm leaving him out too. 
My sentiments are much the same about both the front two - back-to-back is tremendously hard, their course form is only reasonable, and they're both better coming from off the pace than they are leading.
With a missed cut last week, defending champ and third best in the market, Matt Kuchar, may have finally hit the buffers after a sterling run of form and given it's never easy to defend and that he has propensity to lose his way in-the-mix, I'm more than happy to leave him out of my plans too.

Selections
This looks like a tricky event to call. Past results suggest we shouldn't be scanning too far down the list to find the winner and a very clear case can be made for lots of fancied runners. In addition to those already mentioned, the English duo of Justin Rose and Luke Donald have current and course form and have to be respected but I'm going to start the week with a pair of Americans onside - Bubba Watson and Phil Mickelson...
When I went through this event over the weekend I made Bubba Watson around a 20.019/1 shot and I'm amazed he's so big. He didn't make the Presidents Cup team that played here at the end of last year and that proved to be a big motivator. 
"It motivates you watching it on TV. I had the second worst year since I've been on tour, so I knew what I needed to do. Bad golf motivates me."  He said earlier on in the year.
When he pitches up at Muirfield that pang of regret about missing out could well return and that might just provide the motivation needed for his third title in just seven starts, following wins at Riviera and Augusta. 
At first glance, Bubba's form figures here aren't great, with tied 23rd (achieved twice) his best finish in eight attempts, but should we worry about that? Scott and Rory both overcame largely poor course form last week and on closer inspection, he can certainly play here anyway. He sat in 3rd place at halfway in 2007 and was in 4th after two rounds twelve months ago. 
I don't really know what Bubba has to do for the market to register just how good he is and at 34.033/1 this week he looks a great price.
Phil Mickelson is having a poor season by his high standards but he has a habit of popping in when you least expect it and sooner or later he could well click. If we disregard his withdrawal last year, he's finished inside the top-20 here six times in-a-row and that includes a pair of top-5 finishes so he's not without course form. 
I can't say I'm confident but at a big price, I felt he was worth getting on side.

Selections
Bubba Watson @ 34.033/1
Phil Mickelson @ 34.033/1
I'll be back in the morning with my Nordea Masters preview.

*You can follow me on Twitter @SteveThePunter
Discover the latest articles