Madeira Islands Open: Whiteford worth chancing, says The Punter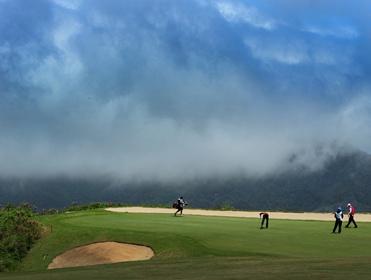 The picturesque 4th green at Santo da Serra
Steve takes a look at this week's European Tour action in Madeira where he fancies the Brits to prosper at a breezy Santo da Serra. Read his detailed preview here...
"It can get really breezy here and the forecast suggests that will be the case this year so an ability to stay patient and play in strong winds is imperative."
Tournament History
Mark James won the inaugural Madeira Islands Open in 1993 so this will be the 23rd edition and it will be a poignant one after last year's debacle. The event itself was slightly farcical, with fog reducing it to just 36 holes, but it was also tragic, with extremely popular Zimbabwean caddie, Iain McGregor, caddying for Scotland's Alastair Forsyth, dying of a heart attack on the 9th hole.
There was much criticism that the event wasn't cancelled altogether and it's going to be an emotional return for many this week with "Zim Mac" very much in their thoughts. The event is co-sanctioned between the Challenge and European Tours.

Venue
Clube de Golf Santo da Serra, Santo da Serra, Madeira, Portugal

Course Details
Par 72, 6,826 yards
Stroke index in 2014 - 73.7
Designed by Robert Trent Jnr and opened in 1991, Santo da Serra was the regular venue for this event until it moved to Porto Santo Golfe for three years in 2009 before returning here in 2012.
Santo da Serra is a short, hilly, wind-exposed, cliff-top track with generous fairways and tricky, sloppy, slow greens. Low-scoring is possible in benign conditions (Bradley Dredge shot 60 in round three in 2003) but in windy weather it can be very tricky.
There are some stunning views but due to the terrain, a full TV crew never makes it to the venue and we only ever get highlights if we're lucky!

Useful Sites
Course Site
Course Guide
Tee Times
Weather Forecast

TV Coverage
No TV coverage - see above.

Last Five Winners
2014 - Daniel Brooks -9 (36 holes)
2013 - Peter Uihlein -15
2012 - Ricardo Santos - 22
2011 - Michael Hoey -10 (Porto Santo Golfe)
2010 - James Morrison -20 (Porto Santo Golfe)

What Will it Take to Win The Madeira Islands Open?
Hitting plenty of greens in regulation has always been one of the secrets to success at Santo da Serra but there's definitely been a shift of late in favour of the big-hitters. The 2007 winner here, Daniel Vancsik, hits it miles off the tee and since the event returned here in 2012 the three winners have ranked 1st, 1st and 5th for driving distance but putting is still very important. The last four course winners have all ranked inside the top-three for putting.
It can get really breezy here and the forecast suggests that will be the case this year so an ability to stay patient and play in strong winds is imperative.

Is There an Angle In?
Previous course form is a significant plus. I'm reluctant to consider last year's 36-hole result as representative but for the record, Daniel Brooks had missed the cut here twice before winning so he had at least seen the venue. The classy Peter Uihlein, who perhaps hasn't kicked on as well as expected, won here on debut in 2013 but prior to that, the vast majority of winners had already played well here before.
The 2012 winner, Ricardo Santos, had made the cut three times without contending and Alastair Forsyth, successful in 2008, had finished 30th and 28th in his previous two course visits. Vancsik hadn't made a cut at Santo da Serra in three visits prior to his victory but again, he had at least played here before, and seven of the eight winners prior to Vancsik had finished inside the top-25 here previously.
I don't think there's anyone in the field playing as well as Uihlein was two years ago, or showing the amount of promise he was showing, and I'd be very wary of backing any of the 39 debutants in the field.
When studying the form for the 2010 Madrid Masters, held at Club de Campo, I noticed that when the course had been last used, for the 2007 Open de Madrid Valle Romano, that the leaderboard was littered with players who had previously played well here.
As many as four of the top 13 had all won the Madeira Islands Open (Daniel Vancsik, Christopher Hanell, Jean Van De Velde, and Santiago Luna) and there were others that had finished high up in '07 with form at the Santo da Serra. You may not consider such date form to be particularly useful, but here are the 2007 and 2010 leaderboards from Club de Campo. I remember the 2007 event very well. Vancsik threw it away during round four and it was the first time brand new pro, Rory McIlroy had properly gotten himself into contention.

Is There an Identikit Winner?
This used to be an event dominated by the older, more experienced pros but young aggressive big-hitters have won three of the last five renewals here. With the forecast suggesting tough blustery conditions I'd favour the vets again this time around and the chances are they'll be from the UK or Ireland. All the British Isles are represented on the list of Madeira Islands Open winners and I wouldn't be in the least bit surprised if we get another added this year.

In-Play Tactics
Not counting last year's event, looking back to 1998, all 13 course winners have been inside the top-ten at halfway so making up ground is far from easy. And neither is converting a lead.
The last three third round leaders have all failed and two of them spectacularly so - Carlos Del Moral was beaten by six strokes in 2012, having led by three, and Hennie Otto eventually lost a playoff to Forsyth in 2008, having began the final round five strokes in front. And it's not just the third round leaders that get to fluff their lines...
Morden Orum Madsen traded at odds-on before double-bogeying the final hole in 2013 and in 2012, in addition to Moral, who was matched at 1.351/3; Andreas Harto was also matched at just 1.68/13 before eventual winner Santos came through to win.
I'd backed both Moral and Harto before the off in 2012, at 60.059/1 and 130.0129/1 respectively and luckily I had the good sense to lay them both back at odds-on in-running. This is a tricky place to play under pressure and mistakes are easily made so if you have a pick in front during round four, make sure take some profit if you can.

Market Leaders
Ricardo Santos heads the market and the fact that he's officially ranked the 629th best player in the world tells you all you need to know about the tournament. Although course form stands up fairly well, only one man, Mats Lanner, has won the event twice and I'm in no rush to back Santos to be the second.
Second favourite, Justin Walters, hasn't played brilliantly in his native South Africa over the last three weeks - failing to record a single top-20 finish - and he's missed the cut here in his two previous visits. He's not for me either.
Kevin Phelan has more scope than most in the line-up but as already stated, first-timers don't have a great record and the only player towards the front of the market that I liked at all was the 2003 winner, Bradley Dredge.
The veteran Welshman knuckled down brilliantly at the end of last year to record back-to-back runner-up finishes to regain his European Tour card and his second at the Made In Denmark, where an ever-present wind disrupted the majority, was a particularly eye-catching effort but he's no more than a tiny stake-saving wager for me as outsiders fare well as a rule.

Selections
In addition to my minute saver on Dredge, I've backed four other Brits, starting with the one I like the most - Peter Whiteford.
The 34-year-old Scot is yet to win on the European Tour and he hasn't played anywhere since November but despite those two negatives, I fancy he'll go well this week.
He's won three times on the Challenge Tour and he very nearly broke his European Tour duck when he traded odds-on at the Ballantine's Championship in Korea two years ago - where a strong breeze was a constant hassle all week. He's played here twice before, finishing tied for 24th on both occasions, and he's sneaky long off the tee. The big question mark is his form after such a long break but he has played well when fresh on numerous occasions so I'm hopeful he can hit the ground running.
Rhys Davies finished runner-up to Luke Donald at Club de Campo in 2010 and he finished fifth here, after a slow start, on debut in 2013 when seemingly out of form so, more in hope than expectation, I thought he was worth chancing. Now nearly 30, it's incredible how far Rhys has tumbled down the pecking order and I for one would love him to start climbing back up the rankings. This looks a great chance to make a start.
I toyed with backing former winner, Forsyth, who will really want to play well in memory of his former caddie this week but after much deliberation I've left him out and played another that McGregor once ably assisted - Kennie Ferrie.
The veteran Englishman, who famously led the 2006 US Open with a round to go, has never played well here but I don't know why. He won in the Canary Isles in 2003 and in a veritable gale in Ireland at the European Open two years later so a windy coastal test should be right up his street. His third and final European Tour victory came as recently as 2011 in Austria and he might not be done with just yet.
And finally, I've taken a tiny punt on a huge outsider, in the shape of young Scot, David Law, who only last week was winning in Portugal. He finished alongside Paul Lawrie in a three-round Paul Lawrie Foundation Pro Series event at Penina detailed here.

Selections:
Bradley Dredge @ 30.029/1 (stake saving wager only)
Peter Whiteford @ 50.049/1
Rhys Davies @ 80.079/1
Kennie Ferrie @ 100.099/1
David Law @ 300.0299/1

I'll be back on Friday with my In-Play Blog.

*You can follow me on Twitter @SteveThePunter
Discover the latest articles