Made In Denmark: Danes to prosper at home, says The Punter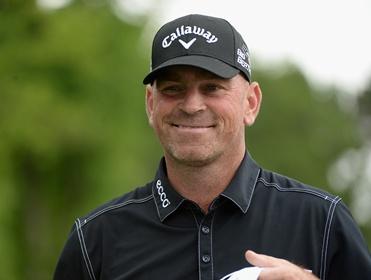 Thomas Bjorn, favourite to win the inaugural Made In Denmark
The European Tour stops off in Denmark this week for a brand new event. Read what Steve thinks it will take to win the first ever Made In Denmark tournament here...
"This is a momentous event for Denmark and the Danish players and it's highly likely that we'll see at least one or two of them bang there on Sunday afternoon."

Tournament History
Although many Challenge Tour events have been staged in Denmark, this is the inaugural staging of the Made In Denmark tournament and it's only the second European Tour event ever to be staged in the country. Ian Poulter won the one and only staging of the Nordic Open in 2003 but just days after the event finished it went bankrupt.
This tournament has what Danish European Tour player JB Hansen describes as the "the most spectacular trophy I have seen" and the endorsement of the Crown Prince of Denmark, who is the event's patron, so hopefully the tournament will go from strength to strength and become an ever-present on the Tour. I've a feeling it might.
The unique name of the event is designed to attract sponsors and as Lars Larson states in the event's concept document the plan was "to create a concept with a marketing profile that focused on Danish design, Danish tourism, Danish innovation and Denmark as a whole." I think it's clever and works well and given that the 15,000 weekly passes were all sold out two weeks before the event starts they may be on the right track already.
I hope so because with stalwarts like Thomas Bjorn, Anders Hansen and Soren Kjeldsen ever presents on the European Tour for many years and with so many up-and-coming Danes on Tour now, including the exceptional Thorbjorn Olesen, Denmark deserves the establishment of a successful and popular tournament.

Venue
Backtee New Course, Himmerland Golf and Spa Resort, Aalborg, Denmark

Course Details
Par 71, 7,033 yards
Himmerland Golf and Spa hosted the 1995 Himmerland Open which was won by Denmark's most famous golfer, Thomas Bjorn. That was his first victory as a professional and the first of two victories in his homeland and three in total on the Challenge Tour that year. Promotion to the European Tour followed and the rest is history, he's now won 21 times worldwide, but whether he'll recognise much of the course after so long is debatable, especially given the changes.
The course underwent a $2.5 million renovation by Philip Christian Spogard of Spogard and VanderVaart in 2012, which included the relaying of all 18 greens and the reshaping of every single bunker but that doesn't help us much. I don't have a clue what the greens were like in the first place!
Fortunately, the Tournament Coordinator, Jonas Nygaard Nielsen, was kind enough to answer me a few questions about the course when I mailed him a few weeks back and Jonas tells me the course will reward accuracy over power and that the greens are undulating and fast. 
A bit of digging on Twitter resulted in someone telling me that a decent player that's caddied at the course described it as a "precision course with long and narrow fairways" and he went on to describe the rough as "quite bad."
From the photos I've seen, the course looks fairly exposed and possibly a little bit linksy, which may explain why fine links exponent, Bjorn, won here.
Hopefully some of that's of use but it's really hard to get a proper feel for it before the off and we'll know so much more once we've seen it and once there are some stats to study.

Useful Sites 
Event Site
Course Site
Course Details
Tee Times
Weather Forecast

TV Coverage
Live on Sky Sports all four days - 10:30 and 14:30 on Thursday and Friday, behind the red button at 12:00 on Saturday before full coverage starts at 13:15 and then 11:30 on Sunday.

What Will it Take to Win The Made In Denmark?
Get set for a grind. The forecast suggests we're going to see rain and a fair bit of wind so whoever wins the inaugural staging will have earned it. Patience will be important, as will an ability to handle the wind.

Is There an Angle In?
I think the Danish players are going to be right up for this and I wouldn't be in the least bit surprised to see a home grown winner. The Danes didn't have an especially strong representation at the Nordic Open in 2003 but Soren Hansen finished third behind Poulter and four Danes finished inside the top-24.
This is a momentous event for Denmark and the Danish players and it's highly likely that we'll see at least one or two of them bang there on Sunday afternoon. 

In-Play Tactics
Given the seemingly exposed nature of the course, keeping a very close eye on the weather forecast makes sense. It's far too early to make plans on the strength of the long range forecast but come Wednesday, once the draw has been made, we may well be able spot a bias.
I had one of the best results of the year at the Russian Open a few weeks ago when laying the leaders over the weekend and I'll be looking to take anyone on if they're too short here too.
Third round leaders have really struggled on the European Tour this year and if we get another weekend leaderboard with pre-event outsiders in-the-mix, laying them may well be the best course of action again.

Market Leaders
It's no surprise to see Thomas Bjorn at the head of the market. His missed cut at Valhalla last week may well be a blessing in disguise and given that he's the only course winner in the field (albeit nearly 20 years ago!) and that he was in fine form at the WGC - Bridgestone Invitational two weeks ago, he looks the one to beat.
It's hard to split the next four or five in the market but fellow Dane, Thorbjorn Olesen, would be my idea of the second most likely winner. Like many a player that's switched to Nike, including world number one Rory McIlroy, Thorbjorn has struggled since switching equipment but he's shown some encouragement of late and could easily contend.

Selections
In what isn't an especially strong field, I can see Bjorn being a huge factor and I thought he was a decent price for a small bet - although I haven't gone mad by any means and I'm also chancing the vastly experienced David Howell.
If it does turn into the grind the forecast suggests it may, Howeller is just the type to stay calm and battle through and I'm also taking a very small chance on Lucas Bjerregaard, who is linked to the course so should know the place better than anyone else but I must stress, with so little to go on, although I'm really looking forward to the event, stakes have been kept to a minimum before the off.

Selections
Thomas Bjorn @ 14.013/1
David Howell @ 60.059/1
Lucas Bjerregaard @ 65.064/1

*You can follow me on Twitter @SteveThePunter
Discover the latest articles