The Punter's De-Brief: Molly doubles up at home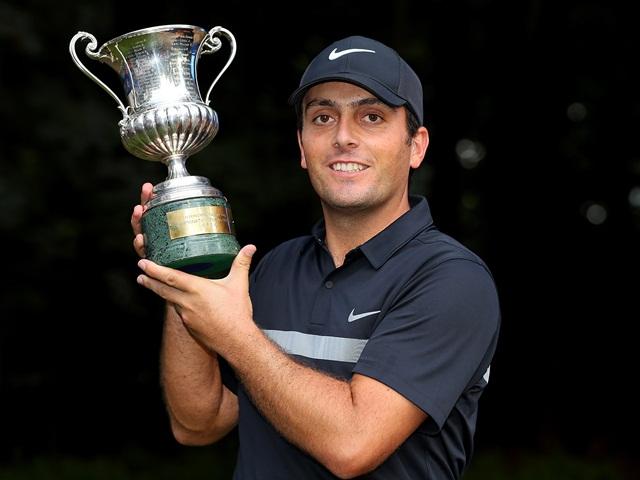 Francesco Molinari with the Italian Open trophy
Francesco Molinari has won the Italian Open and that wasn't the result our man was hoping for. Read Steve's look back on last week's European Tour action here...

"Ian Poulter, Gonzalo Fernandez-Castano, Hennie Otto and now Molinari have all won the Italian Open twice this century, and they've all done so at different venues."
One week after Joost Luiten landed the KLM Open in his homeland for a second time, Italy's Francesco Molinari has won the Italian Open again, 10 years after he first won it.

The 33-year-old, who went off at around 30.029/1, began the event well for the second year running and just as he'd done 12 months ago, he sat second after round one. He plummeted all the way down to 20th last year though and he stuttered a bit in round two this year too. He bogeyed his opening hole and he was still only one-under-par for the round when he stood on the 14th tee but an eagle there resulted in a three-under-par 68 which saw him trailing the halfway leader, Chris Paisley, by only four strokes.

A brilliant seven-under-par 64 in round three put him tied for the lead with the Masters champion, Danny Willett, with a round to go and he very soon took command in round four with an eagle at the first.

With five hours lost to the weather on Thursday and further delays on Friday, the organisers were lucky to get a 72 hole event completed and it's been a very long weekend - especially for the winner. Having been drawn to play early on Thursday and late on Friday, Molly ended up playing rounds two, three and four over Saturday and Sunday so it was no surprise that he was exhausted after his win.

"Coming in I had nothing left, I was just playing with my soul. I was hitting horrible shots but somehow I managed to bring it in."

My Bets

It's been one of the worst weeks I've endured in a very long time. All my pre-event picks were hopeless, my in-play picks were disappointing and as detailed in the in-play blog, I took on Molinari before round four began. And I layed him again at odds-on during the final round!

It's not been great but I don't really have any regrets. I've profited from taking on Molinari many times before and I'm happy with how I played it. Prior to yesterday, he'd sat within three strokes of the lead with a round to go 27 times and he'd won just twice. I've spent 10 years watching him blow chances so I was more than happy to go after him and I'm not going to moan about it not working out on this occasion.

An eagle at the first saw him shorten up dramatically straight away and I never got a chance to do anything but reduce my losses thereafter. He led by four with just six to play and he was matched at just 1.041/25 but those that went in really low were made to sweat when his lead was halved at the 13th hole and halved again at the 14th.

I'm always quick to criticise his in-contention play but he deserves much credit for the way he held on bravely to win this time although it definitely helped him that the likes of Alex levy, Robert Karlsson, Matthew Fitzpatrick, Richard Bland and Alejandro Canizares, who all held a decent chance after 54 holes, underperformed quite badly in round four and that the event developed into a match between him and Willett.

Molly performs better in match play than he does in stroke play and as was the case when he beat Lee Westwood in what was effectively a duel at the WGC-Champions in China in 2010, he only had one opponent to worry about for much of the final round and that clearly helped. That said, he holed several testing par saves deep into the back-nine and as much as it pains me to say it, he very much deserved the win.

What Have We Learned This Week?

I don't know whether we'll be back to the Golf Club Milano next year or indeed any other year so there's perhaps not much point in spending too much time analysing the venue but one thing that is now abundantly clear, is that past champions deserve serious consideration.

Ian Poulter, Gonzalo Fernandez-Castano, Hennie Otto and now Molinari have all won the Italian Open twice this century, and they've all done so at different venues.

Francesco's 262 total was the lowest winning score this season but a low winning score is nothing new at the event. Otto won with a 25-under-par total in 2008 and wherever the tournament's staged, the scoring is always easy. Having the courses set up so easily, no matter where the event is staged, probably goes some way to explaining why the four have won the title twice.

How Much Is Home Advantage Worth?

I've always felt that winning in your homeland is far from easy and that the added pressure of playing in front of your own fans is more a hindrance than a help but looking at the results on the European Tour in 2016, I'm in need of a rethink.

In addition to the last two winners, this year alone we've also seen victories for Brandon Stone in the South African Open, followed by a win for Haydn Porteous at the Joburg Open, and Charl Schwartzel was another South African to win at home, when he cruised to victory in the Tshwane Open in February.

A month late SSP Chawrasia won the Indian Open and then Haotong Li won the China Open. In May we witnessed Rory McIlroy win the Irish Open and the following week Chris Wood took the BMW PGA Championship at Wentworth. I've been too dismissive of the home contingent and I'm going to shift my thinking going forward.

That's more than enough looking back on what was quite frankly a pants week, especially when we have two cracking events to look forward to. I've already previewed the Tour Championship here and I'll be back later with a detailed look at the Porsche European Open.

*You can follow me on Twitter @SteveThePunter