The Punter's In-Play Blog: Is Poults poised to pip Patrick and Paul at the Honda?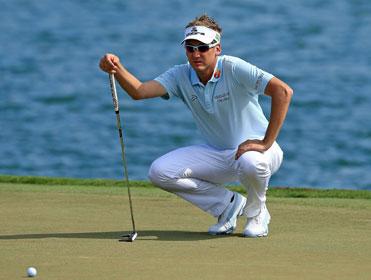 Ian Poulter – favourite to win the Honda Classic with 11 holes to play
After numerous weather delays, the final three-ball still has 11 holes to play at the Honda Classic so Steve takes a look at the state of play ahead of today's conclusion...
"Patrick Reed has been steadily shortening since play was stopped yesterday and I'm not surprised. He's won four of his last 38 PGA Tour events and although he's trailing, he's still the man to beat."
10.10 - March 2, 2015
For much of yesterday, it looked as though Ian Poulter was going to cruise to his first stroke play win on US soil but then this happened on the par 3 5th. His shank led to a double-bogey 5 and just to rub salt in the wound, Patrick Reed holed for birdie from off the green. Poulter's three-stroke lead had disappeared.
The Englishman then drove into the water off the 6th tee, made bogey and fell behind but at the 7th, their last hole of the day, Poulter made birdie and Reed bogey so it was all change again. And while all that was going on, Paul Casey was playing the front nine in a sensational four-under-par.
Play begins at 13:00 UK time and it's live on Sky Sports. Here's the current leaderboard with prices to back at 10:00.

Paul Casey -7 (thru 9) 3.65
Ian Poulter -7 (thru 7) 3.55/2
Patrick Reed -6 (thru 7) 3.6013/5
-4 and 24.023/1 Bar
Patrick Reed has been steadily shortening since play was stopped yesterday and I'm not surprised. He's won four of his last 38 PGA Tour events and although he's trailing, he's still the man to beat. He didn't get going at all yesterday, which was far from ideal given they had to play so much golf, but he's still bang there and if he finds his game today, the English pair will have it all to do.
Both Poulter and Casey have now had to sleep on the lead and victory today for either is a far bigger deal for them than it is for the prolific Reed. Poulter is yet to win a stroke play tournament in the States and Casey's sole success on the PGA Tour was fully six years ago.
Casey is clearly in form, having lost in a playoff at the Northern Trust Open just last week, but he came from off the pace there - this is very different. He's already hit his drive on the tough par 4 10th and he's found the left hand rough, so a par there is no certainty and of the three leaders, he's the one I fancy least.
Given five players, Phil Mickelson, Brendan Steele, Daniel Berger, Russell Knox and Jeff Overton, are all tied for fourth and just three back, it would be daft to assume that only the front three can win from here but it's going to be tough to make up ground. This is not a place to play catch-up and getting past three players is going to very difficult, and especially so for Lefty. He has a ten-foot par save to make on the 9th when he resumes his round.
With three events to look forward to this week - the WGC Cadillac Championship, the Puerto Rico Open and the Africa Open, having the Honda run into today is far from ideal but I'm sure I'll cope. I'll be back this evening with my preview of the Cadillac and I'll publish this week's De-brief and the other two previews tomorrow.

16.40 - February 28, 2015
Despite the threat of thunder, there's been no interruption to play in Florida today and the second round of the Honda Classic is drawing to a close. Tournament invite, Padraig Harrington, a pre-event 600.0599/1 shot, matched at 1000.0 in-running, is leading on seven-under par, with in-running pick, Patrick Reed, his closest pursuer.
With two weather delays, less wind and lots more rain than I'd expected to see yesterday, things didn't pan-out how I thought they might but with Reed now a strong favourite to win, I'm not complaining. Here's the leaderboard with prices to back at 16:30.
Padraig Harrington -7 9.89/1
Patrick Reed -6 3.7511/4
Ian Poulter -5 8.27/1
Brendan Steele -5 8.27/1
Luke Donald -4 12.011/1
Russell Knox -3 23.022/1
Jim Herman -3 50.049/1
Phil Mickelson -2 22.021/1
Martin Flores -2 80.079/1
-1 and 80.079/1 Bar

I'm more than happy with the current state of play and I'm a little surprised Reed isn't a firmer favourite. All his closest challengers have already played a fair bit of golf today and the fact that he'll be fresh when round three kicks off is a plus - as is the record of those up with the pace at PGA National...
Mark Wilson was three off the lead and sitting in fifth when he won the first Honda Classic staged here in 2007 but every subsequent winner has been inside the top-three and no more than a solitary stroke off the lead at halfway. With the wind blowing hard again today, making up ground on the front-runners is going to be impossible if they keep mistakes to a minimum.
Reed has now had 20 consecutive rounds at par or better on the PGA Tour and if he extends that to 22, in all likelihood, he'll win his fifth title in 19 months. I think he should be quite a bit shorter than he is at present and I'm certainly not looking to lay off.
The third round kicks off very soon and it's live on Sky Sports at 18:30.
With 1000.0 shot, Wallie Coetsee, two clear at the top with a round to go, the Joburg Open isn't getting any easier. Behind the unheralded South African veteran, four men are tied for second on 12-under-par and nine more are tied for sixth. This looks almost as tough as it did before the off!
If Coetsee struggles tomorrow, which has to be the most likely scenario, the event is going to be blown wide open and after losing a few pounds on Alex Noren, who shot a desperately disappointing two-over 74 today, I'm being cautious and leaving the event alone for now.
One of those tied for sixth is my each-way pick, Garth Mulroy, and he's only still in with a chance thanks to back-to-back birdies on the last two holes. I thought he looked poised to put in a real charge when he birdied the 1st to tie the lead but to say he was disappointing thereafter is a sizable understatement. He made a poor bogey on the par 3 5th hole and then a triple-bogey 8 on the par 5 6th - from position A on the fairway!
I'm going to hope Mulroy (who tees-off an hour before the leader) can put in a decent run tomorrow and I'm going to hope for some trading opportunities as the final round unfolds. The back-nine is quite a bit harder than the front-nine although the last two holes both offer up a good chance to score. Anyone ahead of the field and through 16 holes, either in front, or even tied for the lead, may well be worth chancing. Given the calibre of the leading bunch, I wouldn't be in the least bit surprised if the winner isn't someone posting a score and being underestimated by the market.

16.40 - February 27, 2015
Things didn't work out quite as I'd hoped at the Honda Classic, when heavy rain stopped play after just a couple of hours and my strong fancy after round one, Patrick Reed, managed to double-bogey the 11th hole, his second of the round, before the suspension. They returned to the fray briefly and Reed managed to birdie the 13th, his fourth hole of the round, before this time play was suspended due to the threat of lightening. Play is still suspended and the second round won't get finished today so I've turned my attention to events in South Africa, where 1000.0 shot, Wallie Coetsee, leads the Joburg Open. Here's the halfway leaderboard with prices to back at 16:30.
Wallie Coetsee -12 26.025/1
Garth Mulroy -11 9.28/1
Simon Dyson -11 11.521/2
Tjaart Van Der Walt -11 16.015/1
Anthony Wall -10 25.024/1
Niclas Fasth -10 38.037/1
Alex Noren -9 8.88/1
Thomas Aiken -9 10.519/2
Kristoffer Broberg -9 25.024/1
Stuart Manley -9 75.074/1
George Coetzee -8 12.5
-8 and 25.024/1 Bar
Richard Sterne won this event from six adrift at halfway in 2008 and 12 months later, Anders Hansen, came from fully 8 back after 36 holes but every other Joburg Open winner has been inside the top-five at this stage and the last five have been tied for the lead or just one back. That suggests that it may prove hard to come from off the pace so concentrating on the top-ten, listed above, may make sense.
The 42-year-old leader has two wins on the Sunshine Tour... 14 years apart. He won the Namibia Open in 1997 and he won in Zambia last May. I'm not going to pretend I know much about him but him but he led at halfway in Zambia and held firm so dismissing him out of hand might not be wise. Winning a co-sanctioned event is a far bigger deal though and I'd be surprised if he's still leading after tomorrow let alone after round four.
Simon Dyson will play alongside Coetsee in the final two-ball and not everyone will be pleased to see the Yorkshireman back in-the-mix. Many felt he was dealt with too leniently when he tapped down a spike mark in China in 2013 and while I don't have opinion on that either way, I do think it will be hard for Dyson to win on what is the first time he's been in-the mix since.
My each-way selection, Garth Mulroy, has done me proud so far and I'd like to think if that run of the winner being in front or just one back is to continue then he'd be the one to oblige but I'm keeping my feet firmly on the ground. Up until his final round last week, he hadn't been in great form and his touch could be lost as quickly as it was found.
Putting a line through veteran pair, Anthony Wall and Niclas Fasth, is easy to do and it's hard to see Stuart Manley winning but the other three on -9 aren't so easy to dismiss...
Kristoffer Broberg was one I looked at before the off as he's a player I see winning on the European Tour sooner rather than later. I'm mildly miffed I missed the triple-figure price before the off but I'm happy to leave him out now and the same can be said of Joe Dyer's each-way fancy, Thomas Aiken...
Aiken has won three times on the European Tour already but he never really convinces me in-contention and the one I like at this stage is the man back at the head of the market - Alex Noren.
I mopped up bits and pieces on Noren as the second round drew to a close - getting him onside at an average of 13.012/1. Whether his price now represents value is debatable but I'm happy to have him onside.
On -8, defending champ, George Coetzee, will have his supporters and I can see him improving his position tomorrow but this remains his only title and he's definitely not for me.
I'll be back tomorrow at some stage to try and take a look at the Honda Classic but it's hard to get a handle on the event will all the stoppages.

10.30 - February 27, 2015

I added a number of outsiders to the portfolio after first publishing my Honda Classic preview and when the majority of my picks were drawn to play on Thursday afternoon I was quite happy. The forecast suggested that a late/early draw would be advantageous but they all struggled on day one.
I haven't given up on Harris English, who played really well for 16 holes but found water off the tee on two par 3s. He'll start round two trailing first round leader, Jim Herman, by six shots but with the wind easing briefly for a few hours for the morning starters I expect much change and English could be in a much better position by halfway.
Just five men broke par yesterday afternoon -Patrick Reed, Jamie Donaldson, Russell Knox, Luke Donald and Paul Casey. And the fact that one's a Texan and the other four are Brits demonstrates how breezy it was.
These guys now get to play the course in the best conditions they're likely to encounter all week this morning and they have a great chance to get themselves into pole position. As detailed in the In-Play section of the preview, this isn't a course where ground can easily be made up so with the breeze forecast to get-up this afternoon I really like Reed's chances.
With four wins in 18 months, he's already shown that he's far from frightened to win and if he can follow-up yesterday's incredible three-under-par 67 with level par or better he'll be bang there at halfway. I felt he'd gone off the boil a bit so turned my nose up at the price of around 44.043/1 on Monday - although I admit, I missed that he drifted to a very attractive 55.054/1 before the off - but he screams value now given the weak leaderboard, the importance of being up with the pace and today's forecast.
I've also thrown a few speculative pounds at course-specialist, Will MacKenzie, at 280.0279/1. He shot two-over-par yesterday but he's out first today and that could prove a huge advantage.
I'll be back this afternoon with a look at the Joburg Open once they've finished round two.
Joburg Open Pre-Event Selections:
Richard Sterne @ an average of 26.025/1
Garth Mulroy @ 66/1 (Sportsbook)
Merrick Bremner @ 170.0169/1
In-Play Bet
Alex Noren @ an average of 13.012/1
Honda Classic Pre-Event Selections:
Harris English @ 50.049/1
Chris Kirk @ 80.079/1
Robert Streb @ 120.0119/1
Camilo Villegas @ 200.0199/1
Tony Finau 300.00299/1
Shawn Stefani @ 310.0309/1
Chesson Hadley @ 340.0339/1
George McNeill @ 380.0379/1
Jerry Kelly @ 500.0499/1
Ben Crane @ 720.0719/1
Andres Gonzales @ 750.0749/1
Matt Every @ [800.0.0]
Mark Wilson @ 800.0799/1
Scott Brown @ 1000.0
In-Play Bets
Patrick Reed @ 8.27/1
Will MacKenzie @ 280.0279/1
*You can follow me on Twitter @SteveThePunter
Discover the latest articles