The Punter's De-Brief: A good week for punters as fancied players win all three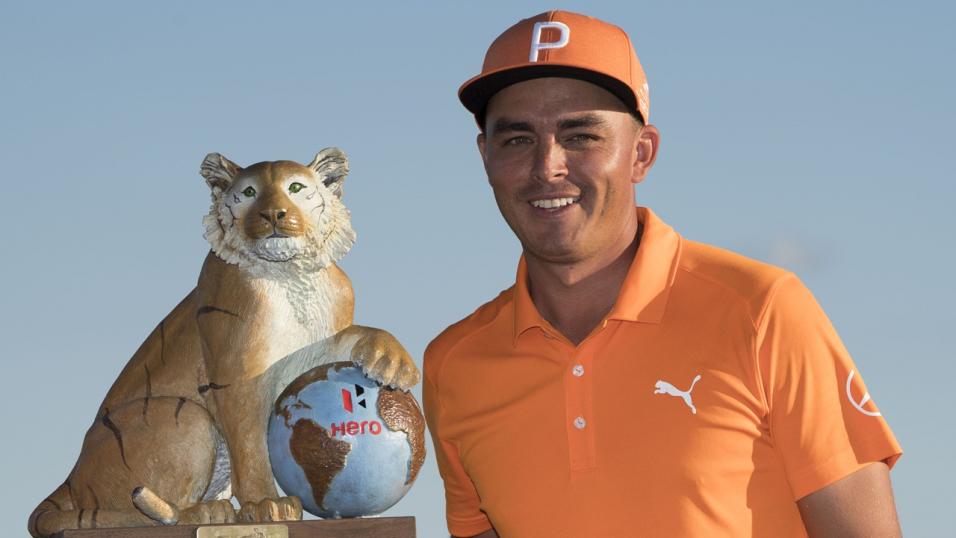 Rickie Fowler with his latest trophy
Our man looks back at a busy golfing week were the layers luck turned sour on Sunday. Read Steve's customary look back at all the action here...
"The margin of victory couldn't have been narrower at the two European events, and Frittelli, who had been matched in regulation play at just 1.111/9, was arguably lucky to get into a playoff in Mauritius."
Having looked like being a week for the layers, Sunday's twists and turns saw the week transpire to be one that very much favoured the backers.
Pre-event 800.0799/1 chance, Jordan Zunic, who had begun the final round of the Australian PGA Championship with a three-stroke lead, was beaten in a playoff by the well-fancied 10/1 chance, Cameron Smith, in the first event to conclude yesterday. Arjun Atwal, a 650.0649/1 outsider, was then beaten by the second favourite, Dylan Frittelli, in extra time at the AfrAsia Bank Mauritius Open and Charley Hoffman, a 44.043/1 chance in the limited field Hero World Challenge, was easily caught and passed by the well-touted 10/1 chance, Rickie Fowler in the Bahamas.
The margin of victory couldn't have been narrower at the two European events, and Frittelli, who had been matched in regulation play at just 1.111/9, was arguably lucky to get into a playoff in Mauritius. He missed the par five 18th fairway and could only make a par and this is how close Atwal came to snatching the title.
This close to victory...

Atwal will now face Frittelli in a playoff to decide the @AfrAsiaMRUOpen. pic.twitter.com/fam5Zuv6IN

? The European Tour (@EuropeanTour) December 3, 2017
Frittelli won the tournament at the first extra hole with birdie after Atwal failed to get up-and-down from in front of the large 18th green.
Given he began the final round with a commanding five-stroke lead, Hoffman getting caught was the biggest surprise of the day. He didn't have the best of Sundays, shooting a level par 72, but he was always going to have his work cut out to keep tabs on Rickie Fowler who birdied his first seven holes! It was a remarkable start and he went from trailing by seven to winning by four with his lowest career round and a course record 11-under-par 61. Fowler was matched in-running at a high of 60.059/1 and he was still trading at around 30.029/1 before the final round.

My Bets
All three winners looked a bit short before the off for my liking and it wasn't a great week but I'm certainly not complaining. In fact, I'm more than happy with how it all went. I barely got involved Down Under or in the Bahamas but, as highlighted in the In-Play Blog, I backed the winner in Mauritius. I had a reasonable bet on Frittelli at 3.412/5 with a round to go so I did lay a bit back at 1.21/5 but it was a nice result all the same.
I've had far better weeks financially but I get a lot of satisfaction from outcomes like this week when I've remained patient, not dived in, and shown a profit. All three events may have gone to fancied winners but they all looked tricky to me and I'm more than happy with how the week turned out.

Another Odd Week for Louis
Louis Oosthuizen is a strange player to get to grips with. His quality is undeniable but he's not one to go to war with. When he won the Open Championship in 2010, the draw was very kind to him and he opened up a huge lead on day two that he never really looked like relinquishing, but that remains his only big title.
He's never won on American soil and most of his wins have come in his native South Africa. He's not one I back with regularity but I had a small bet on him last week in Mauritius and he was really frustrating to follow. He began the tournament nicely and was four-under-par through just seven holes but he soon hit the buffers. A bogey and a birdie followed and he ended the day on -4 before starting tardily in round two. He played his final 12 holes of round two in a bogey-free steady four-under-par and he looked to be right bank in the reckoning at halfway but more mistakes were in the pipeline.
Day three started just as badly as day two but a run of four birdies in six holes around the turn looked to have kept him in the argument but disaster struck again with a bogey at 13 and a double bogey at the par five 14th. Just when he looked like being the man to beat going in to Sunday he beat himself and then yesterday he produced another strange round.
An eagle three at the second to give him a slim chance was followed by back-to-back bogeys before he went on a crazy run after the turn. Birdies at 10, 11 and 12 were followed by a tap-in eagle at the 14th (the hole he made seven at on Saturday) but once again, he was to give up any faint hopes of success he had. He actually tied for the lead after that eagle at 14 but two holes later he'd taken an iron off the tee for safety and found the rubbish left of the fairway leading to a double-bogey.
It was a strange performance and I may be being a bit harsh but he remains would to be cautious of taking a short price about. He doesn't have a killer instinct and he's hard to get across the line.

What Have We Learned This Week?
Looking specifically at the AfrAsia Bank Mauritius Open, the two winners to date at the Heritage Course have been well-fancied South Africans and great ball-strikers.
The fairways are wide at the Heritage but straying from them can be catastrophic. Frittelli drove the ball well all week long and he hit more greens than anyone else. The runner-up, Atwal, putted really nicely all week on the Paspalum greens but the same can't be said of the winner. Frittelli actually averaged more than 30 putts per day and it's very unusual to see someone win having sunk so few putts and in future, siding with players with more experience and more aptitude to Paspalum might make sense.
We're starting to wind down as Christmas approaches but there are still two events to enjoy this week. We've got the Joburg Open on the European Tour and the QBE Shootout on the PGA Tour. I'll be back tomorrow with my previews.

*You can follow me on Twitter @SteveThePunter
Discover the latest articles