Hero World Challenge: Brooks the best bet in the Bahamas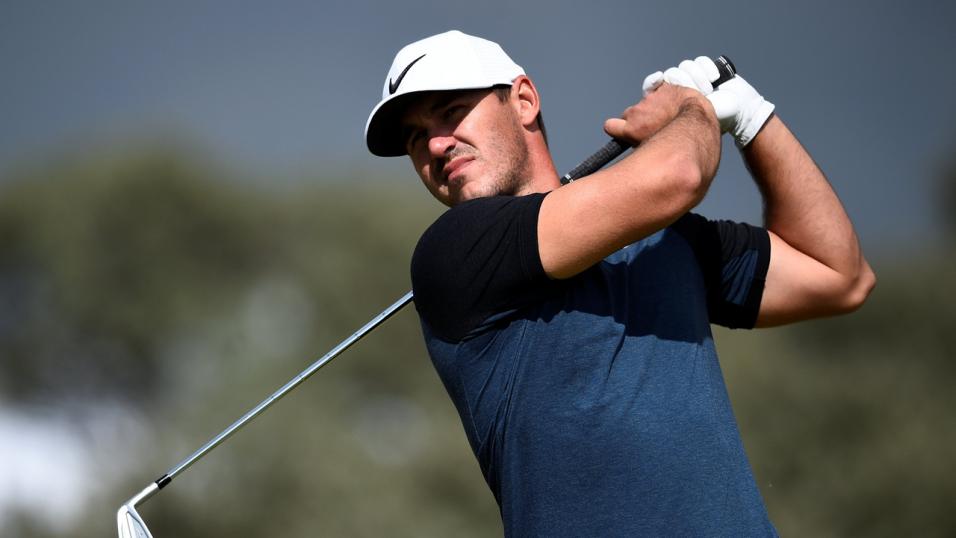 Brooks Koepka – a nice bet according to The Punter
Our man takes a look at this week's PGA Tour action, where Tiger Woods starts for the first time since he withdrew in Dubai way back in February. Read his comprehensive preview here...
"Given the niggling negatives about all the market leaders, Brooks Koepka looks a really nice bet here at around the 12/1 mark. Current form has been key here previously and the US Open champ arrives in fine fettle after a tied second at the WGC HSBC Champions and a victory in Japan two weeks ago."
Tournament History
The Hero World Challenge was first staged at Greyhawk Golf Club in 1999. It moved to the Sherwood Country Club in California in 2000 and remained there for the next 14 years before it switched from west to east and to the Isleworth Golf and Country Club in Florida in 2014, when Jordan Spieth won by an incredible ten strokes. It moved further south to the Bahamas two years ago and we return to the Ernie Els designed Albany course again for the third year in-a-row.
It's a limited invitation only event with a high class field consisting of just 18 players and the big news again this year is that Tiger Woods is returning. Tiger played in the event 12 months ago, making his first appearance for 16 months, but despite making more birdies than anyone else in the field he only finished in front of two players.
Venue
Albany, New Province, Bahamas
Course Details
Par 72, 7,400 yards
The Ernie Els designed Albany course only opened in 2010 and it was used for a professional tournament for the first time when hosting this event two years ago.
It's a par 72 but with five par fives, five par threes and eight par fours so it's a little different from most par 72s as they usually have four long and short holes and ten par fours.
It's an exposed flat links-style course with dunes up to 30 feet tall. Here's what the designer had to say about his creation prior to the off two years ago.
"It's a very special golf course. If I were trying to paint an outline mental picture for anyone, I'd say think of a mix between maybe Royal Birkdale and the Els Club Dubai. The bunkering is another particularly strong feature and is partly inspired by one of my favourite types of golf course, the Australian sand-belt classics such as Royal Melbourne."
If you want a bit more on the course, here's the hole-by-hole guide.
TV Coverage
Live on Sky Sports all four days - starting at 17:30 UK and Ireland time on Thursday
Last Five Winners
2016 - Hideki Matsuyama -18
2015 - Bubba Watson -25
2014 - Jordan Spieth -26
2013 - Zach Johnson -13 (playoff)
2012 - Graeme McDowell -17
What Will it Take to Win the Hero World Challenge?
I see by my notes that three of the first four home here two years ago - Bubba Watson, Patrick Reed and Jordan Spieth - all ranked inside the top-four for Scrambling that week but somewhat frustratingly I couldn't find any stats for last year's renewal so whether that was a key stat again 12 months ago or not I don't know.
I do know that playing the par fives well is important though and it's interesting to note that last year's winner, Hideki Matsuyama, ended 2017 atop of the Par 5 Performance stats and the 2016 winner, Watson, ranked number one for those very same stats in 2015. With 20 par fives in play throughout the week, it stands to reason that length off the tee and great Par 5 performance stats are clear indicators.
Is There an Angle In?
We can expect a bit of wind again this year, as experienced last time, but I'm not sure that helps us that much. These are the best players in the world and they can all handle breezy conditions and a better angle in might be to focus on the bang in form players...
Matsuyama was winning his fourth tournament in five starts 12 months ago, Bubba was in fine fettle, having just finished third in Japan following a decent run in the FedEx Cup, and Spieth had been red-hot when he won in 2015.
There were one or two reasonably long priced winners at Sherwood and the last three winners have all been very well fancied before the off.
In-Play Tactics
The last three winners have all been up with pace from early on and they've all won with ease. Spieth (albeit at a different venue) won by ten strokes and although Watson only won by three and Matsuyama by two, both men were further clear than that at various stages and neither ever looked like losing. However, in the first edition here, the second and third, Patrick Reed and Rickie Fowler, sat 10th and 13th after round one so places can certainly be made up. Although they were positioned in the bottom half of the field, they were only actually three and four strokes adrift.
What Can We Expect from Tiger Woods?
Having been matched at a high of 90.089/1, Tiger Woods' price has halved over the last week or so as stories of his wellbeing have emerged. Rickie Fowler revealed that Tiger was hitting it 'way by' him off the tee in practice and then Brad Faxon made some interesting comments after he, Tiger, Dustin Johnson and Donald Trump had all played in Florida on Friday.
"I was impressed with how far he hit the ball." Faxon said. "Probably on the 10 holes that they were both hitting driver, Tiger hit it past Dustin half the time and Dustin hit it past Tiger half the time. He looked great. I think more than anything, he looked at ease. He was not concerned about swinging hard and going at it with driver. The ball flight, the sound off the club, all of it was right there."
He's reported to be playing pain-free for the first time in years and it's going to be fascinating to see how he fares. As already stated, he made more birdies than anyone else here last year but he also made more double-bogeys than anyone else and I suspect rustiness is going to be the issue again this time around.
Even if he's pain-free and playing well, it's going to be incredibly difficult for him to focus for four rounds in-a-row and we'll probably witness a number of poor holes again this time around. That said, anyone taking a position above 40.039/1 should find it easy enough to trade to a nice profit. The public are desperate to see a rejuvenated Woods and a decent start to the week will see his price collapse. He could make for a really good trading vehicle for anyone planning to monitor his progress closely.
Market Leaders
The market is struggling to split Justin Thomas, Jordon Spieth and Dustin Johnson and any one of the three could begin the event as the favourite but they all have negatives to overcome.
Thomas hasn't played since he won in Korea six weeks ago and he's never played the course before. The break could have refreshed him nicely and he could, and probably should, take to the venue well but I'm not happy to take the risk.
Spieth was disappointing in Australia last week, where he finished eighth, and in two visits to Albany he's only finished fourth and sixth so he doesn't scream 'back me' and DJ has to overcome the disappointment of his crash in China last time out.
Leading by six with a round to go, and matched at a low of 1.061/18 in-running, Johnson shot a five-over-par 77 on Sunday to lose by two and that will have left a scar. He has the personality to brush that dodgy effort aside and power on regardless but his course form doesn't fill me with confidence.
He was 15th on debut here, beaten by a whopping 17 strokes, but he seemed to take to the place 12 months ago when he opened up with back-to-back 66s to tie the halfway lead with Matsuyama. DJ was the favourite to win at that stage but a lacklustre weekend saw him finish a well-beaten tied third.

Rickie Fowler has very solid credentials. He's finished third here in each of the last two years and he was in fine form in Mexico three weeks ago when finished second to Patton Kizzire at the OHL Classic at Mayakoba. The negative with Fowler, as it always is, is that he just doesn't win often enough and once again, I'm happy to bypass him at the prices.
Justin Rose is an interesting candidate. The Albany resident knows the course intimately and his course form is probably best ignored in this event. He finished only 13th in 2015 and he withdrew last year but it's worth noting that he broke the course record (62) in the final round two years ago and that he began the event with a back injury 12 months ago. He arrives home in terrific form this time around but has he been on the go for too long?
I fancied fatigue might be an issue in Hong Kong last week and to an extent I believe it was. He was bang in-contention towards the end of round three but lost his way with back-to-back bogeys and I'm happy to swerve him too.
Selection
Given the niggling negatives about all the market leaders, Brooks Koepka looks a really nice bet here at around the 12/1 mark. Current form has been key here previously and the US Open champ arrives in fine fettle after a tied second at the WGC HSBC Champions and a victory in Japan two weeks ago. His course form isn't brilliant, he was seventh two years ago and only 13th last year, but he has the right profile and I wouldn't be in the least bit surprised if he improved considerably around a track that should really suit him nicely.
Recommended Bet
Brooks Koepka @ 14.013/1
I'll be back later today or tomorrow with my AfrAsia Mauritius Open preview.

*You can follow me on Twitter @SteveThePunter
Discover the latest articles