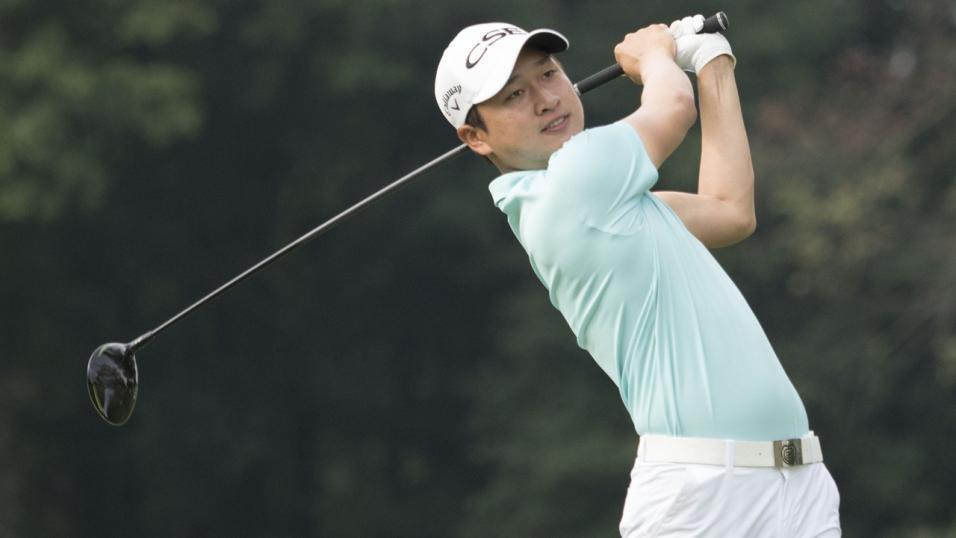 Jeunghun Wang – half of the Korean pairing fancied by Steve at the GolfSixes
The European Tour returns to the Centurion Club in St Albans for the second edition of the GolfSixes and our man has the lowdown ahead of Saturday's start here...
"I know one event's worth of form is hardly enough to go to war with but for what it's worth, five of the first six in the betting progressed out of the groups last year, suggesting backing the stronger teams (on paper) can be done with a degree of confidence."
Tournament History
This is just the second edition of the GolfSixes, after the event's successful introduction to the European Tour 12 months ago, when the Danish pairing of Thorbjorn Olesen and Lucas Bjerregaard took the title.
The inaugural event was contested by 16 teams of men representing 16 different countries but this year we've got an England women's side, with Georgia Hall combining with Charley Hull, a European Women's team consisting of Melissa Reid of England and Spain's Carlota Ciganda, and a Captain's Team pairing of Ryder Cup skipper, Thomas Bjorn, and Solheim Cup captain, Catriona Matthew, as well as 13 teams representing 13 different nations (see draw below). The women will play off forward tees and the event will take place over Saturday and Sunday only.
Draw
Group A
Denmark - Lucas Bjerregaard and Thorbjørn Olesen
Thailand - Kiradech Aphibarnrat and Thongchai Jaidee
USA - Daniel Im and David Lipsky
European Women - Carlota Ciganda and Mel Reid
Group B
Australia - Sam Brazel and Wade Ormsby
South Korea - Jeunghun Wang and Soomin Lee
Spain - Pablo Larrazábal and Adrian Otaegui
European Captains - Thomas Bjørn and Catriona Matthew
Group C
France - Alexander Levy and Romain Wattel
Italy - Edoardo Molinari and Renato Paratore
Scotland - Scott Jamieson and Richie Ramsay
Ireland - Paul Dunne and Gavin Moynihan
Group D
England - Eddie Pepperell and Matt Wallace
South Africa - George Coetzee and Haydn Porteous
Sweden - Alexander Björk and Joakim Lagergren
England Women - Georgia Hall and Charley Hull


Format
Each team in each group will play three six-hole matches against the other three teams in their group on Saturday using the Greensomes match play format. Greensomes is a system of match play that we don't see too often. Both players play from the tee and they then choose which ball to play using alternate shots.
The scoring is a little different to what we're used to too. If team A wins the first two holes they'll be 2-0 up but if team B then win the next four they'll be the winners with a score line reading 4-2. Usually in match play golf, team A would be 2-up after two holes, with team B then going on to win the tie 2-up but they've changed the format to decide the outcome of the group on hole difference as opposed to goal difference. To extend that further, should a team win only two holes and draw four holes, they will have won their tie 2-0.
The points scoring is the same as football, with the winners of each match being awarded three points, a draw will result in a point apiece and no points are awarded for a defeat.
Last year, the fourth hole was the shot clock hole, where players had only 30 seconds to hit their shots. If they don't strike the ball in the allotted time they'll incur a shot penalty.
With the field reduced to eight after day one, the quarterfinals, the semi-finals, a 3rd/4th place playoff match and the final will all be staged on Sunday.
Last year there wasn't a redraw for the quarter-finals - they were predetermined by where you finished in the groups beforehand with the Group A winners playing the Group D runners-up and so on - but that might change this time around. The organisers weren't afraid to make adjustments while the event was ongoing last year so we can't assume anything. They reduced the shot clock down from 40 to 30 seconds when they realised everyone (apart from Paul Peterson of America) was easily playing within the time constraint.
Venue
Centurion Club, St Albans, England
Course Details
Designed by Simon Gidman in 2013, the Centurion is described by Gidman thus.
"Centurion explores pine woodland on holes one to five, giving it a distinctly mature and natural feel. The holes then move into areas which have been carefully yet dramatically shaped to offer both an aesthetically beautiful contribution and a genuine challenge. The 14th hole sees the woodland return for the home stretch."
Here's this week's card:
Par 24 2,335 yards
Hole 1 - 175 yards - par 3
Hole 2 - 473 yards - par 4
Hole 3 - 526 yards - par 5
Hole 4 - 486 yards - par 4
Hole 5 - 136 yards - par 3
Hole 6 - 536 yards - par 5
TV Coverage
Live on Sky Sports Golf both days, beginning at midday on Friday
Last Year's Final Result
Lucas Bjerregaard and Thorbjørn Oleson beat Scott Hend and Sam Brazel 3 & 1
What Will it Take to Win the GolfSixes?
This is a tough one to weigh-up but power hitters, Lucas Bjerregaard and Scott Hend were both involved in the final and that might be something to consider. With two opportunities to find the fairway, smacking it a long way down the two par fours and giving your team a chance to reach the two par fives in two, should give you an edge. In theory, with two goes at it, the first player to play can really go for it.
Is There an Angle In?
I know one event's worth of form is hardly enough to go to war with but for what it's worth, five of the first six in the betting progressed out of the groups last year, suggesting backing the stronger teams (on paper) can be done with a degree of confidence.
The unknown this year is how the women will fare and whether they'll be given too much or too little assistance from the tee. They'll certainly be keen to compete and they could well be underestimated by the market but one pairing I do want to take on is Thomas Bjørn and Catriona Matthew. Neither are competitive nowadays and I'll be surprised if they progress. Anyone looking for a trading opportunity may want to concentrate on Group B.
Market Leaders
The Spanish pairing of Pablo Larrazábal and Adrian Otaegui just shade the defending Danes, Lucas Bjerregaard and Thorbjørn Olesen, and I'd have it the other way around.
Otaegui must move on quickly from the disappointment of Sunday's narrow defeat in China and that might not be easy whereas Bjerregaard arrives in St Albans full of pep after weekend rounds of 66 and 64 saw him climb up to sixth.
Defending titles isn't an easy thing to do but this is a very different type of tournament and I can see the Danes thriving again at a venue we know suits. I can see them repeating the feat and they should be at the head of the market.
Eddie Pepperell hasn't got going again since he won the Qatar Masters but he and partner, Matt Wallace, deserve the utmost respect. I don't think I've ever seen anyone putt as well as Wallace did last weekend in China and not win the event. Like Otaegui, Wallace needs to lift himself because he knows he should have won last week but if he turns up and putts like he did in China the locals will take all the beating.
Selections
Not having the format confirmed and knowing that the organisers could readily change the format at a whim, given the light-hearted nature of the event, is a handicap in what looks a tricky event anyway.
I like the Danish duo and the English pairing but if they follow the same format as 12 months ago, the two teams could easily meet in the quarter-finals so for now my only selection is the Koreans, who Paul and I have selected for the each-way column here.
Selection:
Korea each-way @ 16/1 (Sportsbook)
I'll be back on Friday morning with a look at the state of play at the Wells Fargo championship (previewed here) after round one.
*You can follow me on Twitter @SteveThePunter