The Punter's In-Play Blog: Stenson and Spieth set for scintillating shootout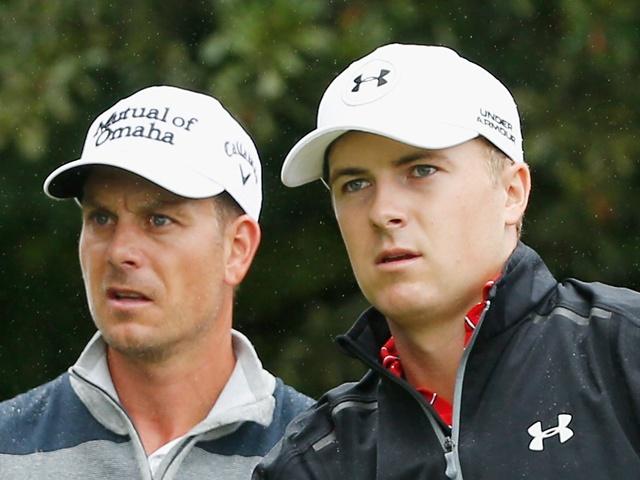 Henrik Stenson and Jordan Spieth at East Lake yesterday
With a round to go at each event, our man takes a look at the state of play at the Porsche European Open and the Tour Championship. It's as tight as it gets in Germany but Steve thinks the leader, Thongchai Jaidee, is the value, whilst he's hoping for a classic encounter and a win for Jordan Spieth at East Lake. Read his final in-running thoughts of the week here...
"The last three winners of this event were all in front with a round to go and I wouldn't be in the least bit surprised to see odds-on Spieth make it four in-a-row. He's been a ruthless closer of late, converting from the front at the US Masters, the US Open and the John Deere Classic on the last three occasions he's began the final round with at least a share of the lead."
08.45 - September 27, 2015
There was much change at the Porsche European Open yesterday with the two market leaders at halfway, Charl Schwartzel and Byeong Hun An, both dropping away tamely with over-par rounds. The two big movers were Thai veteran, Thongchai Jaidee, and one of my picks, Pelle Edberg. Here's the current leaderboard with prices to back at 08:30.

Thongchai Jaidee -13 4.47/2
Ross Fisher -12 7.26/1
Pelle Edberg -12 10.519/2
Graeme Storm -12 13.5
Jamie Donaldson -11 9.28/1
Mikko Ilonen -11 11.010/1
Magnus A Carlsson -11 15.014/1
Søren Kjeldsen -10 20.019/1
Peter Uihlein -10 24.023/1
-9 and 50.049/1 Bar

Having Byeong Hun An perform so poorly was a big disappointment yesterday but with both Pelle Edberg and Mikko Ilonen moving up nicely I certainly can't complain about my lot.
Both have a chance today but I can't say I'm confident. Edberg is now 36 and still looking for his first title and Ilonen was disappointing in-the-mix at the KLM Open a few weeks ago. Of the two, I prefer Ilonen, who knows how to win and who can perhaps be forgiven for his efforts at the KLM. That was the first time he'd been in with a chance to win this year and he could easily improve this time around.
Edberg is not only looking for his first European Tour win, he'll also be looking to back up a low round. That's something that's never easy to do and it's something that also goes against Jaidee. It isn't enough of a negative to put me off the tough-as-teak Thai though.
This is far from the strongest third round leaderboard I've ever analysed and I can't see any reason to look beyond Jaidee. He's led or co-led on either the Asian Tour or the European Tour 16 times previously and his strike rate is 50%. It's also worth highlighting that he's won on five of the last six occasions that he's been in front or tied at this stage and that he's finished inside the front three every time bar the very first time he led with a round to go, way back at the Malaysian Open in 2000.
He's rock solid in-contention and a very fair price at anything above 4.03/1. I'll be hoping I can lay something back on Edberg and/or Ilonen and I'd love to see one of them go on to win but Jaidee is the one that represents value at this stage.
Over at the Tour Championship, Henrik Stenson has shot his first round in the 70s and he's been headed at East Lake for the very first time. Jordan Spieth made some miraculous pars and some very lengthy birdies yesterday and he now leads the Swede by a stroke. Here's the third round leaderboard with prices to back at 08:35.

Jordan Spieth -8 1.9310/11
Henrik Stenson -7 3.3512/5
Rickie Fowler -4 16.015/1
Paul Casey -4 32.031/1
Rory McIlroy -3 19.018/1
Zach Johnson -3 48.047/1
-2 and 130.0129/1 Bar

Having backed Spieth yesterday, I'm not going to do anything else with this event but enjoy what I hope will be an exciting finale. Rickie Fowler, Rory McIlroy, Paul Casey or Zach Johnson could yet muscle in on the finish but it looks very much as though we're all set for a shootout between Stenson and Spieth and a victory for the latter would be a fitting way to end what's been a great PGA Tour season.
With two wins, a tied fourth and a second in the four majors, it's incredible to think that the Player of the Season award was ever in doubt but so well has Jason Day finished the season it almost was. A victory here for Spieth, securing the $10 million FedEx Cup, would round everything off so much better than a victory for the as yet winless in 2015, Stenson, but it's far from a done deal.
The last three winners of this event were all in front with a round to go and I wouldn't be in the least bit surprised to see odds-on Spieth make it four in-a-row. He's been a ruthless closer of late, converting from the front at the US Masters, the US Open and the John Deere Classic on the last three occasions he's began the final round with at least a share of the lead. I much prefer him over the often wobbly Stenson but just in case he does get nervy, I've had a tiny bet on Zach Johnson who looks a bit big to me at 50.049/1.
I'm hoping we get an entertaining finish to the PGA Tour season today and I'll be back tomorrow with my De-Brief to see how it all panned out.

09:15 - September 26, 2015
After a solid second round of 68, Henrik Stenson goes into the weekend with a three stroke lead at the Tour Championship. Here's the halfway leaderboard with prices to back at 09:00.

Henrik Stenson -9 2.0811/10
Jordan Spieth -6 4.1
Paul Casey -5 19.5
Zach Johnson -4 19.5
Rory McIlroy -3 11.010/1
Steven Bowditch -3 110.0109/1
Justin Rose -2 34.033/1
Rickie Fowler -1 65.064/1
Jason Day level par 42.041/1
Level Par and 230.0229/1 Bar

The last two Tour Championship winners have won wire-to-wire and one of them was Stenson (2013) but given three of the last seven winners trailed by five strokes at halfway, this is certainly not a done deal.
Stenson has now played six rounds here and he's never been headed or shot a round in the 70s. At this stage back in 2013, he was four clear of Adam Scott, five in front of Jordan Spieth and six clear of a trio of players - Dustin Johnson, Justin Rose and Billy Horschel, so this year's leaderboard has a familiar look about it but I'd be surprised if Spieth doesn't put up a much better fight of it this time around.
In round three two years ago, as Stenson shot 69, Scott tumbled out of contention with a 74, Spieth lost ground with a 71 and it was left to Dustin Johnson to put up a some sort of challenge but he was still four back with a round to go and the Swede really was given an easy ride.
Two years on and Spieth is a very different beast and I can see him overhauling Stenson, although it won't be easy according to the stats - Henrik has successfully converted his last four sole halfway leads. There's always a story behind the stats though and, as was the case here two years ago, on occasions, others have helped him to victory with their own weak finishes. I'm not convinced by Stenson in-contention and I'm happy to take him on.
As brilliant as Jason Day's two playoff victories have been this year, his six stroke demolitions haven't made for riveting viewing, whereas the duel to the line between Stenson and Rickie Fowler in Boston was one to remember, with the American eventually going on to win, and I can see a similarly exciting finish unfolding here.
I've toyed with laying Stenson at just a shade over evens but I've concluded that backing Spieth at 3/1 is the better option. The market considers Rory McIlroy the next most likely winner but he has plenty to do from six adrift and Paul Casey and Zach Johnson look better value at much bigger prices. The Open champion is particularly tempting at 19.5 but I'm in a deep enough hole having backed Day and Fowler before the off so I'll just go with Spieth and see where that takes me today.
I haven't actually just gone with Spieth though. On level par, Brandt Snedeker looks to have far too much to do but odds in excess on 400.0399/1 are just too big to ignore for someone better suited to coming from off the pace so I've had a miniscule bet on him too.
It's a much tighter affair at the Porsche European Open where three players - Charl Schwartzel, Ross Fisher and Graeme Storm - are tied at the top on ten-under-par. Schwartzel and Fisher haven't won in a while but they're both multiple winners that are more than capable of converting.
Schwartzel has won on three of the last four occasions that he's led or co-led at halfway and Fisher has successfully converted three of his last six halfway leads although on the one occasion he was only tied at the top he dropped out of the top-ten.
Although it's tight at the top, with 15 players within three strokes of the lead, other than the two I backed before the off - Byeong Hun An, who's one off the lead and Mikko Ilonen, who's tied for eighth and three back - I'm not that keen on anyone so I'm going to leave this one alone for now.
I had high hopes of my each-way pick, David Lipsky, who was nicely positioned on five-under-par after round one, but just like the well fancied pair of Bernd Wiesberger and Hunter Mahan, Lipsky shot a bizarrely poor second round to miss the cut. The best of this week's each-way selections is Florian Fritsch who's also one of Paul Krishnamurty's two Find Me A 100 Winner picks so the excellent run the column is on could yet be extended.

09.50 - September 25, 2015
There are times when I can't observe the golf as fastidiously as I'd perhaps like and as it was my wife's birthday, yesterday was one such occasion. Instead of watching every shot of the Tour Championship on TV, I was out enjoying a meal to celebrate and as much as I try to keep score monitoring down to a minimum when I'm out, just as the starters arrived I took a little peek.
I felt contentment that verged uncomfortably on smugness when I saw that Jason Day had birdied the first three holes and although Henrik Stenson had also started well, I put my phone away, assured that my confidence in Day before the off was completely and utterly justified.
With the starters munched and my first beer drained, it was time to take another look and my contentment soon melted away. It was one of those 'where's he gone moments?'
I started scrolling up from the -3s and as my eyes tracked upwards he was nowhere to be seen. There was a very brief moment when he still wasn't there as I reached -5 when I thought he may even have birdied every single hole he'd played! I then momentarily assumed a leaderboard error as I scrolled right to the top and back down again and he was still nowhere to be seen.
And then, there he was, preposterously sat on level par through eight holes. How on earth had that happened? All of a sudden, my second beer didn't taste so marvellous and the chicken handi that arrived at that very moment didn't look or smell as delicious as it would have done had I only taken the decision not to look.
Of course my disappointment passed almost as quickly as it had arrived and there's still a very long way to go but given Day - who fell back to level par because of a triple bogey on his fourth hole - ended the first round on just one-under-par, fully six shots adrift of Stenson, it's not the start I'd hoped for, or expected after three holes.
This is only Stenson's second visit to East Lake and on the first occasion, two years ago, he led wire-to-wire, so anyone that took heed of Paul Krishnamurty's advice before the off, and backed the Swede at around 9.08/1, can quite rightly be feeling confident.
I'm going to see what today brings there before getting any further involved and I'm keeping a watching brief at the Porsche European Open too, which is live on Sky Sports at 10:00.
One or two of my picks are on the fringes of contention and it looks wide open with some quality names in-the-mix. Bernd Wiesberger looked the man to beat yesterday and he's already been matched at just 4.03/1 but despite birdying his first hole of round two this morning, he's currently two-over par for the day and sliding south.
I'll be back tomorrow with a look at the state of play at halfway at both events.

Porsche European Open Pre-Event Selections:
Byeong Hun An @ 33/1 (Sportsbook)
Mikko Ilonen @ 75.074/1
David Lipsky @ 75.074/1
Alexander Levy @ 80.079/1
Pelle Edberg @ 260.0259/1
Jake Roos @ 340.0339/1
Andrea Pavan @ 350.0349/1

In-Play Pick
Thongchai Jaidee @ 4.3100/30

Tour Championship Pre-Event Selections:
Jason Day @ 4.84/1
Rickie Fowler @ 13.012/1

Tour Championship In-Play Picks:
Jordan Spieth @ 4.1
Brandt Snedeker @ 430.0429/1
Zach Johnson @ 50.049/1
*You can follow me on Twitter @SteveThePunter
Discover the latest articles