Golf Betting 2015: How to profit from Rory McIlroy in the year to come...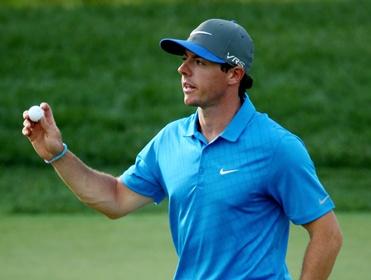 Rory McIlroy - always a great bet to lead early
Steve Rawlings, aka The Punter, takes a look at what we might expect from the world number one next year and where, more importantly, we might be able to make some profit...
"Rory's record in the UAE, dating right back to 2006, is fantastic. From just 21 starts, he's finished inside the top-10 15 times and the top-five on 12 occasions but he's only actually won there twice."
Rory McIlroy's shock defeat at the Sports Personality of the Year awards on Sunday, for which he was matched at just 1.091/11, was a disappointing way to end 2014 but I doubt very much he'll dwell on it for long. It's been a magnificent year for the Irishman; he's won the Open Championship, The USPGA Championship, the BMW PGA Championship at Wentworth and the WGC - Bridgestone Invitational. Finishing runner-up to Lewis Hamilton will have irritated but not for long and it may even inspire him to an even better year in 2015. Here's my take on it.
Having won the last two majors, that's the only sensible place to start and by the time we get to April 9 and day one of the US Masters, especially if he's started the year well, expectations on Rory will be through the roof. Having won the US Open in 2011, if he collects his first Green Jacket, he'll be completing the Major set, as well as winning three in-a-row. But all that would be enough to put me off, especially as I'm not entirely sure whether his infamous collapse at Augusta in 2011 is completely out of his system. He led by four with a round to go that year and was still in command as he made the turn but he dropped six shots in three holes from the 10th and he finished up tied for 15th.
That's a long time ago now though and it may not be an issue anymore but all things considered - his relatively poor form figures at Augusta (20-MC-15-40-25-8) and the pressure he'll be feeling this year, he's no value to win the first major of the year. 
Chambers Bay will host the US Open this year and that's the toughest of the four to gauge. Rory's not played Chambers Bay yet but then very few have. Peter Uihlein won the 2010 US Amateur there but it's never been used for a pro event. It certainly looks like it'll suit Rory's length off the tee but I'd like to wait and see what the weather's doing. Having read a bit about the course (Hole-by-Hole guide here) it looks like we'll get an event to savour but it also looks like the venue could be affected by wind and that might be a slight negative. I'm cautious about his chances there without further investigation but just like Dave Tindall, who takes a brilliantly detailed looked as his chances at the majors here, I like his chances in the third major of the year...
As it is every five years, St Andrews is the venue for this year's Open Championship and if the wind doesn't blow hard, I can see Rory blowing them all away. He plays the home of golf brilliantly in benign conditions and back-to-back winners of the Open Championship aren't uncommon. He trades at around the same price of 6.25/1 for the first three majors but I see this as his best chance, although I'd much rather wait and see what the weather's doing. Remember 2010? He led by two shots after round one but was blown away on the Friday, shooting 80 in the high winds. He rallied quite brilliantly to finish third but the damage had been done in the blustery conditions and I'd be wary of going in now, just in case the forecast is poor. 
McIlroy was third behind Martin Kaymer at the USPGA Championship in 2010 at Whistling Straights (the 2015 venue) so we already know he can play there and that's the major he has the best record in to date. His form figures (3-3-64-1-8-1) are really impressive and if he's drawn a blank at the first three, he could remedy the malady in Wisconsin.
There is a market up for the number of majors he'll win in 2015 and I concur with Dave again, one major looks the play, but as I don't fancy his chances at Augusta and I'm reluctant to back him at Chambers Bay, backing none, with a view to laying back before the Open Championship, is certainly an option but I think there are better ways to play Rors in 2015...
As already stated, he won four of his 24 events in 2014 and I expect he may well win more this year but I doubt we'd finish far in front (if at all) if we just backed him blind every week. We might if we backed him to lead after round one every week though and if we targeted where and when, the profits could roll in.
So far, Rory has won a total of 14 events worldwide but he's led or co-led after the first round 21 times and given he's always at least twice the price to be the first round leader as he is to win the event then backing him in that market makes much more sense. He's only converted one in three times when he's led after day one and he hasn't gotten any more prolific of late, if anything it's going the other way. He led or co-led seven times in 2014 but only converted once - at the Open Championship. But we can narrow in all down further, by looking at his record in certain locations.
Rory is a fantastic desert golfer and he tends to start fast in events like the Abu Dhabi Golf Championship, the Dubai Desert Classic and the DP World Championship. His record in the UAE, dating right back to 2006, is fantastic. From just 21 starts, he's finished inside the top-10 15 times and the top-five on 12 occasions but he's only actually won there twice - at the 2009 Dubai Desert Classic (his first pro win) and at the DP World Championship in 2012. He won the DDC wire-to-wire in 2009 but that's the only time he's converted a first round lead in the UAE and he's found himself in front there seven times in total.
If the pattern is to continue, there are various ways to profit from it. Backing Rory to lead after round one makes sense over backing him to win an event, and upping stakes when he heads to the desert looks wise. Given he'll always be short, and often even odds-on, we could just lay him to win whenever he does lead after day one or we could complicate things slightly and use him as a back-to-lay vehicle - placing a win bet in the outright market before the off, with an aim to laying him back if and when he hits the front after round one.
I'll be back again soon with a detailed look at the in-contention record of the world's top-ten.
*You can follow me on Twitter @SteveThePunter
Discover the latest articles