Golf Betting: Five to follow every week throughout 2014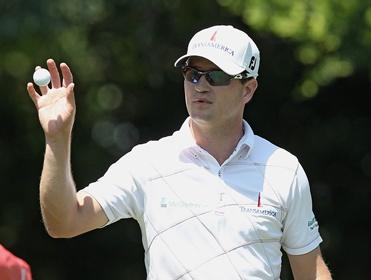 Zach Johnson, who has a current strike rate of one in ten
In an attempt to simplify golf punting for the New Year and to generate profit, Steve has picked out five players you can back every time they tee it up in 2014. Read who his five are here...
"Zach Johnson is another player that the market inexplicably opposes with baffling regularity and he'll almost certainly reward anyone that sticks by him next year."

With hundreds of golfers lining up in numerous tournaments on courses that vary in length, width, green size and grass type, in ever changing weather conditions ranging from benign to gale-like, almost every single week of the year, for the casual punter, having a bet on any given tournament can be very confusing. 
Is your fancy's game suited to the course? Will they cope with the weather? Are they in good enough form? Are they injury-free and enjoying a happy stress-free home life? They're just some of the factors that can mean the difference between success and failure, and who has time to sift through all that information? 
If you're reading this and thinking, not me, then can I suggest five players that you can back blind week in and week out who could well give you what we're all after, a profitable year's punting and a few memorable winning bets to enjoy.
I'll start with those you can expect the biggest prices about each week and work my way down to the one who will rarely, if ever, trade in double figures, but who will, in all probability, still earn you a profit.
Michael Hoey was matched at 110.0109/1 in the last event before Christmas, the Nelson Mandela Championship, and he was available on the Sportsbook at 101.0100/1 and yet he'd won four of his last 68 European Tour events and he was playing in one of the weakest events of the year. 
So how does someone with a one in 17 strike-rate go off at such odds? The reasons are twofold. Firstly, he's simply not fashionable and secondly, most weeks he plays extremely poorly. Incredibly, since that run of four wins in 68 starts began, at the Madeira Islands Open in May 2011, unless he's won, he's never finished inside the top-ten.  Hoey is not one of those players that poodles round hoping for a decent cheque. Hoey likes to win and if he's not in-the-mix, he switches off and finishes down the field. Most punters don't like that and that's why he's always generously priced but I love it.
It's quite possible that Hoey never wins again but it's more likely that he will and when he does it will be at a rewarding price yet again so don't worry about all the tailed-off weekend finishes and the missed cuts, just stick with him every week and see what happens and maybe up your stakes a bit when he's playing in the Scottish Open. He's a brilliant links course and wind player and with everyone concentrating on the locals that know the track (Royal Aberdeen) and the stellar names preparing for the Open Championship a week later, he could just surprise everyone... Well, nearly everyone.
Julian Quesne will go off at around the same price as Hoey most weeks and maybe even bigger but he'll be no forlorn hope. With nigh on 200 appearances on the European and Challenge Tours, the 33-year-old Frenchman now has two wins on each tour but crucially, the last two on the main tour have been in the last 22 months. 
Age and experience has brought contentment and composure and I was extremely impressed by the manner in which he won both the Open de Andalucía in March 2012 and the Italian Open last September. He clearly feels comfortable on the European Tour now and I wouldn't be in the least bit surprised to see him win at least one more title in 2014. Both his ET wins have arrived on the back of a steady improvement in form so if you want to be selective you could wait for a steadily improving form curve but that could be a dangerous game to play - when he won the Open de Lyon on the Challenge Tour in 2011 his form figures read MC, MC, 3, MC.
After winning four Challenge Tour events in 1995, Thomas Bjorn graduated to the European Tour and hit the ground running - winning the Loch Lomond World Invitational in his rookie season. He averaged a win a year for seven years thereafter then one Sunday afternoon in July in 2003, disaster struck in the greenside bunker of the 16th hole at Royal St George's.  Leading the Open Championship by two strokes with just three to play, Bjorn needed three attempts to extricate himself from the bunker on the par 16th and Ben Curtis was left to claim the Claret Jug. 
That was a hammer blow that reverberated for years. There was a playoff win at the Dunlop Masters in 2005 and an off-the-pace victory at the Irish Open a year later but that was it between 2002 and 2010 and there was no doubt about it, that infamous major collapse had left its mark but at 42, the Great Dane is now as comfortable a player as you'll come across on the European Tour and I've little doubt there are more wins to come.
He's won five times in the last three years and he could easily maintain that strike rate going forward. In fact, so secure does he now appear, and so well is he playing, major redemption isn't out of the question.  Quite why Bjorn is so underestimated in the market each week is beyond me but for some reason he is and I'd be very confident that a level stake investment each week throughout 2014 will pay off handsomely.
Having avenged defeat at the 2011 World Challenge, with a playoff victory over Tiger Woods last time out, Zach Johnson has now won four of his last 40 starts. That's an extremely impressive strike rate and one that he'll struggle to maintain but he's highly likely to return to the winner's enclosure at least once in 2014 and he's likely to be fairly priced when he does.
He's another player the market inexplicably opposes with baffling regularity and he'll almost certainly reward anyone that sticks by him next year - especially at certain events. He won the Iowa Open back-to-back at the turn of the century as well as the Texas Open in 2008 and 2009. He was crowned Crowne Plaza champ in both 2010 and 2012 and he really should have defended his John Deere Classic title last July. Anytime Zach tees it up where accuracy counts he's worth serious consideration but a change of game plan next year may well see him win almost anywhere...
When Johnson won the US Masters in 2007, he played the par 5's in 11 under-par, thanks to some stupendous wedge play, but scoring that well on the long holes without going for the green with your second shot is extremely unusual and Johnson sees par 5 scoring as the area he needs to work on. It was noticeable that he was more aggressive on the long holes when he beat Tiger at Sherwood and if he improves his par 5 scoring average in 2014, maintaining that one in ten strike rate might not be entirely impossible. 
Tiger Woods teed it up 19 times in 2013 and he finished top of the pile on five occasions and in two of those events he traded at - at least 8.07/1 before the off. After a missed cut in Abu Dhabi, few punters envisaged victory at his beloved Torrey Pines a week later in the Farmers Insurance Open and he went off at around 8.07/1. And he was an even bigger price at the Players Championship in May.
There are two ways to play Tiger in 2014. You could be selective and only back him at his favourite tracks - the aforementioned Torrey Pines, Doral (although caution maybe required there as Donald Trump has financed a huge makeover), Bay Hill Country Club and Firestone Country Club, or you could just back him whenever he tees it up. 
The world and his aunt knows he loves those four venues so he won't be a massive price by any means but he won at all four in 2013 and it's a distinct possibility he could do so again in 2014.

*You can follow me on Twitter @SteveThePunter
Discover the latest articles