Farmers Insurance Open: Former Champ Stallings worth chancing at Torrey Pines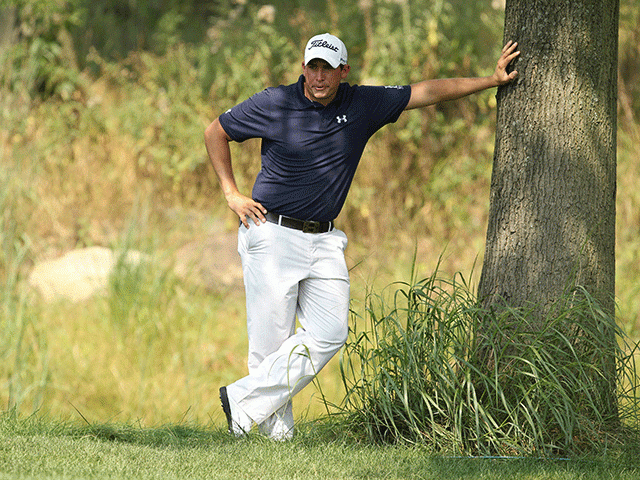 Scott Stallings – worth chancing at 90.0 says The Punter
It's the return of Tiger Woods on the PGA Tour this week as the West Coast Swing moves on to Torrey Pines for the Farmers Insurance Open. Read Steve's comprehensive preview here...

"Scott Stallings caused a huge shock when he won here in 2014 but he proved it was no fluke when he got in to the playoff when defending 12 months later. He arrives here in good form this year having played the tricky host course at the Career Builder Challenge better than anyone else on his way to finishing eighth and he looks a fair price at 90.089/1."
Tournament History
Originally called the San Diego Open and first staged in 1952, the Farmers Insurance Open is now in its 65th year. It's been played at Torrey pines since 1968.

The event is played over two courses, with the entire field playing both the North and South Courses over the first two days before the weekend play is staged entirely on the tougher, longer, South Course.

The big news story this year is not the redesign of the North Course (see below); it's the return to action of Tiger Woods, who's playing in just his second tournament in 18 months following his 15th place finish at the Hero Challenge before Christmas. The South Course was the scene of his last major win - the 2008 US Open - and he's won this event seven times so it's going to be fascinating to see how he fares.
Venue
Torrey Pines, La Jolla, California.
Course Details
North Course, par 72, 7,258 yards, stroke average in 2016 when 7,052 yards - 70.93
South Course, par 72, 7,698 yards, stroke average in 2016 - 74.5

Both courses were designed by Billy Bell Jr. and were opened in 1957.

At a couple of paces short of 7,700 yards, the South Course is extremely long and it's scoring average last year was the highest of any par 72 course on the PGA Tour. It was extensively revamped in 2001, by Rees Jones; after it had been awarded the 2008 US Open which an injured Tiger Woods went on to win in a play-off over Rocco Mediate.

The North Course has always differed quite significantly to the South but that may not be quite as stark after Tom Weiskopf 's renovation after last year's renewal.

The North is still more than 400 yards shorter than the South, even after being lengthened by Weiskopf by a shade over 200 yards. There are 18 fewer bunkers this year but many have been moved to be more strategically placed. The two nines have been reversed and two holes have had their pars changed. The old par four eighth hole is now the par five 17th and the old par five ninth is now a tough par four and the 18th. The old par four 16th hole, which is now the new seventh hole, has been shortened and is now drivable.

The biggest change by far though, is to the greens which have been increased in size by 40% and converted to Bentgrass. They used to be significantly smaller and slower than those on the South Course but they're now around 6,400 square feet and bigger than those on the South. Both course's greens are expected to run at above 12 on the stimpmeter. The South Course greens were converted to Bentgrass by Rees in 2001 but the Poa annua has taken over again so they're now back to being described as Poa annua.

The changes sound expansive but it isn't going to play that much harder according to Tournament Director Peter Ripa. "It may be a half stroke or three quarters of a stroke more challenging than it was in the past,"
TV Coverage
Live on Sky Sports all four days, starting at 20:00 on Thursday.
Last Five Winners
2016 - Brandt Snedeker -6
2015 - Jason Day -9 (play-off)
2014 - Scott Stallings -9
2013 - Tiger Woods -14
2012 - Brandt Snedeker -16 (play-off)
What Will it Take to Win the Farmers Insurance Open?

This is a very difficult event to assess statistically with nothing standing out at all.

The South Course is long but you can't just overpower it. The rough is thick and will be even more so this time around after a period of wet weather. The fairways are fairly narrow and they were hit only 50.6% of the time by the field last year so that would possibly lead one towards the more accurate off the tee but that doesn't really work either.

With the fairways being that hard to hit, even the most accurate from the tee will miss them and as the more accurate types tend to be the shorter hitters, a missed fairway for them is nearly always going to lead to a bogey at least.

The last five winners have an average Greens In Regulation ranking of 23.2 and the greens were only hit 66% of the time last year so get-up-and down successfully is pretty important. Indeed, Scrambling used to be a key stat to concentrate on here and the last two winners have ranked fifth and eighth but the five winners before them had an average ranking of just 34.4 so it really is a tough one to work out. Although a good week with the putter helps. The last five winners have had an average Putting Average ranking of 11.2.

It's a tough one to gauge but I'd suggest Total Driving and Scrambling are the best two stats to look at.
Is There an Angle In?

Even if we disregard seven-time winner, Tiger Woods, course form has been a huge indicator. Stallings hadn't made a cut here before winning three years ago but he was very much the exception rather than the rule and it's worth noting that he followed up his win with a second 12 months later. Brandt Snedeker was winning here for a second time when he got lucky with the draw in foul conditions 12 months ago and Day was trending nicely two years ago, having finished ninth in 2013 and second in 2014. Ben Crane, Nick Watney and even shock 2004 winner, John Daly, had all finished inside the top-10 in at least one of their previous two tournament appearances so think very carefully before backing someone with little or no previous at the track.

To emphasise the importance of course form - the event moved to Torrey Pines as far back as 1968 and no debutant has ever won here.
Is There an Identikit Winner?

Stallings was something of an anomaly and although a multiple PGA Tour winner, Ben Crane couldn't be described as top class but every other winner going right back to the last century has been straight out of the top drawer.

The 2009 winner, Nick Watney, has won a WGC event, a FedEx Cup playoff event and should arguably have won the 2010 USPGA Championship and Snedeker, successful in 2012 and 2016, is a FedEx Cup winner with multiple wins on the PGA Tour and a plethora of high finfishes in major championships. Every other winner dating back to 1996 has won a major.
In-Play Tactics

Last year's result was barmy. Snedeker sat seven, eight and six adrift after rounds one, two and three before firing a quite remarkable three-under-par 69 in round four in vile conditions. That saw him close to within one of the lead and when play was eventually called for the day the leader, and most of the field, returned on Monday to finish off and none of them could post better than Sneds as the wind and rain continued to punish. Although that was an unusual renewal, weather wise, winning from off the pace here is far from unusual, even in decent conditions...

The South Course played over three and half strokes harder than the North Course again last year and even though there have been changes to the North, it doesn't sound like it will play too much harder so you need to make a really good score there to contend.

The last six winners have all been drawn on the North Course on day two and other than Snedeker, who shot a lacklustre two-under par 70 (had been two-over early on!) they've all built on a great second round at the North...

Jason Day knocked it round the North in 65 (-7) two years ago and the four winners that preceded Stallings (who shot 67) all shot at least 65 (-7) round the North Course. Day and Stallings both began the event by shooting 72 around the South Course on day one.

When betting in-running, make sure you bear that differential in scoring in mind. It's usually factored into the market nowadays so there's little chance of getting an edge (although Day was matched in-running at a juicy 65.064/1 in 2015) but there's plenty of chance of rushing in on someone high up on the leaderboard only to realise they've just finished playing the North and that they're not such a great price after all.

Remember, the last six have all played the South Course on day one, think carefully before diving in on someone high up on the North on Friday morning.

In addition to Sneds' late charge 12 months ago, Day trailed by nine after round one in 2015 and Stallings trailed by eight strokes in 2012 and six of the last eight winners have trailed by at least five strokes, having played the South Course first, so ground can easily be made up here.

Going back to 1996, there's not been a single wire-to-wire winner and since the South Course was toughened up, Tiger (2008 and 2013) is the only halfway leader to convert. And third round leaders struggle too.

Having hit the front at halfway, Woods was never headed in 2008 and 2013 and he was in front after round three in 2003 but the only other third round leaders to go on to win this century are Phil Mickelson in 2000 and John Daly in 2004 and the latter needed to win a three-man play-off.

Day was tied for eighth and two off the lead two years ago after three rounds, Stallings was three back and trading in excess of 30.029/1 three years ago, Snedeker trailed by seven strokes after 54 holes in 2012 (when Kyle Stanley lost having been matched in-running at 1.011/100), and Watney had been five back three years earlier. This is definitely an event to take on the leaders.
Market Leaders

Dustin Johnson heads the market but he's not for me. He finished second last week in Abu Dhabi but that had more to do with his third round in calm conditions than anything else - although in his defence, he did suffer with jetlag over the first two days.

He was bombing it miles and fairly straight on Sunday but his iron-play was off and even though he's a terrific Poa annua putter his form here is nothing to write home about. In nine attempts he's only bettered last year's 18th once when he was third in 2011 and last year's attempt wasn't great considering he was just a stroke off the lead at halfway.

The 2015 winner, Jason Day, missed the cut last year but he was second in 2014 and ninth in 2013 so after three poor efforts in 2008, 9 and 10 and a break of three years, he appears to have got to grips with the venue but which Jason Day are we going to see this week? And will he even finish the event?

He was a somewhat disappointing 12 at the Tournament of Champions three weeks ago after ending the year with a couple of withdrawals because of injury.

Hideki Matsuyama finally cooled off at the Sony Open two weeks ago when he could only finish tied for 27th after he'd produced a run of form figures that read 5-1-2-1-1-2. Whether that marked the end of that extraordinary run or whether it was just a temporary blip remains to be seen but I'm not going to gamble on him bouncing back here.

Hideki's record at the Sony was poor so that uninspiring performance wasn't entirely unexpected and he hasn't exactly shone here either. He finished 16th on debut in 2014 but he's his missed the cut in each of the last two years. He's another I'm happy to leave out.
Selections
I don't fancy anyone strongly so stakes have been kept to a minimum and I've stuck to players that all have excellent course form.

I've had what amounts to little more than stakes savers on the defending champ, Snedeker, who appears to be out of sorts, and three-time tournament winner, Phil Mickelson, who has drifted to a too big price of 50.049/1 and after I've plumped for huge outsiders, Scott Stallings, Kevin Streelman and Kyle Stanley.

Stallings caused a huge shock when he won here in 2014 but he proved it was no fluke when he got in to the playoff when defending 12 months later. He arrives here in good form this year having played the tricky host course at the Career Builder Challenge better than anyone else on his way to finishing eighth and he looks a fair price at 90.089/1.

Kevin Streelman sat second at halfway on debut in 2008 and he finished third last year when caught up in all the bad weather. I can't say I'm bursting with confidence about his chances but he was fourth three starts ago at the OHL Classic, despite a second round 73, and I thought he was simply far too big at 170.0169/1.

And finally, if I'm right about Scrambling and Total Diving being key stats, the 2012 runner-up, Kyle Stanley looks well worth chancing at a monster price. He's currently ranked 19th for Scrambling and first for TD and his current form isn't awful.

Selections:
Brandt Snedeker @ 30.029/1
Phil Mickelson @ 50.049/1
Scott Stallings @ 90.089/1
Kevin Streelman @ 170.0169/1
Kyle Stanley @ 260.0259/1

I'll be back on Thursday or Friday with the In-Play Blog

*You can follow me on Twitter @SteveThePunter
Discover the latest articles