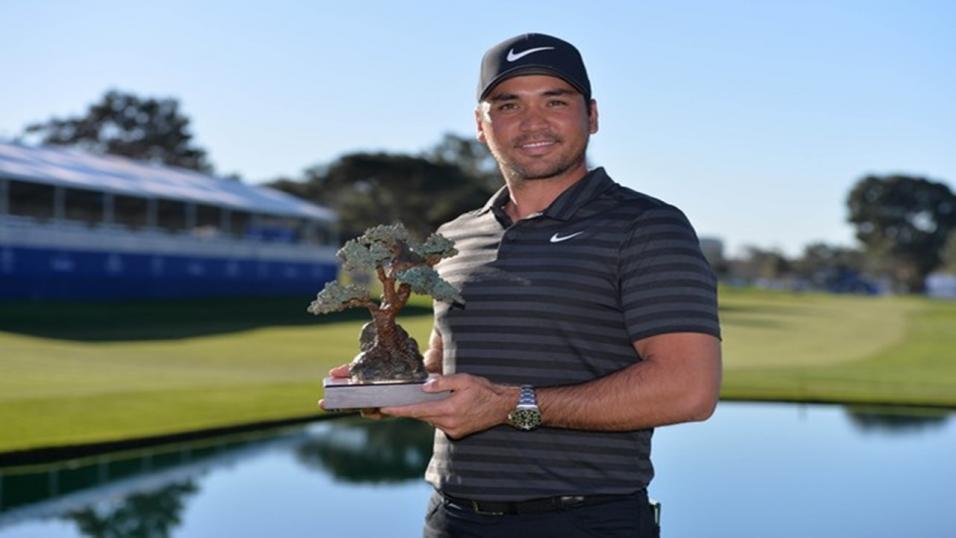 Jason Day is a big market mover for the US Masters
Having covered the in-play action for Steve Rawlings, who returns from holiday this week, Paul Krishnamurty looks back at last week's two events, which saw Haotong Li and Jason Day take the spoils...
"The last two Dubai champions went on to win the Masters, so it was no surprise to see Li shorten to [100.0] for the Augusta showpiece. However as much as I rate the kid and recognise the correlation between the two events, those odds make no appeal whatsoever. Day, on the other hand, is now a frontline contender at [15.5]."
Over the weekend, a star was born and another one very much resurrected. The already highly promising career of 22 year-old Haotong Li reached a new peak with victory at the prestigious Dubai Desert Classic while, in the States, Jason Day gave the firmest indication yet that he is back to his world-beating best. In winning the Farmers Insurance Open for a second time, the former world number one landed a nice [26.0] touch for Steve Rawlings.
Matched at a peak of [180.0] pre-tournament, Li could hardly have been more impressive. Having surrendered the final round lead to Rory McIlroy with bogeys on 10 and 12, the Chinese youngster looked set for an admirable near-miss. However in the style of a champion, he rose to the challenge and stormed home with four birdies in his last six holes to set a new tournament record of -23.
McIlroy, the red-hot pre-tournament favourite at [5.7], was matched down to just [1.11] in-running. He'd dominated the market throughout and comfortably saw off a spate of challengers, including Tyrrell Hatton and Alex Levy, but Li just wouldn't go away. The manner in which he chased victory and rammed home a 15 foot putt for victory on 18, was extremely impressive, confirming that this young man knows exactly how to get the job done.
Meanwhile at Torrey Pines, Day needed an extra day to see off Alex Noren in an epic play-off. Ryan Palmer also made that play-off but was eliminated after the first extra hole, setting up a memorable dual. The Aussie finally prevailed on the sixth extra hole after Noren found the water, landing his second Farmers Insurance Open title in the process.
Noren was matched down to just [1.27] in pursuit of his first PGA Tour title and lost nothing in defeat. Ultimately it was Day's resilience, holing a couple of gutsy all-or-nothing putts to stay alive, that made the difference. Earlier, the final round had been a constantly exciting, nip and tuck affair as a quartet of players vied for the lead. Palmer traded down to [3.2] and J.B. Holmes [2.44]. Given that Jon Rahm had hit [2.24] earlier, this was very much a good event for favourite layers.
My Bets
Overall it was a disappointing week for me, losing a total of eight units from my in-play bets. In Dubai, I managed to secure a one unit profit by getting Tyrrell Hatton matched at [20.0] on the final day. When hitting that target, Hatton still yielded 70 units profit for the win. He went as low as [5.0] so, in theory, there was a chance to bag a bigger profit but I made no plans to do so.
In the Farmers, my final day trades also yielded a one unit overall profit as J.B. Holmes shortened to his lay target. However the damage was done by an earlier ten unit bet on Jon Rahm at [5.5]. Though matched down to [2.24], he never looked like contending again after finding the water on his final hole of round three.
Reassessing such trades after the fact is an occupational hazard for any trader, and should really be avoided but I shall nevertheless share my thoughts. The Hatton trade is illustrative of the contrasting trading styles between myself and the tactics normally laid out in this column. Whereas Steve trades his positions in-play, I prefer to make a pre-round decision and stick with it. Had he been holding that position on Hatton down the stretch, I reckon he'd have taken some profit out. Then again, had Hatton won, I'd have been celebrating a big win. No regrets.
I can't say that about the Rahm trade though, as it was very much out of character. First I rarely back favourites. Second, I nearly always cover once the odds have moved in my favour! With hindsight, at the very least I should have retrieved the ten unit stake after round two. Perhaps I got a bit carried away with the specific event and many happy memories of backing Tiger Woods at short odds here.
Is Tiger on the way back?
So what do we make of Tiger's comeback? My main impression is that he clearly hasn't lost that remarkable - perhaps unique - ability to get the most out of his round. His long game was all over the shop, ranking last for driving accuracy and 53rd for greens in regulation, yet he managed to finish a highly respectable 23rd, beaten only seven shots.
By that reckoning, Woods' top-level career may not be over. It is plausible that, with hard work and competitive golf, he improves as the season goes along and steadily climbs the rankings. However I would want to see an awful lot more before risking a penny. Bear in mind that Torrey Pines is like a second home to him, and all those good vibes may have been an inspiration. I prefer to back golfers who are producing the goods from tee to green and, on that basis, he's not even playing the same game as the likes of Day and Rahm. Nevertheless, it's great to see the greatest player of all-time back.
What Have We Learned This Week?
Given the long history of both events and venues, we were unlikely learn anything drastically new. As an outsider, Haotong Li wasn't an archetypal Dubai Desert Classic winner by any means but over the long-term, he may well prove to be as classy as many previous champions. The other main contenders - Rory, Hatton, Alex Levy - were very obvious. Statistically Li certainly met the usual criteria. He drove it long, ranking 18th for driving distance, and topped the putting average stats.
The last two Dubai champions went on to win the Masters, so it was no surprise to see Li shorten to [100.0] for the Augusta showpiece. However as much as I rate the kid and recognise the correlation between the two events, those odds make no appeal whatsoever. Day, on the other hand, is now a frontline contender at [15.5].
He proved once again how the Farmers is very much a 'horses for courses' event by winning it for the second time. This century, 12 out of 19 renewals have been won by a former champion. Moreover, the Aussie was yet another world-class champion. 13 of those 19 winners were either already major winners or soon to become one. Of the other six, Brandt Snedeker has contended in plenty of majors and Jon Rahm will surely win one before too long.
One further angle of note that struck me over the weekend is the similarity between the closing holes on each course. Both the Emirates Course and Torrey Pines finish with a long par-five over water, on which any score between eagle and double-bogey is perfectly realistic. On both, if you clear the water but hit it too long, a devilish chip back towards the water awaits. The inevitable upshot is drama and volatility that can instantly transform the market. There are few finishing holes where the simplistic maxim to 'back high, lay low' better applies.
Once again, we'll have a vast bank of previous course form to study at this week's two events. The European Tour heads to Malaysia for the Maybank Championship while the PGA Tour makes it's annual pilgrimage to Scottsdale for the Waste Management Phoenix Open. Steve will be back later with previews of both events.

Follow Paul on Twitter @paulmotty