CareerBuilder Challenge: Outsiders worth chancing again in California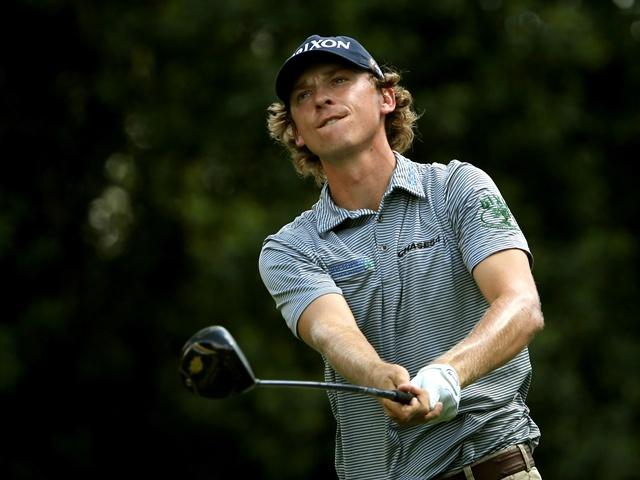 Wil Wilcox – fancied by Steve to go well this week
The CareerBuilder Challenge kicks off the West Coast Swing on the PGA Tour on Thursday so check out The Punter's comprehensive preview of the year's first pro-am here...
"Outsiders do well here. Having had one win under his belt - the Wyndham Championship five months earlier - Patrick Reed was still up-and-coming when he won here two years ago and having been matched at as high as 140.0139/1 before the off, he was the seventh winner in-a-row to trade at a triple-figure price prior to kick-off."
Tournament History
The CareerBuilder Challenge, formally the Humana Challenge, began life in 1960 as the Palm Springs Desert Golf Challenge - a five-round pro-am won by Arnold Palmer.
It was known as the Bob Hope Classic from 1965 until 2012, when Humana took over sponsorship of the event. Down on its luck and failing to attract quality fields, the event was reduced to the conventional four rounds and it's been thriving ever since.
The tournament is staged over three courses (listed below) in rotation over the first three days with the host course, the PGA West TPC Stadium Course, staging the final round and that's the best time to watch. With amateurs in attendance, the first three days are fairly slow and the coverage can be a bit dull but the pro-am aspect of the event finishes on Saturday and the professionals are left alone to fight for the title on Sunday.
The CareerBuilder Challenge is the first event on the West Coast Swing and the first pro-am of the year.

Venue
PGA West (TPC Stadium Course), par 72, 7,300 yards
PGA West (Tournament Course), par 72, 7,204 yards
La Quinta Country Club, par 72, 7,060 yards -Stroke Index in 2015 - 70.08
There's a big change to the rotation this year. The La Quinta Country Club is still in use but the PGA West Stadium Course replaces the Palmer Course as host and the PGA West Tournament Course replaces the Nicklaus Course.
For more on the three courses, please see this link below.

TV Coverage
Live on Sky Sports all four days, starting at 20:00 UK time on Thursday

Last Five Winners
2015 - Bill Haas -22
2014 - Patrick Reed -28
2013 - Brian Gay -25 (Playoff)
2012 - Mark Wilson -24
2011 - Jhonattan Vegas -27 (Playoff) (5 rounds)

What Will it Take to Win The Humana Challenge?
Stats wise, it's not going to be wise to draw too many conclusions from previous renewals, now that we have two new courses in play, but I don't expect the new tracks to be vastly different. The test is still extensively the same - desert golf at a resort venue.
The Stadium Course was used for this event in 1987 and it played so tough the pros moaned loud enough to have it immediately withdrawn from the rotation but it's been softened up since then and I still anticipate a low scoring affair so let's have a look at the stats. In the five years between 2005 and 2009, four of the five winners ranked first for putting, with Chad Campbell (who ranked 6th) the odd one out but that's all changed in the last six years.
Patrick Reed, who ranked fourth when he won in 2014, is the only one to rank inside the top-five and Brain Gay and Bill Haas managed to win despite Putting Average rankings of 38th and 39th. Prior to 2010 I'd have said putting was definitely the secret to success but hitting greens with relentless accuracy has been what's required recently.
The last six winners have had an average Putting Average ranking of 20.33 but a Greens In Regulation average of 7.3. It seems that hitting greens and setting up lots of chances is now the key but I'm not going to get hung up on the stats. Haas did rank third for GIR last year but he and Ryan Palmer, who finished tied-10th, were the only two inside the top-13 to rank any better than 20th for GIR and Brendan Steele, Sung-Joon Park and Charley Hoffman finished tied for second with respective GIR rankings of 31st, 40th and 51st!
None of the other main stats - Driving Distance, Driving Accuracy and Scrambling - appear significant but one thing of note is that four of the last five winners have ranked first for par 4 scoring.

Is There an Angle In?
The Sanderson Farms Championship was played at Annandale Golf Club between 1994 and 2013 and during that time, D.J Trahan, Chad Campbell and Bill Haas won both that event and this one. And Scott Stallings really should have done so, too. He won the SFC in 2012 and traded heavy odds-on here before blowing a five-stroke final round lead, so, although it's a little old now, Annandale form is most definitely worth close inspection.
Phil Mickelson, Mark Wilson and Kenny Perry have won both this event and the Phoenix Open fairly recently and a number of players have come close to winning both so that's another event that appears to correlate reasonably well.
One other bit of form worth checking out could be this Webb.com qualifier result from 2013. Scott Pinckney and Max Homa both figured last year and Sung Joon Park very nearly caused a huge shock at 1000.0.

Is there an identikit winner?
The CareerBuilder Challenge is an extremely difficult event to weigh up, with all types winning at various points in time. It used to be a good event for the older experienced players who could cope with the longevity of the rounds and the idle chatter with all the amateurs and plenty of event experience was important. Between 1984 and 2006, on average, the champion was playing in his 7th Bob Hope Classic but then that all changed.
Between 2007 and 2011, four of the five winners were winning on the PGA Tour for the first time and the odd man out, DJ Trahan in 2008, was winning just his second PGA Tour title. Big-hitting rookies were seemingly taking control but four years ago it was all change again, when the experienced Mark Wilson took the title in testing windy conditions before Brian Gay beat tour rookie and pre-event event 1000.0 shot, David Lingmerth, and perennial bridesmaid, Charles Howell III, in a playoff.
Having had one win under his belt - the Wyndham Championship five months earlier - Patrick Reed was still up-and-coming when he won here two years ago and having been matched at as high as 140.0139/1 before the off, he was the seventh winner in-a-row to trade at a triple-figure price prior to kick-off.
Arnold Palmer loved this event and won it five times between 1960 and 1973 and Bill Hass became the seventh player, other than The King, to win it twice so multiple winners are fairly common.

In-Play Tactics
After sitting four off the pace in a tie for 16th after round one last year, Haas sat second after round two, just one behind Matt Kuchar, and he was in front after round three. It was a reasonably straightforward victory and he was the only player to trade at odds-on, as was Reed 12 months earlier. Reed's win was even more straightforward than Haas' and he was the first wire-to-wire winner since Bruce Lietzke in 1987. Haas and Reed's routes to victory weren't the norm though.
Prior to the last two renewals this was an event in which a number of winners recovered from relatively slow starts. Haas won from five back with two rounds to go six years ago and three years before that, Justin Leonard was eight back at the same stage! And a number of winners have been four, five, six and even seven back with two rounds to go so don't fret if your pick gets off to a slow start.
In six of the last nine renewals, at least one player has traded at odds-on but ended up losing on a Sunday and in 2013 there were two. Stallings hit a low of 1.141/7 and Charles Howell III was matched at 1.42/5 but it was Brian Gay that eventually took the spoils.
We may get even more drama than in previous renewals now that the Stadium Course hosts. The 16th is a 600 yard par five which should offer up a birdie opportunity (especially for the big hitters) but the 17th (known as Alcatraz) is a par three surrounded by water with no bailout option and the par four 18th is a tough, long hole with water in play. It should be a fun finish on Sunday!

Market Leaders
The 2014 winner, Patrick Reed, is the firm favourite and rightly so. He's on a streak of six straight top-tens worldwide and if he plays like he did in Kapalua when runner-up to Jordan Spieth he'll be tough to beat.
Matt Kuchar threatened to win this last year and he was in decent form last week when finishing 13th at the Sony Open so he'll have his supporters but I'm not one of them. He's notoriously hard to get across the line and rarely appears value before the off - as is the case again this week.
Zach Johnson loomed up menacingly at halfway at the Sony last week before a poor back nine in round three saw him slip back into the pack but a top-ten finish demonstrates that he's going in the right direction with his new clubs, following a manufacturer switch at the beginning of the year. He missed the cut 12 months ago but finished third behind Reed two years ago.

Selections
Regular readers may recall that this is one of the events on the schedule in which I like to lay all the fancied players before the off and take it from there. My book hasn't been finalised as yet but the plan is to lay everyone trading at below 100.099/1 before the off and to trade the event in-running.
I have plans for Saturday evening so I don't want to get too involved this week but I plan to have everyone layed before the off to have a potential loss of around £400 with the rest of the field winning me about £500. The theory being that outsiders, not taken on before the off, then get involved over the weekend and I take them on too and short odds. That will reduce loses dramatically and from there I'll trade the event intensively on Sunday. If Reed wins wire-to-wire again I won't have a very good week but that's fairly unlikely.
I do have a few outsiders I'd like to keep onside though and so far I've backed both Tony Finau and Will Wllcox. This looks a great fit for the big-hitting Finau and Wilcox has bags of potential, ranking highly for Par 4 Performance.

Selections
Tony Finau @ 80/1 (Sportsbook)
Will Wilcox @ 120.0119/1

I'll kick off the In-Play Blog tomorrow so that I can mention any further plays and so I can outline my trading starting position with my lay book.

*You can follow me on Twitter @SteveThePunter

Discover the latest articles