BMW PGA Championship: Stick with those with proven course form, says The Punter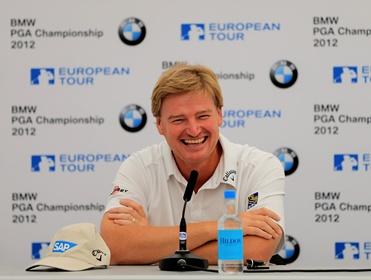 Ernie Els - one of The Punter's picks at Wentworth
It's the European Tour's flagship event this week and our man's sticking with those that have plenty of course form. Want to know what it will take to win at Wentworth this week? Read Steve's in-depth preview here to find out...
"As it's such a prestigious event, many top players make the effort to line-up but the likes of Rory McIlroy, Martin Kaymer, Ian Poulter, Padraig Harrington and Henrik Stenson have never played very well here and the chances are they'll struggle again this time around. Wentworth seems to be one of those courses you either get or don't get. Stick to those that get it."
Tournament History
This year marks the 60th anniversary of the BMW PGA Championship. First staged at Pannal Golf Club in 1955 and known as the PGA Close Championship, the event was nomadic in its early years. And not only did it move from venue to venue but it also had many name changes. 
The event disappeared from the calendar for a couple of years before returning in 1972, when it was played at Wentworth for the first time. After three years in Surrey, the event was nomadic again for nine years but it took root in Wentworth in 1984 and it's been played there ever since.
It's always well supported by players and fans alike so it's a little sad to see that it's the only European Tour strokeplay event, besides the Open Championship, to be staged in England this season. Although we do at least have the Volvo World Match Play this year - that will be staged at the London Club in Kent in October.

Venue
Wentworth (West Course), Surrey, England.

Course Details
Par 72 -7,302 yards 
Stroke Index in 2013 - 72.84
Designed by Harry Colt and opened in 1926, the West Course, also referred to as Burma Road, has undergone a series of alterations in recent years, under the supervision of Ernie Els.
All the greens were remodelled in 2009/10 and the par 5 finishing hole was radically changed. At the mercy to modern equipment, the old 18th was an almost given birdie and a great eagle chance but now, with a large stream snaking its way in front of the green, it's a stunning risk/reward finishing hole.
Wentworth is a tight, fairly flat, tree-lined course with tricky-to-read greens that run at just 10 on the stimpmeter.

Useful Sites
Event Site
Hole-by-hole guide
Twitter Link
Tee Times
Weather Forecast

TV Coverage
Live on Sky Sports - 10:00 on Thursday and Friday and 12:00 on Saturday and Sunday. Highlights only over the weekend on BBC 2

Last Five Winners
2013 - Matteo Manassero -10 (Playoff)
2012 - Luke Donald -15
2011 - Luke Donald -6 (Playoff) (Par 71)
2010 - Simon Khan -6 (Par 71)
2009 - Paul Casey -17

What will it take to win the BMW PGA Championship?
Accuracy is far more important than power at Wentworth and the last five winners have all ranked inside the top-12 for greens hit. The par fives used to be the key to victory here but that's changed a bit since the course changes. Luke Donald ranked tied second on the long holes when he made a successful defence two years ago but he's the only one to rank inside the top-10 in the last five years and last year's winner, Matteo Manassero, ranked only 44th. In contrast, the last three winners have ranked 5th, 1st, 1st, 9th and 1st on the par 4s and four of the last five winners have ranked either first or second for par 3 scoring. 

Is there an angle in?
An ability to play in the wind is a big plus but unless you've played there plenty of times before it can be a very confusing course to play. You can be in one place on the course and not feel the wind at all but then walk on a few yards and it's blowing hard. The trees hide the wind well and it's very confusing for those that don't have course experience. So much so that players are issued with a wind map as well as a yardage one.
The greens are tricky and take some getting to know too so it's not at all surprising that some players seem to thrive here and others really struggle. As it's such a prestigious event, many top players make the effort to line-up but the likes of Rory McIlroy, Martin Kaymer, Ian Poulter, Padraig Harrington and Henrik Stenson have never played very well here and the chances are they'll struggle again this time around. Wentworth seems to be one of those courses you either get or don't get. Stick to those that get it.

Is there an identikit winner?
Unlike last week's Open de España, where the home contingency doesn't have a great record, although Miguel Angel Jimenez has certainly improved it, the Brits do really well here and in recent years, the English in particular. Simon Khan and Scotland's Marc Warren both made the playoff last year and prior to that, an Englishman had won the previous four renewals. 
The 2003 renewal, when the unheralded Spaniard, Ignacio Garrido, beat South Africa's Trevor Immelman in a playoff, was an unusual result. That was the only time since 1995 that a Brit didn't finish first or second. 

In-Play Tactics
We look set for quite a windy start to the event so keep an eye on the forecasts as the draw could be pivotal. As it stands right now, Friday afternoon looks worse than Thursday afternoon. If it works out like that, a late-early draw could be what's required and it might make sense to get with those that have finished their rounds early on Friday, before the scoring deteriorates. But as always, be very careful with the forecasts - they're not always reliable.
Given the course closes with two par fives, big swings can occur. A birdie-birdie finish isn't unusual but with water in-play on 18, it is possible to blow a winning chance too. 
Most weeks I bang on about how important it is to be up with the pace but this event is different. Winners can, and often do, come from way off the pace and taking a chance on a few outsiders with a round to go can be very entertaining, and profitable. 
I was able to trade my way to a nice profit last year after backing playoff protagonist Simon Khan at 150.0149/1 and Miguel Angel Jimenez at 160.0159/1, with a round to go. Both men started the final round five off the lead but finished strongly.  Jimenez missed out on the playoff by just a stroke. 
In 2010 Khan was seven back after three rounds when he won. Jimenez came from four back in 2008 and in 2007, Anders Hansen won a three-man playoff, having trailed by five with a round to go. And in that playoff, he beat Justin Rose and Oliver Wilson, who themselves had been three and four back respectfully.

Market Leaders
As already highlighted, backing players that haven't previously played well at Wentworth doesn't pay dividends and given Rory McIlroy has form figures of MC-5-48-24-MC-MC, I'm in no rush to get with him and I'm not sure he should be favourite. 
The English trio of Luke Donald, Lee Westwood and Justin Rose all have excellent form here and although Donald is the only one of the three to win, the other two have both come very close and have been beaten in playoffs. If I had to pick one of them it would be Donald but I'm more than happy to leave them out before the off - although I'll be interested to see who McIlroy is paired with in the 72-hole match bets markets. I'd fancy any one of the three to get the better of him.
Sergio Garcia will have to lift himself after a disappointing week in Spain where, after a decent start, he could only finish 38th behind Jimenez. He finished 19th in this last year, some 13 years after his last appearance in the event, when he finished fifth. He was runner-up to Ernie Els here in the 2002 HSBC World Match Play Championship and so he has a bit of course form and I could definitely see him contending, especially with last year's refresher in the bank but I can't back him at just 20.019/1.
As already mentioned, the next two in the market, Henrik Stenson and Martin Kaymer, have only ordinary Wentworth form and both are readily left out.

Selections
I'm sticking with the tried and tested Wentworth stalwarts and first up is last week's winner, Miguel Angel Jimenez. It's asking an awful lot of him to win back-to-back on the European Tour, and his third event in-a-row if counting his Champions Tour win, but who knows with Miguel?
He finished just a shot shy of the playoff 12 months ago having opened the event with a 76, which had seen him fully 10 strokes off the lead. His game is so strong at the moment and his cares are non-existent. There is the obvious danger of too much partying but at 40.039/1, I couldn't leave him out.
Denmark's Anders Hansen has already won the event twice and he was desperately unlucky not to win last time out, so I thought he was very fairly priced at 70.069/1.
Nobody in the field knows the course as intimately as Ernie Els. He lived here for many years and he's orchestrated the recent changes too. He won the HSBC World Match Play an incredibly seven times around here but this title still eludes him. He'll have felt he missed a great chance 12 months ago when he lost by two having lost his way a bit in round three and having failed to birdie the last two holes. He's not in great form at the moment and the more the years tick by the chances of him winning it diminish but I thought he was worth chancing at 80.079/1.
My last two picks are Simon Khan, who absolutely adores it round here, and Richard Green. The left-handed Australian performed admirably in Spain last week, where he lost to Jimenez in a playoff and he too has shown an aptitude to the venue in past. He finished fifth in 2000, was eighth in 2007 and sixth 12 months later.

Selections:
Miguel Angel Jimenez @ 40.039/1
Anders Hansen @ 70.069/1
Ernie Els @ 80.079/1
Simon Khan @ 170.0169/1
Richard Green @ 200.0199/1

I'll be back tomorrow with a preview of this week's PGA Tour event - the Crowne Plaza Invitational.

*You can follow me on Twitter @SteveThePunter
Discover the latest articles