BMW Championship: US Open types can prosper at Cherry Hills, says The Punter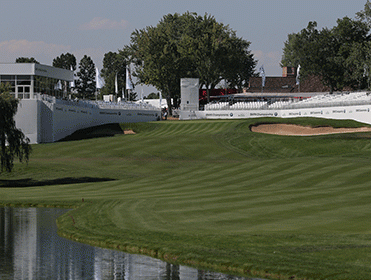 The 18th fairway and green at Cherry Hills
We're off to Colorado for the third leg of the FedEx Cup Playoff series where a beautiful but unknown Cherry Hills awaits the final 69 still standing...
"Multiple winners of Playoff Series events in the same year are relatively common and at a juicy price in a tricky heat, Hunter Mahan looked well worth risking."
Tournament History
The BMW Championship was first played in 2007, the first year of the FedEx Cup series, but it replaced the third oldest tournament in the world - the Calais Open, formerly the Western Open, which was first played way back in 1899. This is the third leg of the FedEx Cup Playoff Series and it's restricted to the top-70 in the standings only with the top-30 moving on to the finale next week at East Lake. With Dustin Johnson on his little break, the field is reduced to just 69 players.

Venue
Cherry Hills Country Club, Englewood, Colorado

Course Details
Par 70, 7,352  yards
We look to be in for a real treat this week. In addition to getting to see the European Masters (previewed here) at the stunning venue of Crans-sur-Sierre, we get to visit Cherry Hills, which also looks a picture.
Designed by William Flynn in 1922, Cherry Hills is a new venue on me and I suspect most golf fans. It's been used for four majors, numerous amateur events, including two US Amateur Championships, a US Senior Open and most recently, the 2012 US Women's Open. The last major to be staged here was the 1985 USPGA Championship so we don't have any recent form to analyse at all.
At 7,352 yards, it's certainly not short for a par 70 but given it sits a mile above sea level and that the ball travels around 10% further, it's not as brutal as its length suggests.
The rough is said to be penal and the greens are smaller than average and set to run at 11.5 on the stimpmeter.
This is what Cherry Hills resident, David Duval, has had to say about his local course on Twitter over the last few days. On Saturday he tweeted.
"A week's worth of rain has CHCC a bit soft. Hoping for some wind and sun to dry it out. Sure hope the players get to see what Cherry Hills can be when firm and fast. Length isn't everything. "
On Monday he tweeted, "CHCC is looking good. A bit soft still from all the rain. Forecast is pretty favorable at the moment. Hopefully the greens pick up a little speed and everything dries out by Thursday." And then on Tuesday, "Cherry Hills is about accuracy. Although the rough isn't too long yet it is still very difficult to play out of."

Useful Sites
Event Site
Course Site
Course Details
Course Map
Tee Times
Weather Forecast

TV Coverage
Live on Sky Sports all four days, starting at 21:00 on Thursday.

Last Five Winners
2013 - Zach Johnson -16
2012 - Rory McIlroy -20
2011 - Justin Rose -13
2010 - Dustin Johnson -9
2009 - Tiger Woods -19

What Will it Take to Win The BMW Championship?
Obviously, as we haven't seen the course in so long, it's very difficult to know what sort of test the players will face but looking at pictures of the course and reading quotes, it appears that accuracy will be the key. 
The designer was also responsible for Shinnecock Hills, which hosted the US Open recently in 2004 and will do so again in 2018 and he also designed Merion, scene of Justin Rose's US Open triumph last year and I fancy US Open form from those two venues and any other venue may be worth more than a cursory glance. It's said to be a second-shot golf course so look to those that rank highly for greens in regulation. 

Is There an Angle In?
With a Monday finish at the Deutsche Bank Championship, and a relatively long flight from Massachusetts to Colorado, the field will have very little time to get accustomed to Cherry Hills and anyone with previous experience could be at an advantage.
Cherry Hills' head pro, John Ogden, estimates that only 10% of the field would have any prior experience of the venue so it may be worth siding with those few.
Phil Mickelson won the 1990 US Amateur there and is reportedly very excited to return. Cameron Tringale played Palmer Cup golf there in 2009 and Jordan Spieth was an early casualty in the 2112 US Amateur at Cherry Hills in 2012.
Kevin Stadler grew up in the Denver area but played there just twice growing up. He has been back recently to take a look and so has Jimmy Walker, who had this to say about the place.
"I'm glad I came out to Cherry Hills and got a feel for the golf course, we're all pretty good about showing up (at a tournament) and dissecting the golf course and figuring out how to play it. But I'm hoping by playing that round I got a leg up and maybe a slight advantage."

In-Play Tactics
We need to get to know the course before judging which are the tough holes and which are the easier ones and I'll take a look at that once the event begins but look out for the 1st hole. It measures just 346 yards and Arnold Palmer drove it in round four when he won his one and only US Open title here in 1960. And as a measure of the sort of tough test this place is, the runner-up was a classy young amateur called Jack Nicklaus. 
At just 555 yards and with an island green, the par 5 17th looks highly likely to have a bearing on the final result. As already stated, we'll get a much better feel for it all once the events under way but I fancy we'll see scores ranging from three to seven here and we may well see some late drama.

Market Leaders
It's no surprise to see Rory McIlroy at the head of the market and had we seen more rain in the lead up to the event he'd be very much on my radar but after his tired looking effort at TPC Boston on Monday, he makes little appeal at just 6.05/1. Especially as he sounds as though he's a bit jaded.
"Obviously a little disappointed with the way I putted," McIlroy said after Monday's defeat at TPC Boston. "At this point I'm just looking for wins, and today was a great opportunity. But it didn't quite materialise."
"I think today was just a combination of trying too hard and then I feel like whenever I have played a lot of golf, my attitude can get sort of - I was very sort of reactive about bad shots and bad breaks today, which I haven't been the last two weeks. I think that's a little bit of mental fatigue kicking in there."
Adam Scott is another player who looks in need of a break. He likes to target the big events fresh but that's not possible in the Playoffs and he makes no appeal at all at just 15.5. And neither does third favourite, Jason Day, who as I highlighted in the De-Brief yesterday, just doesn't win often enough.
I was tempted by Justin Rose, who should be suited to the venue, but he played pretty poorly at The Barclays two weeks where he didn't do anything particularly well and I just felt he was short enough.

Selections
On a week where there are all sorts of imponderables, I can't be confident about any of my picks so stakes have been kept to a minimum but here goes.
It wasn't easy leaving my old favourite, Phil Mickelson, out of my plans last week at a venue he'd won at before but he sounded so downbeat after missing the cut at the Barclays (even talked of not playing at TPC Boston) that I decided to let him go but I'm giving him another chance here. 
He was never at the races in the Deutsche Bank but putted very well and he finished nicely with a final round of 67. And he sounded so much chirpier about his game than he had going into the event.
"I haven't driven the ball this well in a long time and my putter felt great. Even my iron shots, which have been off ... but I'm hitting better shots than I did before,"
The Barclays aside, where he had a very poor week, he's now ranked inside the top-six for putting in each of his last three events and in a field of just 69, at a venue he has the fondest of memories of, I thought he was a must bet at 38.037/1.
The 2010 US Open winner, Graeme McDowell, returns to the fray following time off last week for the birth of his daughter. It's anyone's guess how he'll play this week but I'm a bit of sucker for the 'Nappy Factor' and given he's a US Open specialist and a supremely accurate type, I thought this place could be right up his street.
Having finished 15th at the Bridgestone Invitational, seventh at the USPGA Championship and first at The Barclays, where he ranked first for greens in regulation on each occasion, Hunter Mahan, came down to earth with a shattering bump last week, when he trailed home in 64th place. That sort of performance is always possible straight after a win though and at a venue that looks made to measure he could easily return to the scintillating form he was in before. 
As I've highlighted before, multiple winners of Playoff Series events in the same year are relatively common and at a juicy price in a tricky heat, he looked well worth risking.
With such a small field, it's well worth backing a few outsiders at some ludicrous prices and the three I've picked out for a bit of fun at small stakes are US Open runner-up, Erik Compton, who played the course on Monday after missing the cut at Deutsche Bank, recent Canadian Open, Tim Clark, and one of my old favourites, Ben Crane.

Selections:
Phil Mickelson @ 38.037/1
Graeme McDowell @ 60.059/1
Hunter Mahan @ 60.059/1
Erik Compton @ 330.0329/1
Tim Clark @ 360.0359/1
Ben Crane @ at an average of 400.0399/1

I'll be back on Friday with the In-Play Blog.

*You can follow me on Twitter @SteveThePunter

***
Check out the latest Betfair Sports Update where Joe Dyer joins Timeform Radio's Brett Williams to discuss the BMW Championship as well as England v Norway and Andy Murray v Novak Djokovic in the US Open
Discover the latest articles