Barracuda Championship: Outsiders chanced at unique Nevada desert challenge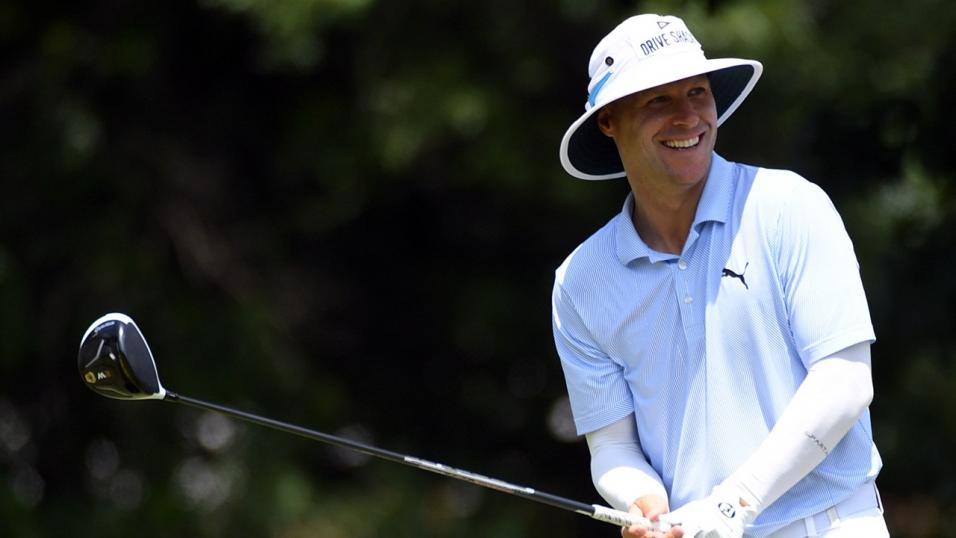 Ben Crane - one of three Punter's fancies before the off
The WGC-Bridgestone Invitational takes centre stage on the PGA Tour this week but the Barracuda Championship is an interesting event with a unique format where outsiders and veterans thrive. Read our man's comprehensive preview here...
"PGA Tour maidens used to have a strong record in the tournament and the last two winners were PGA Tour maidens but at 35 (Stroud) and 42 (Chalmers) they were certainly no spring chickens and since the format changed, the veterans have come to the fore."
Tournament History
First staged in 1999 and known as the Reno-Tahoe Open, the Barracuda Championship has always been played in the same week as the WGC-Bridgestone Invitational, with the exception of 2010 when it played opposite the Open Championship, so the field has always been fairly weak.
Since 2012, the tournament has used the modified Stableford scoring system, which was also used at the now defunct International in Colorado - another event played at altitude.
Format
Points are awarded depending on a player's score on each hole thus;
Albatross: 8 points
Eagle: 5 points
Birdie: 2 points
Par: 0 points
Bogey: -1 point
Double-bogey or worse: -3 points
The player with the highest score after 72 holes will be the winner.
Venue
Montreux Golf and Country Club, Reno, Nevada
Course Details
Par 72 -7,472 yards
Stroke Index in 2017 - 70.84
Designed by Jack Nicklaus and opened in 1997, Montreux is located between Lake Tahoe and Reno, flowing through high desert and pine forests. It has an elevation of over 5,500 feet so the ball travels much further than it would at sea level and the course doesn't play anywhere near as long as its yardage suggests.
The fairways are generous and undulating and the bentgrass greens are of average size. They usually run at around 12 on the stimpmeter. The scoring is always low here and Scott Piercy posted the course record of 61 here when he won seven years ago, before the event was played in this format.
TV Coverage
No coverage on Sky
Last Six Winners
2017 - Chris Stroud 44 points (playoff)
2016 - Greg Chalmers 43 points
2015 - J.J Henry 47 points (playoff)
2014 - Geoff Ogilvy 49 points
2013 - Gary Woodland 44 points
2012 - J.J Henry 43 points
What Will it Take to Win the Barracuda Championship?
Since the tournament switched to the modified Stableford scoring system, five years ago, the usual tournament stats haven't been published but that hasn't proved to be too much of a problem as the tournament is basically just a low-scoring birdie-fest.
Last year's winner, Chris Stroud, was aided greatly by the ten points gained thanks to two eagles but the runner-up, Greg Owen, who was beaten in a playoff, made 27 birdies during the week. That was two more than anyone else and had he managed to sneak in an eagle somewhere along the line, he'd have pipped Stroud for the title.
Steve Wheatcroft, who finished tied fifth, made more birdies than anyone else two years ago (23) but the winner, Greg Chalmers, and the third, Colt Knost, ranked tied second with 22 apiece and Gary Woodland, who finished second, fired in 21 birdies.
J.J Henry, who was winning the event for the second time in four years three years ago, ranked first for birdies made with a total of 27 and five of the first six home that year ranked inside the top-five and ties for birdies made. The exception was the beaten playoff protagonist, Kyle Reifers, who made his score courtesy of five eagles! Like Stroud last year, Chalmers made only two eagles in 2016 but in each renewal, only one player made more than two.
Scott Piercy and J.J Henry both made more eagles than anyone else when they won in 2011 and '12 and now that the event uses the modified Stableford scoring system, it's even more important to make hay on the long holes. With the scoring system the way it is, with 5 points available for an eagle, even making one during the week is a big plus. Just ask Greg Owen.
The PGA Tour produce four different stats relating to eagles scored but I doubt they'd be much use. For what it's worth, Keegan Bradley tops the Total Eagles stats here but that's curtesy of five made only last week and the Birdie Average stats here might be of more use.
Is There an Identikit Winner?
The Barracuda field is largely made up of players that don't usually get a start in some of the stronger PGA Tour events. That classic blend of youth and experience, some are new to the PGA Tour and only just finding their feet and some are veterans that have tumbled down the rankings.
PGA Tour maidens used to have a strong record in the tournament and the last two winners were PGA Tour maidens but at 35 (Stroud) and 42 (Chalmers) they were certainly no spring chickens and since the format changed, the veterans have come to the fore.
All five men to win the six editions (JJ Henry has won it twice) since the format changed from stroke play to Stapleford have remarkably similar profiles. As already mentioned, the last two were winning on the PGA Tour for the first time but the first four winners under this format weren't in-form recent winners...
When he won the first of his two titles, in 2012, Henry had been without a win in six years and he did next to nothing for three years before going in again in 2015. The 2012 champ, Geoff Ogilvy, hadn't won anywhere for four years and the 2013 winner, Gary Woodland, had been under something of a cloud and hadn't won anywhere in two and half years. Chalmers was a first time PGA Tour winner but he'd won multiple times in his native Australia but he'd won just once (in 2014) in the five years preceding his success here and it had been four years in-between Stroud's playoff defeat at the Travelers Championship and his victory here.
Under this new format, Montreux appears to be somewhere that players can put all their woes to one side and where they can just go for it and see what happens and outsiders tend do well. We haven't had a well-fancied winner since the format changed. Stroud was an 80.079/1 chance 12 months ago and Chalmers was virtually impossible to pick in 2016.
In-Play Tactics
Stroud really threw a spanner in the trend backers works last year, scoring a massive 20 points on Sunday to rally from tied 22nd after 54 holes to get in to the playoff with Richy Werenski and Greg Owen - who had sat first and second at halfway.
Obviously, Stroud has shown us that it's perfectly possible to rally from off the pace and take the title (he made nine birdies in round four and eagled the last!) but had either of the other two playoff protagonists had won we'd have been looking at very strong trends favouring the frontrunners...
Montreux is a frontrunners course as a rule and getting with the early leaders is usually the way to go here. In addition to Stroud, Scott Piercy is the only other anomaly in 15 years. He trailed by seven strokes after both rounds one and two and he got to the front courtesy of breaking the course record in round three in 2011 but he's the only other winner in the last 15 years to be more than three strokes or five points (Stableford format) back after round one. Stroud earnt nine points in round one last year and he trailed by six points.
Other than Stroud and Piercy, John Rollins, who was 18th and three strokes back in 2009, is the only other winner to be outside the top-six on the leaderboard after day one and just to hammer home the point to exhaustion - 13 of the last 15 winners at Montreux have sat first, second or third at halfway.
Chalmers shot one less point than first round leader, Martin Laird, in 2016 but he led from then on in and that's far more typical of the route to victory here than Stroud's remarkable comeback.
Henry sat third after rounds one and two in 2015 and he was in front after round three. Ogilvy sat second after rounds one and two in 2014 and he too was in front after round three and Woodland won wire-to-wire the year before. Making up ground on the leaders is very hard and getting stuck in after the first round looks the best way to play this one, regardless of last year's result.
The six winners before Stroud, and all five in the new format, were in front with a round to go. Had Owen won the playoff 12 months ago, we'd be looking at seven third round leaders in-a-row converting.
Market Leaders
It's only three years since Shane Lowry won this week's other event on the PGA Tour, the WGC-Bridgestone Invitational (previewed here) and it's only two years since he went into the final round of the US Open with a four-stroke lead so he won't struggle for motivation this week.
The 31-year-old Irishman hasn't been at his best in a while but his top-12 finish in Canada last week was eye-catching. Whether it was quite striking enough to make him a value play at a shad over 20/1 is debatable though and he's not for me.
With form figures reading 5-2-15-8, 30-year-old American, Joel Dahmen, is the most in-form player in the field but his worst performance (15th) came in another opposite field event two weeks ago (the Barbasol Championship) and I just wonder whether knowing he has a great chance to win for the first time on the PGA Tour might just count against him. His best performances have come in much better events than this and he'll know this is a great opportunity.
Last year's beaten playoff protagonist, Richy Werenski, was second in the Barbasol two weeks ago and that wasn't his only high finish this season. He was also fourth at the St-Jude Classic in June, so it's understandable that he's one of the market leaders but he's not for me given he's yet to win and given outsiders have such a good record in the event. At 26, he doesn't fit the age profile of recent winners either.
Selections
With most punters focussed on the much stronger WGC-Bridgestone Invitational, the market hasn't matured yet but the three I'll be interested in before the off are Steve Wheatcroft, who made more birdies than anyone else here two years ago when he finished fifth, Brandon Harkins, who ranks highly on both the scoring stats highlighted above, and my old favourite, Ben Crane, who started really well last week with and opening 66 before he missed the cut! That might anger him in to a response this week and he knows how to rack up the birdies.
Selections:
Steve Wheatcroft @ circa 100.099/1
Brandon Harkins @ circa 100.099/1
Ben Crane @ circa 100.099/1
I'll be back later on or tomorrow with my Fiji International preview.

*You can follow me on Twitter @SteveThePunter

Discover the latest articles
Read past articles