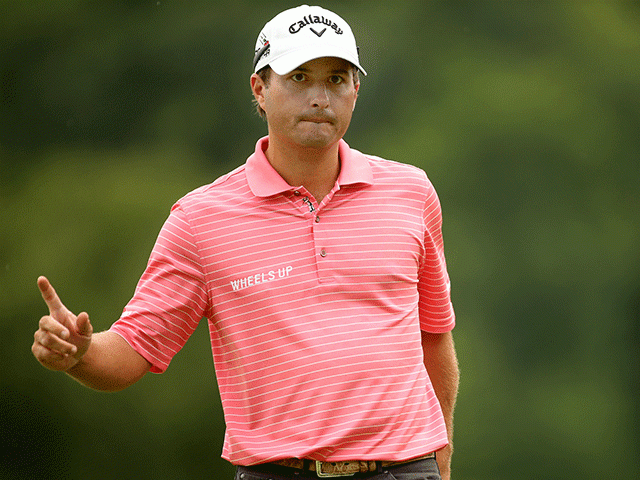 Kevin Kisner – the favourite to win at Bay Hill
Kevin Kisner and Charley Hoffman are tied at the top with a round to go in the Arnold Palmer Invitational at Bay Hill so read Steve's final in-running thoughts ahead of the fourth and final round here...
"Of the 19 men to take the title since Mickelson won in 1997, 14 were either in sole possession of the lead after 54 holes or they were tied at the top. Winning from off the pace here is tough and we have to look very hard at the two leaders."
10:00 - March 19, 2017
Kevin Kisner was matched at [1.91] yesterday, as he led by four with a hole to go of round three of the Arnold Palmer Invitational, but a bogey at the last and a remarkable finish by halfway leader, Charley Hoffman, who birdied the last three holes, has resulted in the two being tied at the top with a round to go. Here's the 54-hole leaderboard with prices to back at 09:50.

Kevin Kisner -11 [3.05]
Charley Hoffman -11 [4.4]
Tyrrell Hatton -8 [10.5]
Matthew Fitzpatrick -8 [13.5]
Marc Leishman -8 [15.5]
Adam Hadwin -7 [24.0]
Lucas Glover -7 [32.0]
Rory McIlroy -6 [14.0]
-6 and [55.0] bar

I've been stressing the importance of being up with the pace in this event all week and we have to go back 20 years to find the last winner to be outside the first three places with a round to go - Phil Mickelson shot 65 in 1997 to win by three having sat two adrift and tied for fifth through 54-holes.

We've seen winners trail by further than Lefty since 1997 but they've all been inside the top-three places at this stage. Tiger Woods trailed Sean O'Hair by five strokes with a round to go before he went on to win in 2009 and both Chad Campbell and Matt Every won from four adrift but they sat second and third respectively.
Of the 19 men to take the title since Mickelson won in 1997, 14 were either in sole possession of the lead after 54 holes or they were tied at the top. Winning from off the pace here is tough and we have to look very hard at the two leaders.
I'm a bit annoyed that I'm not in a far better position this morning - I could have been sitting pretty having signed off yesterday's update with "I was very tempted to add Hoffman and/or Kisner, given how important it is to be up with the pace, but after much deliberation I'm going to stick with Fitzpatrick for now and see what today brings."
I'm not going to let that cloud my judgement now though and I'm happy to back Kisner at [3.05]. Charley Hoffman finished with a run of three straight birdies yesterday which included a 70-foot putt on the 18th but I highlighted yesterday how all four of his previous PGA Tour wins were from off the pace and his record when leading with a round to go is no better than his record when leading at halfway.
Hoffman converted from the front on the Web.com Tour way back in 2004 when he won a three-man playoff at the Permian Basin Classic but he's been beaten on four subsequent occasions when final round scores of 75, 70, 77 and 72 have seen him finish eighth, fourth, sixth and seventh. It needs to be highlighted that the first two defeats where way back in 2005 and on the Web.com Tour but the latest two were as recent as 2013 - at the Heritage and the Travelers Championship.
Hoffman's record from the front doesn't inspire confidence and he wobbled on the back-nine yesterday, whereas Kisner has done little wrong and his record when bang in-the-mix is much more admirable.
Kisner has been tied at the top three times before and he's held a clear lead once. On the first occasion, at the Mylan Classic on the Web.com Tour, he shot 70 and was beaten by three but he's been rock solid in-the-mix ever since.
A 68 in round four of the Chile Classic, again on the Web.com Tour, in 2013, saw him win by a stroke but a final round 70 at the HSBC Champions in 2015 wasn't quite enough to beat Russel Knox. And that defeat was hard to take for Kisner who had looked overdue a maiden win on the PGA Tour after three playoff defeats earlier in the year at the Heritage, the Players and the Greenbrier Classic, where on each occasion he'd done nothing wrong. Redemption followed a month later when he powered to victory at the RSM Classic, converting a three-stroke 54-hole lead into a six-stroke demolition with a final round 64. Kisner is considerably shorter than Hoffman but rightly so.
If both leaders are to fail, Tyrrell Hatton is the most likely to benefit according to the market but things haven't gone his way on a Sunday of late and I'm not entirely convinced he should be so much shorter than either Marc Leishman or Matthew Fitzpatrick on the same score.
I wrote yesterday about how infrequently Leishman wins so I can see why he's the biggest of the three tied for third and three back but I certainly haven't given up on Fitzpatrick. A sticky start put him behind the eight ball yesterday but he could easily bounce back today and he's been more prolific than Hatton to date.
Rory McIlroy played some sublime golf yesterday to shoot a bogey-free seven-under-par 65 and now that he trails by only five, he has a legitimate chance to take the title, having been matched in-running at [150.0], but if there is to be an off-the-pace winner, at twice the price of Rory and a short closer to the lead, last week's winner, Adam Hadwin, could be the most likely candidate.
We haven't had a playoff in this tournament this century and I'm not sure we will this time around either. Kisner's record in-contention is very good, and far better than Hoffman's, and their lead over the remainder is huge given how well 54-hole leaders have fared here. The [3.05] on offer about Kisner is morethan fair and I'm happy to play him.
I'll be back tomorrow with the De-Brief.

11:25 - March 18, 2017
Pre-event favourite, Rory McIlroy, trails halfway leader, Charley Hoffman, by 11 strokes at the Arnold Palmer Invitational and the well-backed second favourite, Henrik Stenson, has missed the cut. It was a very disappointing effort from the Swede, who was backed from [14.0] to [8.4] before the off and he certainly wasn't helped by this debacle yesterday on the par four 11th...
WATCH: Henrik Stenson takes several attempts to hack out of the water at Bay Hill! https://t.co/lodNztF44N #GolfOnSky pic.twitter.com/na7UoZPRmf

? Sky Sports Golf (@SkySportsGolf) March 17, 2017

The leaders are quite well strung out now, given we've only played two rounds, and here's the latest standings with prices to back at 11:15.
Emiliano Grillo -9 [5.9]
Matthew Fitzpatrick -8 [8.4]
Kevin Kisner -7 [10.0]
Marc Leishman -7 [13.5]
Lucas Glover -7 [14.5]
Francesco Molinari -6 [16.0]
-5 and [28.0] bar

Course-specialist, Matt Every, trailed by nine strokes at this stage in 2014 before he went on to win the first of his two titles but that's a little misleading given Adam Scott was seven clear of everyone through 36 holes and he messed up badly. The Aussie was still three clear after a jaded 71 on Saturday but he was reeled in easily on Sunday when he limped round Bay Hill in 76 strokes.
Vijay Singh (2007) and Tiger Woods (2008) have both won this event from seven adrift at this stage and Tiger was five back in 2009 - as was Fuzzy Zoeller way back in 1985 - but those three and Every apart, every other winner of this event, dating right back to 1979 when the event was first played at Bay Hill, has been within four strokes of the lead at halfway. It might make sense to concentrate on the leaders...
At first glance, four time PGA Tour winner, Charley Hoffman, looks a great price at [7.0] given how hard it is to win from off the pace here and that half of the winners this century have been leading at halfway but his record when leading through 36 holes is woeful. I still think there's a tiny bit of juice in his price but on the five occasions he's led at this stage previously on the PGA Tour he's finished second, sixth, third, 33rd and 14th and those really poor last two efforts were as recently as last April. Charley's a tough nut though - a week after crashing at The Heritage, he won the Texas Open and he might be one to consider carefully if he slips back today. With all four of his PGA Tour wins he's trailed by at least two strokes with a round to go.
Emilio Grillo played the par fives in six-under-par yesterday with two eagles and two birdies and par five scoring is always key here. If he can master the long holes over the weekend he could be the one but there's no value in his price at all. Grillo was never very convincing in-the-mix on the European Tour and he fell over the line at the Frys.com Open in 2015 on the PGA Tour. He will win more events and he may even win this one but he's a poor price to do so at this stage.
I'm happy to stick with Matthew Fitzpatrick who fared okay yesterday. He's shown he has plenty of bottle in-contention and I see no reason why he shouldn't contend all the way to the line but the three man just a shot behind him - Kevin Kisner, Marc Leishman and Lucas Glover - all command respect.
Kisner finished with a wet sail yesterday, birdying five of his last six and six of his last eight holes, so he's clearly found something but what if he's lost it overnight? If he hits the ground running again today he'll be the one they all have to beat but he might just get frustrated if he can't rediscover his touch today.
Leishman should have arguably won a major and Glover already has (the 2009 US Open) so both have undoubted class but neither are for me. Leishman has a poor in-contention record and still only has one PGA Tour title to his name and Glover's putting has been awful for years now. His tee-t-green game is up there with the very best but his activities on the green are painful to watch and doubly so if money has been invested.
Francesco Molinari is yet to win in the States, is notoriously shaky in-the-mix, and is not one to side with in win markets at low prices. And I'd consider [16.0] low given he's four off the lead.
I was very tempted to add Hoffman and/or Kisner, given how important it is to be up with the pace, but after much deliberation I'm going to stick with Fitzpatrick for now and see what today brings.

10:50 - March 17, 2017
A combination of a crisp cold start to the day and a blustery morning saw the early starters struggle a bit on day one of the Arnold Palmer Invitational and only one of the top-seven (joint-leader Emiliano Grillo) played in the morning. It was a tougher than expected day all round but the afternoon starters averaged 1.25 better than their morning counterparts - averaging 73.08, compared to 74.33.
Many of the fancied candidates struggled and the defending champ, Jason Day, who trails Grillo and Matthew Fitzpatrick by three after an opening two-under-par 70, fared best of the market leaders. Pre-event favourite, Rory McIlroy, could only shoot two-over par and the well-backed Henrik Stenson, who I played before the off, fared even worse, firing a three-over-par 75.
The stats suggest Rory and Henrik are really up against it given seven of the last eight winners have been inside the top-ten after round one and that every winner since 1996 has shot 72 or better in their opening round. Jason Day won wire-to-wire 12 months ago and I'm taking a very small chance on first round leader Fitzpatrick.
Despite his tender age of just 22, Fitzpatrick has already won three times on the European Tour and I've written a few times about how he's worth supporting when he starts well - as opposed to backing him before the off.
The Sheffield star often starts slowly but when he does hit the ground running he tends to have a decent week. On the three occasions to date that he's been leading or within one stroke of the lead after round one he finished third in the Czech Masters, first at the British Masters and first at the Nordea Masters. Winning on the PGA Tour is the next logical step for Fitzpatrick and he looks a decent price at [14.5] given he's no bigger than 12/1 on the High Street.
It was a tricky day yesterday and the tournament looks wide open now so picking the winner is tough but idiot of the week is all sewn up...
Amongst stiff competition, Cody Gribble has to be a leading contender for daftest name on tour but if he's daft by name he's daft by nature. Take a look at this incredible clip of him deciding it's a good idea to goad a gator!
Don't try this at home.

pic.twitter.com/BUumzwPH21

? PGA TOUR (@PGATOUR) March 16, 2017
I'll be back tomorrow with another look at the halfway stage.

Pre-Event Selections:
Henrik Stenson @ [14.0]
Hideki Matsuyama @ [18.0]
Zach Johnson @ [75.0]
Morgan Hoffman @ [250.0]

In-Play Bets:
Matthew Fitzpatrick @ [14.5]
Kevin Kisner @ [3.05]

*You can follow me on Twitter @SteveThePunter