Alfred Dunhill Links Championship: Avoid Ryder Cup stars and go for links-loving outsiders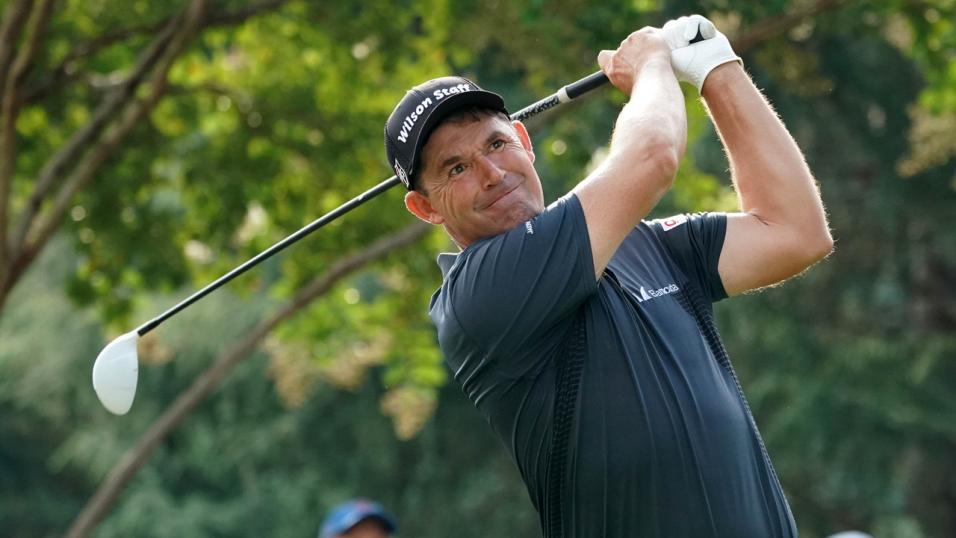 Padraig Harrington – fancied to relish the windy conditions this week
After the Ryder Cup excitement we're back to stroke-play this week, but with a twist. It's the European Tour's only pro-am, played out over three fabulous links tracks.
"I missed the triple-figure price available on in-form two-time winner, Padraig Harrington, but I was happy enough with 75.074/1 given how well he's playing and how much he'll relish the windy conditions."
Tournament History
The Alfred Dunhill Links Championship is the European Tour's only pro-am. It's only been in existence since 2001 but it feels like an established tradition and it's an event that many look forward to with relish. A stellar line-up of pros and celebs do battle over three iconic links venues over four days, with those who make the cut after round three getting to play St Andrews for a second time.
We're in for a treat this year with a number of Ryder Cup stars, from both teams, staying over to play and this is arguably one of the best line-ups in the tournament's history, although Thorbjorn Olesen has now withdrawn.
Event Structure
Each pro is partnered by one amateur and the teams of two each play the three separate links courses (detailed below) in rotation over the first three days. The cut is made after the third round, when the top 60 pros and ties and the top 20 teams progress to the final round at St Andrews on Sunday.
Venues and Course Details
St Andrews (Old Course), Fife, Scotland
Par 72, 7,307 yards
Hole averages in 2017 - 70.18
Affectionately known as the 'The Old Lady', St Andrews is the course every golfer wants to play. It hosts the Open Championship every five years, it's universally referred to as 'the home of golf' and, like all links courses, it plays very differently depending on the weather. In benign conditions on day four last year, runner-up, Ross Fisher, fired an 11-under-par 61 to break the course record.
The par four 17th hole, known as the 'road hole', is the toughest on the course and a par there is always acceptable. Last year it averaged 4.41. The back-nine is tougher than the front-nine and the toughest stretch on the course is the final third. The 13th, 16th and 17th have all averaged over-par in each of the last nine years and the par four 15th has averaged over-par in seven of the last nine. The greens at St Andrews are usually set to run at around 10 on the stimpmeter.

Carnoustie, Angus, Scotland
Par 72, 7,345 yards
Hole averages in 2017 - 72.52
Carnoustie has been used for the Open Championship eight times to date and it was the scene of Francesco Molinari's magnificent triumph in July. On the previous occasion, in 2007, Padraig Harrington edged out Sergio Garcia in a play-off but it's best remembered as the venue where Jean Van De Velde lost the plot in 1999 when on the 72nd hole, he blew a three-shot lead after finding the Barry Burn.
Often referred to as Carnasty, Carnoustie is also famous for its treacherous pot bunkers and it's the toughest of the three venues faced this week but the set-up this week, because they have to avoid making the amateurs looking foolish, is nowhere near as tough as it is at the Open. Tommy Fleetwood shot 63 to break the course record last year.
The finish is tough and the final three holes all averaged over-par last year, ranking as the third first and fourth toughest holes. Combined they ranked almost a full stroke over-par. The greens at Carnoustie are expected to run at around 10.5 on the stimpmeter.

Kingsbarns, St Andrews, Fife, Scotland
Par 72, 7,227 yards
Hole averages in 2017 - 71.55
The newest of the three venues and located just seven miles from St Andrews, Kingsbarns is a Kyle Philips design that opened to much acclaim in 2000. With generous fairways and few water hazards, it's not a stern test in good weather. The 2012 winner, Branden Grace, opened up with a round of 60 at Kingsbarns.
The back-nine is tougher than the front and last year six of the toughest seven holes were all played after the turn. The greens at Kingsbarns usually run at around 9.5 on the stimpmeter.
TV Coverage
Live on Sky Sports all four days, beginning at 13:30 on Thursday but be warned, a lot of the coverage focuses on the amateurs for the first three days and the cameras are placed primarily at only one course - the one all the main players have been 'drawn' to play at that day. It's hard going for the first three days, unless you want to see how good Hugh Grant or Huey Lewis are at playing golf.
Last Five Winners
2018 - Tyrrell Hatton -24
2016 - Tyrrell Hatton -23
2015 - Thorbjorn Olesen -18
2014 - Oliver Wilson -17
2013 - David Howell -23 (playoff)
What Will it Take to Win the Alfred Dunhill Links Championship?
What you do off the tee here is largely irrelevant. Last year's winner, Tyrrell Hatton, ranked 39th for Driving Accuracy, having ranked 15th in 2016 when he won it for the first time, but that was the most accurate any winner had been off the tee in the last seven years.
David Howell, the 2013 champ, ranked 14th for Driving Distance and Branden Grace ranked 15th the year before but five of the last seven winners have ranked outside the top-30 for DD and Hatton ranked 47th in 2016 and 59th last year so you certainly don't need to be bombing it off the tee to win this event.
The shock 2014 winner, Oliver Wilson, ranked in the 60s for Greens In Regulation but that was unusually high and six of the last eight winners have ranked inside the top-ten for GIR. Hatton ranked ninth in 2016 and first 12 months ago.
Hatton has ranked number one for Par 4 Scoring in each of the last two years and six of the last ten winners have played the par fours better than anyone else so Par 4 Scoring is probably a better stat to ponder that GIR. And given how easily the course is set up, to accommodate the amateurs in the field, those that contend make lots and lots of birdies. Nobody made more than Hatton two years ago, or Olesen 12 months earlier, and Wilson, who made 19 birdies and an eagle four years ago, is the only winner in the last eight years to make less than 22 on the week. Hatton made 26 in 2016 and 2007 and Branden Grace made 27 in 2012! The first three home ranked third, first and second for Birdie Conversion 12 months ago.
This is nearly always a birdie-fest where going low is essential but the winner might just need to be a decent wind player, too. At this early stage, a troublesome breeze is forecast to annoy everyone all week long but it looks likely to be at its strongest on Thursday and Saturday.
Is There an Angle In?
Although he'd missed his three previous cuts in this event, prior to winning for the first time two years ago, Hatton had plenty of links form in the bag. He was placed in the 2015 Irish Open in foul conditions and prior to his victory here, he'd finished second in the Scottish Open and fifth in the Open Championship. All 16 event winners have been renowned links players so look closely at the results of the Irish and Scottish Open, the first two editions of the Paul Lawrie Match Play and, of course, the Open Championship, for clues. All of those events are also staged on links courses.
With last year's victor being the defending champion, I'm at risk of stating the bleeding obvious here but previous tournament form has counted for plenty too. Even though they were all outsiders, matched at triple-figure prices, the three winners between 2013 and 2015 had all finished inside the top-three in the event before they won.
Is There an Identikit Winner?
Having grown up playing links golf, players from the UK and Ireland have a sizable advantage and an incredibly good event record - 13 of the 17 winners to date have been English, Scottish or Irish.
Having blown a great chance to win the British Masters the week before, Hatton was generally a 25/1 chance 12 months ago but outsiders have had a great record of late. Hatton went off at around the 60.059/1 mark in 2016, having been matched at 85.084/1 on the Monday, but he was well-fancied compared to a lot of winners! Olesen was matched at 240.0239/1 12 months earlier and the year before that, playing on a sponsor's invite, a woefully out of form Oliver Wilson was understandably matched at 999/1. David Howell was also matched at 240.0239/1 before the off four years ago, Branden Grace was getting on for a triple-figure price in 2012, and Michael Hoey was a huge outsider in 2011.
In-Play Tactics
The first-round leader/leaders might be worth close scrutiny given three of the last eight winners have been in front after round one and being up with the pace is usually key. In 2016 Hatton had sat tied for fifth and just three off the lead after round one and Olesen trailed by four strokes after round one three years ago but the fact that they'd already played Carnoustie meant that they had the easiest of the three venues, Kingsbarns, still to play. Hatton sat third after round one, having played St Andrews, last year and he was never headed after that.
It's really difficult to make up ground and four strokes is probably about as far down the early leaderboard as I'd like to go after round one. We've now had 17 renewals and only two winners have been any further back than four strokes after round one - Paul Lawrie in 2001 and Stephen Gallacher in 2004.
Being drawn at Carnoustie on Thursday has been a big plus recently, with four of the last five winners all beginning the week there. David Howell and Peter Uihlein fought out a play-off in 2013, having both begun the week there, the first five home in 2014 all played there on day one, the first three home in 2015 all began the week at Carnoustie and the winner, as well as the runner-up and the fourth, all played Carnoustie on Thursday two years ago. Being drawn there on day one has clearly been advantageous of late but it wasn't last year and I'm not convinced it will be this time either.
Playing the toughest course on day one if the weather's bad could be a bad break, given how low the scoring usually is, so the weather forecast will need monitoring. Hatton was drawn at St Andrews on day one last year and he played Carnoustie on the right day (Friday) given he shot 65 and Fleetwood broke the course record that day. Avoiding Carnoustie on Thursday may be the way to go this year too - despite recent trends. At the time of writing, the forecast suggests Friday could transpire to be the best day to play there, when the wind is at its calmest.
The best plan might well be to wait until after the first round though, and to survey the situation after that. The forecast may well change considerably before now and the off but if it doesn't, anyone that plays OK at Carnoustie on Thursday in the windy conditions could be worth siding with given they'll be playing either St Andrews or Kingsbarns in the benign conditions on Friday.
Market Leaders
Ryder Cup fatigue is almost certainly going to be an issue this week but US Open and PGA Champion, Brooks Koepka, is still a worthy favourite. He's the sort to shrug off Team USA's defeat and move swiftly on and he has plenty of event form to suggest he's the man to beat.
After finishing 50th on debut back in 2013 he made the top-ten 12 months later before finishing runner-up to Olesen in 2015. He was gunning for his third title then, having won in Turkey on the European Tour, 11 months earlier, and at the Phoenix Open on the PGA Tour in the February, but he wasn't the accomplished in-contention machine that he is today.
Both his US Open wins came on linksy tracks - Erin Hills and Shinnecock - and he has a pair of top-tens in the Open Championship so he's already an established, exceptional links exponent. Whether he's value at around the 10/1 mark so soon after the Ryder Cup and in an event where outsiders fare well is debatable and the same can be said of all the market leaders...
It's very hard to see Tommy Fleetwood being able to prepare properly after his week in Paris. The after party alone will have taken its toll and settling himself down after such a tremendous Ryder Cup debut isn't going to be easy. He does have a reasonable bank of event form though, stretching all the way back to 2011 and reading 5-55-5-2-13-15-25. It was in this event that most golf observers first sat up and took notice of Tommy when he was fifth behind Michael Hoey.
The market can't split the hat-trick seeking Hatton or America's Tony Finau but I'd definitely favour Tyrrell over Tony. Hatton's case is patently obvious whereas this is the American's first appearance and he's hardly prolific, with just one PGA Tour title, the 2016 Puerto Rico Open, to his name so far.
Selections
Ross Fisher isn't playing brilliantly this year but he was playing even worse 12 months ago when he popped up to finish second for a third time and for the second year in-a-row so he's onside at 55.054/1 and its outsiders all the way after that...
Haotong Li is in fine fettle and he's a fabulous links exponent so I've backed him at 75.074/1, despite the fact he's making his debut. Li is a real character and just the type to take to the pro-am format - the fact it's being played out on three fantastic links courses is just an added bonus.
I missed the triple-figure price available on in-form two-time winner, Padraig Harrington, but I was happy enough with 75.074/1 given how well he's playing and how much he'll relish the windy conditions and I thought 90.089/1 was far too big for Scottish Open winner, Brandon Stone.
I couldn't resist Carnoustie member, Matthew Southgate, at 120.0119/1 or one of last year's fancies, Callum Shinkwin, who is almost twice the price this time around on account of him not having just finished second at the Scottish Open. He really should have won that event and it's taken him time to get over it but he's creeping in to form now and this looks ideal for him. And finally, I've also played Mr 59, Oliver Fisher, who was seventh 12 months ago. I managed to get a tiny amount matched on him at 250.0249/1.
Selections:
Ross Fisher @ 55.054/1
Haotong Li @ 75.074/1
Padraig Harrington @ 75.074/1
Brandon Stone @ 90.089/1
Matthew Southgate @ 120.0119/1
Callum Shinkwin @ 220.0219/1
Oliver Fisher @ 250.0249/1
I'll be back later with my Safeway Open preview.
*You can follow me on Twitter @SteveThePunter
Discover the latest articles
Read past articles