AfrAsia Bank Mauritius Open: Big-hitter Lombard to enjoy the venue, says The Punter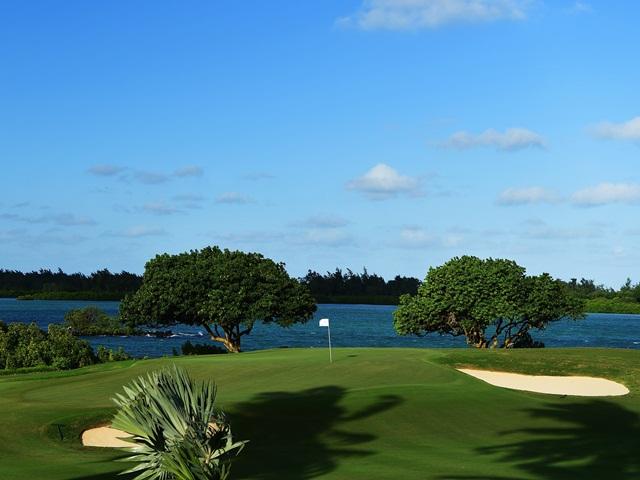 The 17th hole at the Four Seasons Golf Course at Anahita
The European Tour moves on to Mauritius for the second edition of the AfrAsia Bank Mauritius Open. Here is Steve Rawlings' detailed take on this week's test...

"Lombard could sulk after last week's disappointing weekend and perform poorly here and it's certainly a risky play but I prefer to think he played well for two days last week despite the course and now that he has to chance to open up his shoulders and to use his power he could have a good week."
Tournament History
This is just the second renewal of the AfrAsia Bank Mauritius Open. George Coetzee beat Thorbjorn Olesen in a playoff in the inaugural event, staged at a different venue, last May. The AfrAsia Bank Mauritius Open is the only event that's tri-sanctioned between the European, Asian and Sunshine Tours.
Venue
The Four Seasons Golf Course at Anahita, Beau Champs, Mauritius
Course Details
Par 72, 7,401 yards
Designed by Ernie Els and opened in 2008, the course is described on Ernie's website as being 'beautifully complemented by surrounding lagoons and breathtaking mountain backdrops'.
"One of the strengths of this golf course is we were able to maximise the visual impact of the surrounding scenery, but at the same time preserve the coastline's natural beauty," Els says. "The hole- routings move in and out of the trees, along the water, and back, giving players great variety and magnificent views of the ocean.
"Another of the features that makes this course stand out are some of the interesting design touches that we've been able to integrate into the layout; such as the use of existing dry-stone walls as strategic hazards, links-style burns and classic, grass-downed bunkers which reveal just a sliver of sand from the player's-eye view."
The course is long with wide Bermuda fairways, deep fairway bunkers, and large undulating TifDwarf Bermuda greens.
TV Coverage
Live on Sky Sports all four days, starting on Thursday at 7.00
What Will it Take to Win The AfrAsia Bank Mauritius Open?
With no stats to go on, it goes without saying we're in the dark here but given the course is over 7,400 yards long with wide open fairways, and that the European Tour website describes it as 'a course that is suited to long hitters' it may make sense to dismiss the short accurate types.
I've looked at photographs of the course and it does look like a venue to suit the big hitting and not necessarily accurate drivers.

Is There an Angle In?
This is the first time the venue has been used on the European Tour but we do have some form to peruse. The limited field 54-hole Mauritius Masters has been played here for the last six years. Here are the six winners and I've also included the last two leaderboards.

2010 - Nicolas Colsaerts
2011 - Gregory Havret
2012 - Christophe Brazillier
2013 - Francois Calmels
2014 - Max Orrin
2015 - Max Orrin

2014 Leaderboard
-6 Max Orrin
-4 Hennie Otto
-2 Benjamin Hebert
-2 Julien Guerrier

2015 Leaderboard
-9 Max Orrin (winner)
-9 Francois Calmels
-8 Johan Carlsson
-6 Sebastien Gros
-6 Nicolas Colsaerts
-6 Victor Riu
-5 Hennie Otto

Both Nicolas Colsaerts and Hennie Otto are affiliated to the course so they'll be very familiar with the place and the two time winner, Max Orin, is also in this week's line-up.
In-Play Tactics
This is a low grade event and nerves will almost certainly play a part at the business end of the tournament. Only last week we saw Nacho Elvira trade at 1.011/100 in Morocco and get beaten, although he did nothing wrong, so if you have a pick leading with a few to play, laying a bit back to ensure a profit might make sense.
Orrin almost threw the Mauritius Masters away last year with a wobbly back-nine and Frenchman, Julien Guerrier, tossed away the 2014 edition when shooting 39 on the back-nine in round three, so we already have a history of the tape being hard to reach.
Market Leaders
Defending champion, George Coetzee, will be attempting to justify favouritism for the second year in-a-row but he makes little appeal. His win came at a different venue and defending a title is never easy. In his previous attempts to retain he's finished 24th at the Joburg Open and 14th at the Tshwane Open. We haven't seen George play anywhere since he finished 35th in the Puerto Rico Open on the PGA Tour back in March, so that's a negative too.
This venue looks like a great fit for in-form Aussie, Scott Hend but he has to overcome the temporary loss of his right-hand man Tony Carolan. Hend's form rocketed when his good friend and former Asian Tour pro, Carolan, took over on the bag but he's reportedly taking a break for a while. It might not make a scrap of difference but given Hend is less than half the price he normally is, I'm not prepared to take the risk. Hend is a volatile character and Carlan was clearly a fantastic influence.
Rising South African star, Branden Stone, gets it out there off the tee and he came very close to winning his second European Tour event last time out in the Shenzhen International. He looks the most progressive amongst the market leaders and I'd certainly rather play him than fellow South African, Jaco Van Zyl, who always gets in his own way on this tour.
The two recent Korean winners, Soomin Lee, who won the aforementioned Shenzhen International, and last week's winner, Jeunghun Wang, command an awful lot of respect and I can't help but think they'd be a bit shorter if they were European but neither is big enough to tempt me in - in what really is a hard tournament to assess.
Selection
I can't say I'm confident about anything but enjoying the scenery this week. With hardly anything to go on and with such a weak field, it's safe to assume that the Players Championship (previewed here) will get most of my attention. And given I've enjoyed plenty of success betting in-running over the last couple of weeks, staking much before the off here would be daft, but I have decided to take a small chance on one player.
Big hitting South African, Zander Lombard, hit the front early on last week in Morocco but for one reason or another he tumbled down the leaderboard to finish tied 47th after weekend rounds of 77 and 79. Nerves may have affected him to some degree but I'm pretty sure the venue was against his aggressive long game and the frustration of finding trouble off the tee would have taken his toll.
He could sulk after last week's disappointing weekend and perform poorly here and it's certainly a risky play but I prefer to think he played well for two days last week despite the course and now that he has to chance to open up his shoulders and to use his power he could have a good week.
For the other big event of the week, please read my Players Championship Preview

Selection
Zander Lombard at 55.054/1
*You can follow me on Twitter @SteveThePunter
Discover the latest articles