The Punter's In-Play Blog: Fowler finishes third round in front as fog finally relents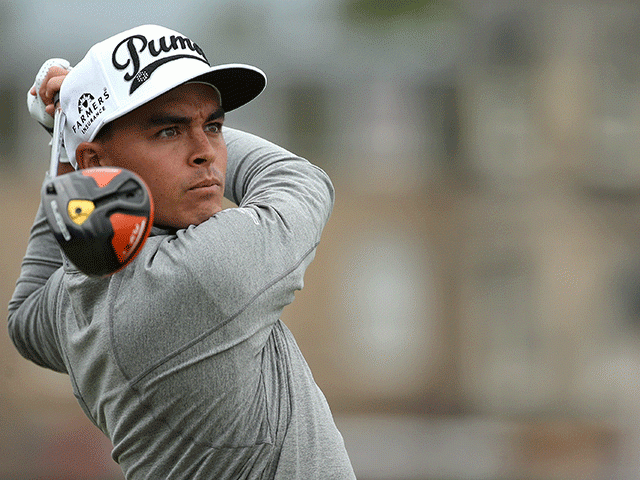 Rickie Fowler – two clear with a round to go in Abu Dhabi
The third round has been completed in Abu Dhabi and the leaders tee-off for the fourth round soon so our man takes a look at the state of play on both tours with a round to go. Read his final in-running instalment of the week here...

"This looks a minefield and given I have Rory and Pieters on my side already, I'm loathed to get much further involved but I have thrown a few pounds at Byeong Hun An. He has a lot of class, is more than capable of the necessary low round required and it's hard to see why he was bigger than Pieters when the third round ended. I'd have had him a few ticks shorter than the 16.5 he was trading at so I've got him onside modestly."
07.00 - January 24, 2016
The first fog-free morning of the week in Abu Dhabi has allowed the completion of the third round of the Abu Dhabi championship and there's been much change on the leaderboard already today.
One of my three picks, Andy Sullivan, led at the halfway stage and after eight holes of round three, he still led by a couple of strokes with dusk descending yesterday. He was matched at a low of 4.03/1 after eight holes but a lost ball off the tee (found after the allotted search time had passed) led to a triple-bogey seven on the par four ninth and when play stopped for the day yesterday, ten players were within a stroke off the lead. Things aren't quite so tight now though...
With the likes of Sullivan, Ian Poulter, Henrik Stenson, Rafa Cabrera-Bello and Robert Rock all struggling this morning and with tournament favourite Rory McIlroy, putting really poorly, Rickie Fowler will take a two stroke lead into the fourth and final round. Here's the third round leaderboard with prices to back at 6:50.
Joost Luiten -11 13.5
Rory McIlroy -10 5.49/2
Branden Grace -10 12.5
Byeong Hun An -10 15.5
Thomas Pieters -10 17.016/1
Matthew Baldwin -10 55.054/1
Henrik Stenson -9 18.017/1
Ian Poulter -9 42.041/1
Rafa Cabrera-Bello -9 50.049/1
Peter Hanson -9 60.059/1
-8 and 70.069/1 bar

The way Fowler played this morning, he might just take some stopping but it's worth bearing in mind that the last three third round leaders have all been beaten and they've all led by at least two strokes. Justin Rose finished runner-up in 2013 after leading by two, Craig Lee collapsed a year later to finish tenth having held the same advantage and Martin Kaymer started the final round six in front 12 months ago before imploding in explicable fashion, having led by ten strokes after five holes of round four.
This looks a minefield and given I have Rory and Pieters on my side already, I'm loathed to get much further involved but I have thrown a few pounds at Byeong Hun An. He has a lot of class, is more than capable of the necessary low round required and it's hard to see why he was bigger than Pieters when the third round ended. I'd have had him a few ticks shorter than the 16.5 he was trading at so I've got him onside modestly.
The final round has kicked off, it's live on Sky from 8:00 (UK time) and the final three-ball tees-off at 8:30.
Over at the CareerBuilder Challenge, Jason Dufner takes a two shot lead into the final round and I have a damage limitation project on my hands by the look of it...
I layed the leader before the off, along with the majority of the leaders with a round to go, and I layed him again on Friday at around 7.06/1 so the lay book doesn't look great.
Here's the third round leaderboard with prices to back at 6:55 and my rather poor lay book positions.
Jamie Lovemark -21 4.77/2 -104
Adam Hadwin -20 12.5 -214
David Lingmerth -18 22.021/1 -99
Ryan Palmer -17 32.031/1 -298
Phil Mickelson -17 32.031/1 -42
Kevin Na -17 34.033/1 -155
John Huh -17 90.089/1 +738
Andrew Loupe -17 100.099/1 +738
-15 and 130.0129/1 bar

I managed to get Adam Hadwin in the book at an average of 5.59/2 last night and that's taken the edge of what looks likely to be a poor and possibly frustrating result. I tried to back the man currently in second place, Jamie Lovemark, before the off, but I wasn't the only one that fancied his chances this week and after I didn't get matched at the clearly too ambitious 150.0149/1 I wanted to back him at, I ended up laying him before the off at 80.079/1!
I could go for it and take on Dufner again at odds-on, and I may yet do so, but I'm going to get the Abu Dhabi over with first and probably get some sleep before I make any decisions. My instinct tells me Dufner's price is perfectly fair at the moment though and I'm not sure digger the hole deeper would be wise.

14:30 - January 22, 2016
After a fog delay this morning, of getting on for three hours, 60 players will return to the course early tomorrow to catch-up, and that includes the first round leader, Bryson Dechambeau, and the marque three-ball of Jordan Spieth, Rory McIlroy and Rickie Fowler.
When he returns to the fray, Dechambeau will still have nine holes to play and given he's just one off the lead, held by Andy Sullivan on 10-under-par, and two clear of the remainder, he could be clear of everyone by the time most of us in the UK get up. That's provided we don't get more fog of course but unfortunately, it is expected to cause more problems tomorrow.
The big surprise on day two was how poorly Jordan and Rory performed. The third member of the trio, Rickie Fowler, did okay but the two big guns appeared to drag each-other down. When play ended for the day, having played 13 holes, Fowler was three-under par for his round but the other two were both one-over and I regret getting with Spieth after round one now. And I also regret not selecting Andy Sullivan for the each-way column.
As highlighted yesterday, Dan put up first round leader, Dechambeau, but that's far from our only chance. I tossed up between Sullivan and Thomas Pieters and picked the wrong one but all our other picks are sitting inside the top-nine and ties. Not a bad effort!
I've been impressed with Sullivan in-contention - especially when giving no quarter against Rory at the DP World Championship in November - so I'm going to stick with him at this stage and see what round three brings.
Over at the CareerBuilder Challenge, there was a sizable disparity in the scoring between the three venues. The Nicklaus Course played marginally the easier of the three, averaging 69.424, which equates to 2.576 strokes under-par and La Quinta averaged 69.596 or 2.404 under-par but the Stadium Course, which will host Sunday's fourth and final round, played just 0.175 of a stroke under-par at 71.825.
It's debatable which course order is the best rotation but in theory, the four leaders after round one, Jerry Kelly, Anirban Lahiri, Jason Dufner and Jeff Overton, who all shot four-under-par 64s, should separate today. Having played La Quinta yesterday, Kelly and Lahiri will play the Nicklaus Course today, before playing two rounds around the Stadium Course over the weekend, whereas Dufner and Overton will play the toughest of the three tracks today. Canadian, Adam Hadwin, fared best at the Stadium Course yesterday, shooting a six-under-par 66 to sit tied for seventh and he'll play La Quinta today and the Nicklaus Course on Saturday.
I fancy the best rotation will prove to be La Quinta - Nicklaus - Stadium, because, in theory, after starting well over the first two rounds, those in-contention get to play the toughest course on consecutive days but it remains to be seen. I've not done anything with my book yet and I'm happy enough with the start. It looks an impossible puzzle to solve at this stage and I'm content to play the waiting game.

14:00 - January 21, 2016
With the possible exception of Rickie Fowler, all the big guns have started well enough at the Abu Dhabi Championship and it looks a wide open event still.
Dan Geraghty's each-way selection, and stunning first round leader pick, Bryson Dechambeau, sets the pace after an eight-under-par 64 but with Henrik Stenson second and Rory McIlroy and Branden Grace tied for third, the 22-year-old American amateur is going to have his work cut out to stay out in front.
One of my three picks, Andy Sullivan, sits on -5, alongside fellow Englishman, Richard Bland, in a tie for fifth and the fancied pair of Jordan Spieth and Matthew Fitzpatrick, opened up with four-under-par 68s. Given the quality of the leaderboard, it's already hard to look past the 11 players within four of the lead and at the prices, Spieth looks the value.
Spieth isn't always the fastest of starters, so given he's playing the course for the first time, his opening 68 was a very decent start and it's perhaps surprising to see him trading at bigger than he went off at, and so much bigger than Rory. I know there are two strokes between them but with 54 holes to go that's far from an unassailable lead and I'd have had the pair closer in the market. With this in mind, I've layed half of my stakes back on Rory and reinvested in Spieth.

15:30 - January 20, 2016
As promised in my CareerBuilder Challenge preview (here), I'm kicking off the In-Play Blog early this week to highlight the starting position of my lay book.
Over the last few days, I've layed everyone priced below 100.099/1 and my biggest loser at this stage is the favourite, Patrick Reed, who, were he to win and I didn't touch my book again, would be a loser to the tune of £415. I've layed a total of 31 players and each one stands to lose anywhere between £246 and £415.
I will be trading the event in-running, and most intensely on Sunday, but again, were I to theoretically leave things be from this point onwards, should someone I hadn't layed go on to win, i.e. anyone that began the event at a triple-figure price, I would win £535.
I mentioned in the preview that I'd backed Tony Finau and Will Wilcox but since then I've also added Peter Malnati at 160.0159/1.
I'm looking forward to the CareerBuilder Challenge and trading-wise, that's the event I'll be getting stuck into the most I suspect, but there's no question which event makes more appeal from a viewing perspective. Rory McIlroy, Jordan Spieth and Rickie Fowler will be playing together at the Abu Dhabi Championship in the early hours (teeing off at 3:40 UK time) tomorrow and the action starts live on Sky Sports 10 minutes before they start.
I've been alerted to a tweet by the SecretTourPro that reads, "No point contesting this week! Heard Jordan Spieth shot 28 on the back nine today!"
As a McIlroy backer (preview here), that isn't something I wanted to read but it hasn't put punters off. Rory has hardened up all week long so the chances are he's hitting it nicely too and I won't complain if they both turn up in form. Win or lose, witnessing those two going at it hammer and tongs for four days would be a joy and this has the potential to be a really great tournament. I may even set my alarm!
I'll be back tomorrow after the first round in Abu Dhabi.

Abu Dhabi Championship Pre-Event Selections:
Rory McIlroy @ 5.69/2 to win
Rory McIlroy @ 2.01/1 Top 5 Finish
Thomas Pieters @ 50/1 (Each-way Sportsbook)
Andy Sullivan @ 70.069/1

In-Play Trades
Rory McIlroy layed @ 3.3512/5
Jordan Spieth backed @ 6.611/2
Byeong Hun An @ 16.5

CareerBuilder Challenge Pre-Event Selections:
Tony Finau @ 80/1 (Sportsbook)
Will Wilcox @ 120.0119/1
Peter Malnati @ 160.0159/1
Lay Book
31 players layed at 95.094/1 and below - worst case scenario -£415
Best case scenario (not including three picks above) +£535

*You can follow me on Twitter @SteveThePunter
Discover the latest articles