The Punter's De-Brief: Harrington victorious at the Honda Classic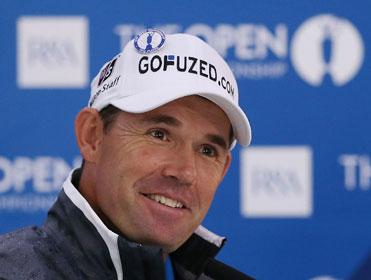 Padraig Harrington was a popular winner of the Honda Classic
Steve looks back at Padraig Harrington's first win for a good while, and runs the rule over all the golfing action from the last week...
"There's been a feeling of late amongst golf observers that there's been a seismic power shift in the game but Pod's win may just stem the tide a little bit. There's life in a few of the old dogs yet and if they draw inspiration from Pod's win, we might see one or two of them win again - Lefty for the Masters again anyone?"
The well-fancied Andy Sullivan overcame a slow start to win the Joburg Open by two strokes at the East London Golf Club on Sunday and that was his second win in just six starts. It was also his second win in South Africa as the Englishman had beaten Charl Schwartzel in a playoff at the South African Open less than two months before.
Over in the States, a strange statistical quirk saw the 297th ranked player in the world rankings win on the PGA Tour for the second week in-a-row when Padraig Harrington beat local lad, Daniel Berger, in the Honda Classic at the second playoff hole. James Hahn had been matched at over 600.0599/1 before the off before winning the Northern Trust Open and at odds of 620.0619/1, it was Pod's turn to do the layers a favour this week. Harrington was also matched at the maximum odds of 1000.0 in-running.
My Bets
After a long couple of days, that didn't entirely go my way, I've managed to end the week in profit - albeit only just...
I'll start with the Joburg Open, where I thought for a while that I was going to get a really nice result. I traded the event quite intensely on Sunday, looking to get onside those ahead of the field. As highlighted in the In-Play Blog, I thought anyone that could get past the 16th hole in or around the lead would have a chance of winning as, baring those last two holes, the back-nine is fairly tough.
I felt the eventual winner was too short throughout the final round and I set about getting the likes of David Howell, Kevin Phelan, Kristoffer Broberg and Jaco Van Zyl all onside at big odds, ranging from 10.519/2 to 60.059/1 and I layed Sullivan when he made the turn at around evens.
I would have suffered quite a loss had Sullivan not found the water with his second shot on the 11th but mercifully I had the wherewithal to back him back at an average of 4.3100/30 before he sank his lengthy bogey putt and that saved my bacon. Had Howell, Phelan, or Van Zyl managed the win, and they all finished tied for second, I'd have had a great result but as it was I finished up losing but only a few pounds thankfully and it was onwards and upwards to the Honda Classic...
I really fancied in-play bet, Patrick Reed, at halfway but after sitting out completely on Saturday, he played poorly on both Sunday and Monday. He'd gone 20 straight rounds on the PGA Tour shooting par of better and with a birdie on the last in round three, he managed to extend that run to 21 but the writing was on the wall. He was loose off the tee throughout the final two rounds and it was just guts and a great short game that kept him in the race until the last few holes. The result was far from a disaster though...
I didn't get as involved in-running here as I had done in South Africa but when Berger was trading at double-figures after he'd found the final green in two I got him onside nicely and I was able to trade to a decent profit after that.
What Have We Learned For Next Year?
The finish to the PGA National is tough enough when you're not in contention but when there's a title on the line it's brutal. Ian Poulter hit at a low of 1.538/15 before he found water twice on the par 4 14th to blow his chance. Patrick Reed was then matched at 1.664/6 before his chance went at the par 3 15th, when he went for a swim off the tee, and Harrington was matched at just 1.282/7 in regulation play before he found the aqua on the par 3 17th.
It was absolute carnage yesterday but it was predictable enough - Rory McIlroy was matched at just 1.282/7 before he found water on the 16th hole last year so that's four different players in two years trading at odds-on before finding the water on four different holes on the back nine in round four. PGA National is not for the faint-hearted!
I threw a number of long-odds darts before the off and I'll do so again next year. The last three winners have been matched at 600.0599/1, 400.0399/1 and 1000.0 and of the nine winners at PGA National, seven have been outsiders.
With longshots doing so well and with so much market volatility during the final round (in addition to the above, Berger was matched at just 1.111/9), it might make sense to lay the market leaders before the off but you need to concentrate on the leaders from fairly early on....
Harrington was matched at over 200.0199/1 during the final round when a poor run of holes looked to have cost him his chance but he ended each round inside the top-three on the leaderboard and he was never more than three off the lead in between rounds. Everyone will drop shots here so being up with the pace is crucial.
Five of the first six home this year were from GB and Ireland and overseas players have a strong record in the event. Americans had won the two previous renewals but prior to that an overseas player had won seven of the previous eight.
How Big A Deal Was Pod's Win?
Other than Sergio Garcia, who wouldn't be described as one of Pod's bezzies, the golf world will greet Harrington's unlikely win with much joy. The smiling veteran Irishman is extremely popular with just about everyone, and rightly so, but will there be any ramifications? I think there might be...
Ernie Els' career was floundering when he took this title in 2008 and it gave him a huge boost. He went on to win a WGC event and an Open Championship and I wouldn't be surprised if Pod now enjoys a period of resurgence. His win should also be a boost to players like Phil Mickelson and Jim Furyk and maybe even Tiger Woods...
There's been a feeling of late amongst golf observers that there's been a seismic power shift in the game but Pod's win may just stem the tide a little bit. There's life in a few of the old dogs yet and if they draw inspiration from Pod's win, we might see one or two of them win again - Lefty for the Masters again anyone?
I'll be back later with my Africa Open and Puerto Rico Open previews later on and if you missed it yesterday - here's my preview for the WGC-Cadillac Championship.
*You can follow me on Twitter @SteveThePunter

Discover the latest articles