The Punter's In-Play Blog: Is Molinari poised for wire-to-wire Wentworth win?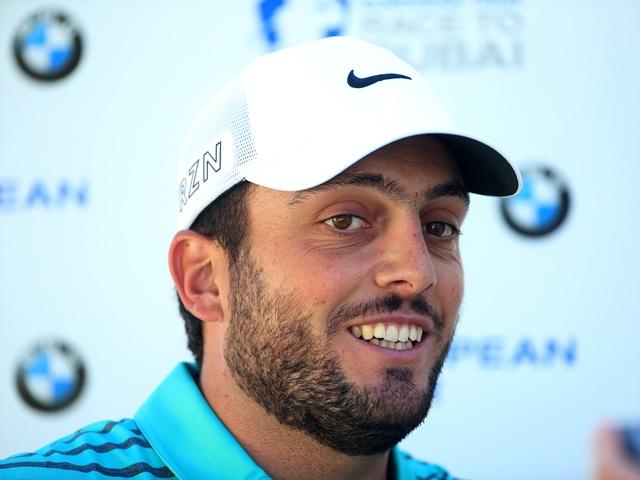 Francesco Molinari – now tied at the top with Byeong-Hun An
Francesco Molinari and Byeong-Hun An are tied at the top but the stats suggest that they're there to be shot at. Will we get another off-the-pace winner or will the frontrunners get the job done this time? Read what Steve thinks about the state of play at both Wentworth and Colonial here...

"Two of the last five winners have come from seven behind so maybe my each-way pick, Chris Wood, is still in it, and so is Joe Dyer's pick, Shane Lowry, who trails by six."
10:50 - May 24, 2015
With Tommy Fleetwood recording an albatross at the par 5 4th and Miguel Angel Jimenez acing the 2nd, it was an eventful third round at Wentworth but other than Emiliano Grillo and James Morrison plummeting out of contention, not an awful lot of change occurred at the head of the leaderboard. Here are the latest standings with prices to back at 10:30.

Francesco Molinari -14 2.568/5
Byeong-Hun An -14 3.711/4
Thongchai Jaidee -12 8.27/1
Tommy Fleetwood -11 9.417/2
Miguel Angel Jimenez -10 17.016/1
Alex Noren -9 44.043/1
Shane Lowry -8 48.047/1
Chris Wood -7 200.0199/1
-6 and 260.0259/1 Bar

As detailed in the preview, we've seen winners here come from some way off the pace so I'm definitely not interested in backing the leaders. I've been dismissive of Francesco Molinari from day one and I still am. If I had to play one of the two tied at the top it would Byeong-Hun An, who looks destined for greatness.
The American-based Korean was a pick of mine in Spain last week before the off but he was somewhat disappointing in-contention there - as he was in China on his penultimate start. Anyone that followed Paul Krishnamurty's advice is already in profit though and a bumper payout is certainly not out of the question.
If the front two do flop, then Thongchai Jaidee and Tommy Fleetwood are best placed to prosper but I can't play either at a single-figure price. Two of the last five winners have come from seven behind so maybe my each-way pick, Chris Wood, is still in it, and so is Joe Dyer's pick, Shane Lowry, who trails by six.
I'm already on Jimenez, and I've now added Alex Noren and Lowry for tiny stakes. I can't see it happening but then it was hard to envisage any of the off the pace winners getting the job done so I'm just letting the stats dictate. If we get another winner from four, five, six or seven strokes back after round three, then I'll have a decent week and if we don't, there's always the Crowne Plaza Invitational, which is a completely different kettle of fish.
In stark contrast to the BMW-PGA, very few come from off the pace to win at Colonial and we need to be concentrating on the leaders so here's the leaderboard with prices to back at 10:40.

Kevin Na - 11 3.3512/5
Ian Poulter -10 4.94/1
Charley Hoffman -9 8.615/2
Chris Kirk -8 13.5
Brandt Snedeker -8 14.5
-7 and 17.016/1 Bar

Play will start early again today in Texas, with the leaders teeing off at 15:00 UK time (weather permitting) and on a damp receptive course, logic would suggest somebody will go low and that the leaders are vulnerable but I'm not so sure.
If someone is to go really low, they're going to have to hit all the fairways and putt the lights out and I think it's unlikely. Conditions were much the same yesterday and only one player, Chris Kirk, managed to go as low as five-under-par. I'm letting the stats guide me again and concentrating on the leaders.
As highlighted in the In-Play Tactics section of the preview, the last 13 winners have all been within two strokes of the lead after three rounds so if that run extends to 14 years, only the top three can win. None of the three can be described as solid in-the-mix though.
Na has been within one of the lead eight times with a round to go on the PGA Tour but converted just once, and we have to go back to 2008 to find the last third round leader to convert here. Being just a shot or two back has been the place to be here in recent renewals and Ian Poulter could be in the right place to finally win a strokeplay event on the PGA Tour.
Charley Hoffman comes into the reckoning on those stats also so as well as a small wager on Poults, I've had a very small saver on the Hoff. Despite being in great form, he's been pretty hopeless in-the-mix this year but he's a three-time winner on the PGA Tour and if the front two wobble late on, he could just get it done.
I'll be back tomorrow with my De-brief, and with previews for both the Irish Open and AT & T Byron Nelson.

21:40 - May 22, 2015
After an eventful second day, which saw world number one and warm favourite, Rory McIlroy, miss the cut, at the halfway stage of the BMW PGA Championship, just seven players are within five strokes of Francesco Molinari's lead. Here's the leaderboard with prices to back at 21:30.

Francesco Molinari -10 3.814/5
Byeong-Hun An -9 8.415/2
Emiliano Grillo -8 8.415/2
Thongchai Jaidee -8 13.5
James Morrison -7 16.5
Miguel Angel Jimenez -6 25.024/1
Robert Karlsson -6 34.033/1
-5 and 22.021/1 Bar

Molinari recovered brilliantly after bogeying two of his first three holes this morning and with two rounds to go he's the clear favourite at less than 3/1 but I still want to be against him. There's an awfully long way to go still and I fancy they'll be much change on the leaderboard tomorrow and that we can look quite a long way down the list for potential winners.
Over the last 12 years, only three halfway leaders have gone on to win and we've seen a number of winners come from some way off the halfway lead. Of the nine that weren't leading or tied for the lead, one winner came from two back, three trailed by four strokes, two by five, one by six, one by seven and in 2007, Anders Hansen took the title for a second time, having been eight back at halfway!
In addition to Luke Donald, who I backed yesterday at 29.028/1, I've now added last week's winner, James Morrison, and 2008 winner, Miguel Angel Jimenez.
Morrison was four-over-par through 11 holes on Thursday but he hasn't looked back since eagling the 12th from a greenside bunker. It's hard to envisage him winning his second event in two weeks but he looks to be hitting it superbly and I can see him hanging around all weekend. And the same can be said of veteran Spaniard, Jimenez.
There have been lots of complaints about the greens this week and whoever wins they'll need bucket loads of patience. Miguel's seen it all before, he can take the good breaks with the bad and if the greens aren't running true he'll just rise above it and carry on.
It's a tricky looking leaderboard and I could have very easily left it alone until the end of round three but I thought that pair were slightly overpriced at 17.016/1 and 27.026/1.
Rory McIlroy wasn't the only favourite to have a bad day today. Jordan Spieth has already been matched at just 2.01/1 to win the Crowne Plaza Invitational (currently live on Sky Sports) but he dropped five strokes in his last six holes of round two and he now trails current leader, Kevin Na, by seven strokes.
I'm going to look again at halfway and if I get further involved I'll update in the morning. Bad weather is forecast there tomorrow so the third round tee times will be brought forward and they'll be playing in three-balls off both tees.
I've got a few things on tomorrow so unless I get further involved in Texas before round three, my next update will be on Sunday morning.

09:20 - May 22, 2015
I was very surprised to see that they managed to get the first round of the Crowne Plaza Invitational completed but I was disappointed to see that Jordan Spieth is tied for the lead. Other than David Toms, who shot four-over-par, and Zach Johnson, who shot level par after putting like Blind Pew all day, my pre-event picks have started well enough but with young Spieth on the premises already, I fear the worst.
Spieth is trading at just 2.747/4 now and he's hardening all the time. That's too short for me at this stage, but I certainly don't want to lay him. I'm going to leave this one alone for now and see how today goes - hopefully he won't go too low and we'll still have a competitive event to evaluate at halfway.
First round leader, Francesco Molinari, is out on the course already at Wentworth and after dropping two shots early on, he's back to level par for the round through six holes. That'll be live on Sky at 10:00 and I'll be back again this evening with my take on it at the halfway stage.

23:00 - May 21, 2015
With the greens deteriorating slightly and the wind increasing somewhat, those drawn to play in the afternoon at the BMW PGA Championship today were disadvantaged to the tune of exactly half a stroke but that didn't stop Italy's Francesco Molinari shooting an opening seven-under-par 65 to lead by two over Robert Karlsson.
Molly ranked only 29th for Driving Distance but that's nothing new, he's never been long off the tee. The rest of his game was spot-on though.
Only Thomas Aiken and Graeme McDowell, who are both way down in tied 81st, hit more fairways than him and he ranked 1st for Greens In Regulation, Scrambling and Sand Saves and 7th for putting. He's picked up from where he left off following his tied 2nd in Spain last week but he's now just 5.69/2 to win the tournament and that looks way too short to me. I went through the record books to as far back as 1990 before the off and the only winner to lead or co-lead after round one in all that time was Luke Donald in 2011. This is a hard place to make the running.
The first two in the betting pre-tournament were Rory McIlroy and Justin Rose and they're very nearly the same price now as they were on Monday after both players carded one-under-par 71s. Rory heads the market at 4.84/1 and Rose trades at 14.013/1.
That's the price I took about Rose on Monday but I'm not tempted to top-up. I know the greens weren't at their best today but Rose didn't putt brilliantly at all and I'm not especially confident that he'll make up ground in the morning.
Two players I considered closely before the off have started quite well. Marc Warren looked to have it on a string early on but he lost his way a bit on the back-nine and course-specialist Luke Donald played the course the other way round. Warren was four-under par through just eight holes but that's how he finished up, whereas Donald was two-over par after 11 holes before finishing strongly to get to -2.
As much as he loves the venue, Luke's current form put me off and I couldn't quite take the plunge at around 34.033/1 before the off but after such a bright start (he's currently tied for 14th), I'm more than happy to get him onside at 29.028/1 now.
There was a three hour weather delay in Texas this morning so the first round of the Crowne Plaza Invitational is far from over so I'll come back to that one tomorrow but I'm pleased enough with last minute pick, Boo Weekley's start - he's tied for the lead with Kevin Na following a six-under-par 64.

14:30 - May 21, 2015
I don't usually kick off the In-Play Blog this early but given world number one, Rory McIlroy, has finished his first round at the BMW PGA Championship already I thought I'd make a start.
Rory made a lengthy birdie putt at the 2nd after bogeying the 1st but he didn't hole anything of note after that and in the end, his one-under-par 71 was about as bad as it could have been. Matched at just 3.3512/5 in-running, he's now trading at around 5.04/1 but that'll change depending on what the afternoon starters do.
Robert Karlsson has just finished his opening round and he leads after an opening five-under-par 67. There's a group of three players tied for 2nd on four-under-par but my each-way selection, Chris Wood, who's one of them, will feel he really should be alongside Karlsson at least. He went out of bounds with his second shot on the par 5 17th and then missed a tiddler for birdie on 18.
My two pre-event picks, Justin Rose and Danny Willett, have only just began their first rounds so I'll pop back later at the close of play to see how they've got on and to comment, if necessary, on the Crowne Plaza Invitational, which I previewed here. At the time of writing, bad weather has delayed the start in Texas so whether they get round one done today is already in doubt.

BMW PGA Championship Pre-Event Selections:
Justin Rose @ 14.013/1
Danny Willett @ [65.0]

In-Play Bet
Luke Donald @ 29.028/1
James Morrison @ 17.016/1
Miguel Angel Jimenez @ 27.026/1

Crowne Plaza Invitational Pre-Event Selections:
Zach Johnson @ 18.017/1
Jerry Kelly @ 200.0199/1
Ben Crane @ 330.0329/1
Added after the preview originally published:
Boo Weekley @ 90.089/1
Jason Dufner @ 130.0129/1
Jason Bohn @ 150.0149/1
David Toms @ 170.0169/1

In-Play Bets
Ian Poulter @ 4.94/1
Charley Hoffman @ 8.615/2

*You can follow me on Twitter @SteveThePunter
Discover the latest articles