The Punter's De-Brief: Bubba completes the Travelers hat-trick and fast improving Wallace wins again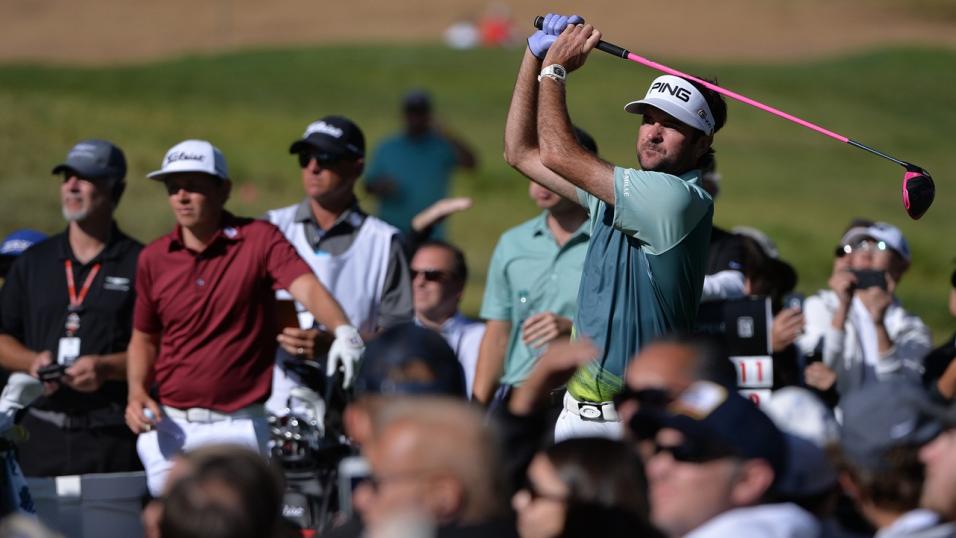 This was Bubba Watson's third title in 2018
Paul Krishnamurty looks back on the weekend golf action, which yielded big profits for the betting.betfair team, and discusses some lessons to learn moving forward...
"Last night really laid bare the differences between the two main protagonists. Casey is incredibly consistent, but struggles to win. Bubba has never been consistent but is absolutely deadly around his favourite tracks."
Both closing with superb seven under-par rounds, Matt Wallace and Bubba Watson completed a fantastic weekend for our regular columnist Steve 'The Punter' Rawlings. The former was his sole pre-tournament selection for the BMW International Open at 44.043/1 and each-way pick at 33/1, while Bubba was put up at 34.033/1 for the Travelers Championship. Just for good measure he also put up one of the BMW runners-up and another final day contender in the States. Superb stuff and hopefully he spent the weekend concentrating on his holiday rather than giving any of those profits back!
Wallace maintains his rapid progress
Matched at 27.026/1 going into the final round, this was Wallace's third win in a season-and-a-half on the European Tour, and his second in three months which also included a near-miss in China. Having previously plied his trade on the much lower grade Alps Tour - where he nonetheless gained plenty of winning experience, gaining six titles - his progress is remarkable and an inspiration to lesser known pros on a wide range of international tours. From nowhere, the 28-year-old is one of the hottest golfers on the planet.
For a brief spell earlier in the day, it seemed that another prolific winner might steal the headlines. Thorbjorn Olesen shot 61 - the best round of the week by three shots - to jump from 40th into a tie for second, alongside recent winner Mikko Korhonen and Martin Kaymer - also put up in our each-way column by Joe Dyer. As it turned out, Wallace's flawless 65, shooting five under par down the back nine, proved one shot too good. The German will be disappointed to have missed out on a play-off though due to a poor bogey on 17.
Course king Bubba completes the hat-trick
At River Highlands, Bubba Watson emphasised how formidable he is around his favourite courses by landing a third Travelers title. He begun the day six shots behind Paul Casey, who hit a low of 1.182/11 in-running, but ended up winning by three as the Englishman endured a nightmare finish. Earlier, Watson had been matched at odds up to 499-1 on the exchange!
Last night really laid bare the differences between the two main protagonists. Casey is incredibly consistent, but struggles to win. Bubba has never been consistent but is absolutely deadly around his favourite tracks. This is the second PGA Tour fixture he's won three times - he's also achieved the hat-trick at Riviera - and of course he's won the Masters twice.
There is a fundamental lesson to learn here. Watson is bound to fail around a lot of venues and that forces his odds out for his best chances. In these, he represents outstanding value as last week's 34.033/1 evidently demonstrated. They were unarguably big odds about a player who had won twice this year, and twice on the course.
In stark contrast, it would be extremely hard to justify backing Casey at short-odds after last night's capitulation. He never looked confident - unrecognisable from 24 hours earlier when taking a grip on the tournament - and now hasn't converted a 54-hole lead since 2011. This apparent lack of bottle is quite bizarre really, considering how tenacious and resilient he's proven in matchplay over the years.
My Bets
Whereas Steve enjoyed a blinder, this was a largely forgettable weekend for yours truly. I came late to the BMW party, recommending two bets yesterday. Andy Sullivan did immediately shorten up but got nowhere near the lay target, and I added a further five unit bet on Olesen at 4.03/1. He too shortened up to 2.26/5 but stupidly, I didn't cover the stake.
In the States, my 'lay all contenders' trading plan yielded a two unit profit. Considering only two players traded at 3.02/1 or below, when I was planning for at least four, I'm happy enough with the result. However the perennial dilemma regarding where to set those lay targets remains unresolved.
One school of thought would prefer getting players in the book earlier, at bigger targets, say 5.04/1. This would have yielded an extra lay in J.B. Holmes, but a slightly worse overall result. In Germany, six players traded at 5.04/1 or lower, but only two at 3.02/1 and none at odds-on. That plan would have yielded a small loss - albeit a very frustrating one because the potential for carnage was obvious.
Ultimately, I don't think much can be learnt from employing a rigid system. Rather, it must be applied as and when the course demands. River Highlands has a long track record of producing drama, but it would make no sense at all on a front-runners track like Augusta or St Andrews. One golden rule that should be applied, though, is including a short odds-on lay target. As last night illustrated, that can save the day even if only two players contend.
US Open form proved irrelevant
One final lesson to learn moving forward involves the US Open. I've always been loath to back players the following week after contending in majors - it is such a big ask to stay super-focused for that long. Of all the majors, the US Open is usually the most gruelling so it should come as no surprise to see such very different leaderboards. None of the big weekend contenders were close at Shinnecock Hills, and the stars of that US Open - Brooks Koepka, Tommy Fleetwood - were nowhere near contention.
This week's two events are the Open De France - the latest on the Rolex Series - and the Quicken Loans National. Steve will be previewing them later.

*You can follow me on Twitter @paulmotty
Discover the latest articles
Read past articles