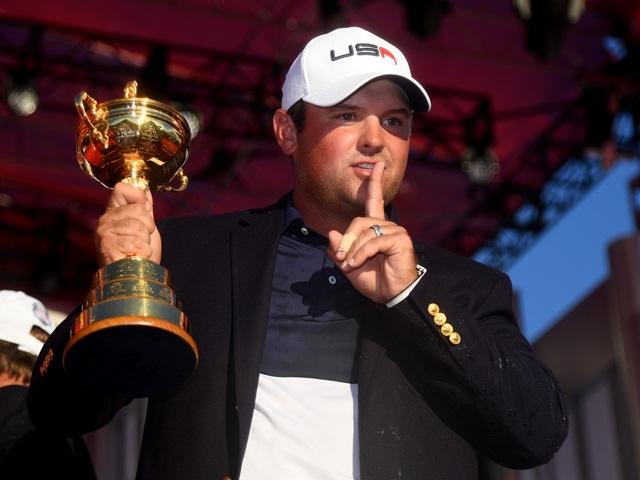 America's talisman, Patrick Reed, with the Samuel Ryder trophy
Our man takes a look back at a highly entertaining Ryder Cup at Hazeltine. Is he right to be so critical of European captain Darren Clarke?
"Nick Faldo was ridiculed for his leadership after the 2008 Ryder Cup and I doubt very much whether the popular Darren Clarke will receive anywhere near as much stick but he was every bit as bad and possibly even worse."
The 41st Ryder Cup has been deservedly won by the Americans and the 17-11 score doesn't even flatter them.
Their support wasn't great at times and it was difficult to witness the fervent celebrations for errant European shots - especially for those that found watery graves - but should we really be surprised or disappointed by such antics? I'm not really sure we could or should expect anything less. The event is hyped beyond belief nowadays and as a result the players appear ever more animated, and much earlier on in proceedings, so it stands to reason that the fans should be increasingly boisterous.
I quite liked the atmosphere and I enjoyed the event far more than I'd expected to do. I'm not a huge fan of the Ryder Cup, and not really caring who wins is probably at the root of that, but this one was a cracker.
The pre-event nonsense over Peter Willett's ill-thought-out article was fascinating and the 4-0 lead that the Americans established early on made for a far more entertaining first couple of days. The event is often at its dullest when the spoils are evenly shared over the first two days.
As sad as it was to witness, the predictable drama of Lee Westwood missing putts late in the final four-ball session on Saturday was profoundly mesmerising and some of the singles action yesterday was simply sensational.
We didn't get anything close to a dramatic finale but the Patrick Reed - Rory McIlroy encounter lived up to the billing and the Sergio Garcia - Phil Mickelson match was a joy to behold. The two vets, combined, fired in 19 birdies as they both shot 63 to halve their match. It doesn't get any better than that.
Fervent European fans won't agree with me but we got the right result for umpteen reasons. Not only is it a good outcome for the event as a whole that the Americans prevented four straight wins for Europe but it was also redemption for Davis Love, who was desperately unlucky to lose the 2012 edition as captain. The Americans prepared better, played better, putted better, and by some considerable distance, they were captained better.
Nick Faldo was ridiculed for his leadership after the 2008 Ryder Cup and I doubt very much whether the popular Darren Clarke will receive anywhere near as much stick but he was every bit as bad and possibly even worse.
He made too many mistakes to list here but his whole captaincy can be summed up by his interview on Saturday afternoon, just after the four-balls had begun. There looked to be a number of poor choices in his line-ups, not least the presence of his pal Lee Westwood, who had been woefully bad on Friday, but when Sky's Tim Barter asked him to explain his rationale behind his picks, all he could do was look dumbly back at Tim and say "strong."
That summed it up for me. He couldn't even begin to reason his selections and it was absolutely no surprise to hear him say afterwards that he didn't regret any of his pairings either.
And now the tournament's over, we're still being entertained!
Danny Willett's had a shocking Ryder Cup but his brother's article and the poor performances by his two partners - Martin Kaymer and Westwood - had deflected away, to a large extent, just how rubbish he's been. He's had a result really and if he kept his head down, flew home to Blighty and performed admirably in this week's Alfred Dunhill Links Championship, his Ryder Cup nightmare would be all but a distant memory but no, he's decided not to let it all lie.
I quite like his humour in his press conference below but his tweets that followed it are just plain stupid and he's made a poor situation a whole lot worse.
"Very strange week here at the Ryder cup.. Tried my best but played poorly.. Unfortunately some american fans showed that @P_J_Willett was.."
".. In fact correct.. Nothing to blame my bad play on.. But still shows that sometimes fans don't know when to call it a day.. Shame really!!"
Brutal honesty from @Danny_Willett in the post @RyderCupEurope presser. #RyderCup #TeamEurope #GoUSA pic.twitter.com/6hTXwCzMZ4

? Richard Maspero (@richardmaspero) October 3, 2016


My Bets
Given I backed Europe before the off, I'm more than happy with how the week's panned out. All my bets are detailed in the In-Play Blog but the three highlights were backing Europe at 7/4 to win the Saturday morning foursomes, Reed to beat Rory at 2/1 and even more importantly, laying back a large proportion of my European wager last night at just [3.6].
It's hard to believe, when you look at the final score, that they traded so low but there was a period of around 15 minutes at around seven last night that a comeback looked remotely feasible. The tail of the US Team always looked too strong to me though and I'm pleased I decided to claw some losses back. It made quite a difference to how I enjoyed the remainder of the tournament.
The 2016/2017 PGA Tour season doesn't kick off until next week but we've got two European Tour events to look forward to - the aforementioned Alfred Dunhill Links and the Fiji International - and I'll try and get at least one preview out tonight but as I'm a bit behind with my research, tomorrow for both is more likely.

*You can follow me on Twitter @SteveThePunter